When I was little, some of my favorite memories were spent in the playhouse my Dad had built for me. It had a deck and a chimney, working windows and a real door, and it even had flower boxes. When Ainsley saw a photo of it, she looked amazed and "designed" a playhouse of her own on a sheet of paper. I asked my Dad if he would be willing to come over and help Garrett build a playhouse replica for Ainsley and he immediately agreed.  (However, I don't think he quite expected MY version to be this elaborate 😉  Introducing The Mouse House Playhouse.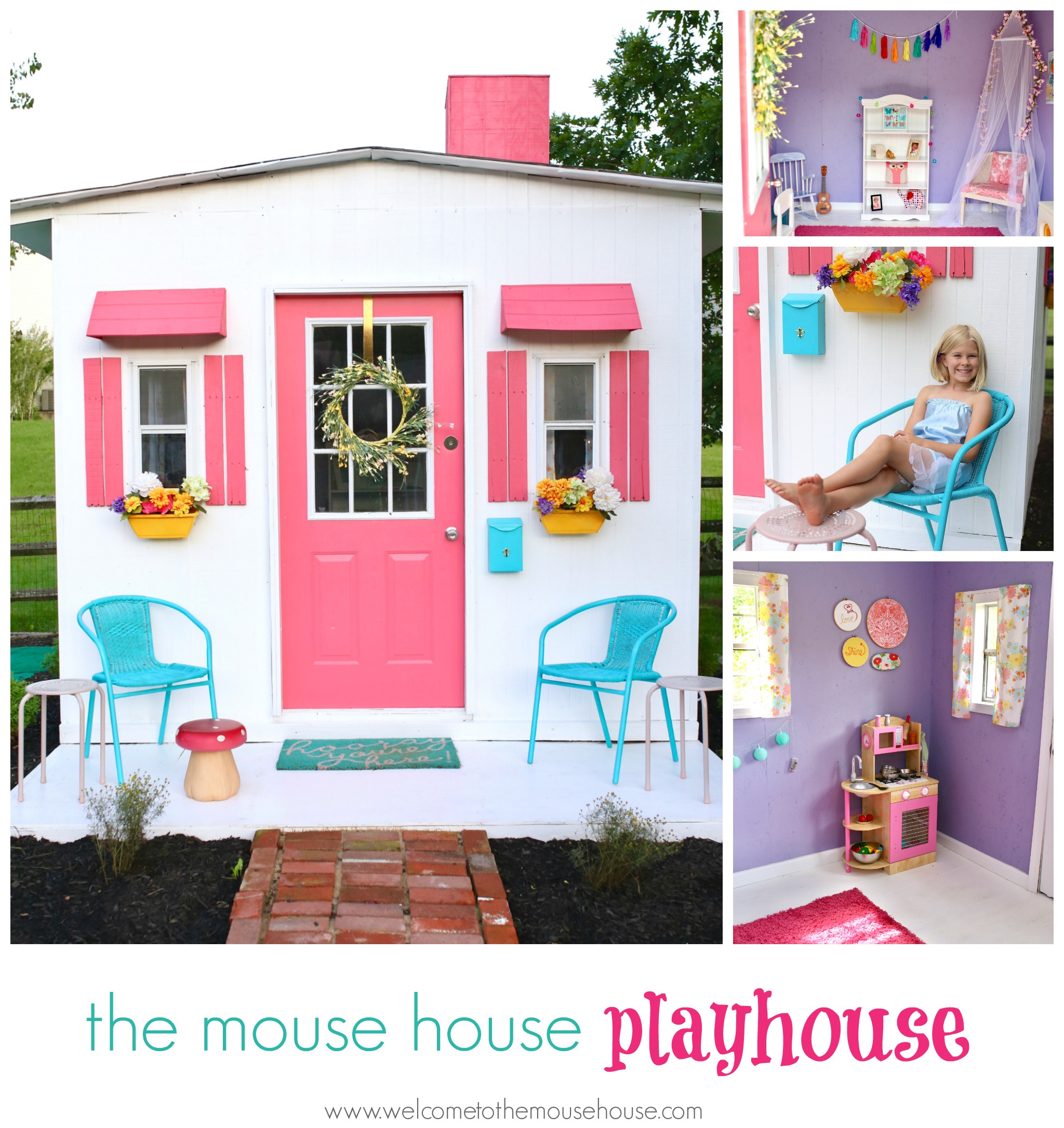 I went to Lowes and Home Depot and ordered all of the supplies by myself (mainly so that no one could talk me out of building it quite this large). The original playhouse from 1984 was an 8×8, which was plenty big.  But because I can never do anything easy, I decided to make it a 10×10, which created a host of issues. Sheets of wood come in 4 foot lengths (you know, making an 8-foot structure easy peasy). A 10-foot structure meant a lot of extra cuts and extra concrete blocks and extra studs.  Thank goodness my husband and dad are used to my crazy ideas.
The base of the structure was the most important.  Getting it level and secure took the most time.  Once we got the base finished, the rest went together fairly quickly.  I originally thought it would be an easy 3 day project.  Well, it wasn't.  Not even close.  I would say start to finish it was approximately a 3 week project. But we LOVE the end result and it is very close to Ainsley's design, shown below.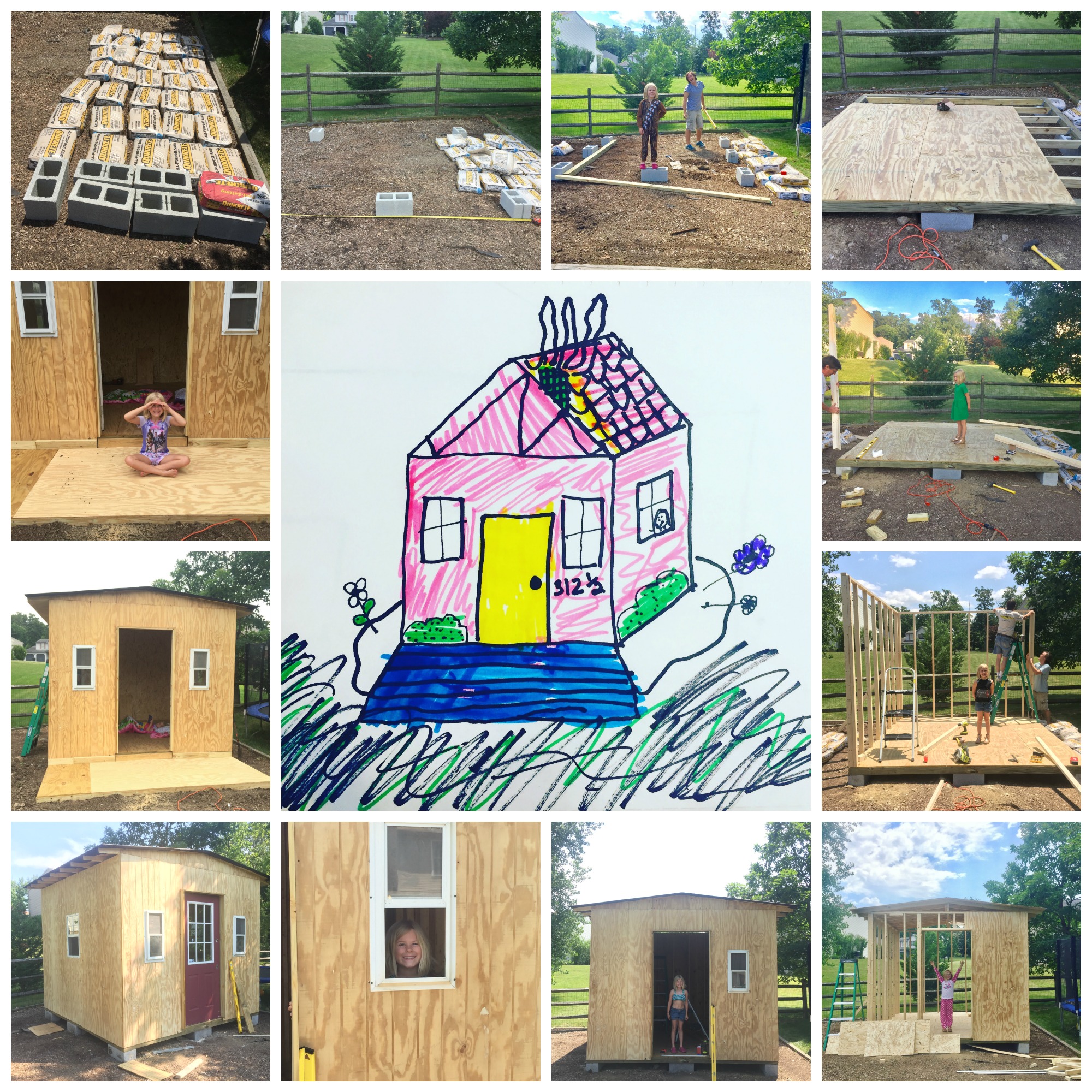 I am sure the neighbors are less than thrilled with this large structure at the top of our hill, but thank goodness Ainsley agreed to accents of pink, versus her original idea of ALL pink.
How stinking cute is this?
I will do my best to go through each item and explain where it was from and how much it was.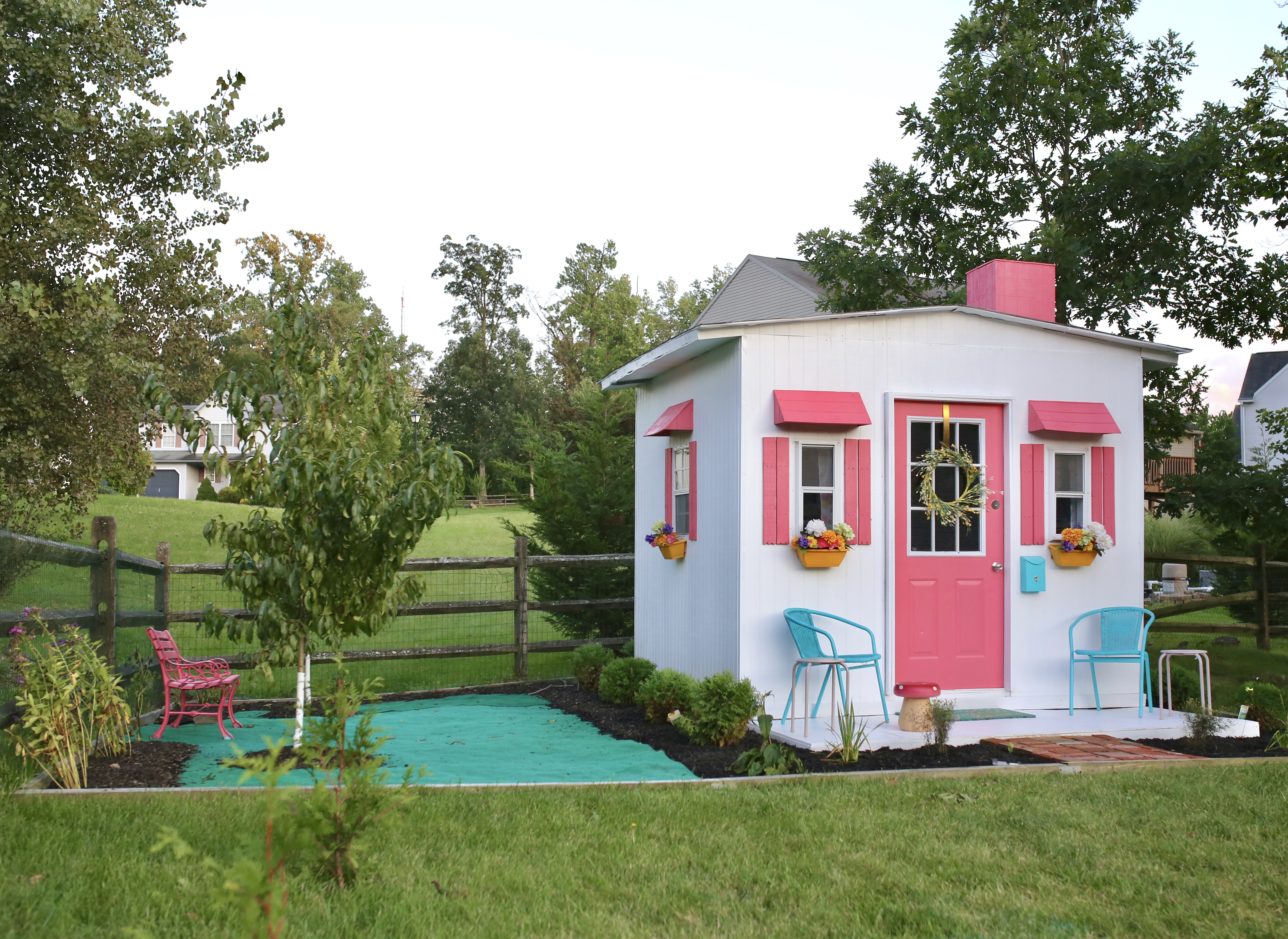 We made the brick walkway with free bricks given to us.  We had just enough!
The front door was purchased at the Habitat for Humanity Restore for $25.  If you have a Restore near you, I highly suggest shopping there next time you have a home project.  We painted it a raspberry pink.
The 4 working windows were found on Craigslist for a few bucks each.  New windows would have cost a fortune.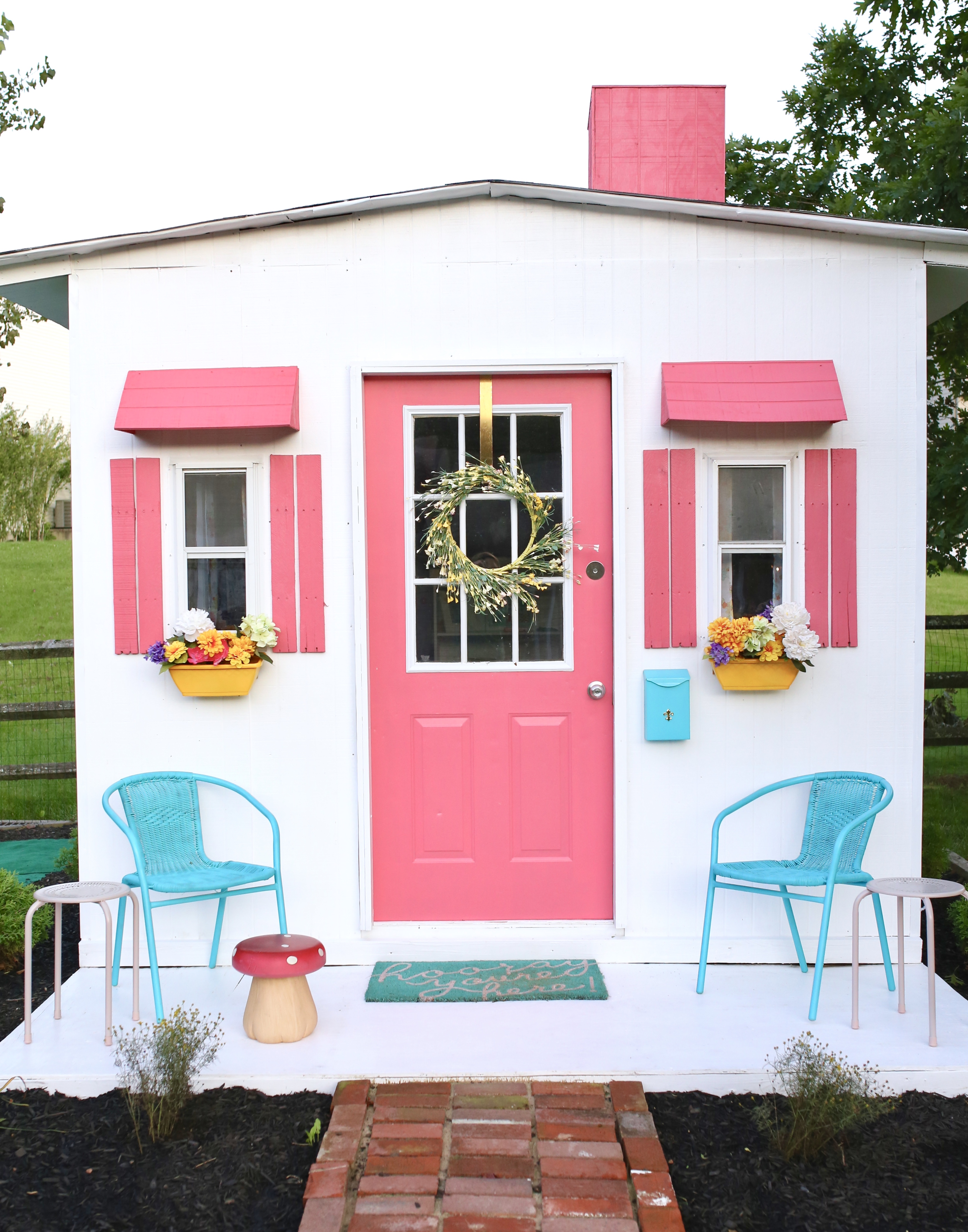 This is where our large wooden swingset used to be.  We sold it and utilized this area for the playhouse.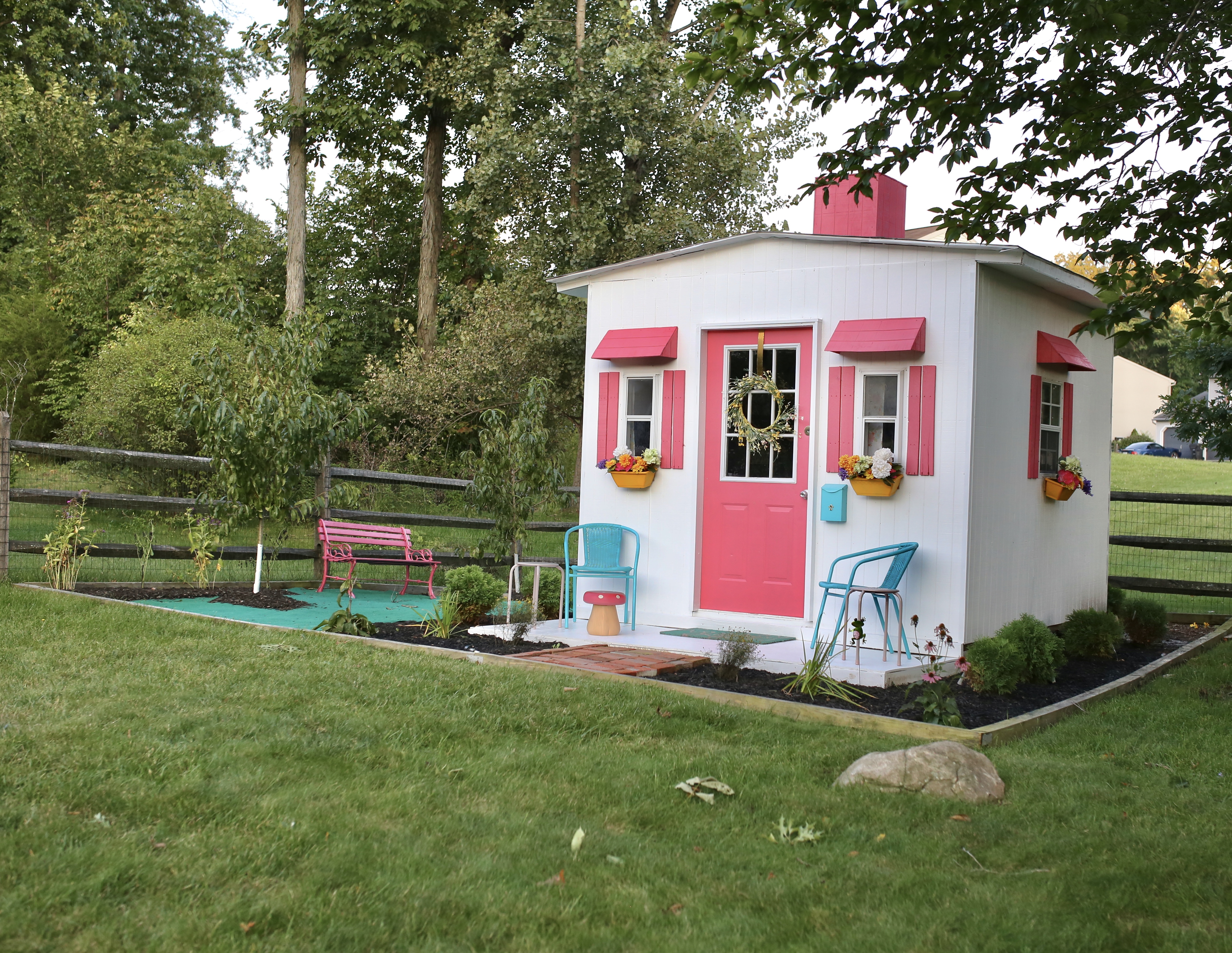 The "shutters" were made from the wooden pallets that our materials were delivered on. We cut them to size and painted pink.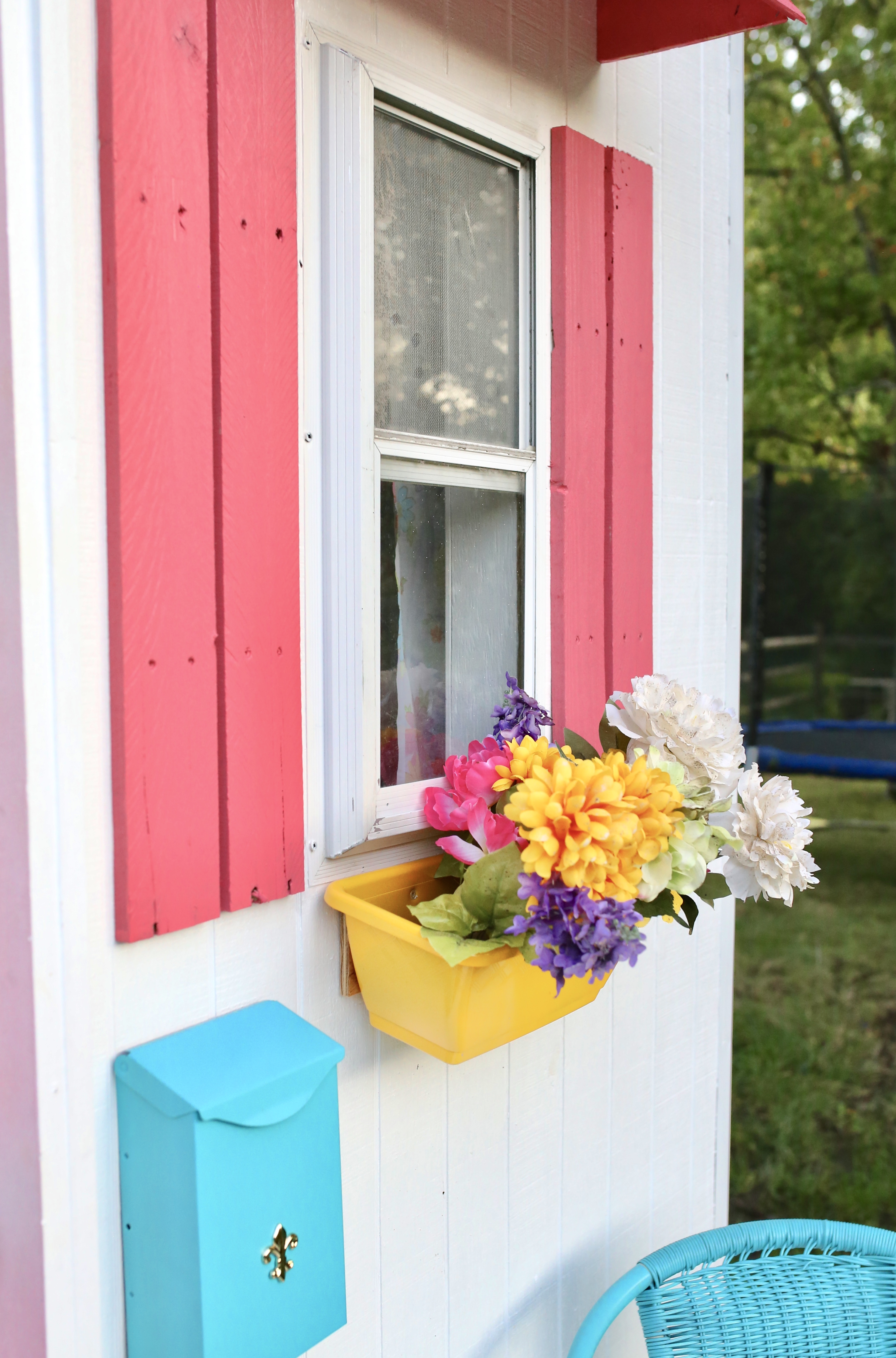 The blue chairs on the porch were originally rusty brown chairs from an patio set of ours.  I did several coats of spray paint to make them look new.  That cute little mushroom stool was found in the clearance section of the Walmart garden area.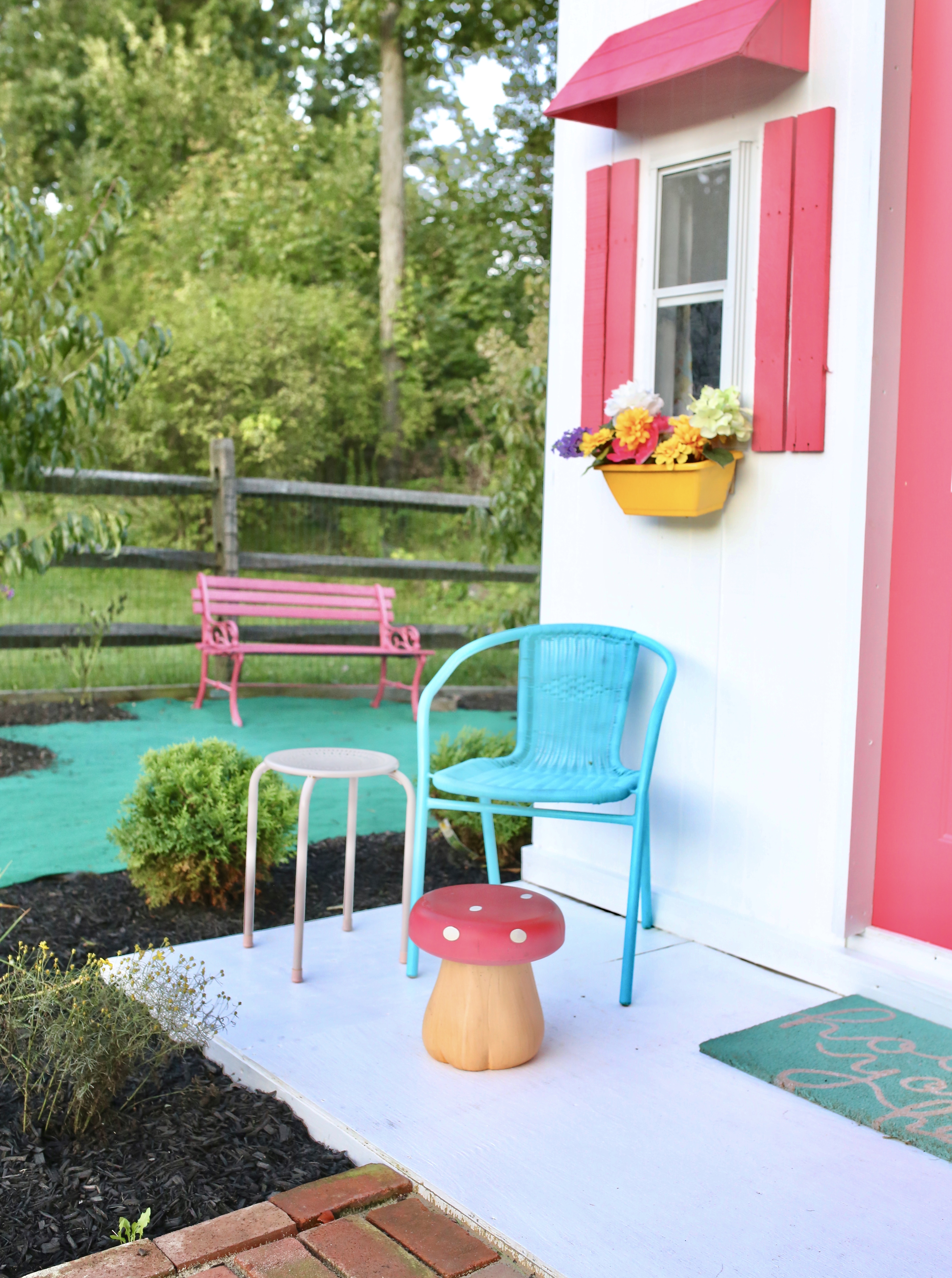 The flower boxes are from the Dollar Store! I bought the plastic planters, spray painted them yellow and filled them with Dollar Store flowers.  Each flower box cost me approximately $4 each.
The tin mailbox was a $9 mailbox from Lowes that I spray painted blue to match the chairs.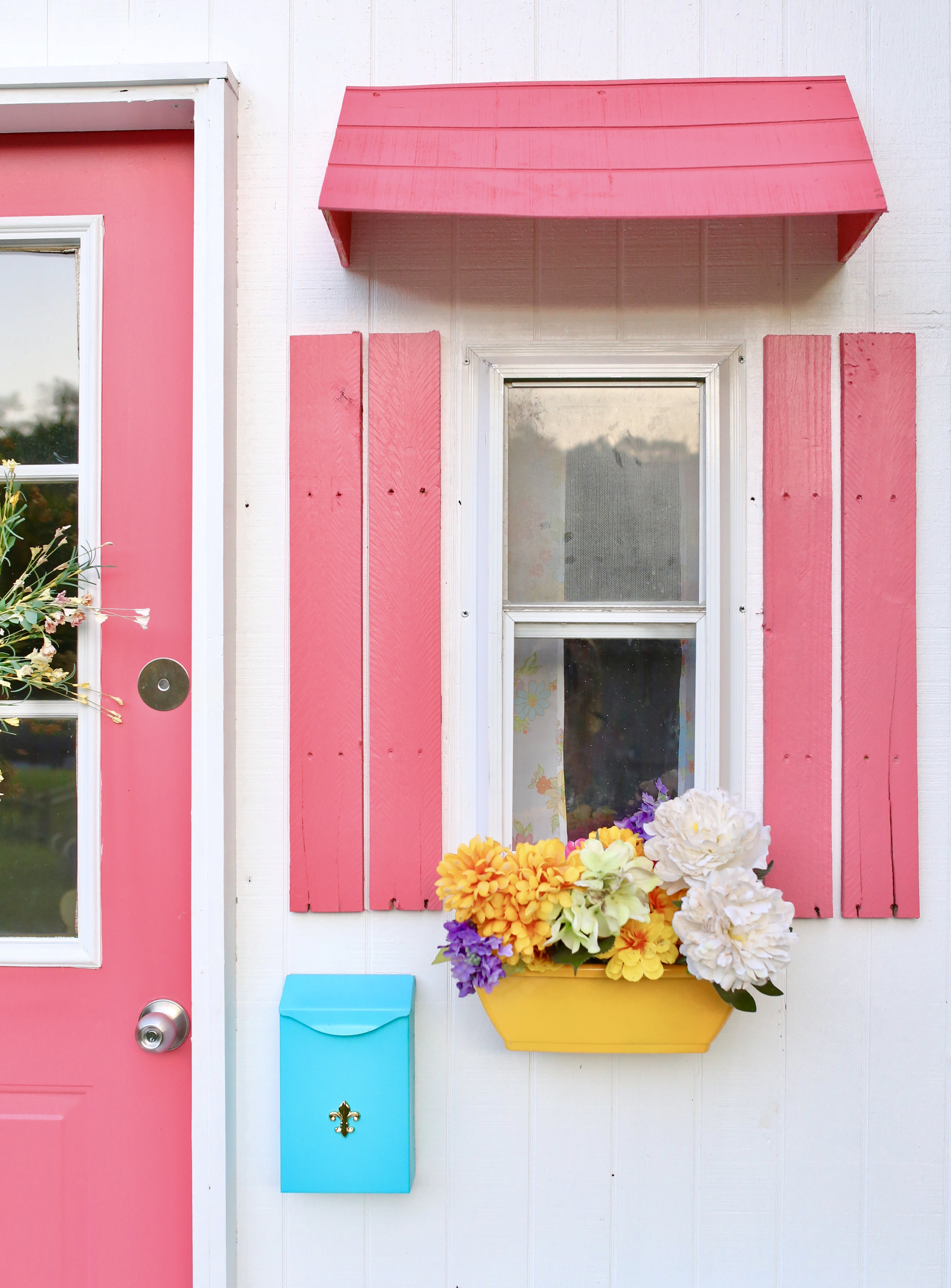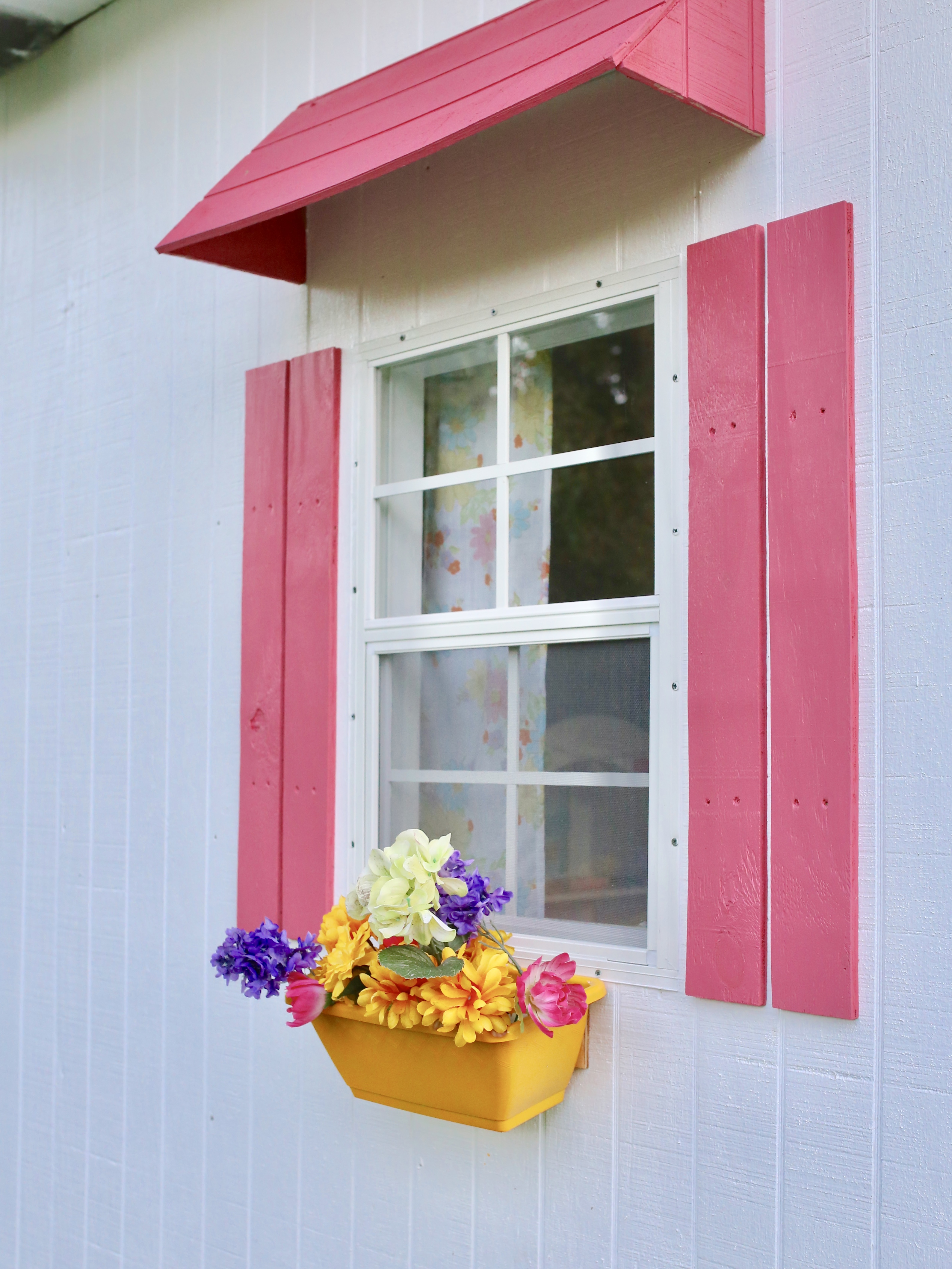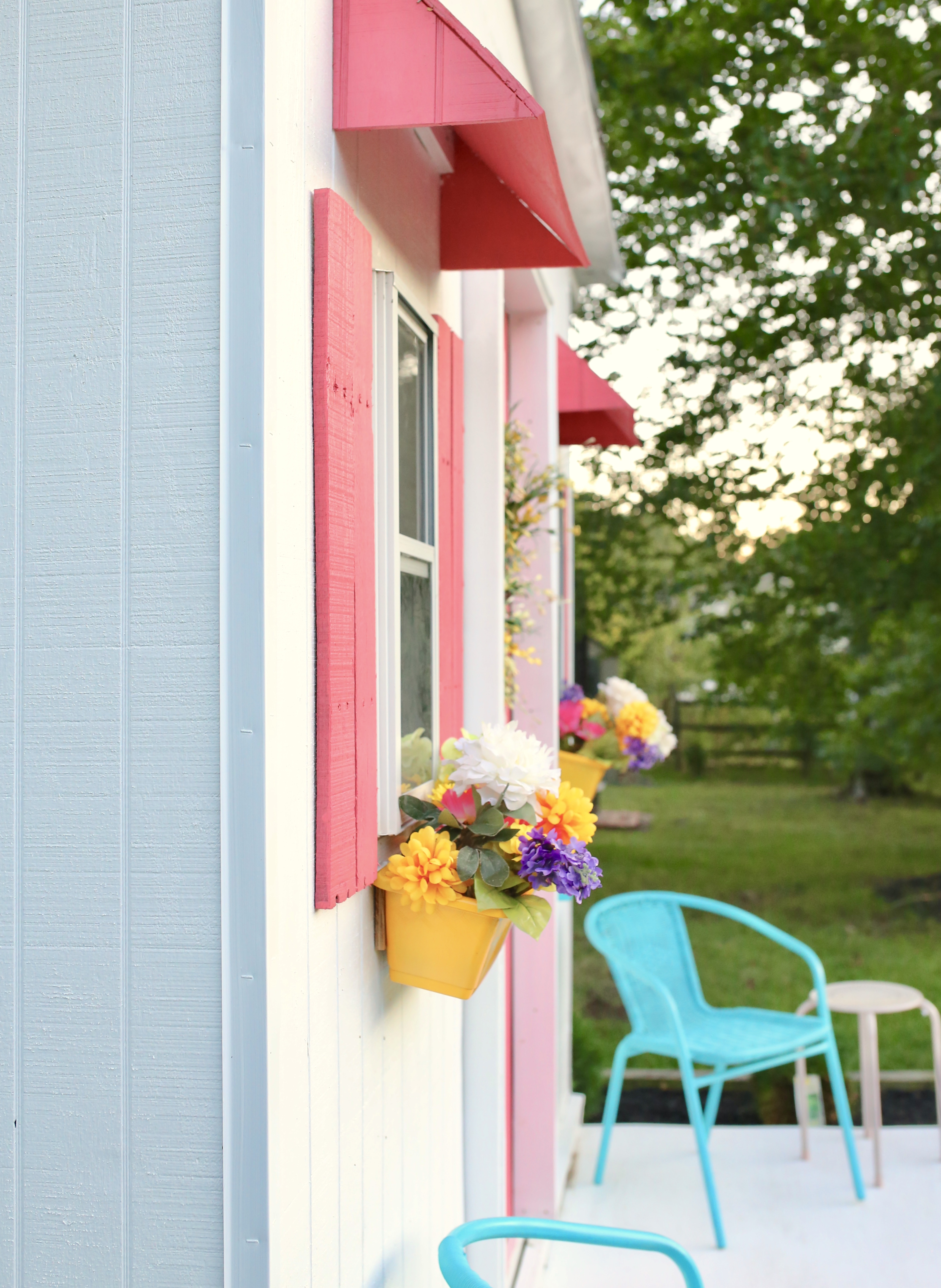 The bench to the side was a free bench that was rusty and faded.  I sprayed it pink to match the rest of the house and it is adorable.
The peach trees had been planted 2 years ago and will grow in nicely for this area.  Of course, the outside wasn't complete without a fake grass area.  This outdoor carpet from a discount shop should hold up nicely for the next 3-5 years.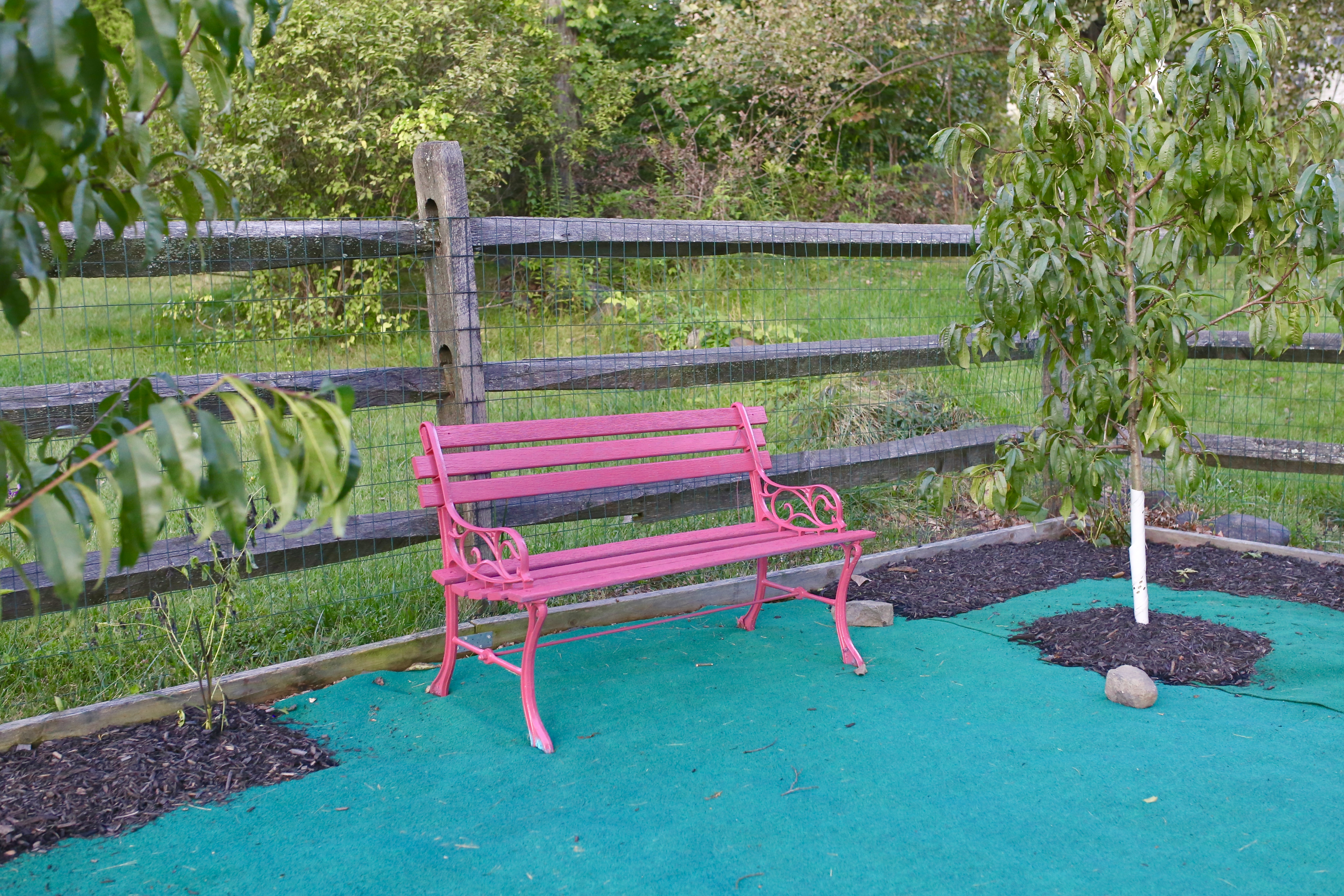 A friend of mine happened to be clearing out her gardens, so I was able to plant all of the flowers around the playhouse with her trimmings. They will come back fuller and bigger next year.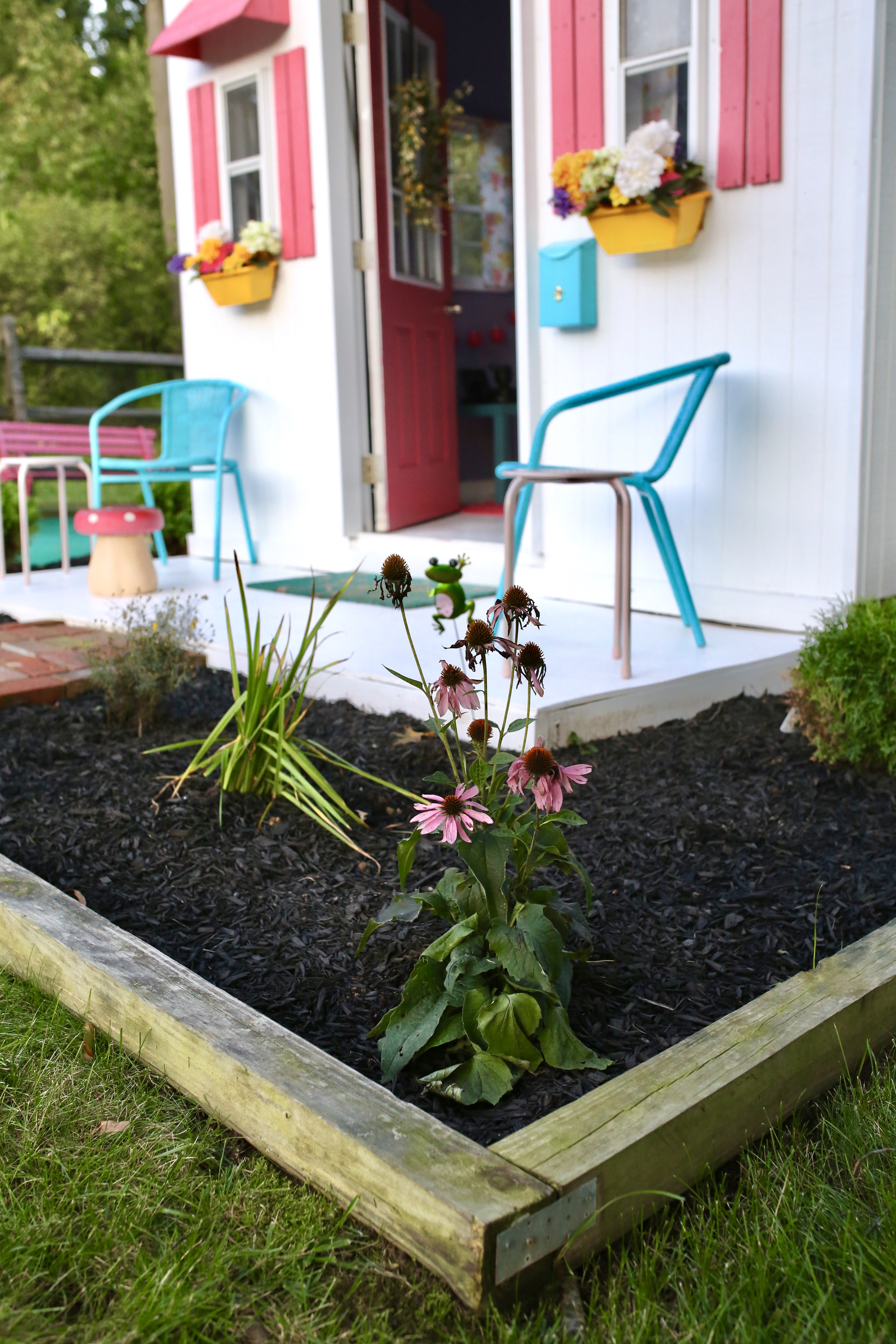 This is the view from outside of our fenced area.  I can't stop wondering what the neighbors think.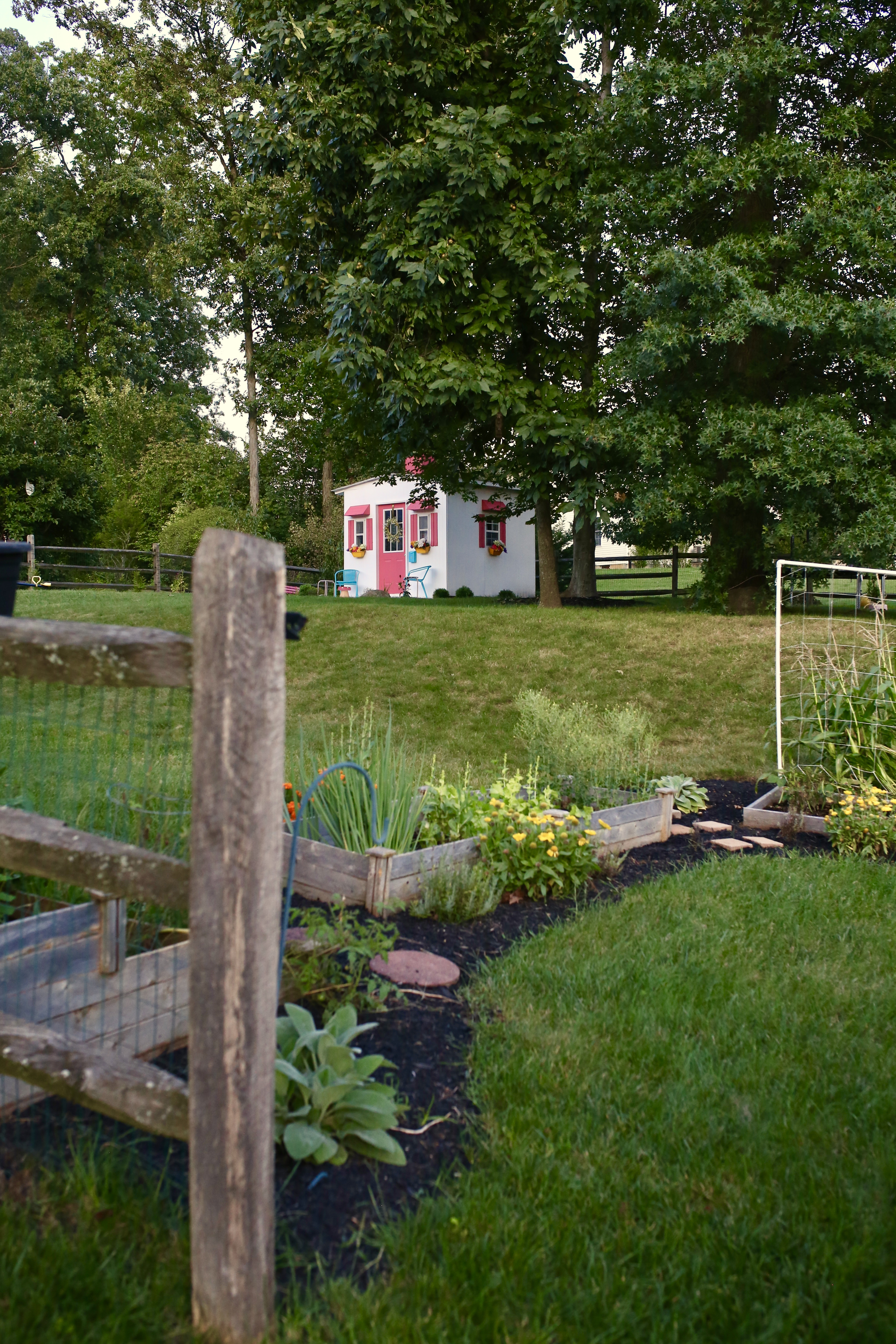 This is the inside view from the porch.  All of the interior walls are lined with chipboard that we painted purple.  I managed to find a 5 gallon bucket of "oops paint" from Lowes for $10.  That price is unbeatable for that much paint.  I had them lighten it for me a bit by adding white to it.  It turned out to be the perfect wall color.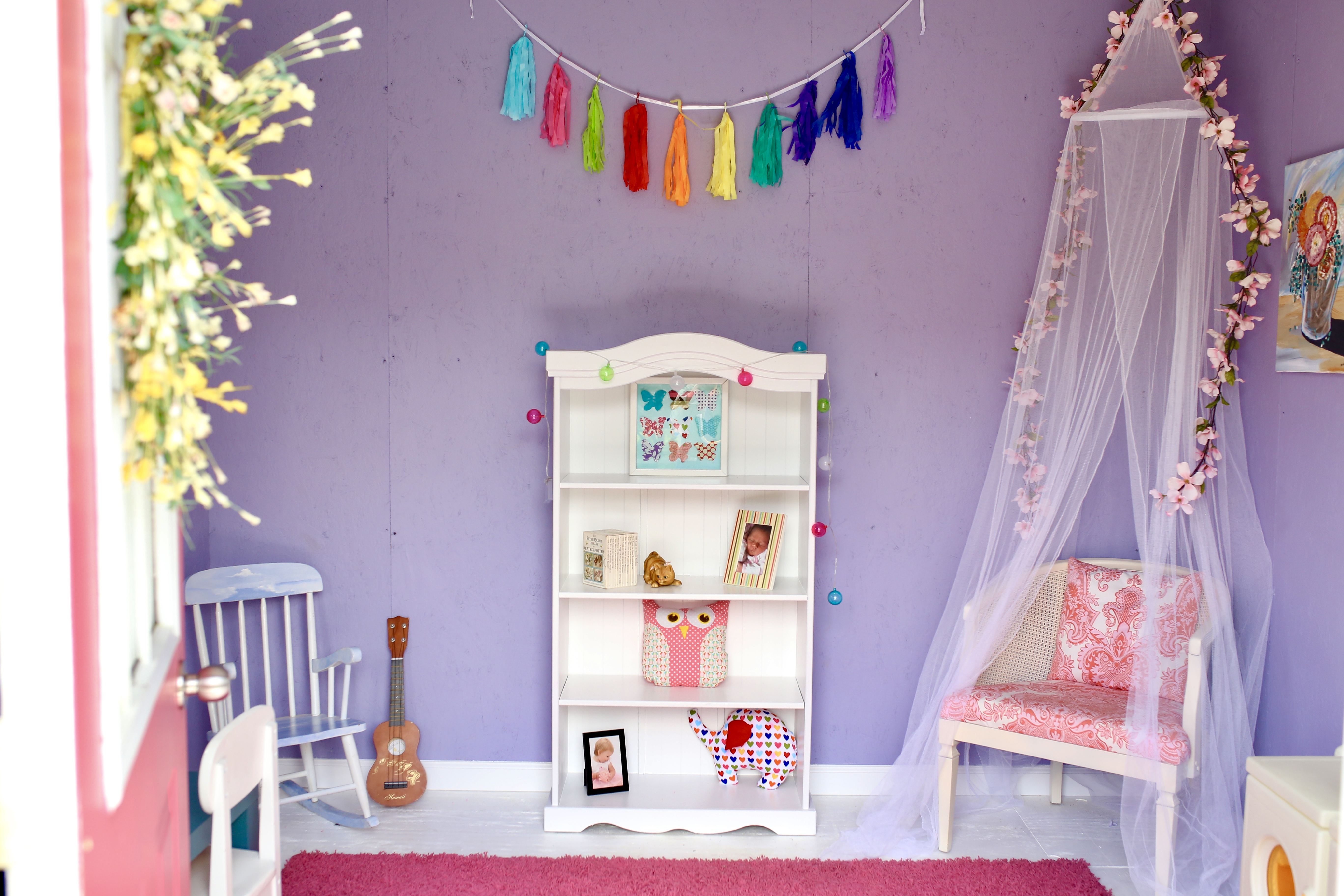 Ainsley found this bookshelf at a thrift store for $15. She decorated the shelves by herself with items from her room.
The pink rug was from the Restore for $5.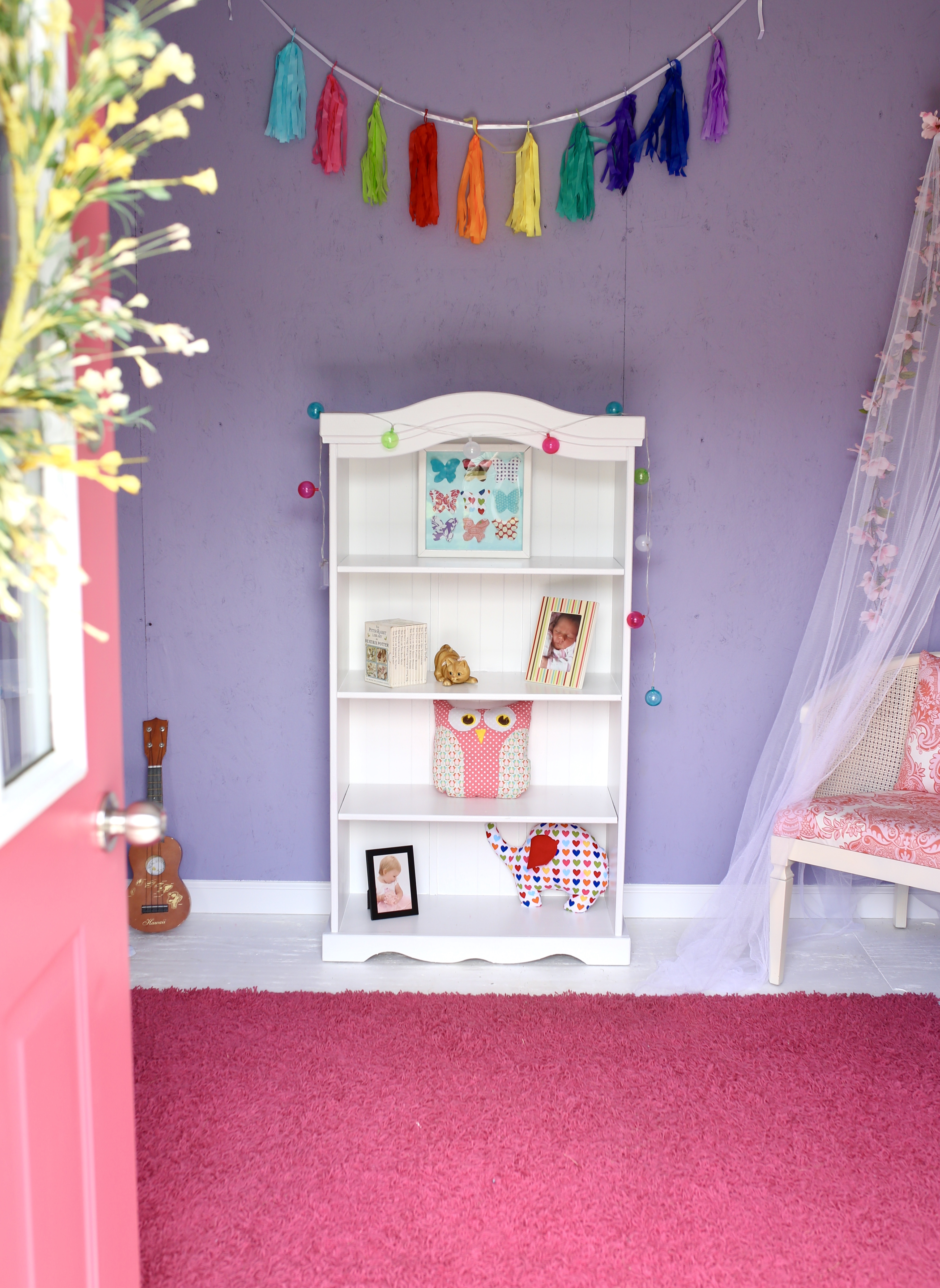 The corner chair was a chair that I had refinished years ago.  Read this post to see the before.  It fits perfectly in the corner with the mosquito net we purchased at Five Below.  The painting hung next to it was from a thrift shop, which I believe was $1.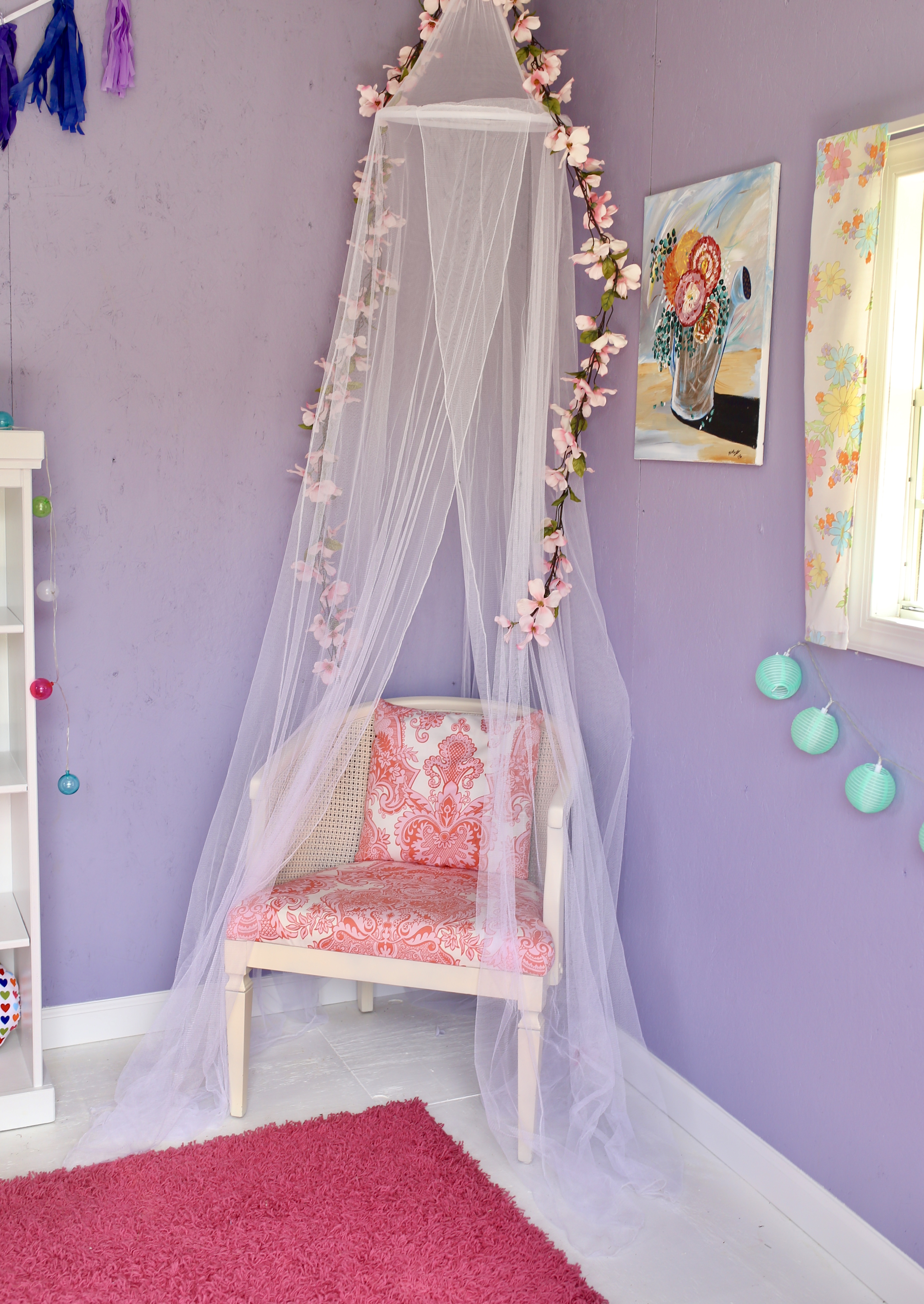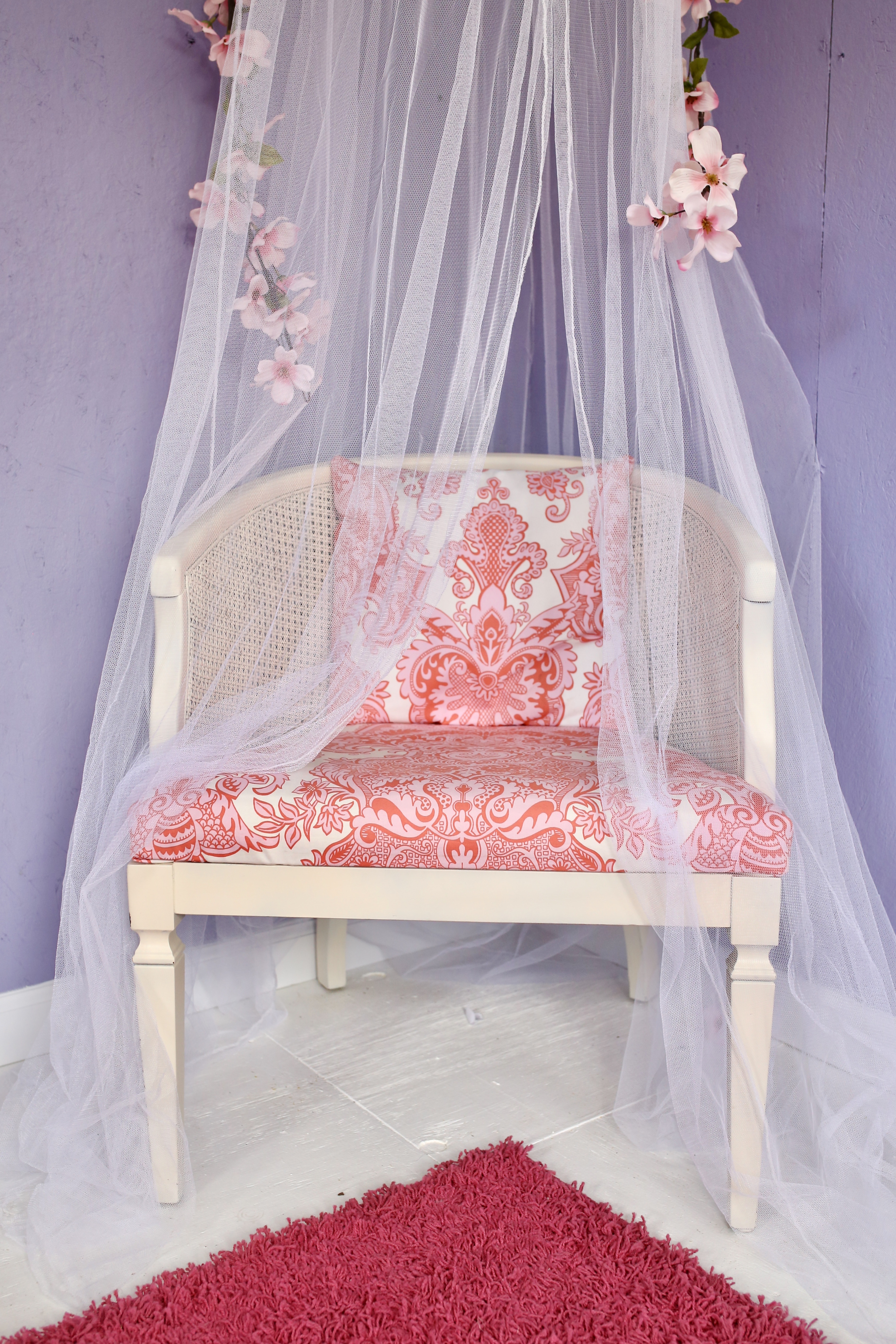 I made the cute curtains out of a vintage bedsheet I purchased at a thrift shop.  I loved the funky flowers and colors.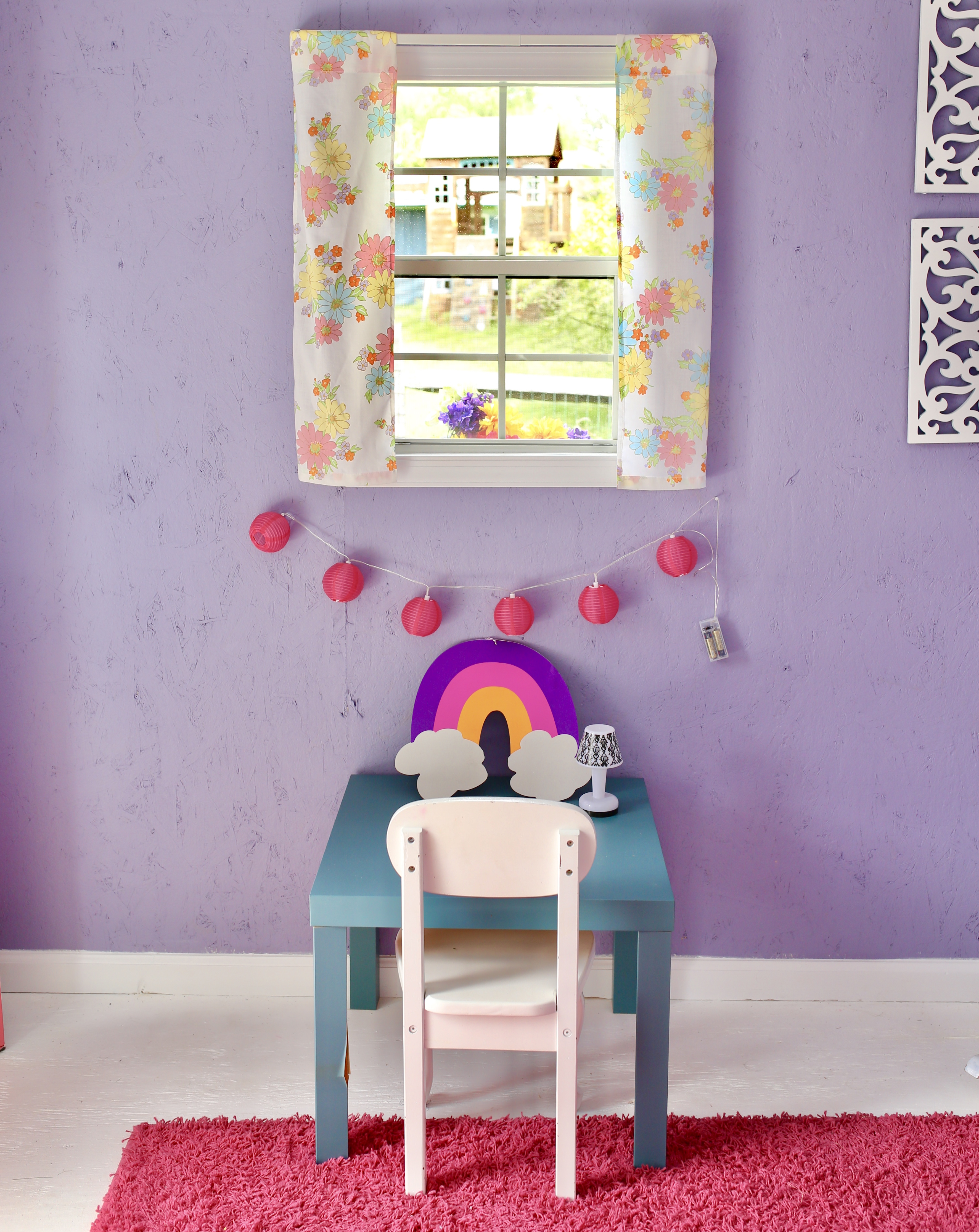 We already owned the blue table and white chair. Ainsley and her friends love to come out to the playhouse and do crafts.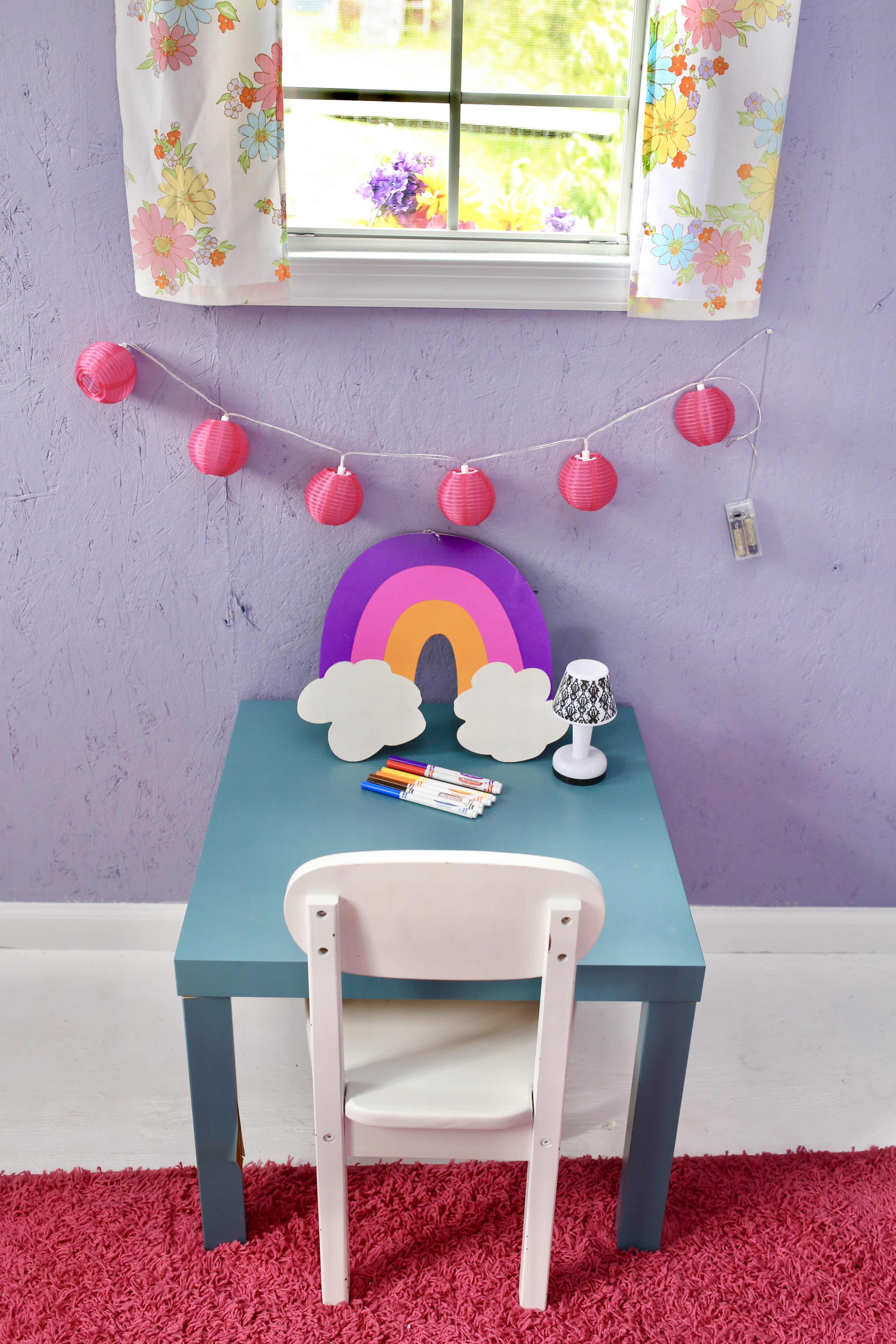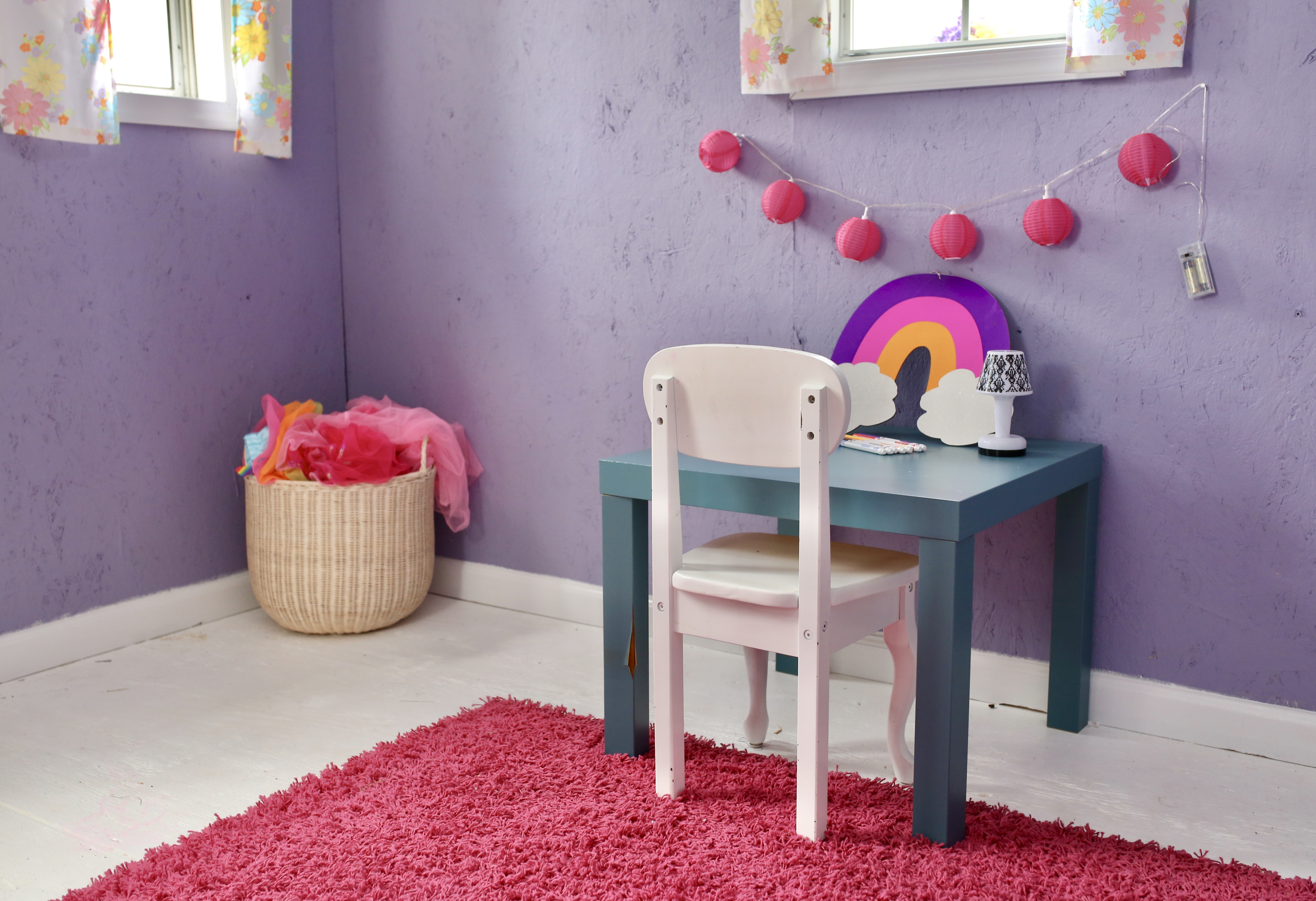 No playhouse is complete without a dress up area.  Since taking this photo, the dress up clothes have multiplied and are frequently used.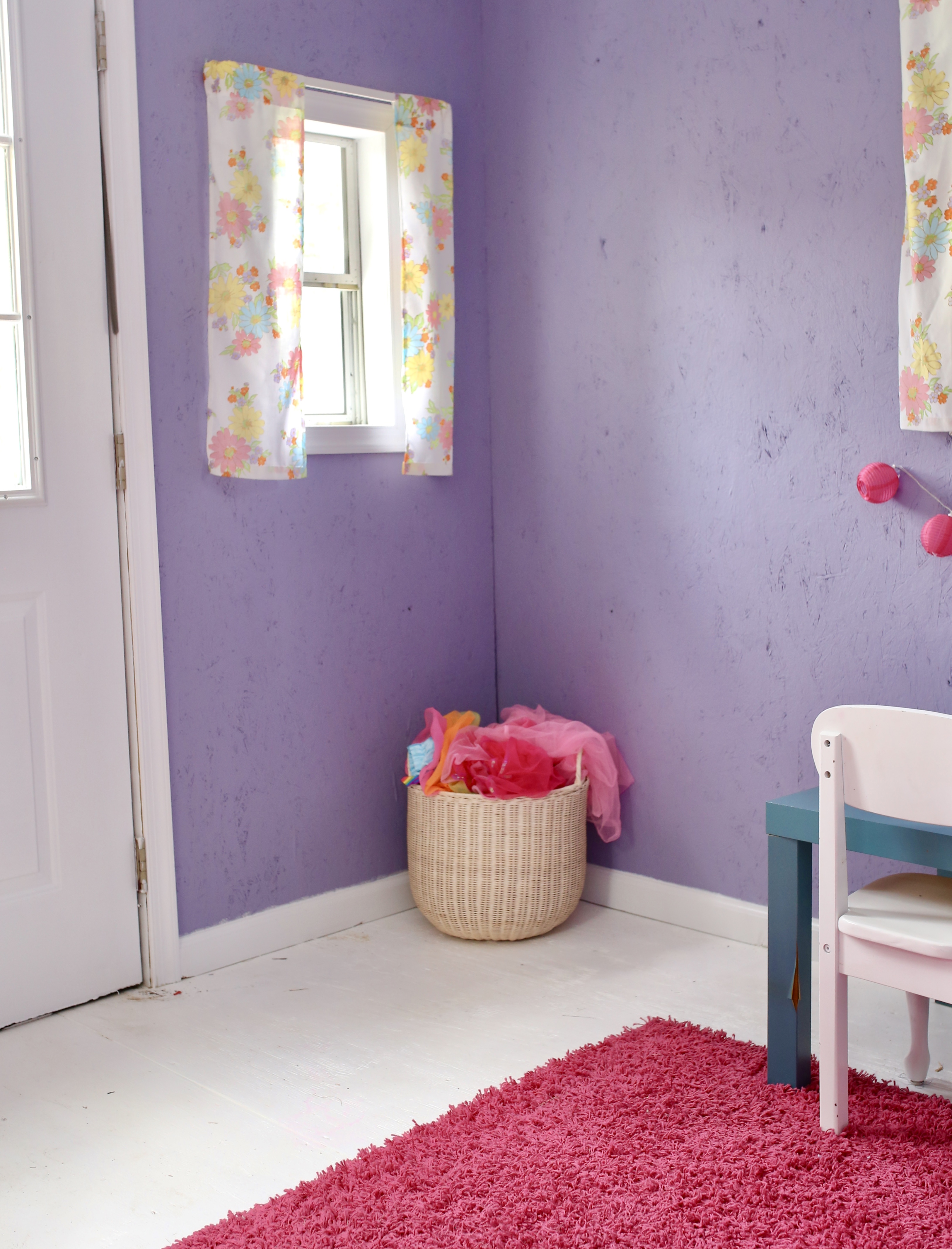 I love this little corner. That rocking chair was given to us many years ago and is a great little spot to play the ukulele.
The white frames on the wall were originally black picture frames from Pier One.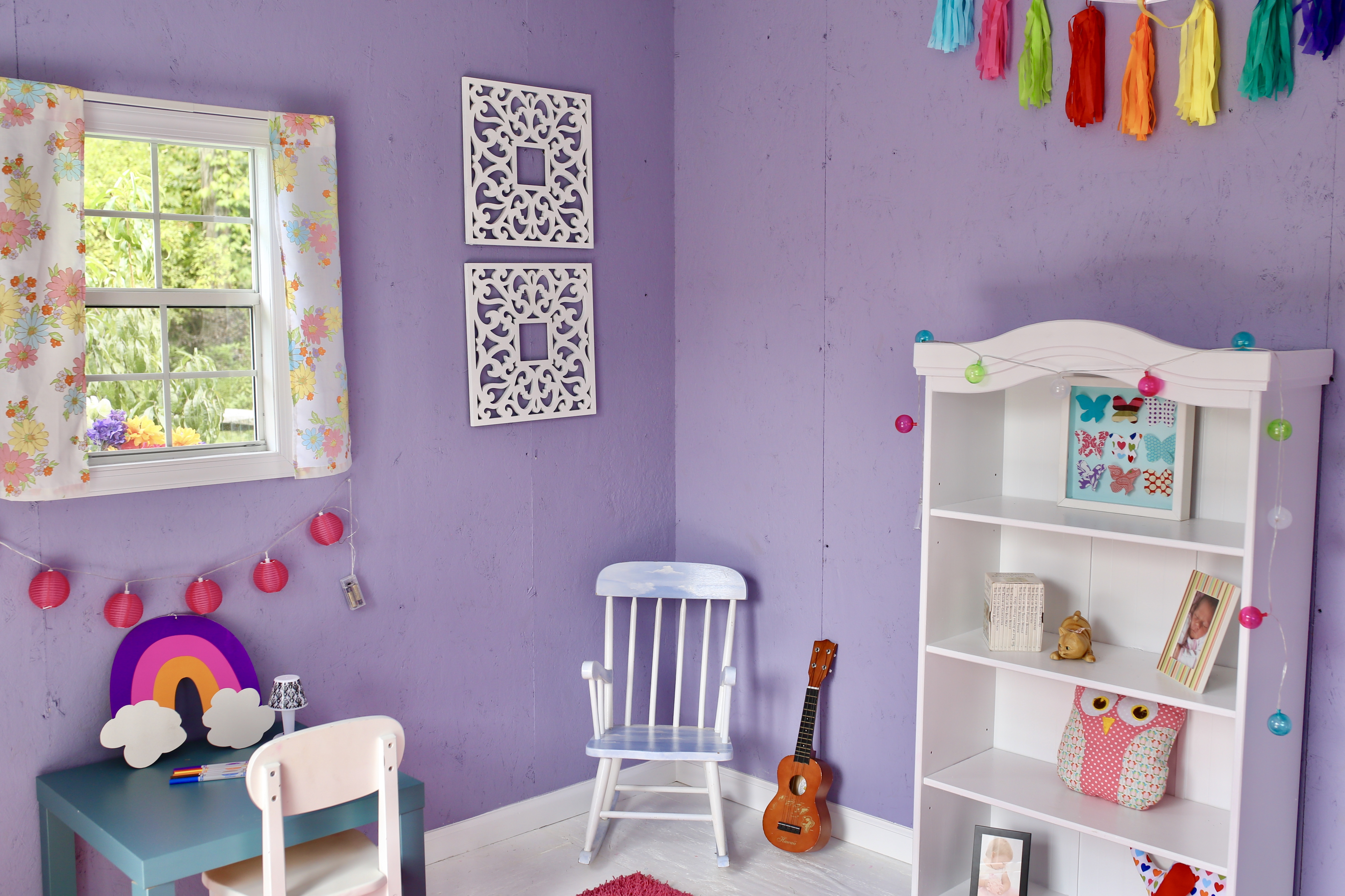 A close up of her bookcase.  I made that butterfly art several years ago. Tutorial found HERE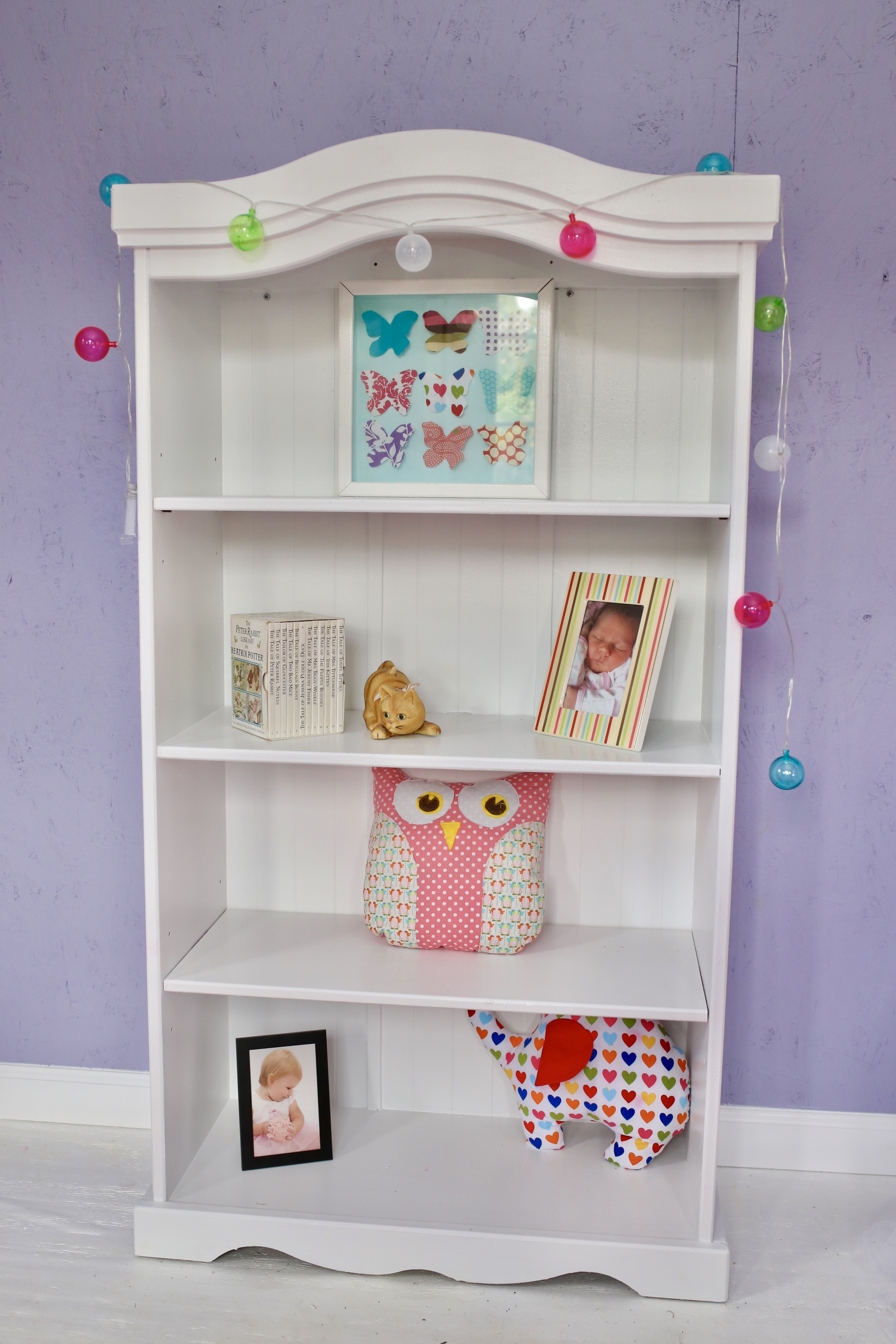 In the other corner, Ainsley wanted her play kitchen. Above that, we hung simply embroidery hoops that I made years ago.  Some just have scrap fabric stretched in them and the others have words I hand embroidered.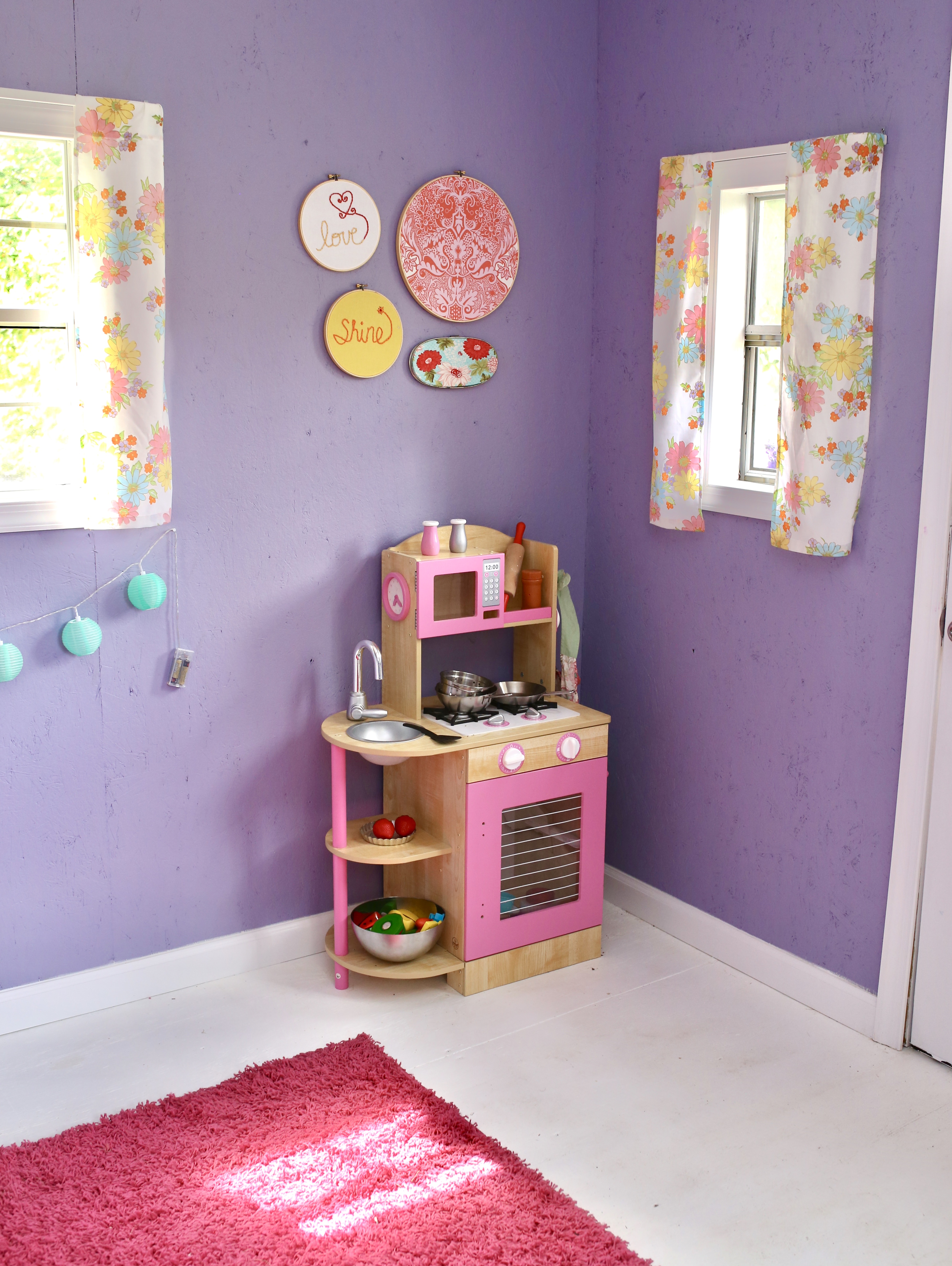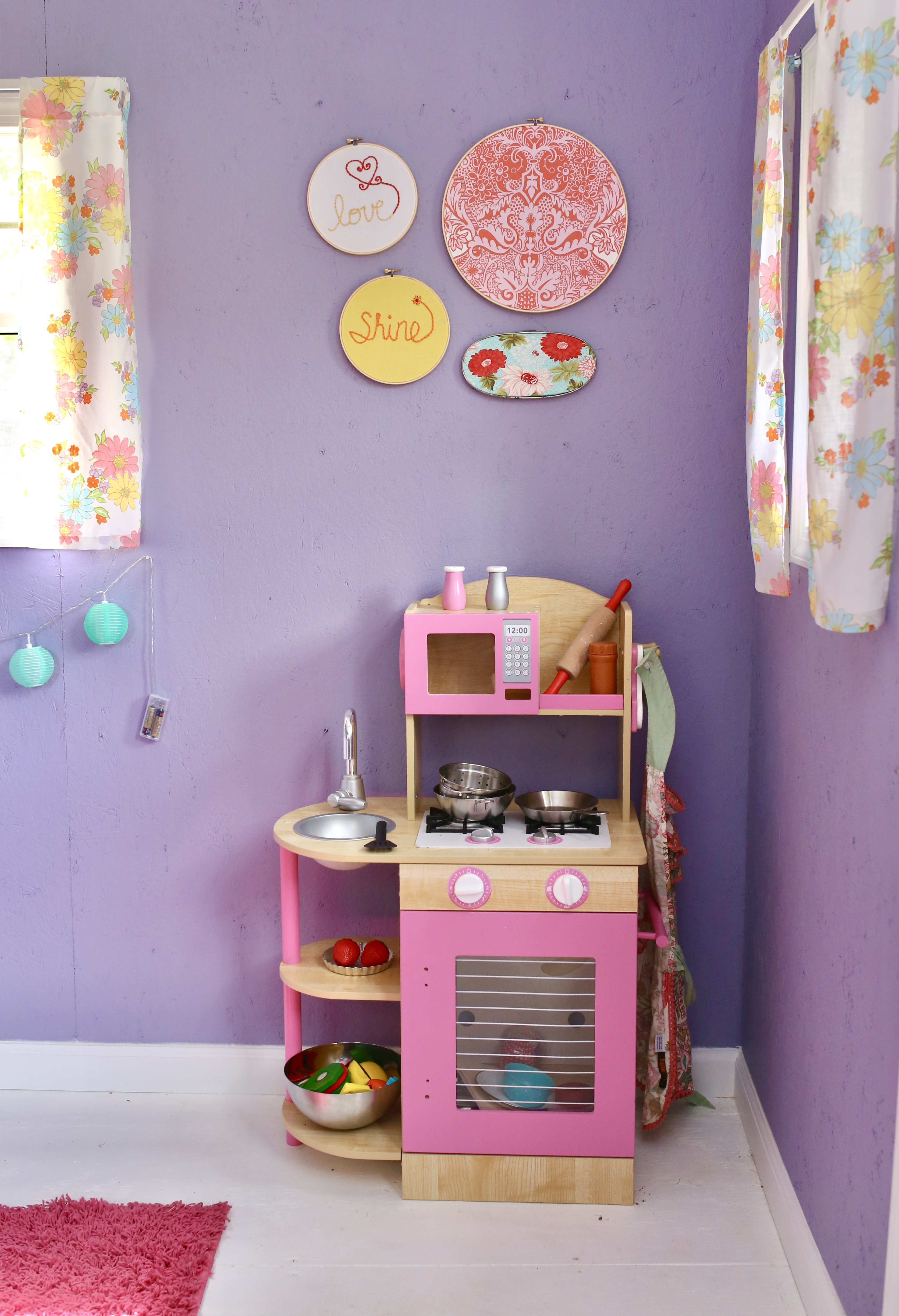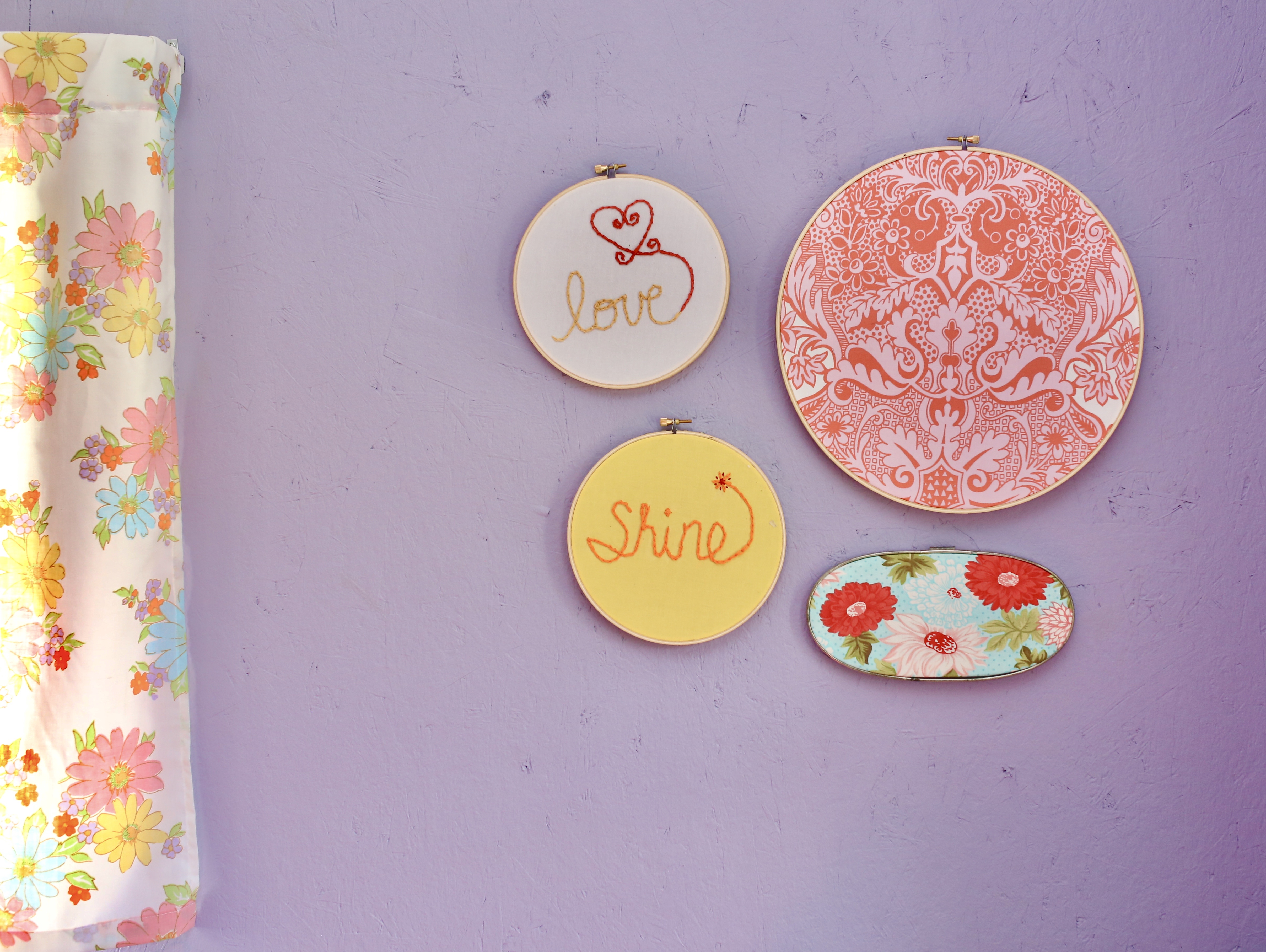 Ainsley and her friends have had SO much fun in this playhouse and I know it will be a memory that they will share for life.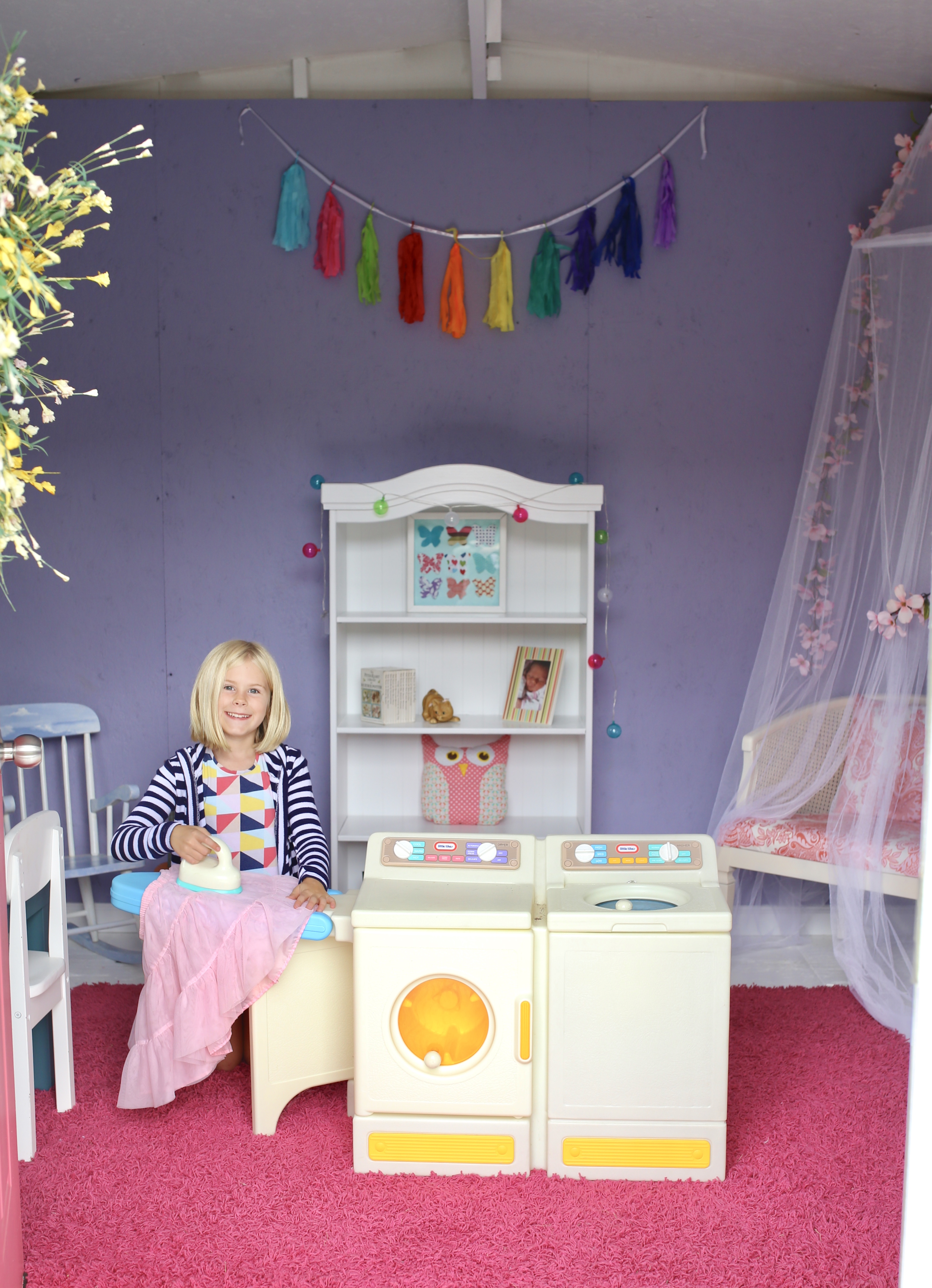 A view of the ceiling for anyone that wants to replicate.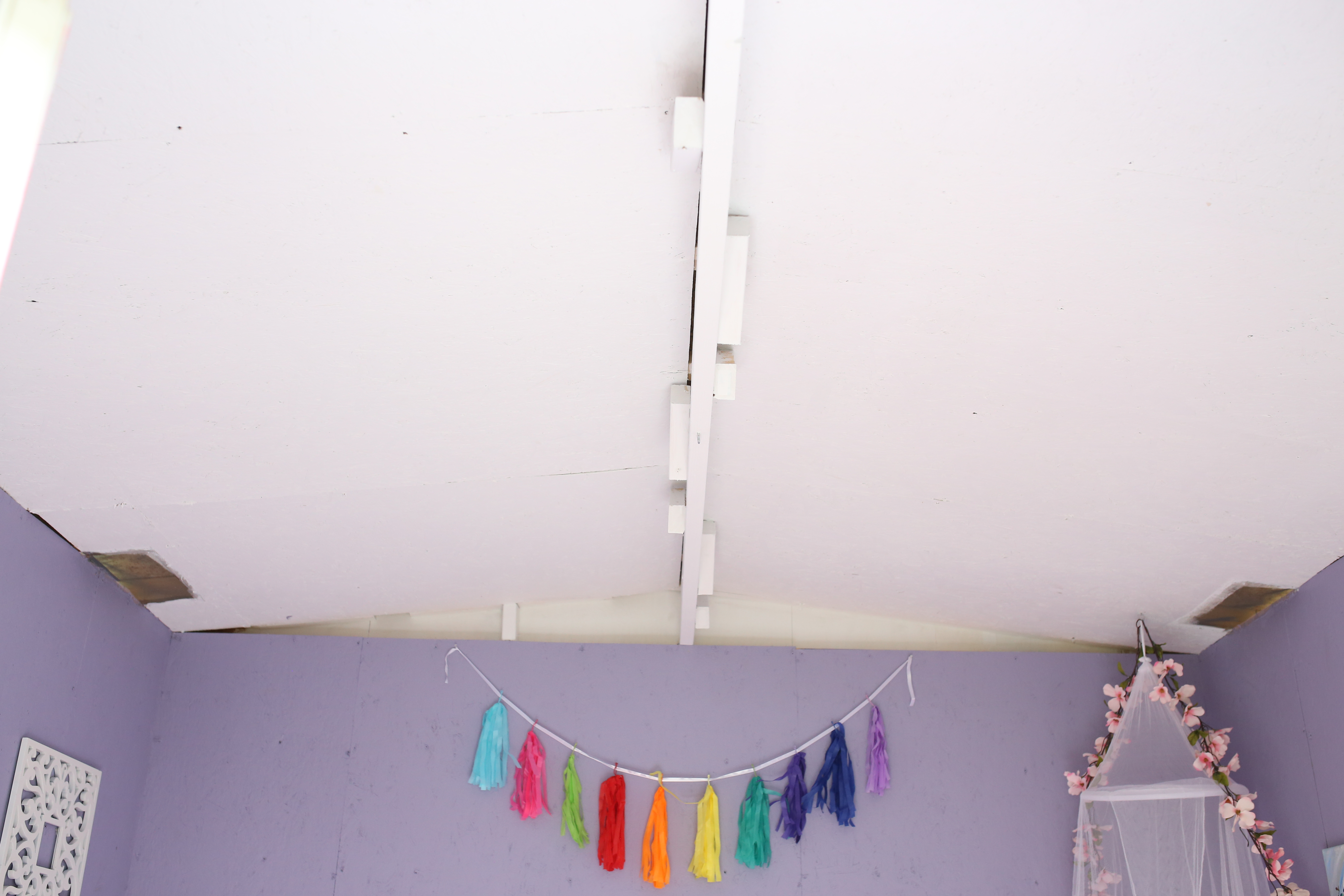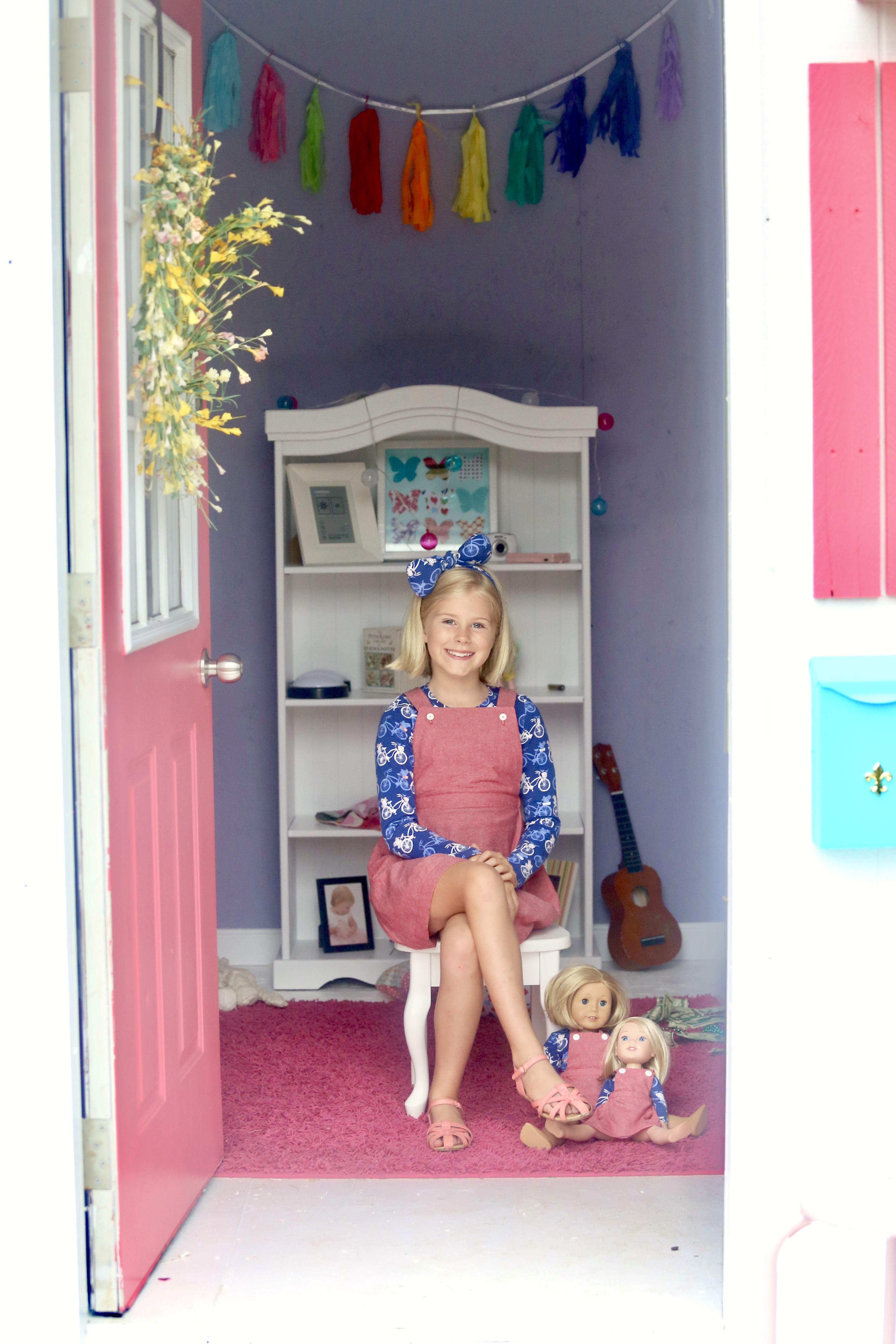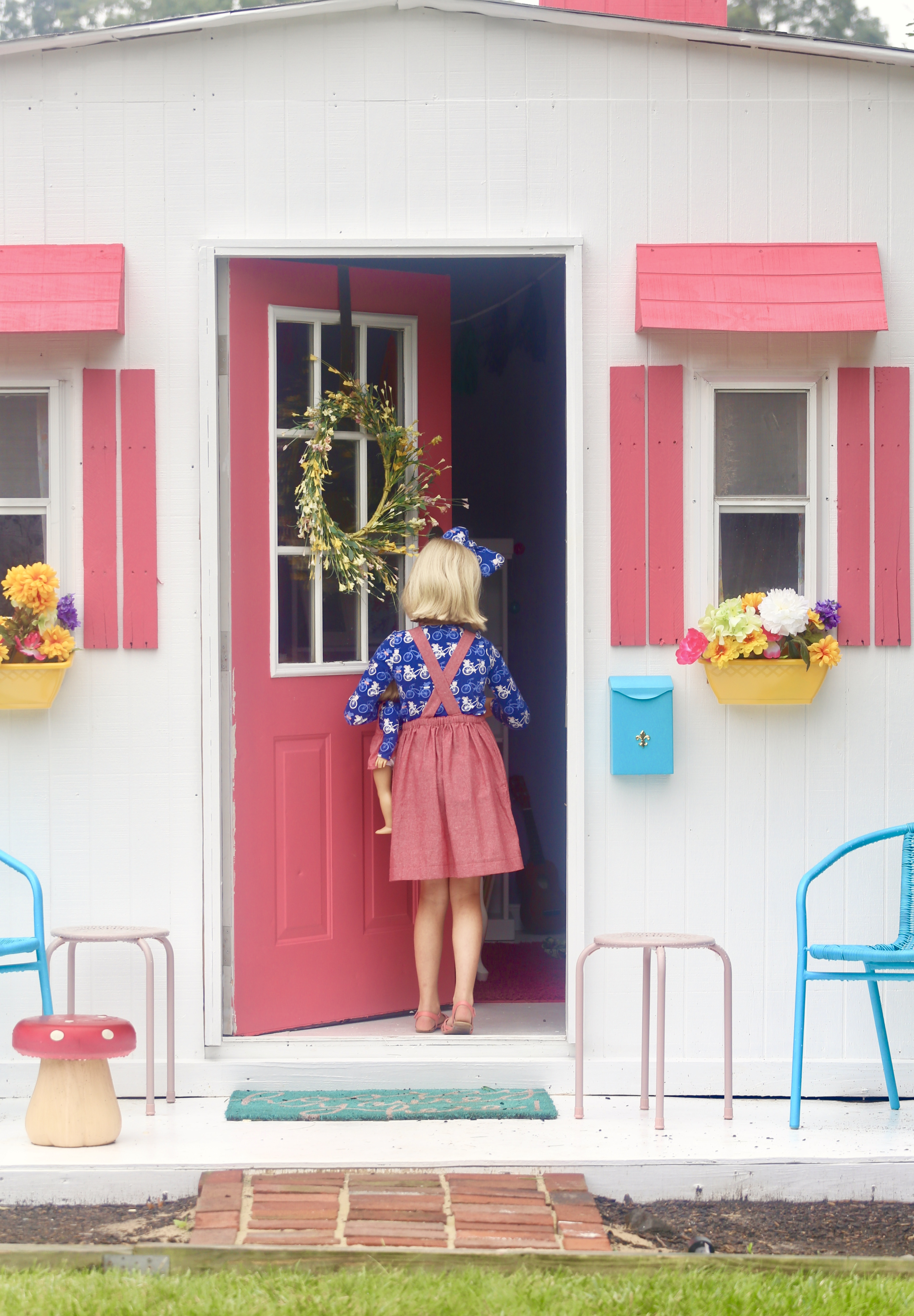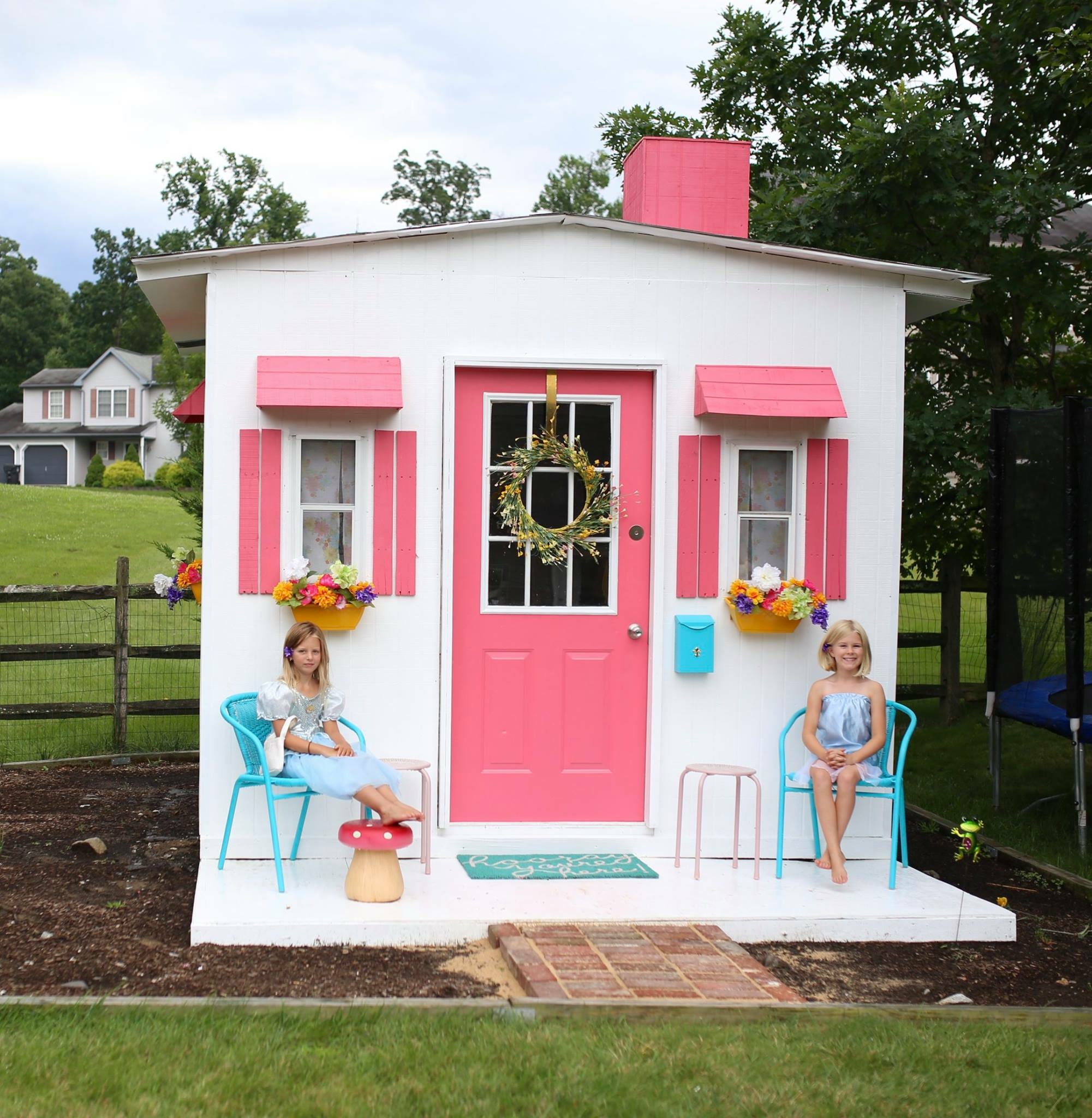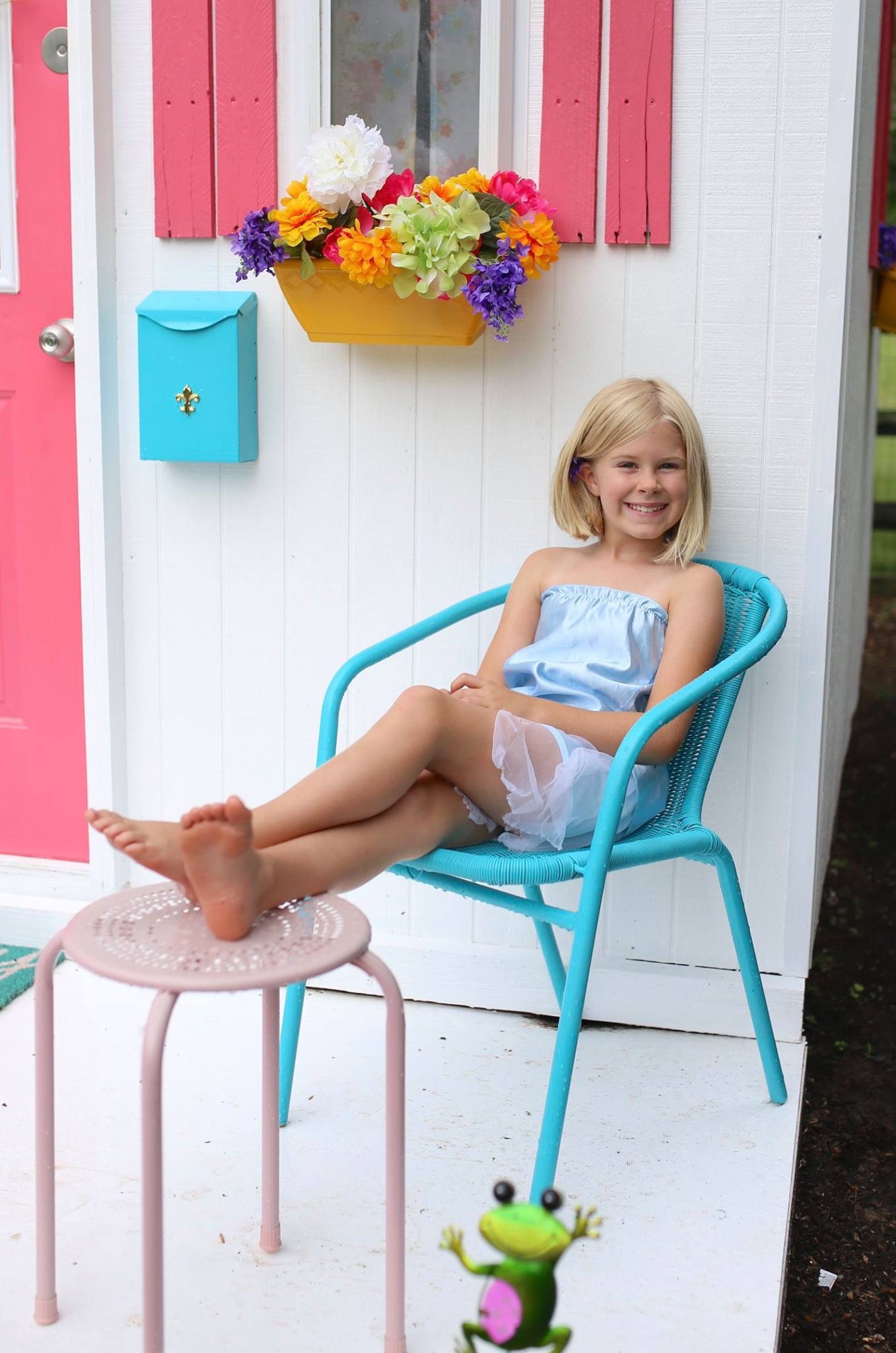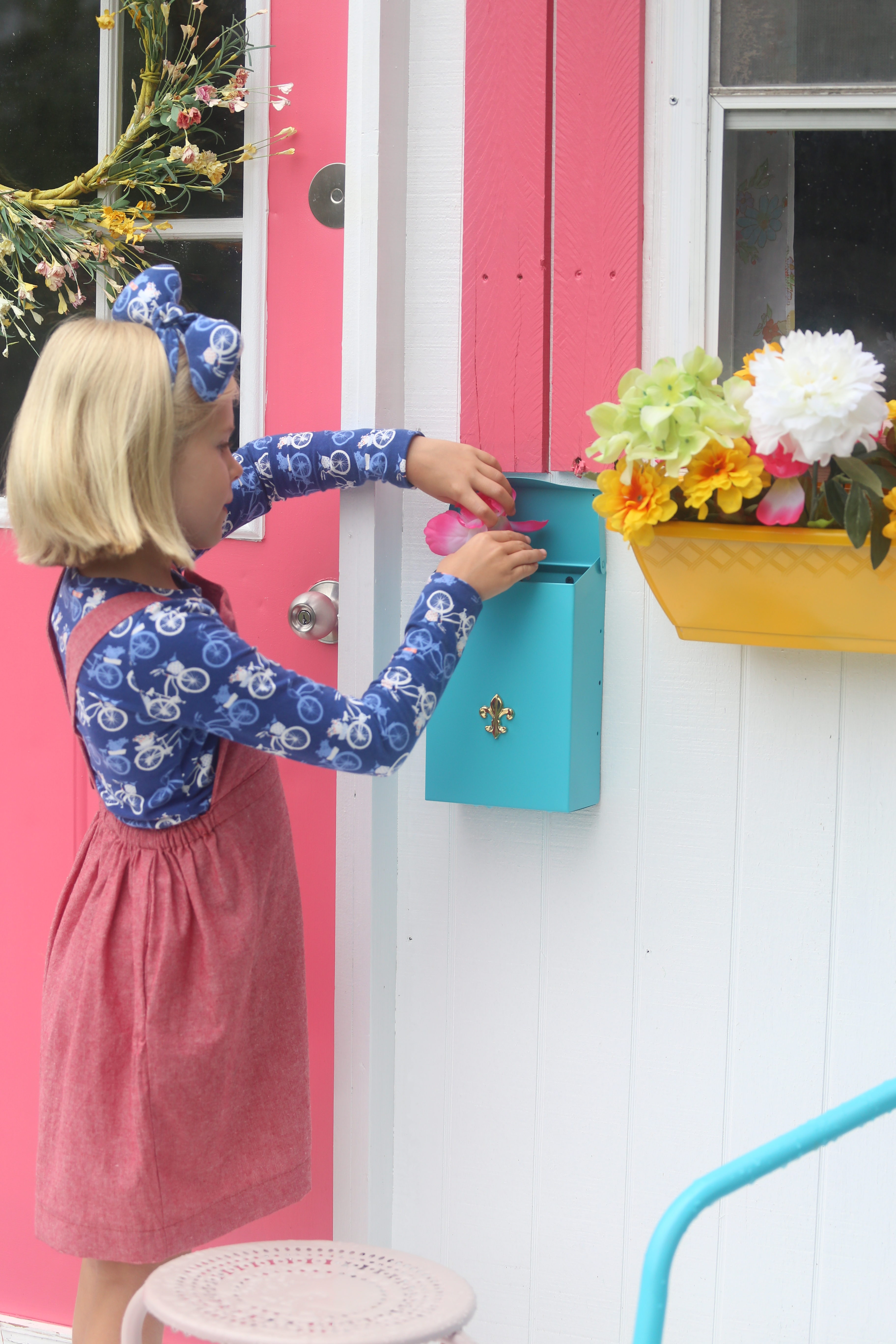 Let me know if you have any specific questions and I will try to answer!

Hayley Crouse is a wife, mother and multifaceted designer. Her love of sewing, crafting, cooking and interior design infuses her daily life and naturally spills over into her online presence. She pushes the envelope of her creativity and hopes that others will be inspired to do the same. She currently authors the Welcome to the Mouse House Blog, is the pattern designer behind Mouse House Creations and is a collaborative designer with Willow & Co. Patterns.