We finished the master bathroom and master bathroom remodel last year (click HERE  to see the bathroom!) and I am just now getting around to posting pictures of the master bedroom!  We absolutely love it.  You can scroll to the end to see pictures of the before and how we reconfigured the closet area to better utilize the space. I will add links to most of the products in the room, so that you can shop for yourself!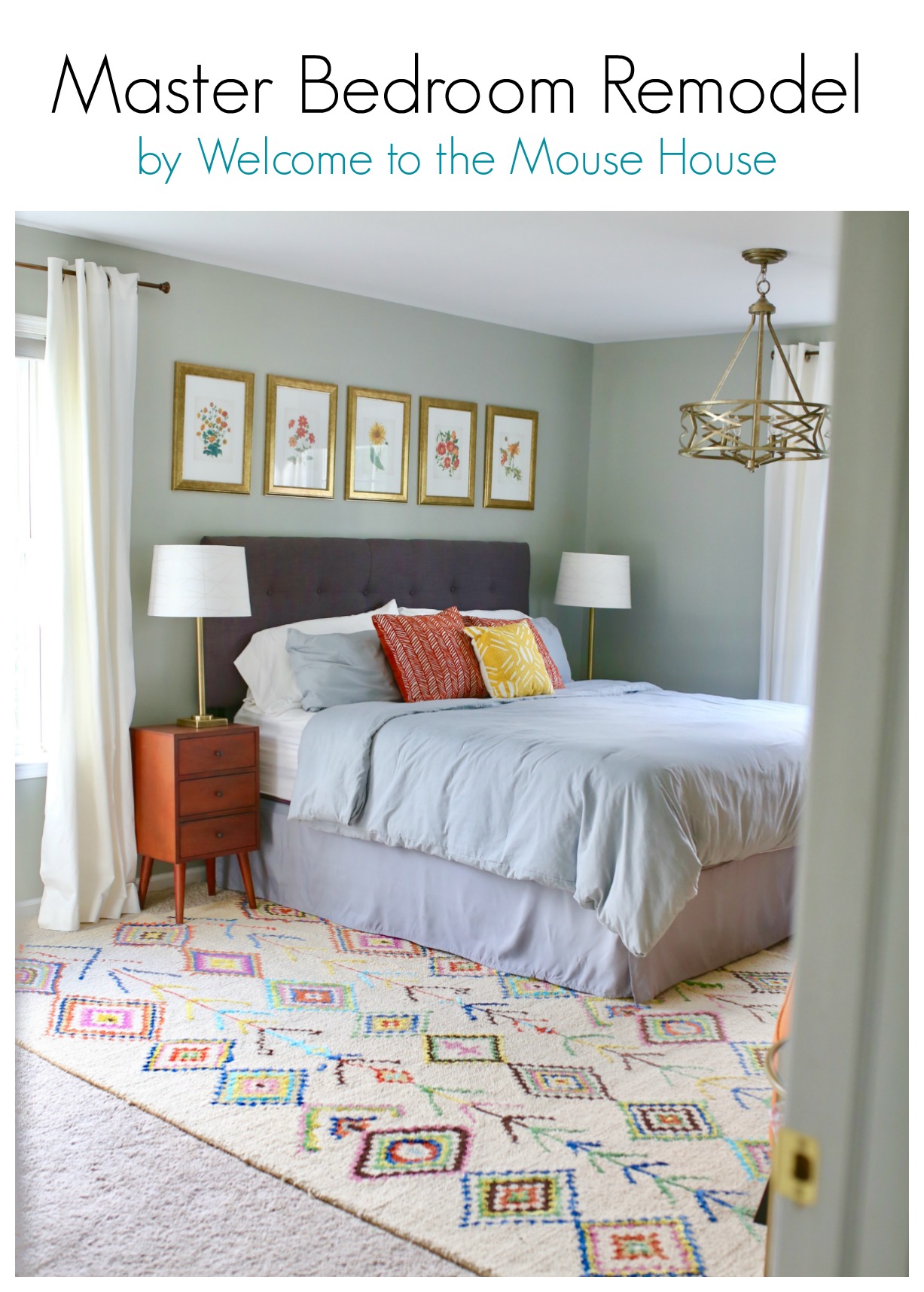 One of the first things we did, was square off the wall you see when you walk into the master. It used to be a strange angular wall with multiple pantries that were super unusable (scroll down to see pictures). This made the closet twice as large and gave us more wall space.  The mirror is from Overstock.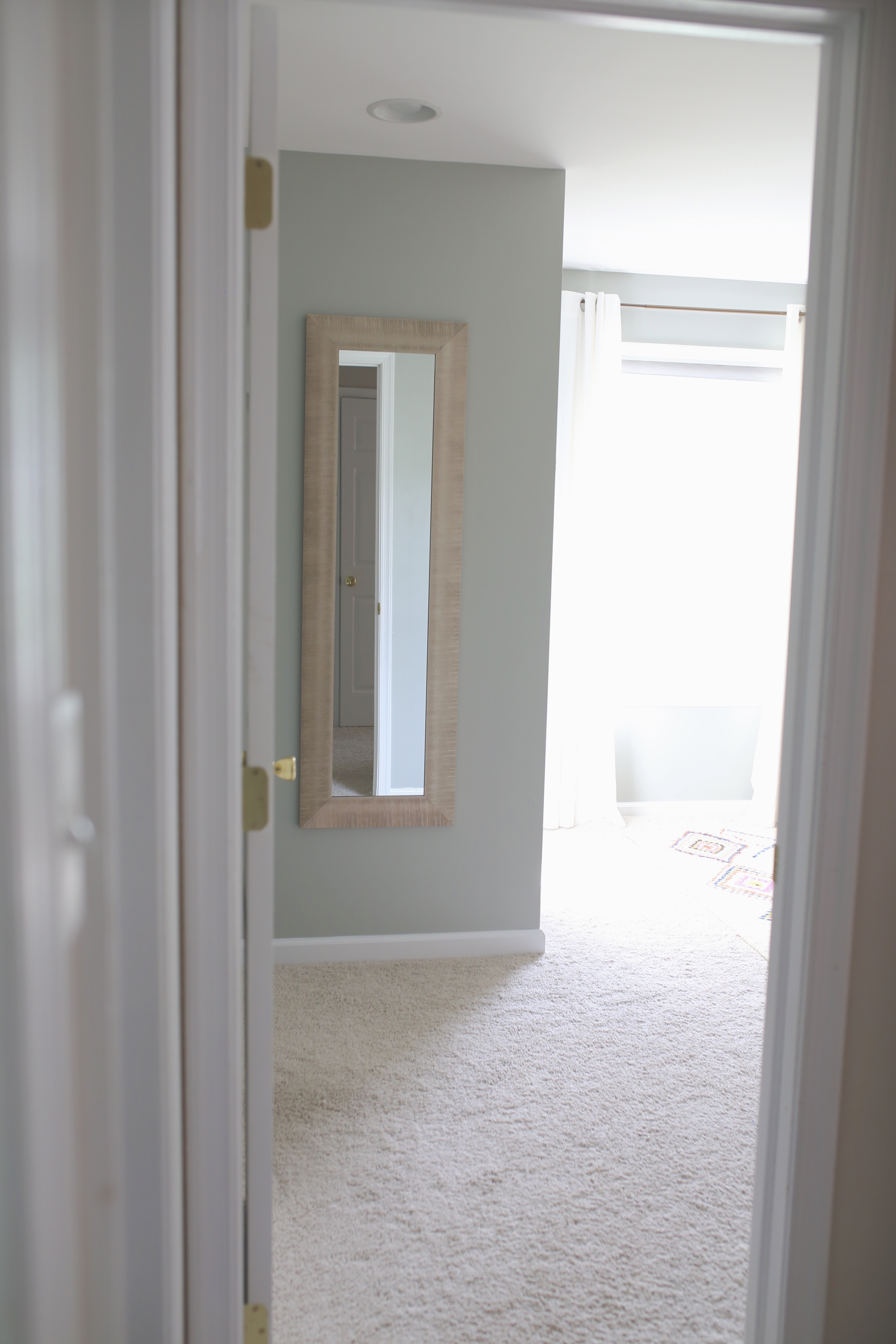 Looking from the bathroom into the bedroom.  Curtains are from IKEA. They are super long, so they needed hemming, but they are wonderful heavy quality.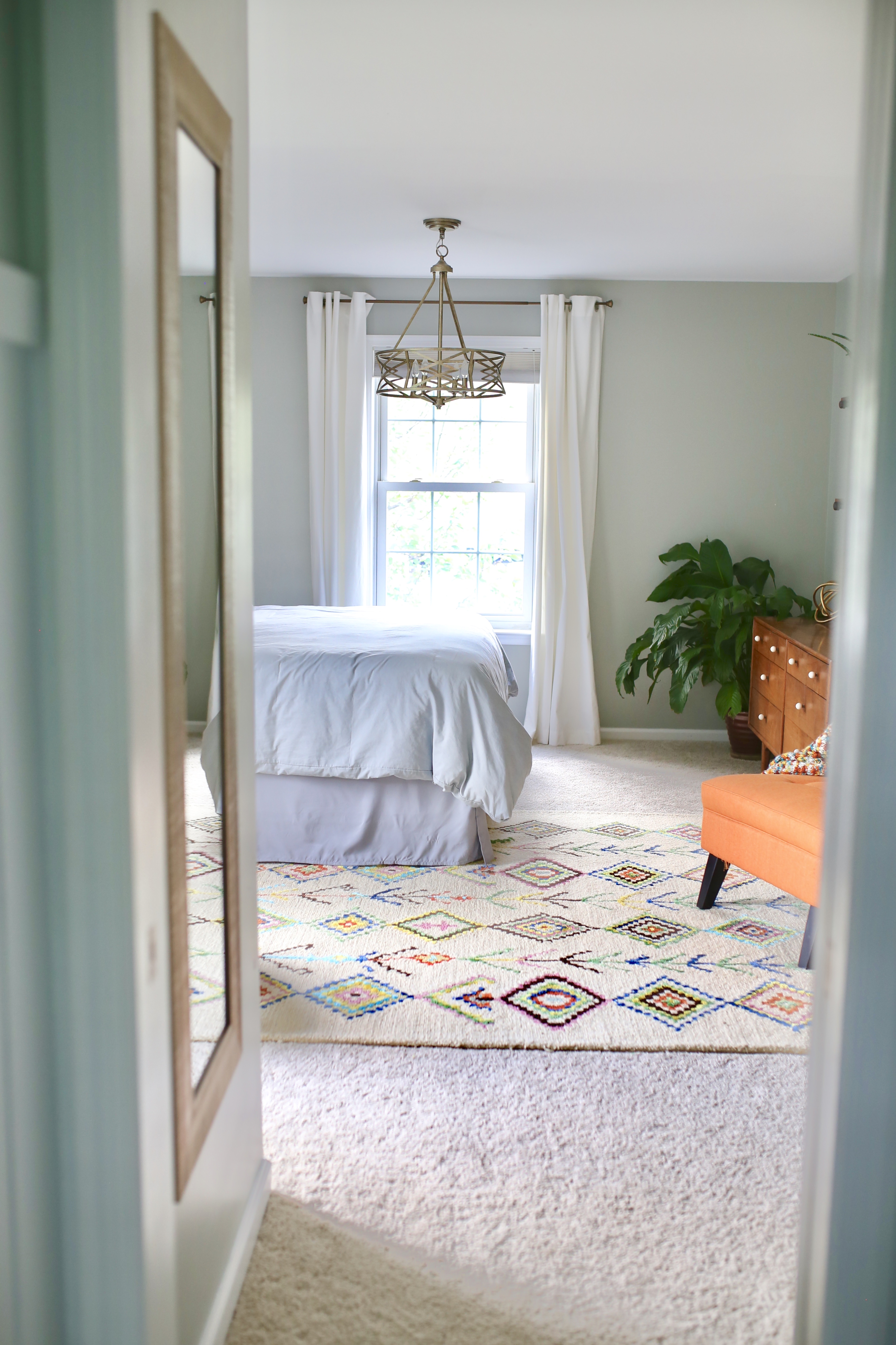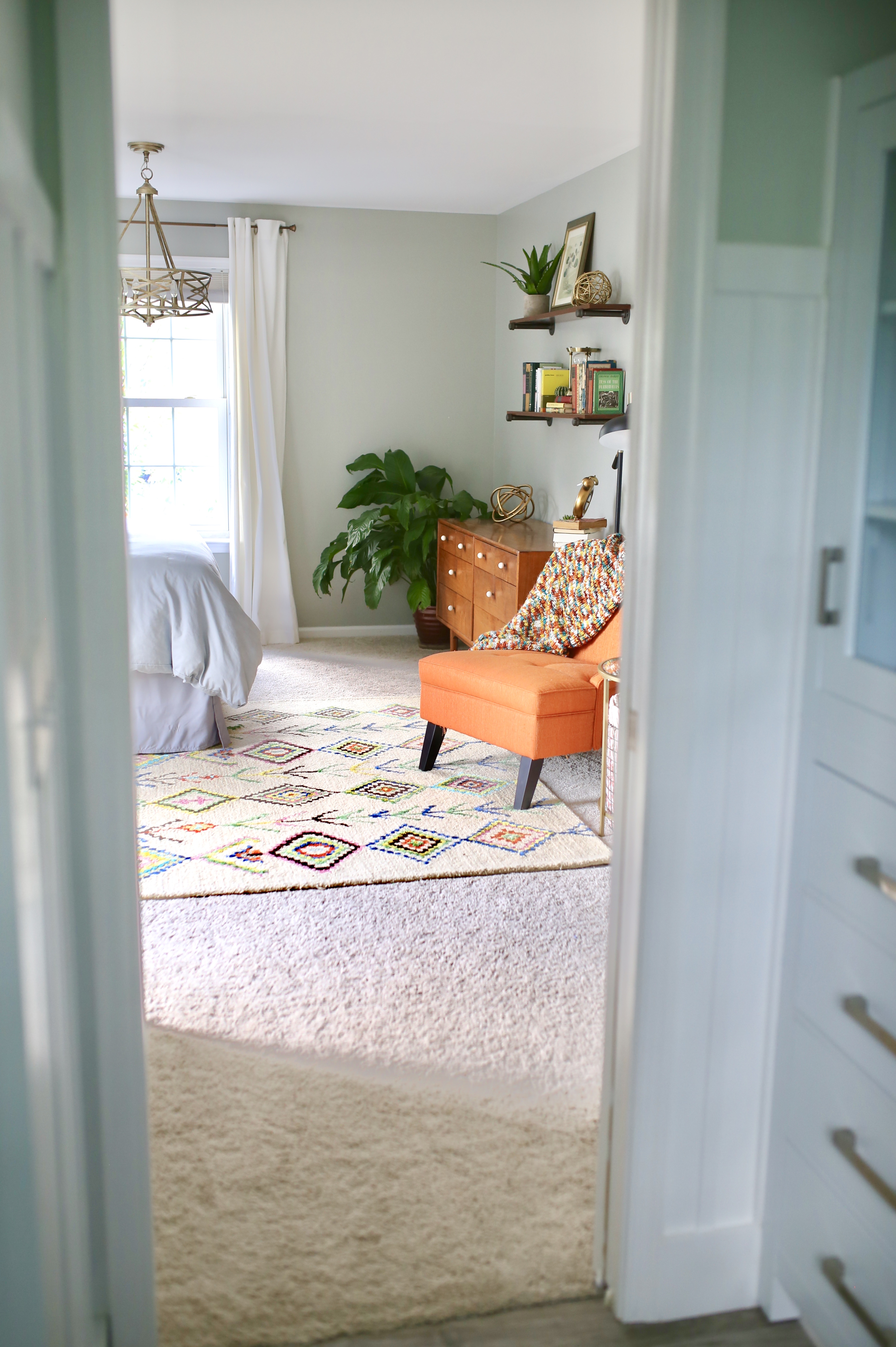 Orange chair was a great find on Wayfair.com.  Art above the chair was a photo found online, printed at Staples and then matted in a thrift store frame that I spray painted gold.  Lamp, side table, and basket are all from Target (during a massive sale).
We were gifted these awesome fake succulents and I love them!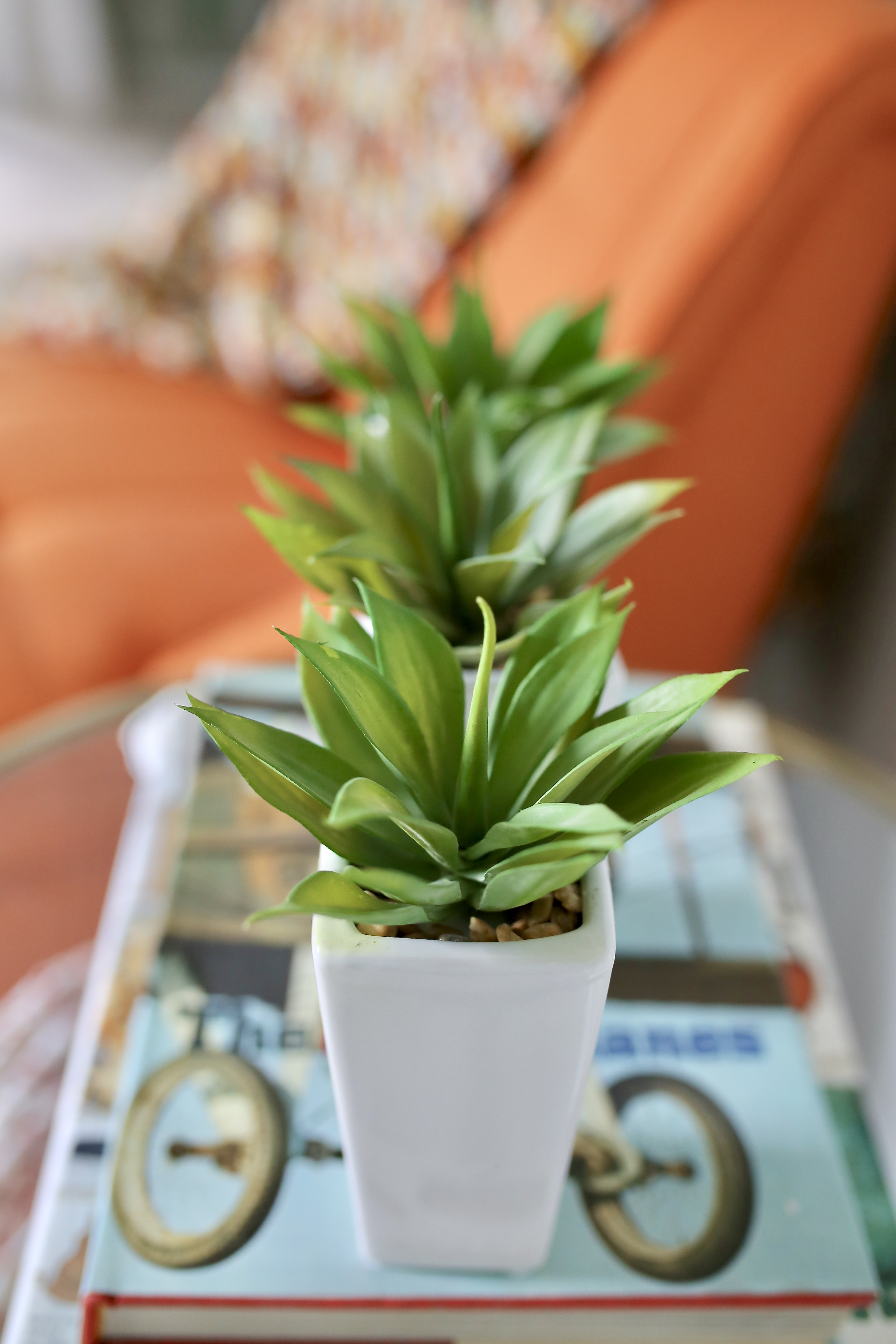 We love to buy old books from thrift stores and pick them out based on fun colors.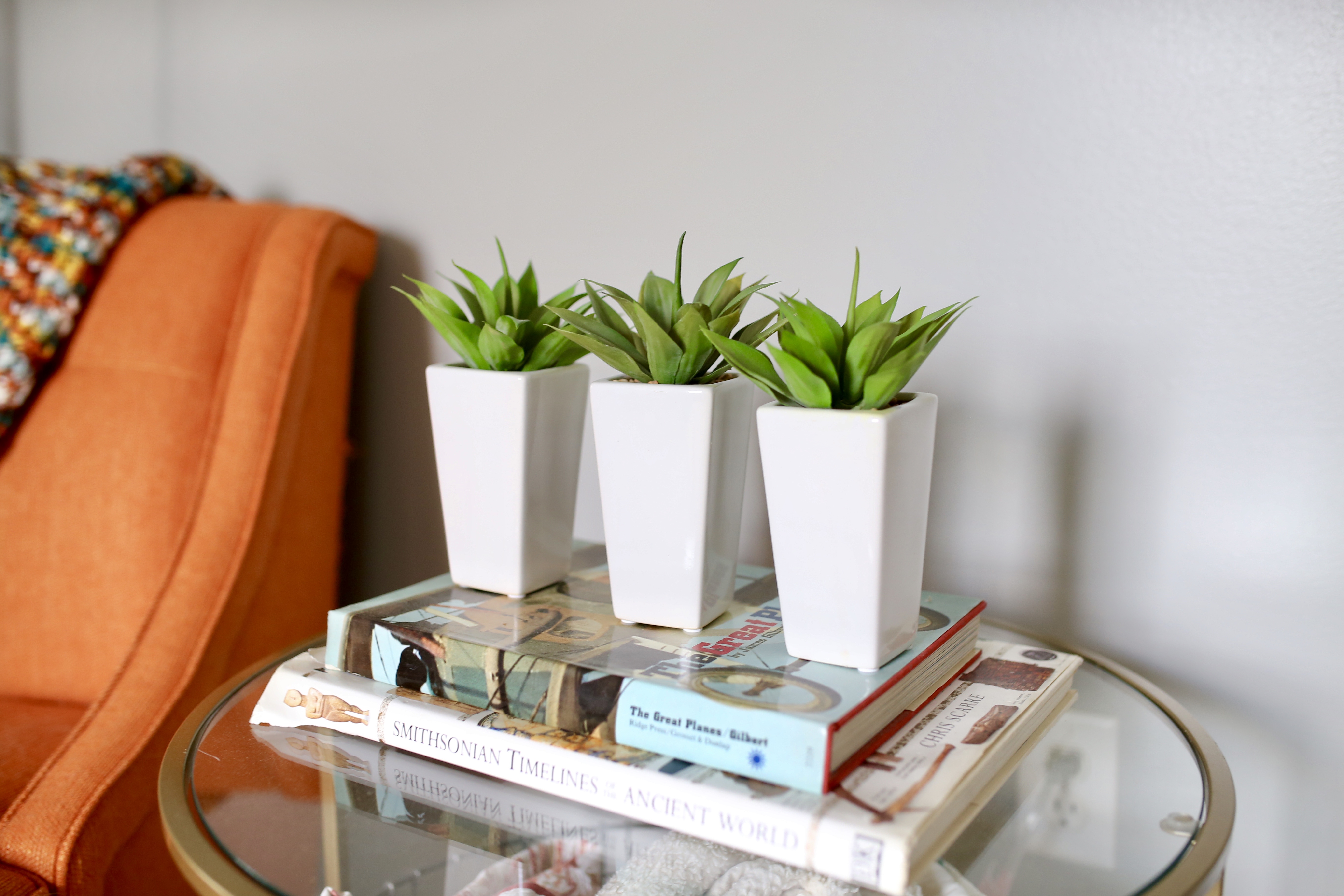 That blanket in the basket was purchased back in 1999. Some things never go out of style 😉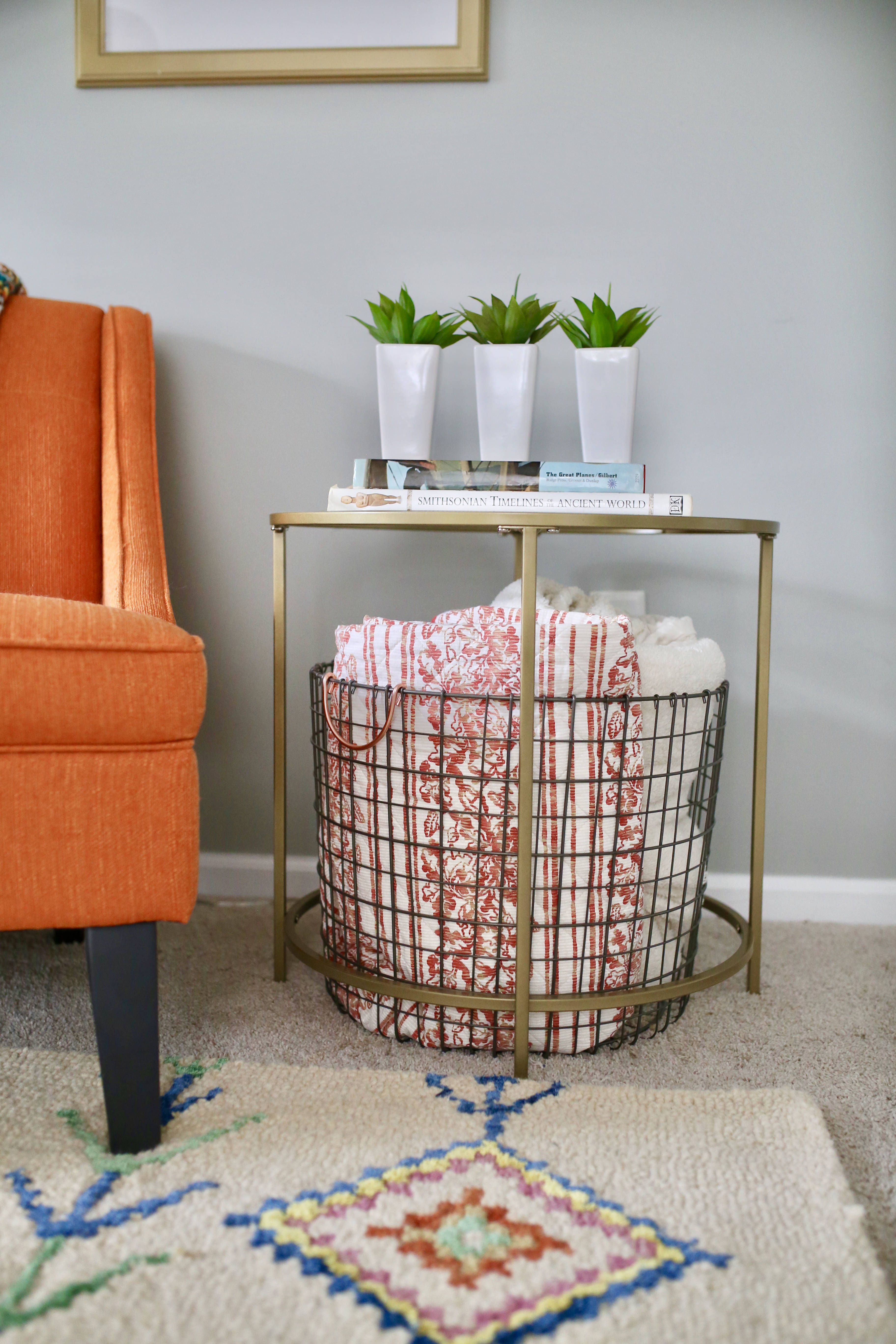 The pictures above the bed were also printed out onto cardstock and then framed with cheap frames found at IKEA!  I love the vintage feel of them and they bring the orangey tones over to that side of the room.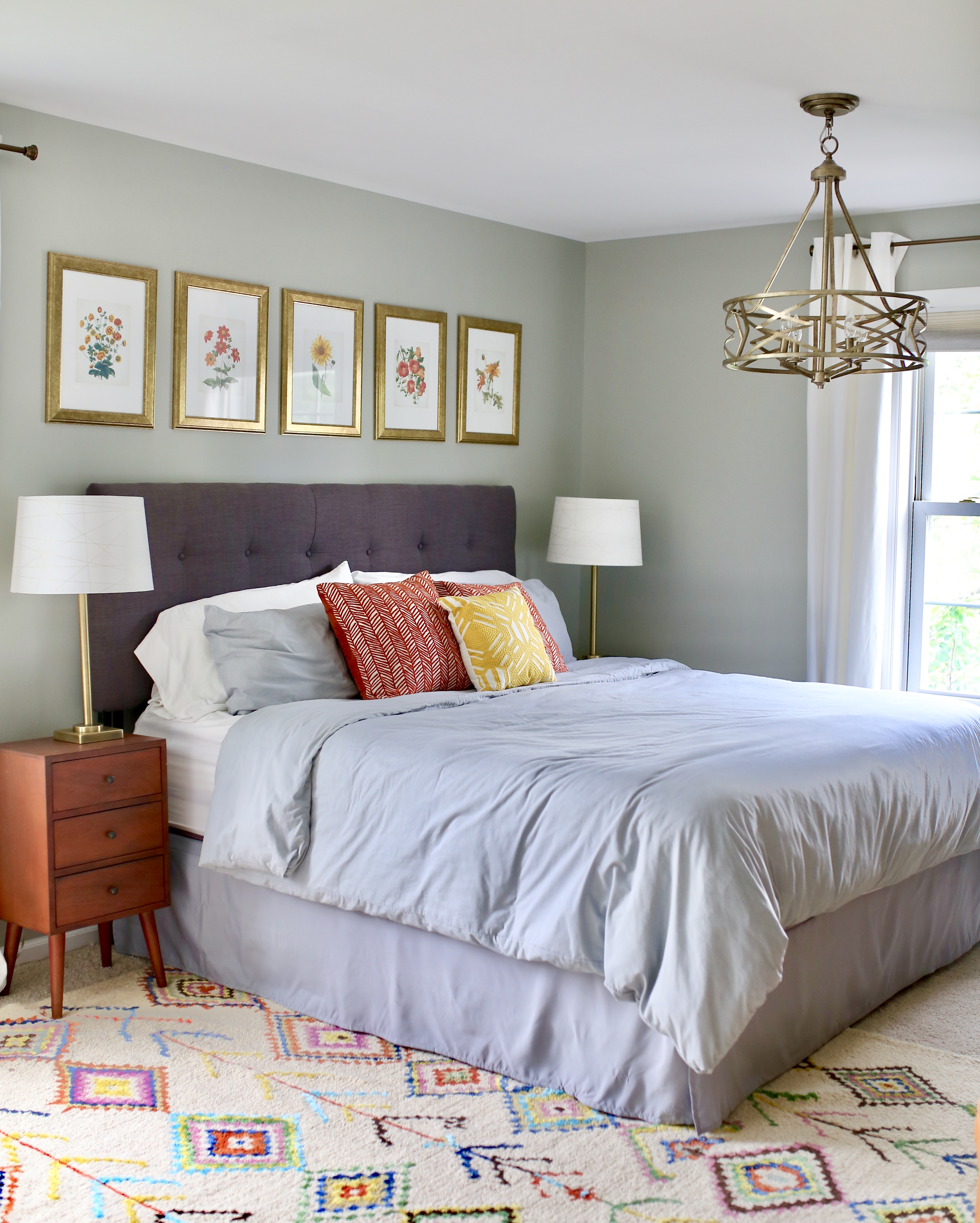 Pillows on the bed are from Target, as well as the duvet set.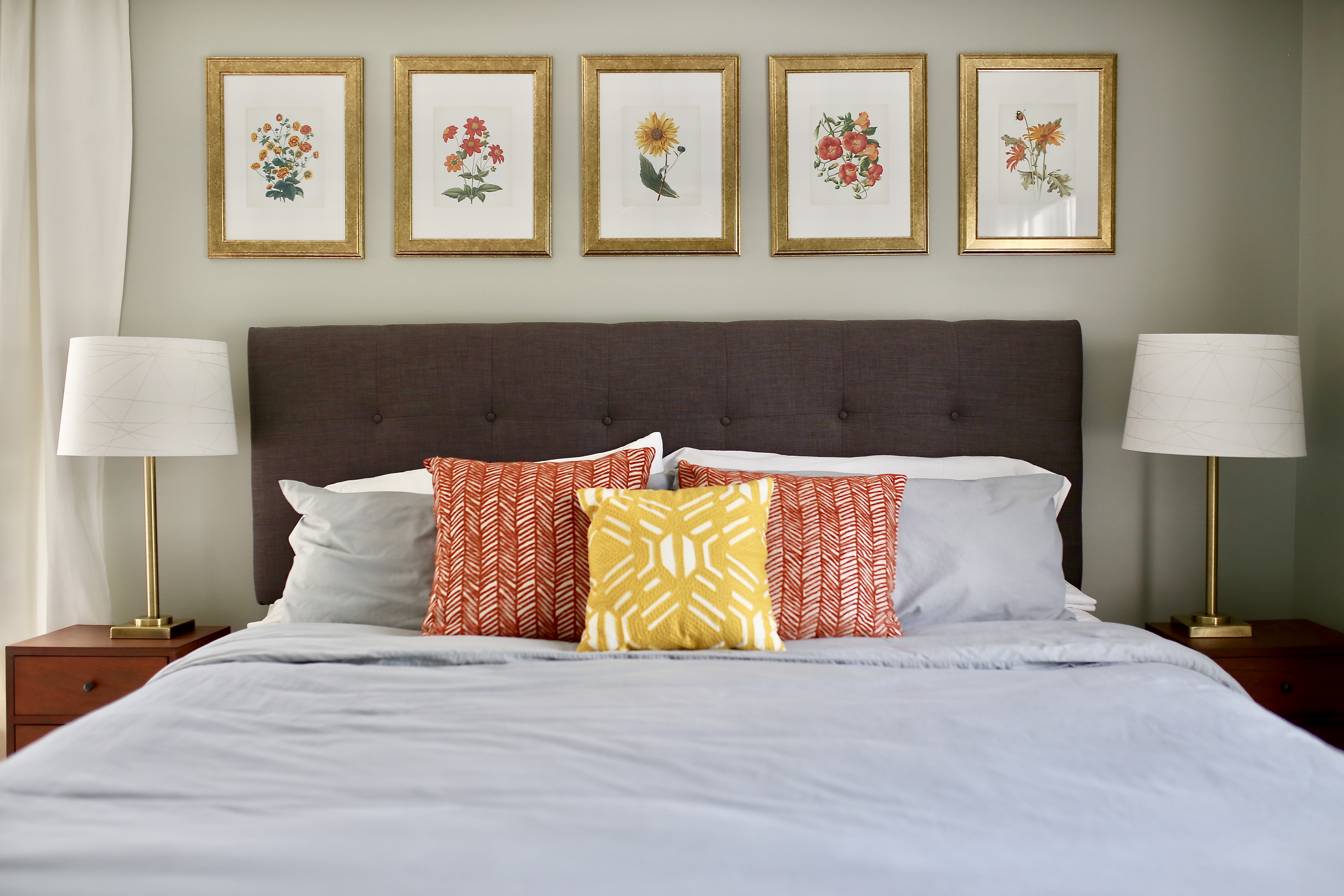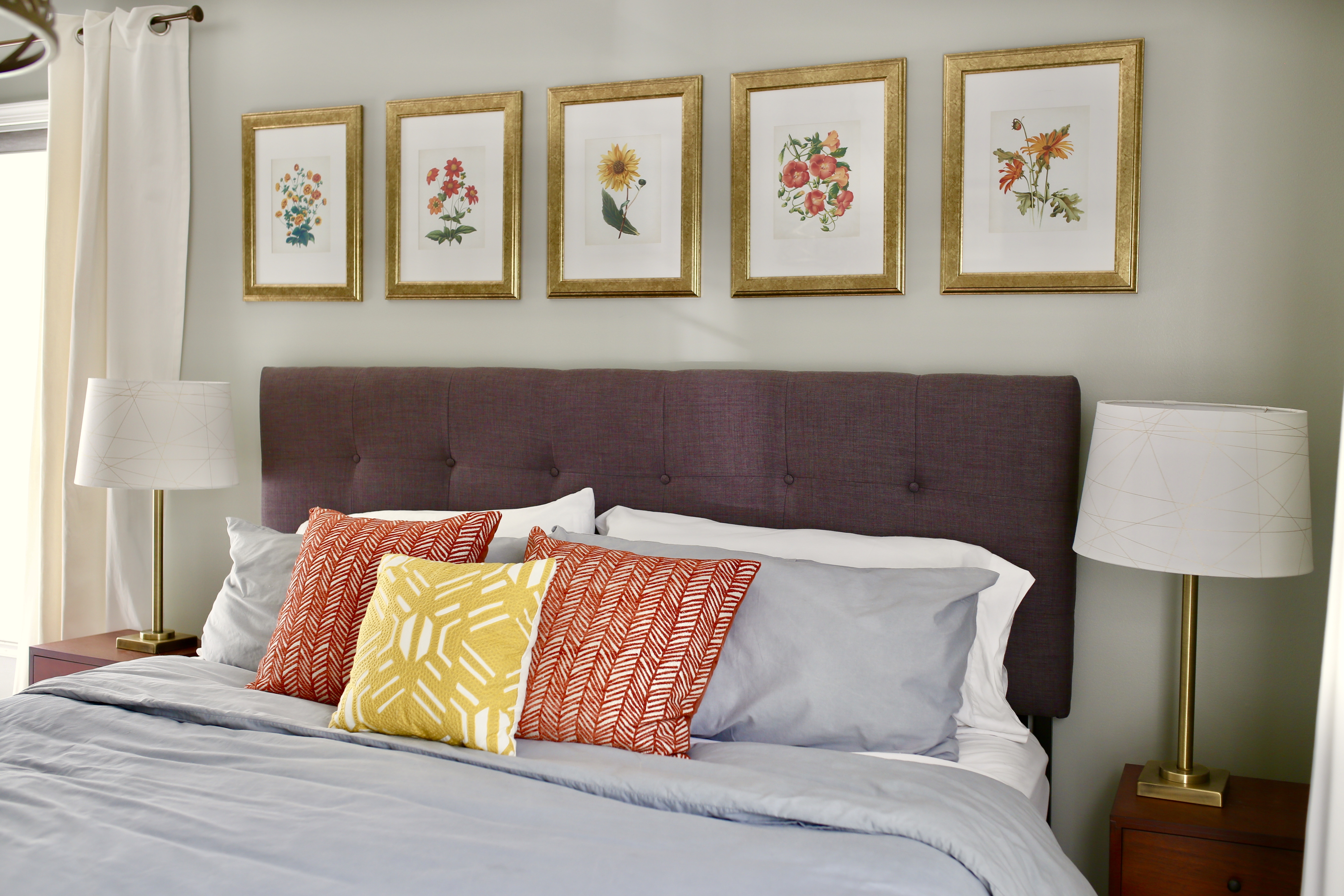 Lamps and side tables are Target (can you tell I love Target and IKEA?)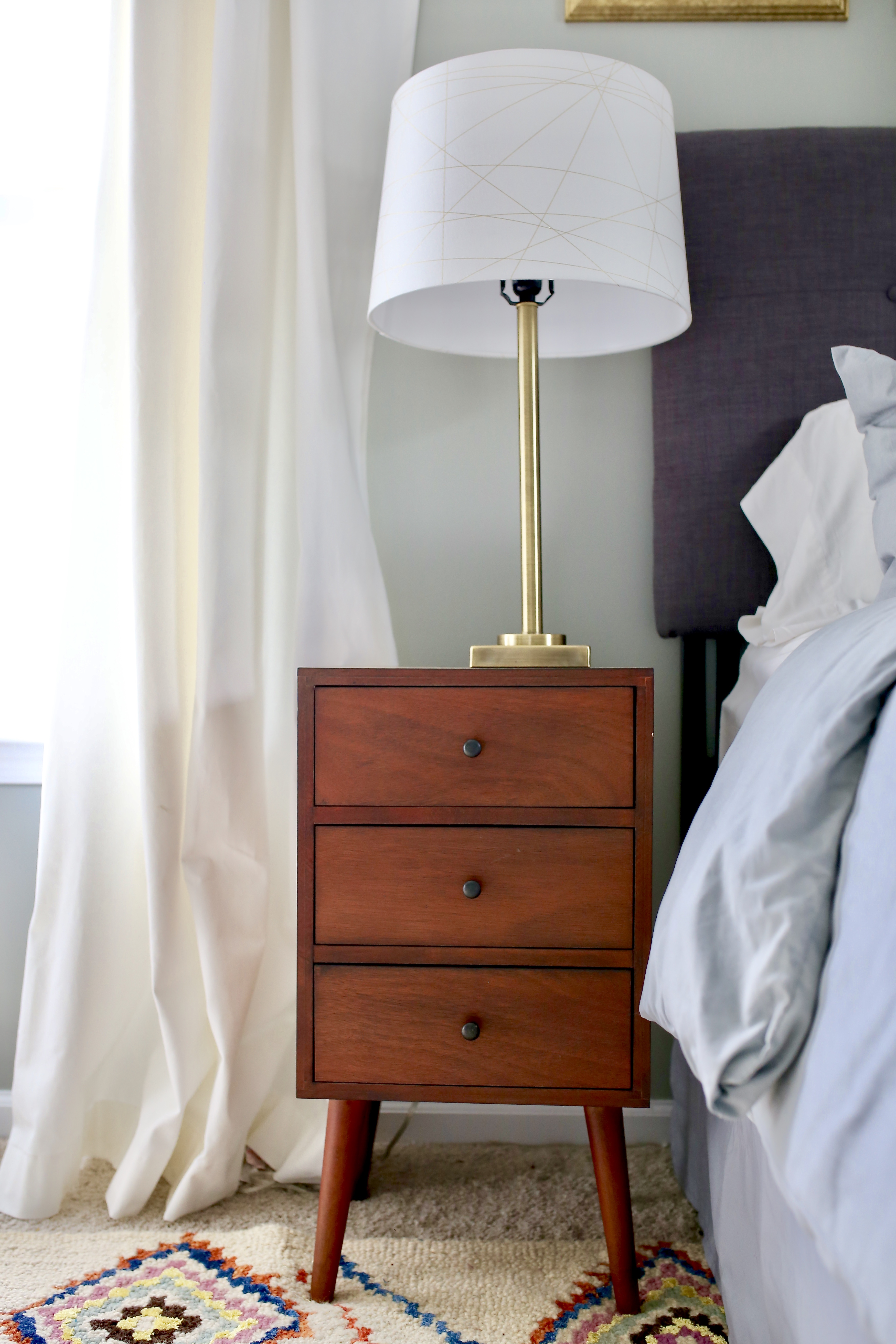 I always get asked about this awesome rug!  It is a beautiful wool rug from Rugs USA.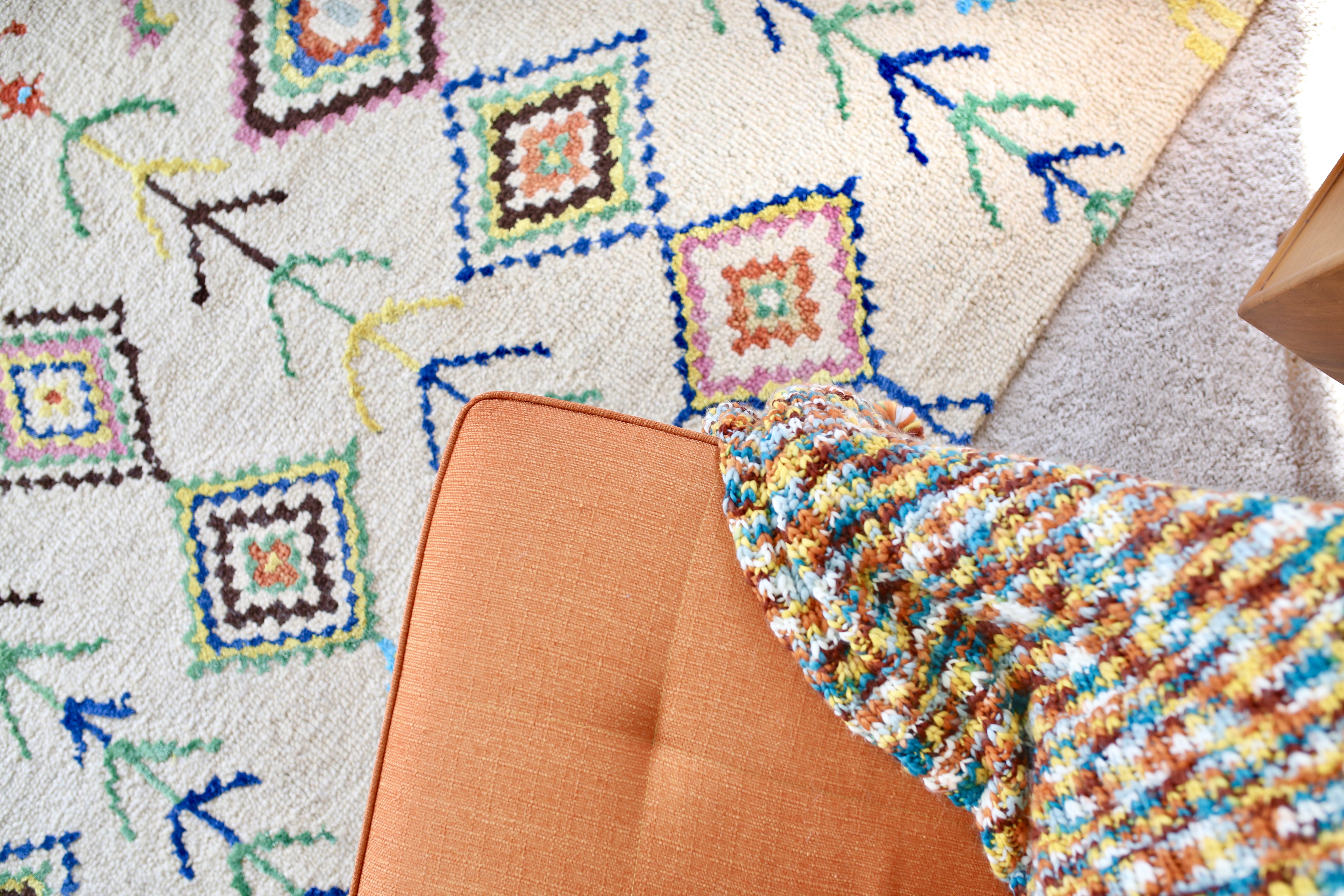 I made these shelves after searching and searching and only finding super expensive ones. (like $90 for one shelf!)  It was SO easy to do. Bought one sheet of 8 foot long pine. Had it cut in half at the store (get whatever width you want). I stained it with a mahogany color.  Then, the shelf holders are from the plumbing section! They come in silver, gold, and this dark oil rubbed bronze (more like a black). You need the wall attachment, the tube and then the front cap piece.  Play around with it until you find one that fits your shelf.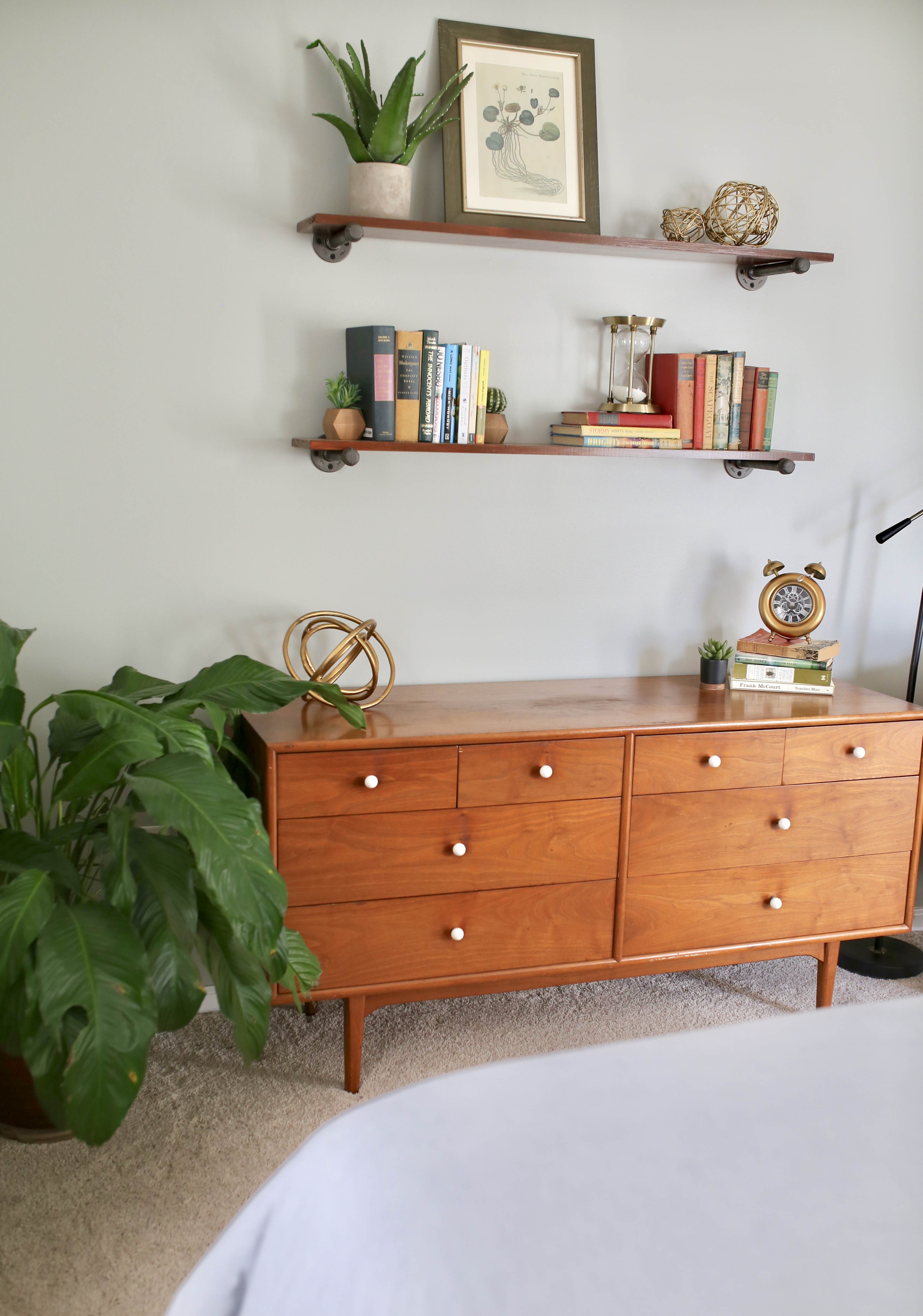 The dresser is my favorite! We used to have a "fancy" dresser, which was nice, but just not what we were looking for. My dad happened to have this vintage dresser that was given to him and we swapped!  He got a great dresser and we got what we wanted, for free!
I love the vibe of this wall.  Almost everything on the shelf is from the thrift store, except for that cool hourglass. (Home Goods).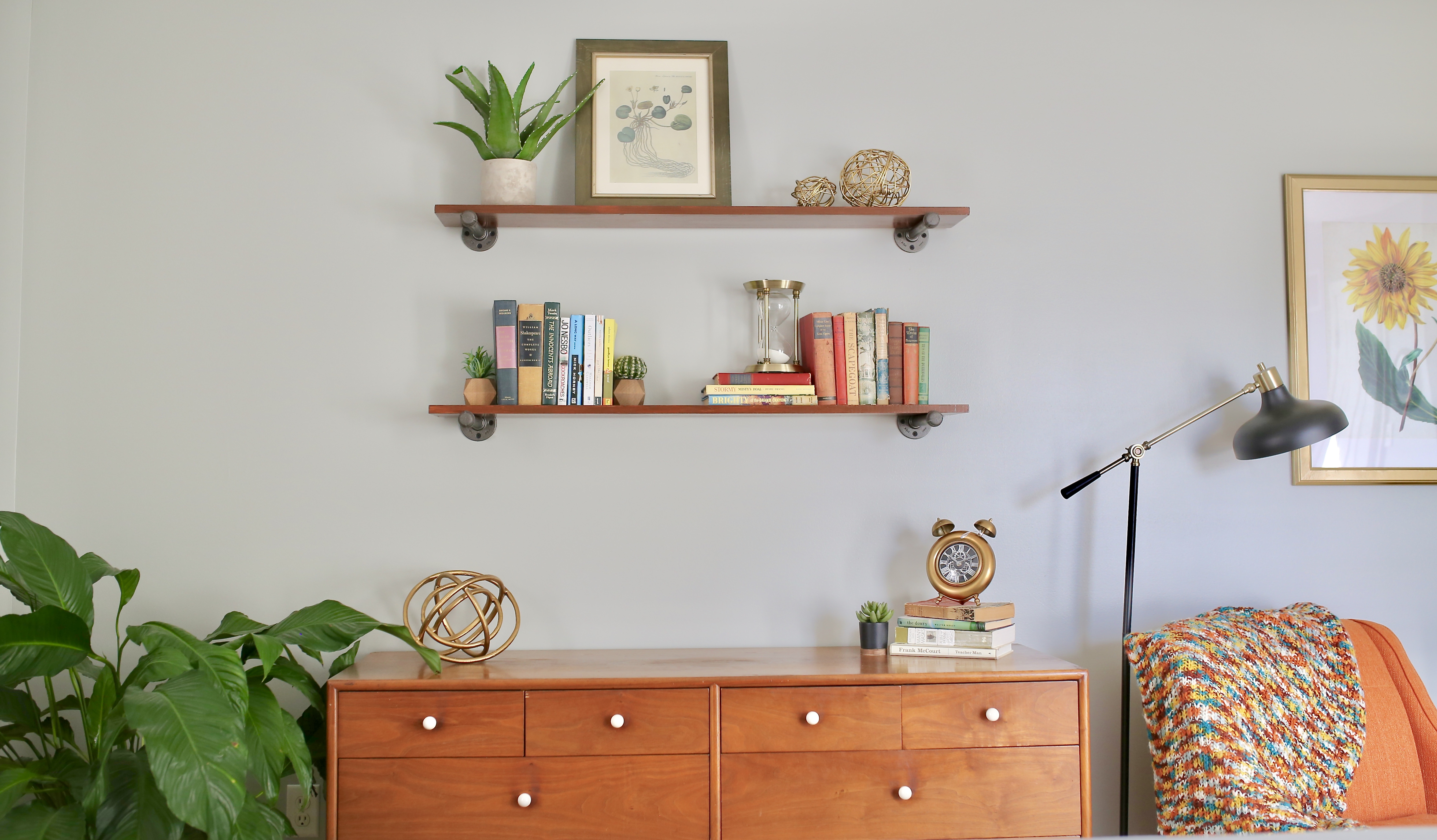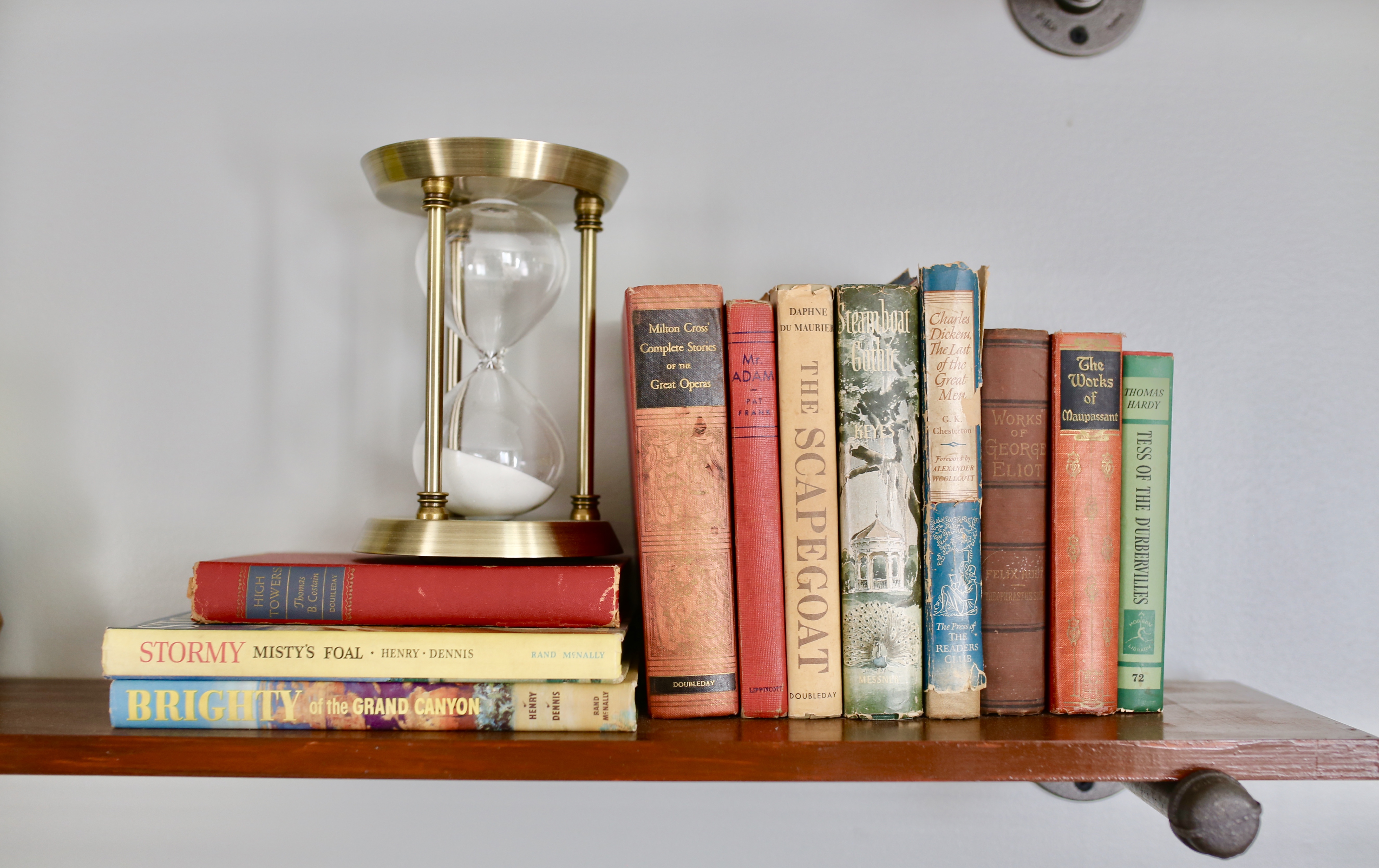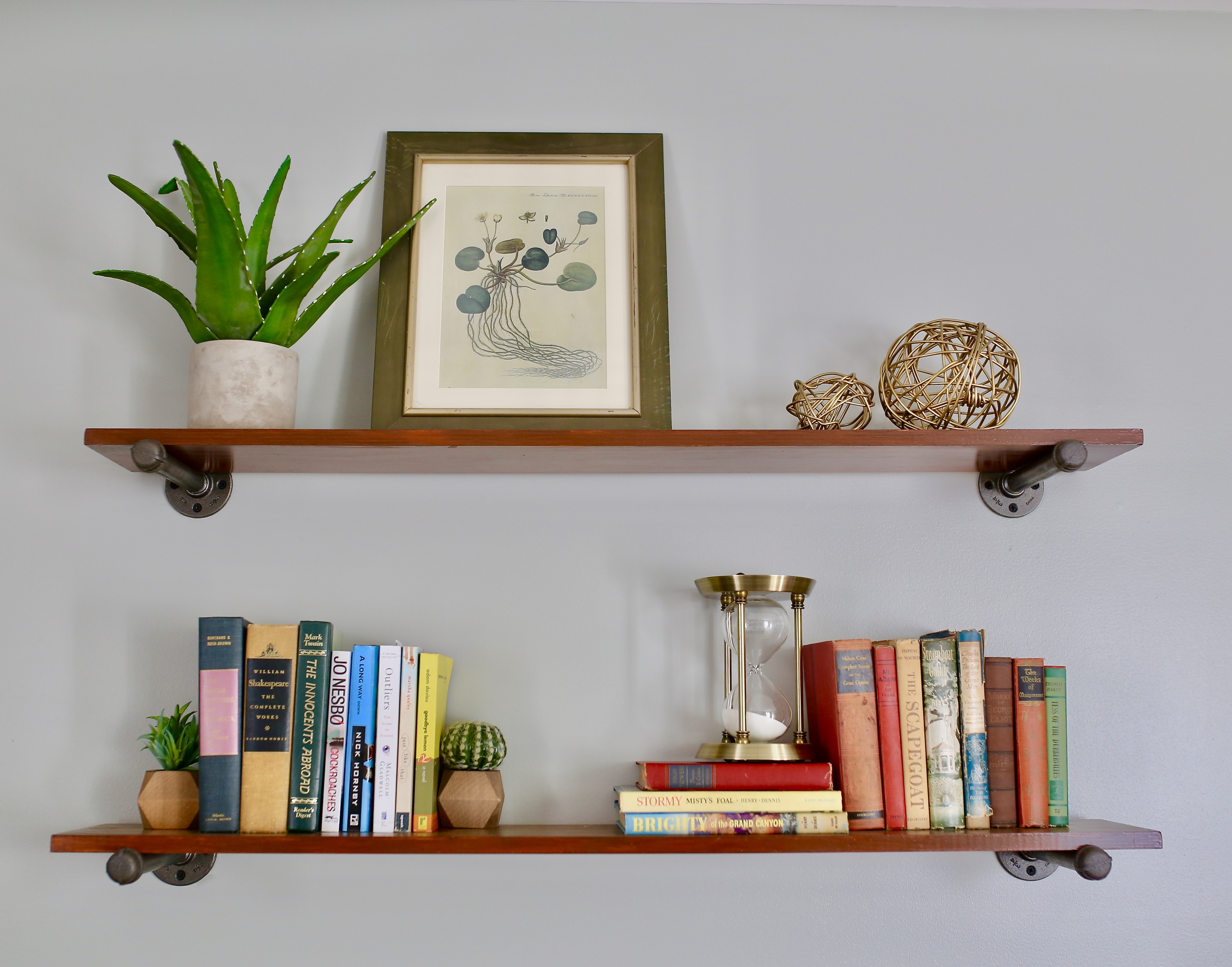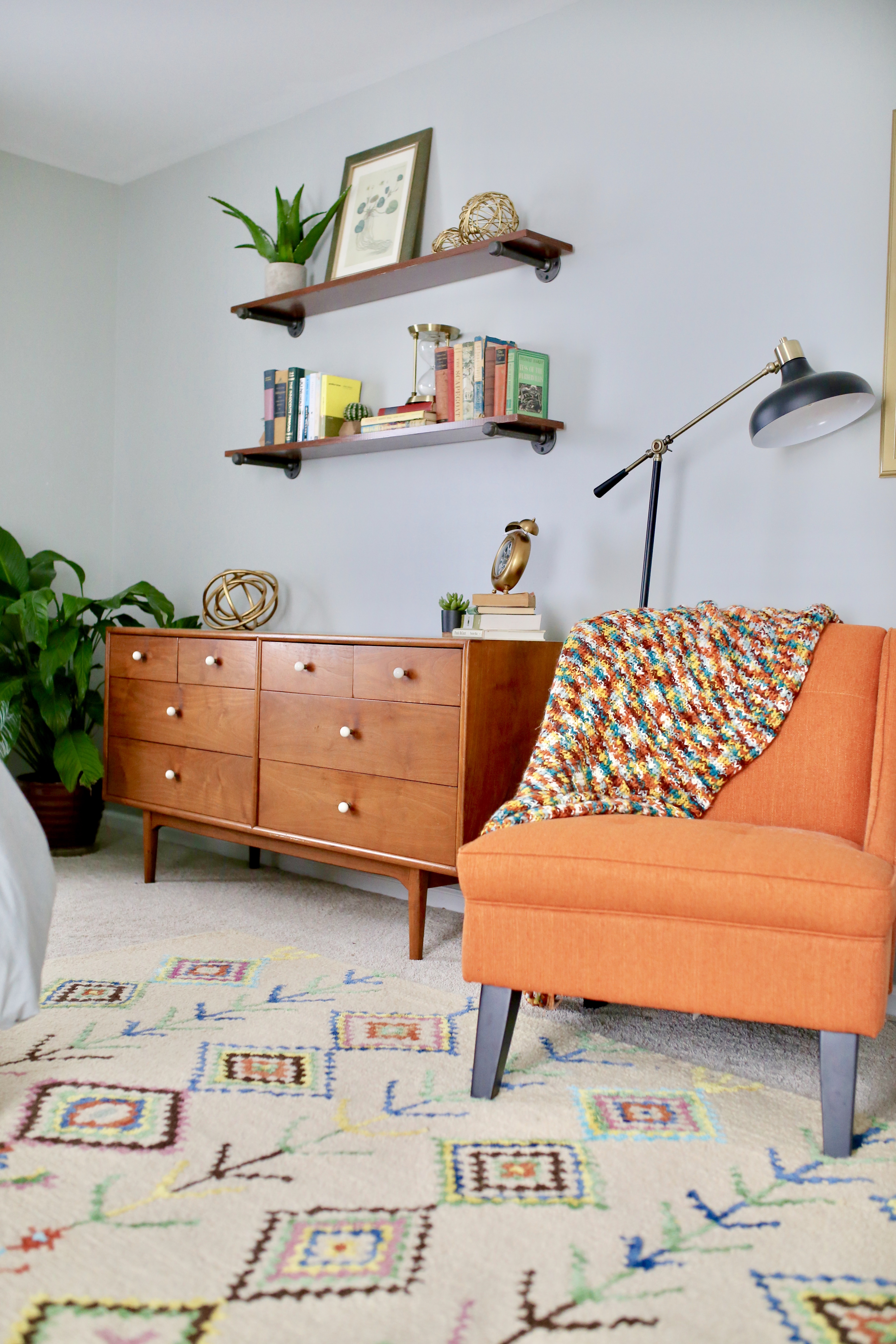 I painted those silhouettes a few years ago and I love how they fit into the room now.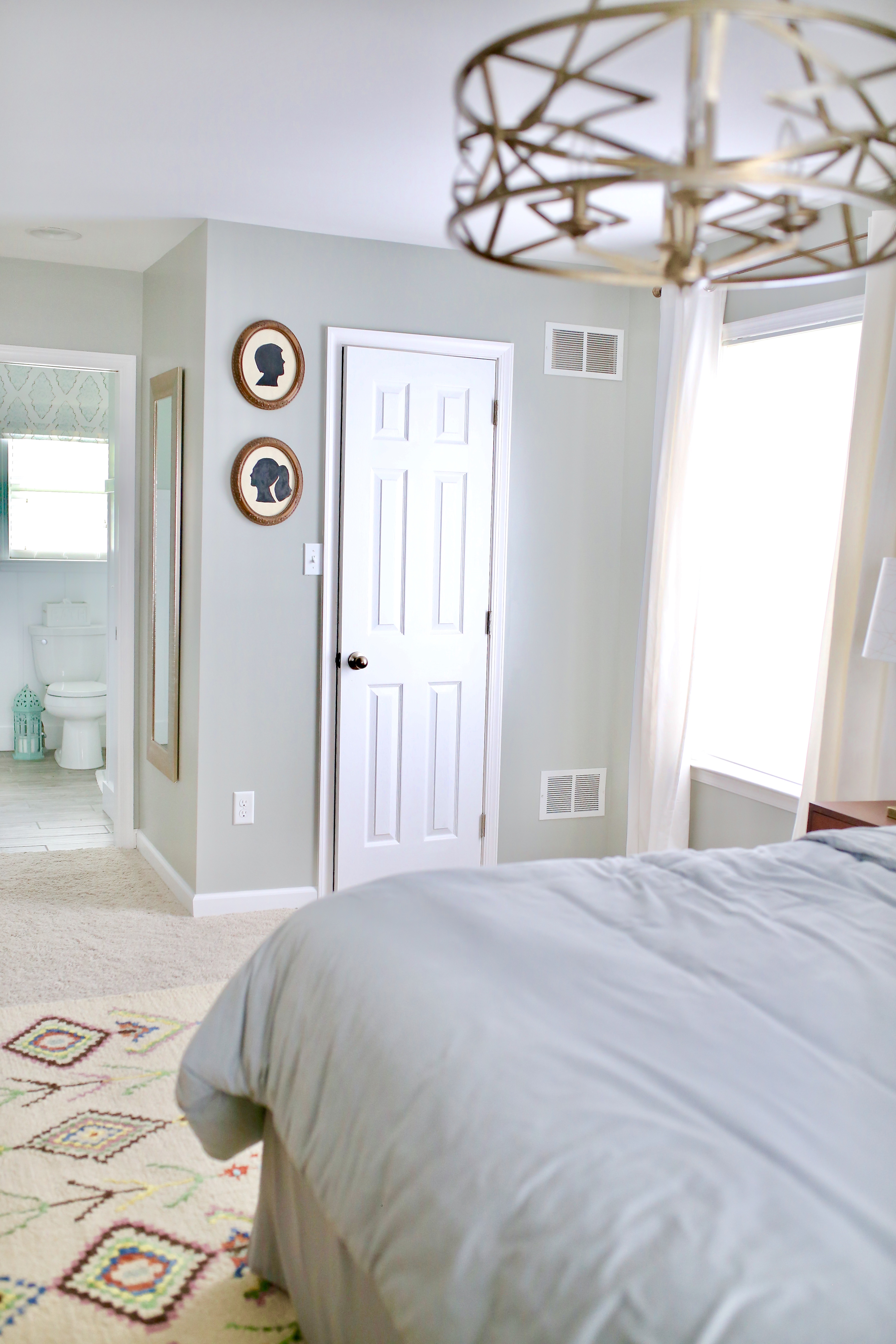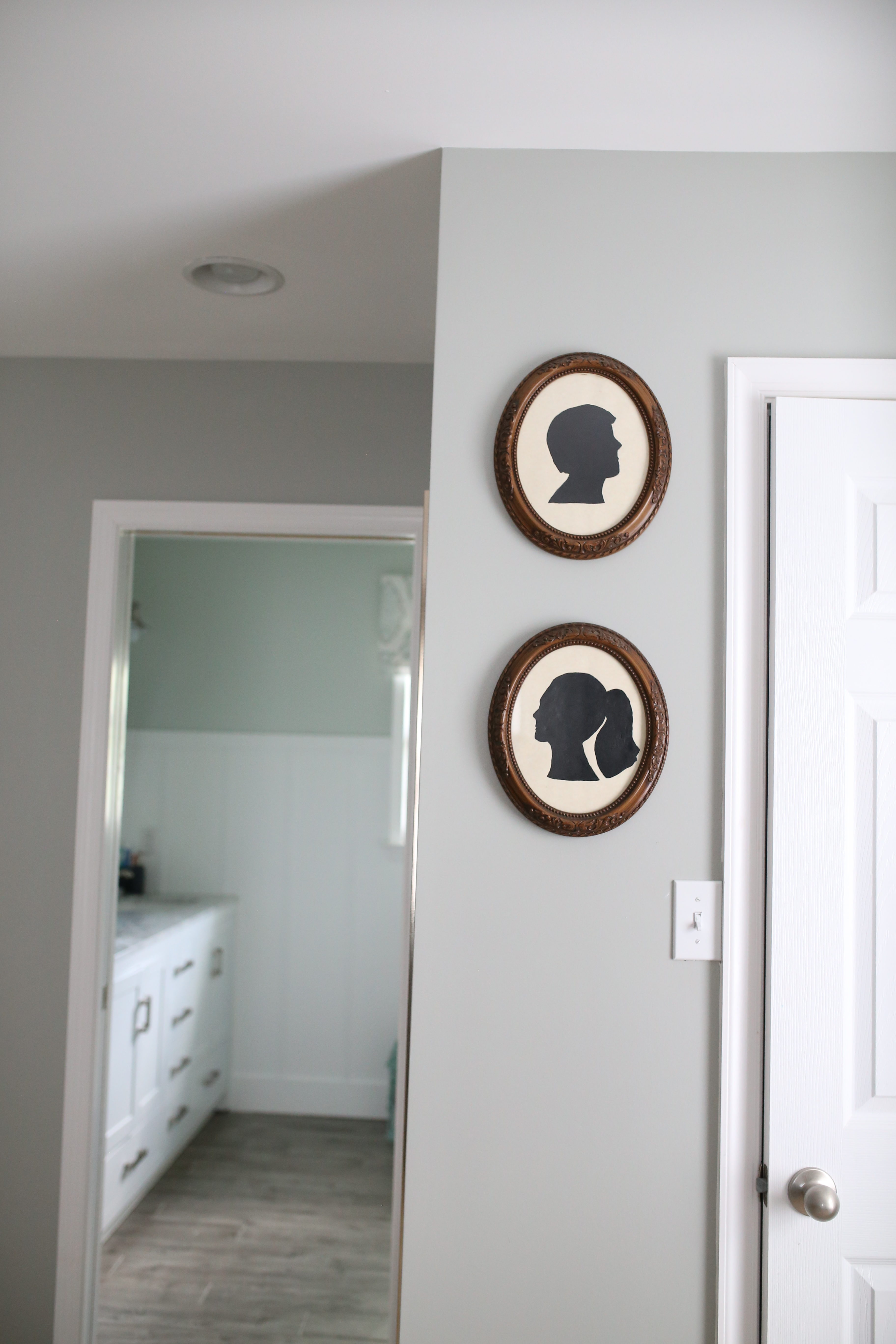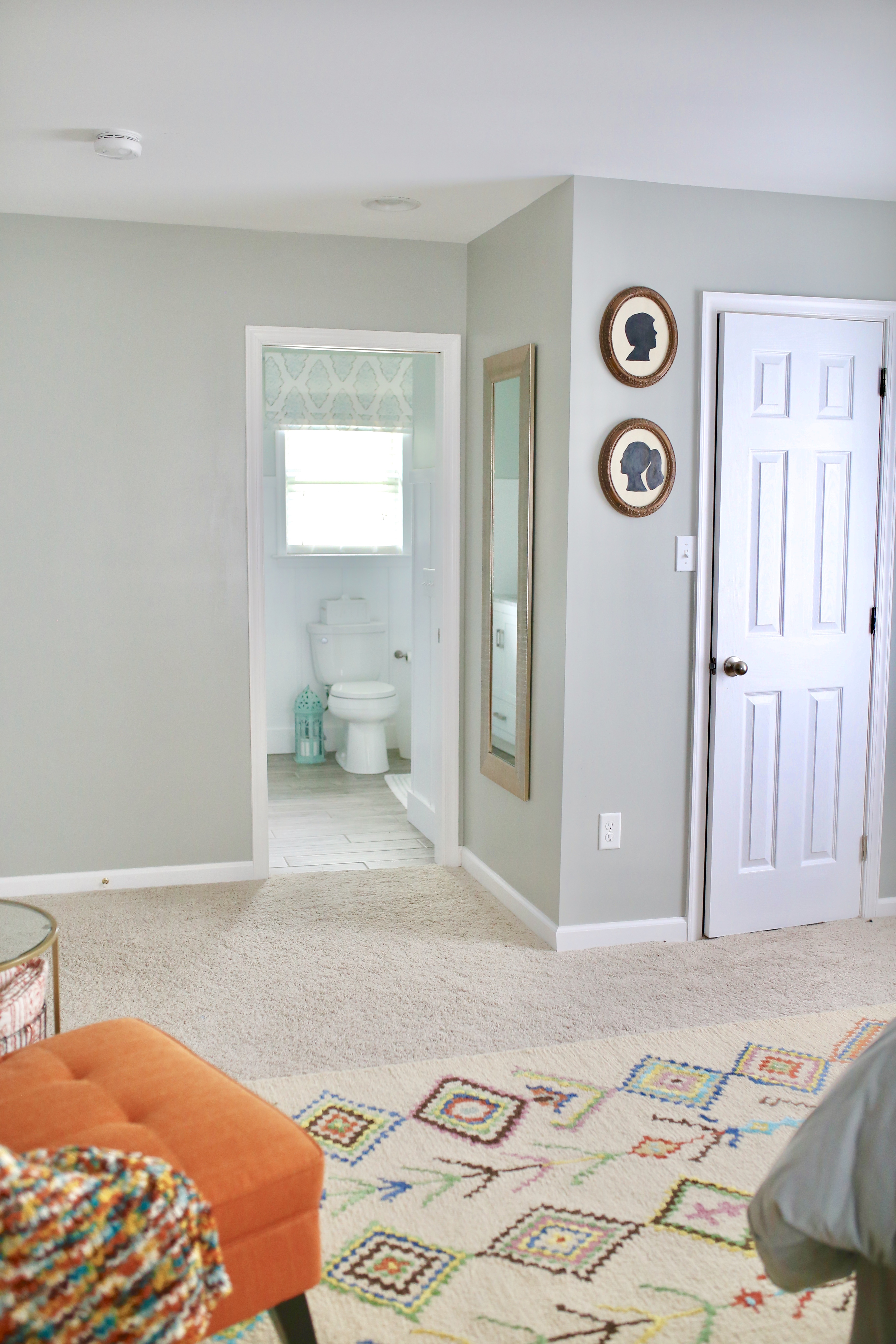 Light fixture is from Lowes. I got it during one of their lighting sales. I absolutely adore it.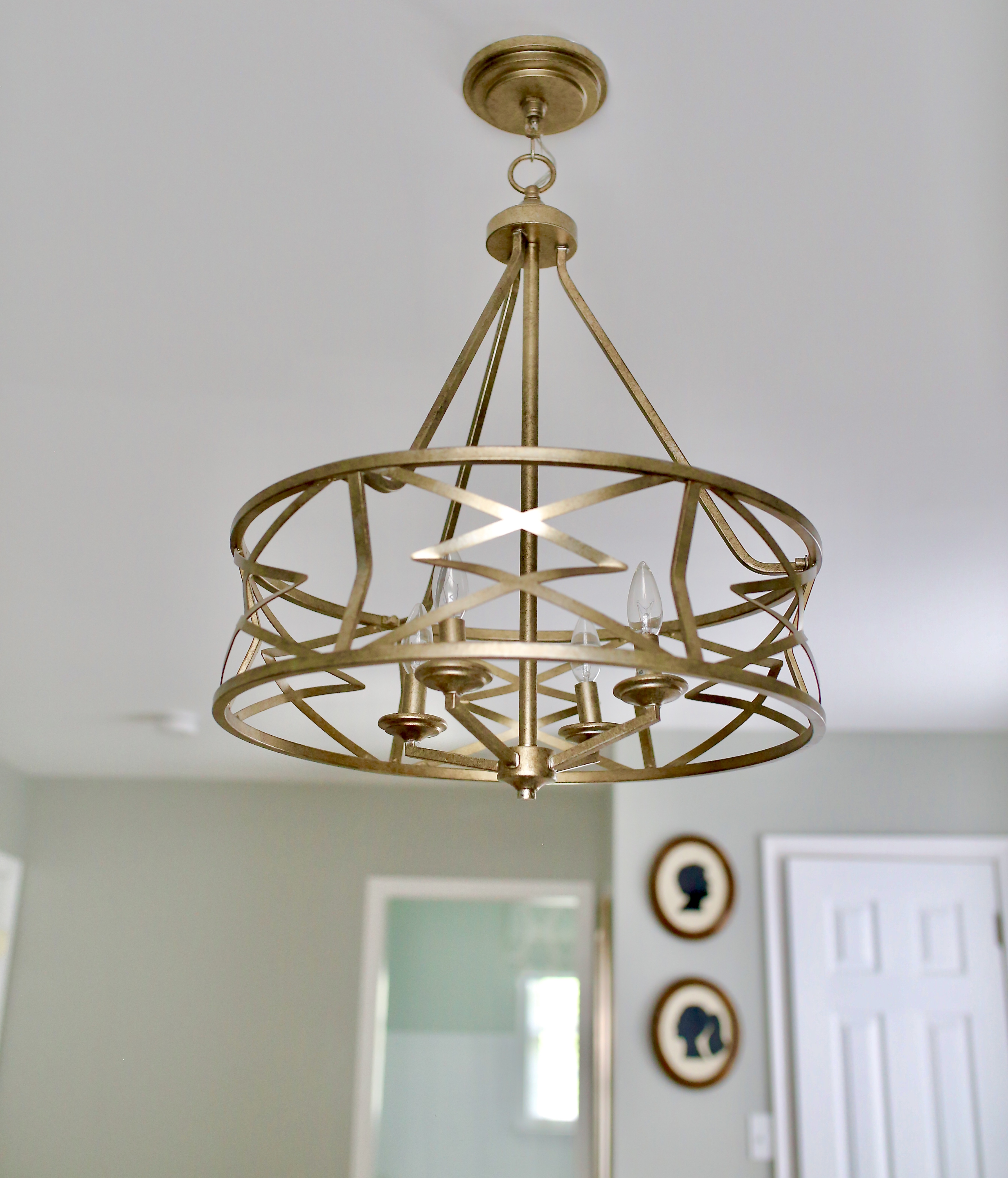 Wall color is Sherwin Williams Comfort Gray. It takes on different colors throughout the day, depending on the light. Sometimes, it is very gray, other times it can appear blue-ish/green.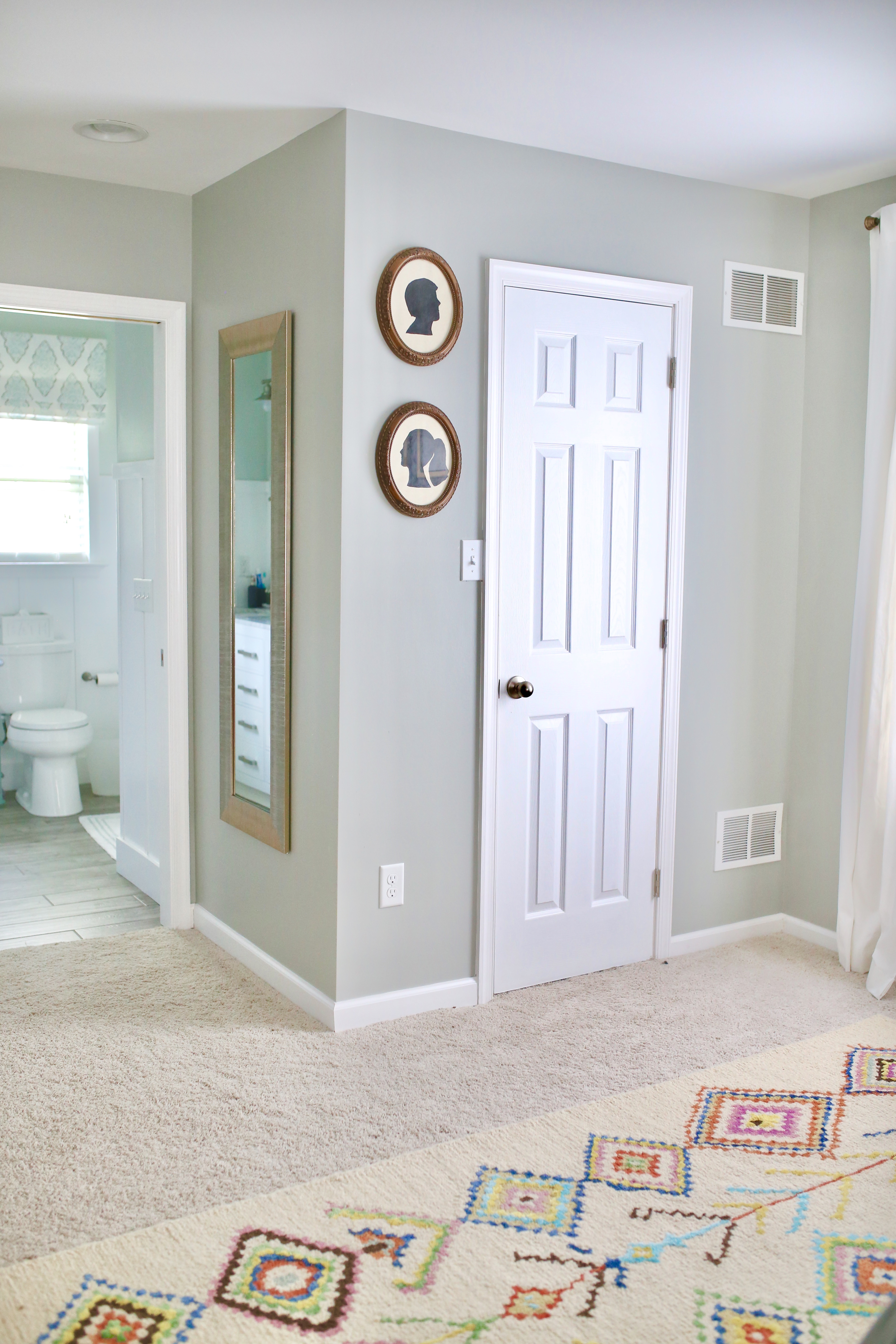 One of my favorite things is that we now have a functional closet! Scroll below to see what it was like before.  We had our contractor gut the entire area, shift the door over, and square out the wall.  This meant we lost some space in the bathroom, but we didn't care because the closet prior to was a mess.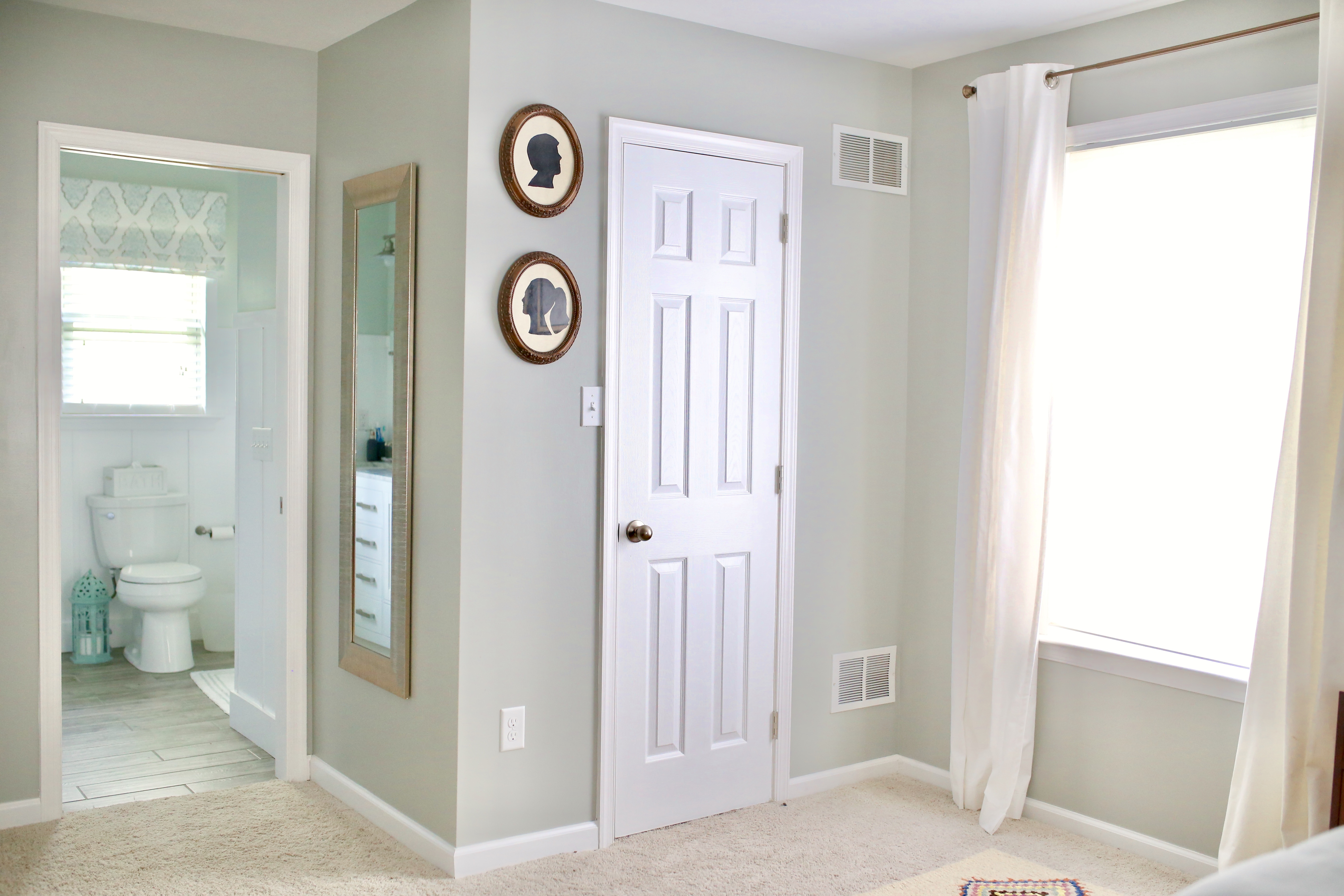 Hard to see, but we doubled our closet space and we each have plenty of room now. Before, only one wall of the closet was usable.
Below are some of the before pictures!  I hope you enjoyed looking at our new room!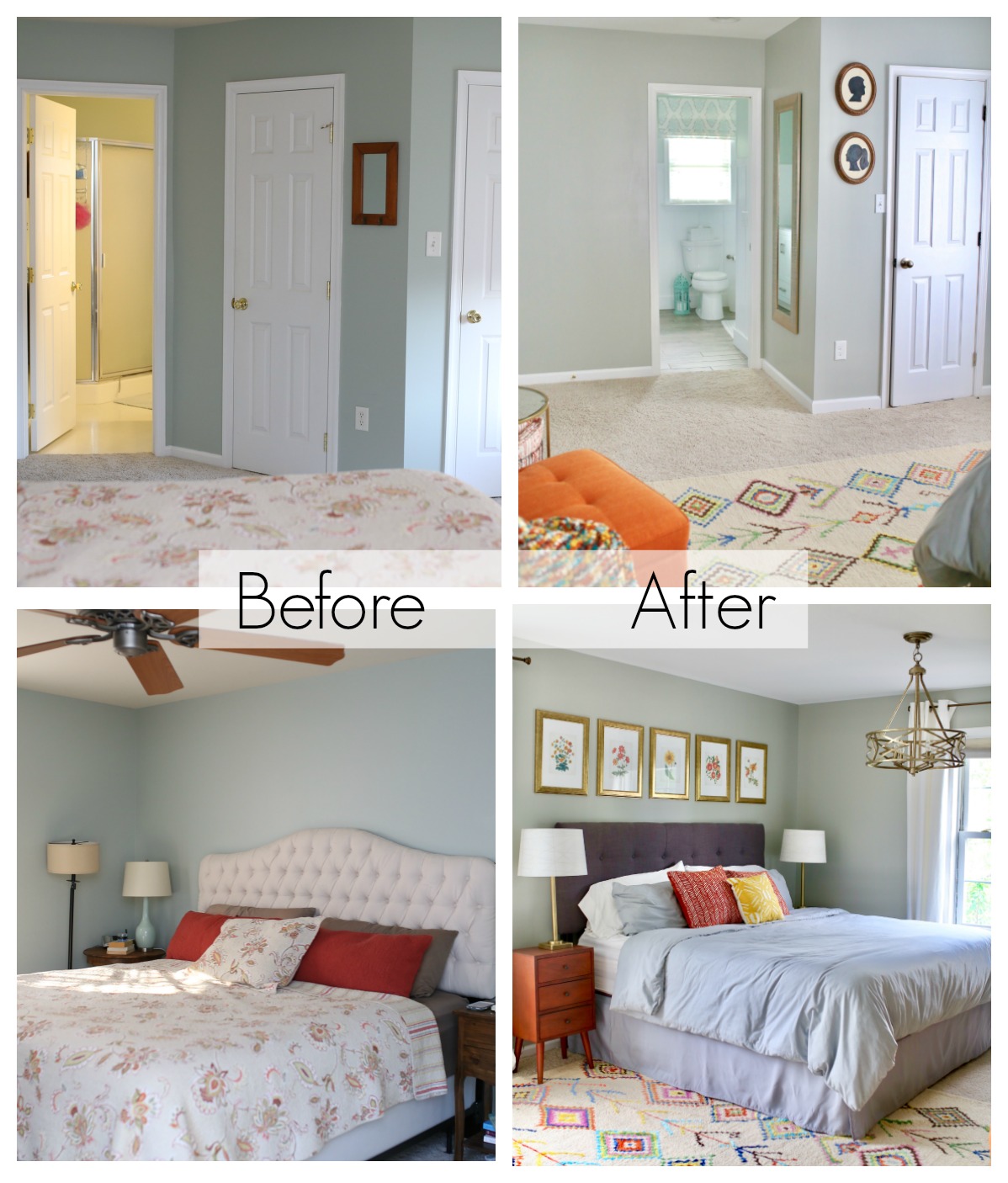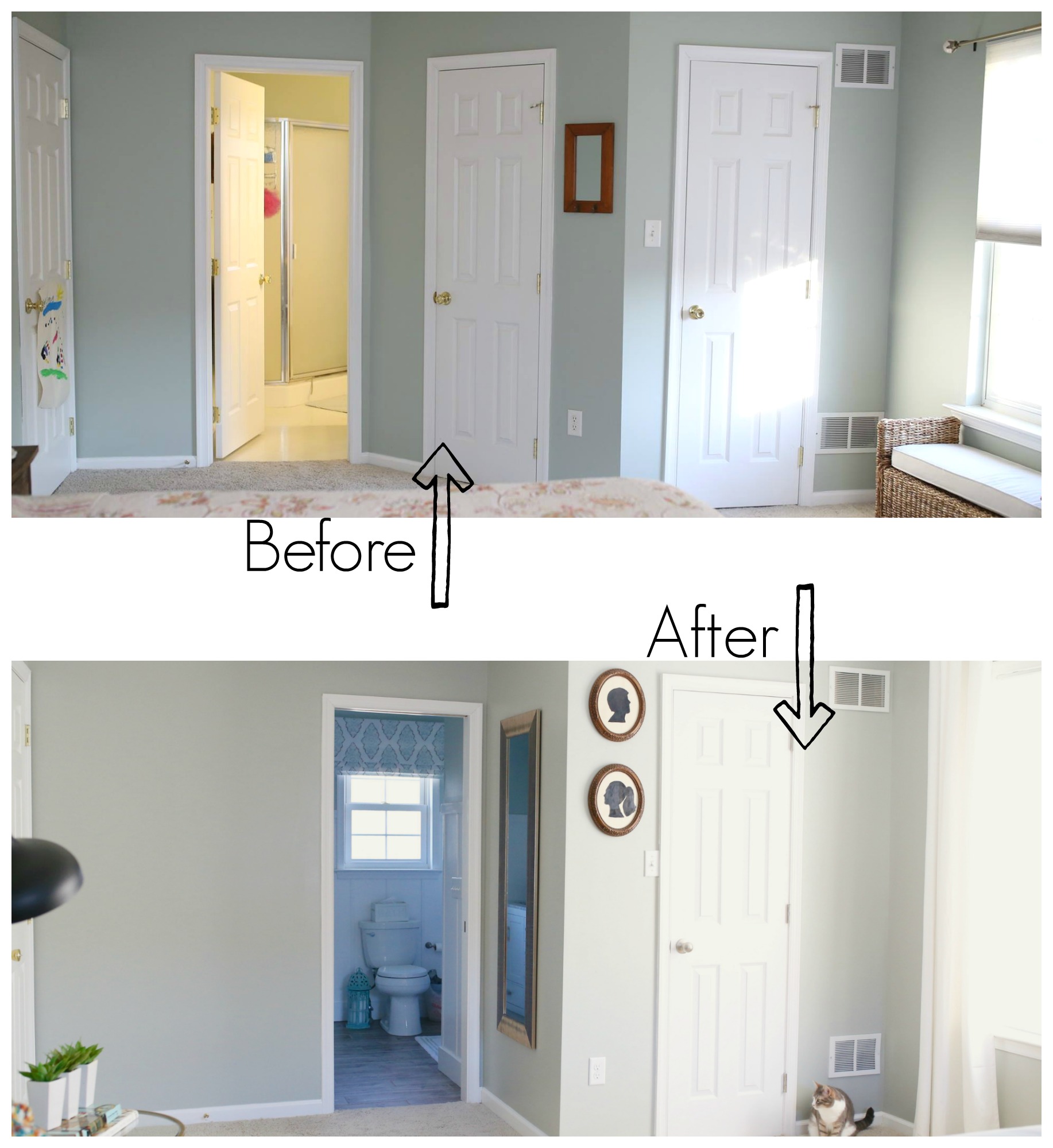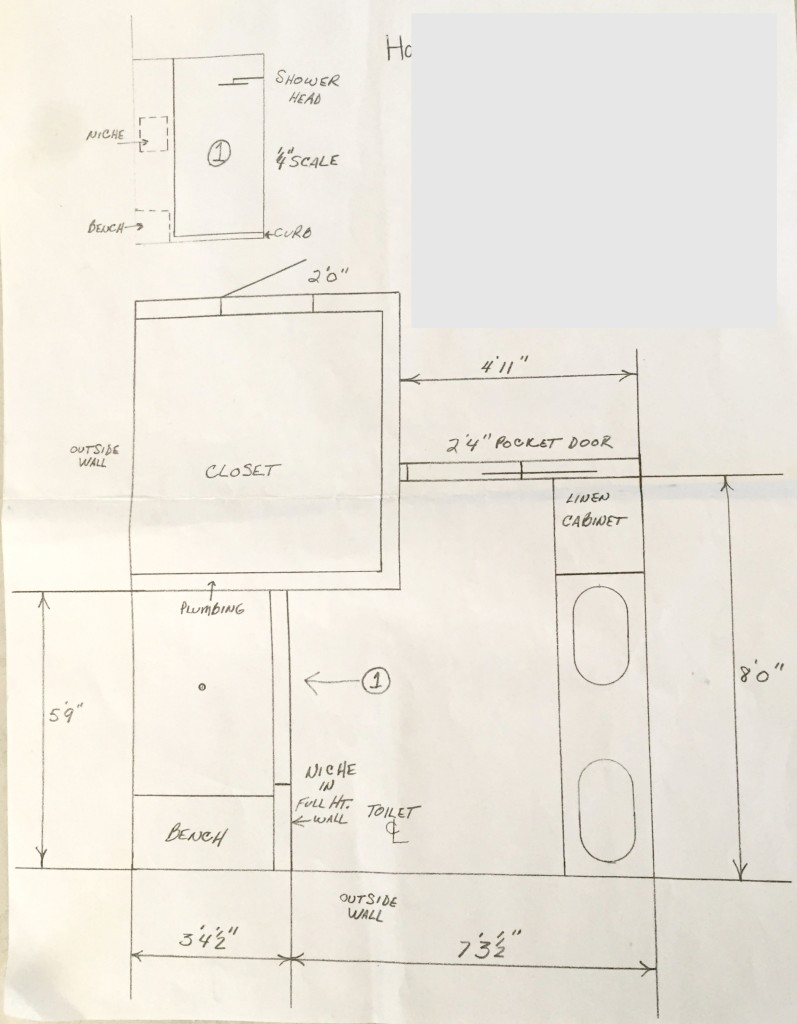 I hated this wall before.  It was so dysfunctional and I always wondered why they made it like this.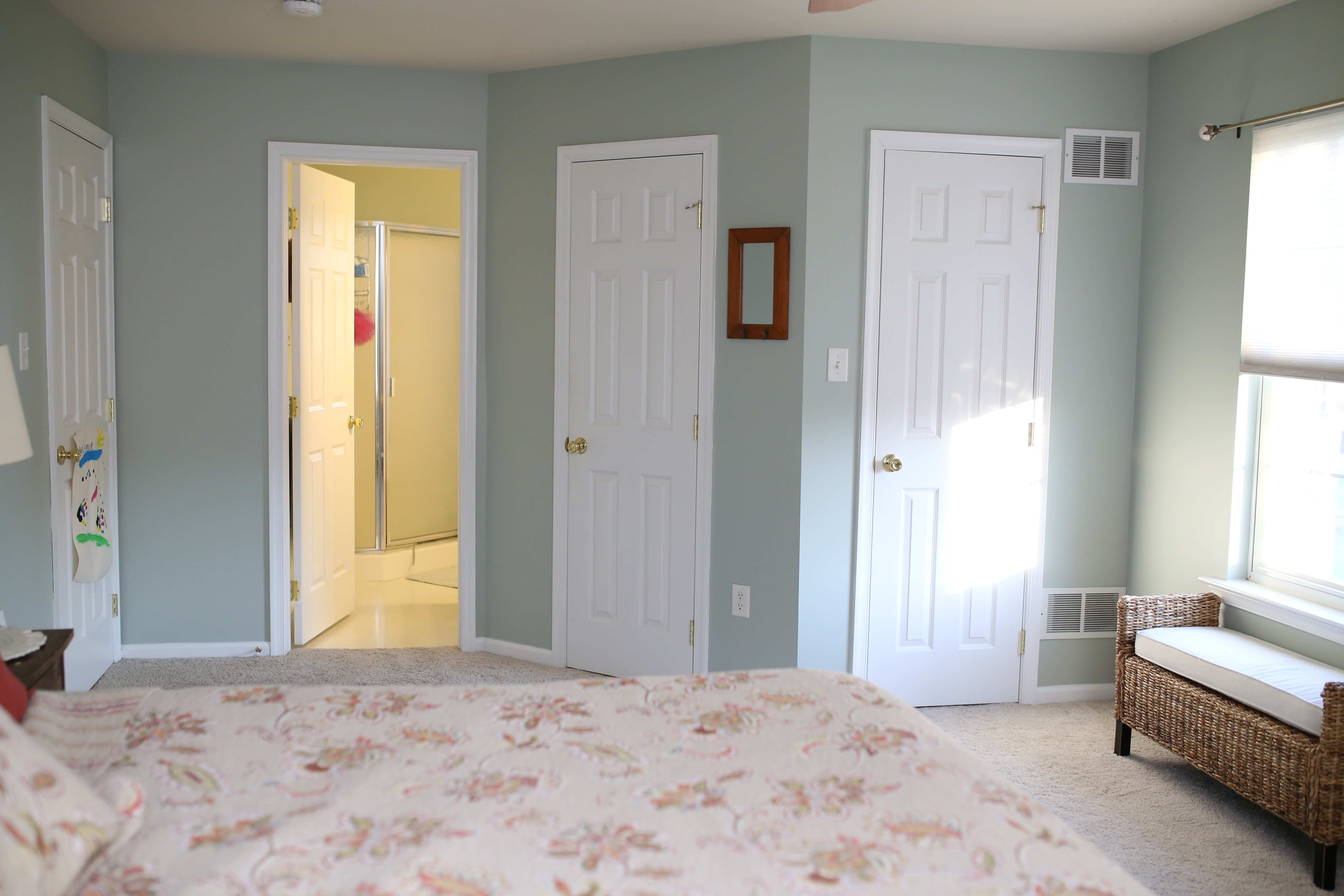 This is the wall that was gutted out and squared off. It had barely any room for storage in there.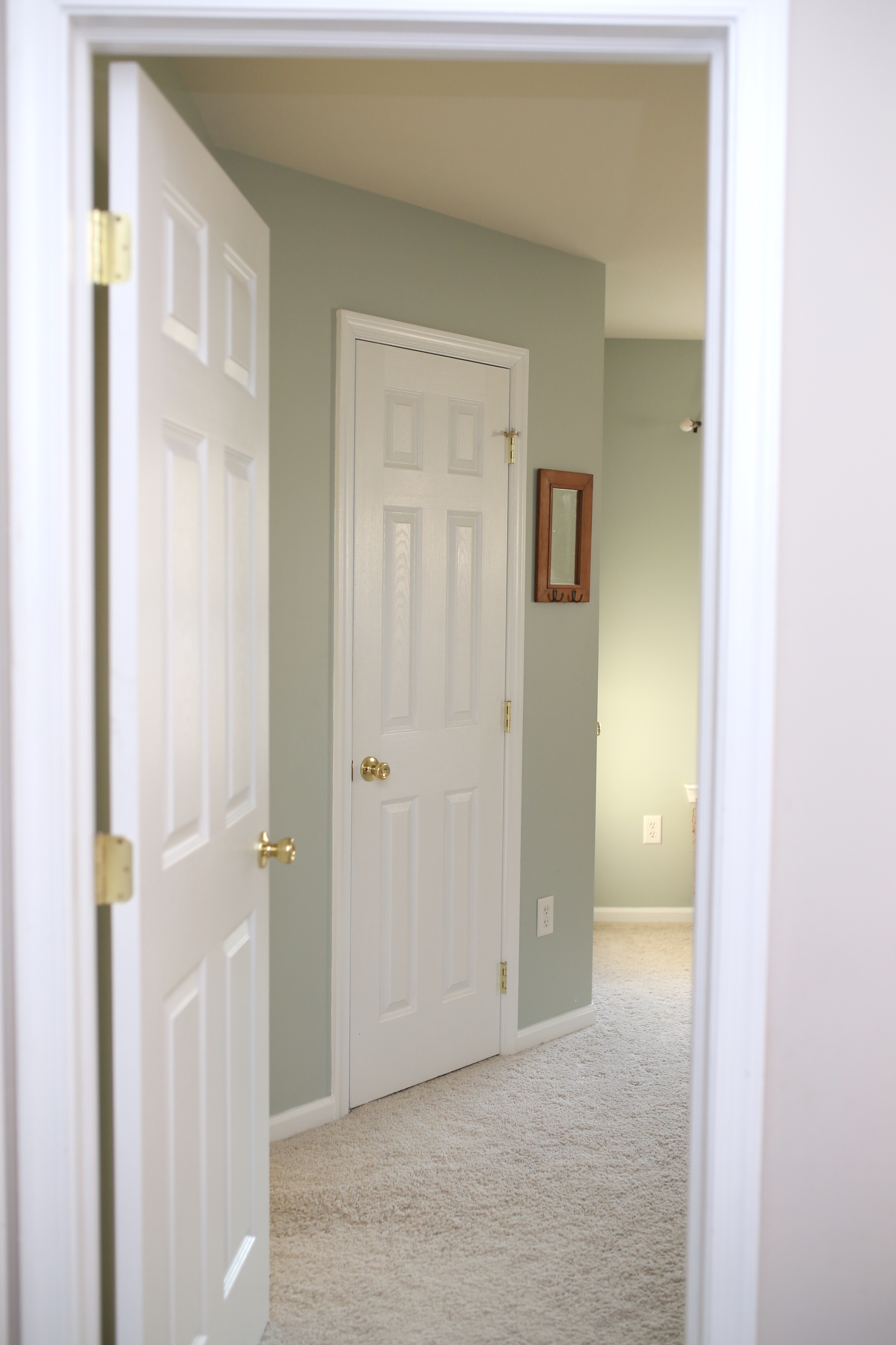 We opted to get rid of the ceiling fan and replace it with our new light fixture.  I haven't regretted it and if we need to, we bring a table fan in during the summer.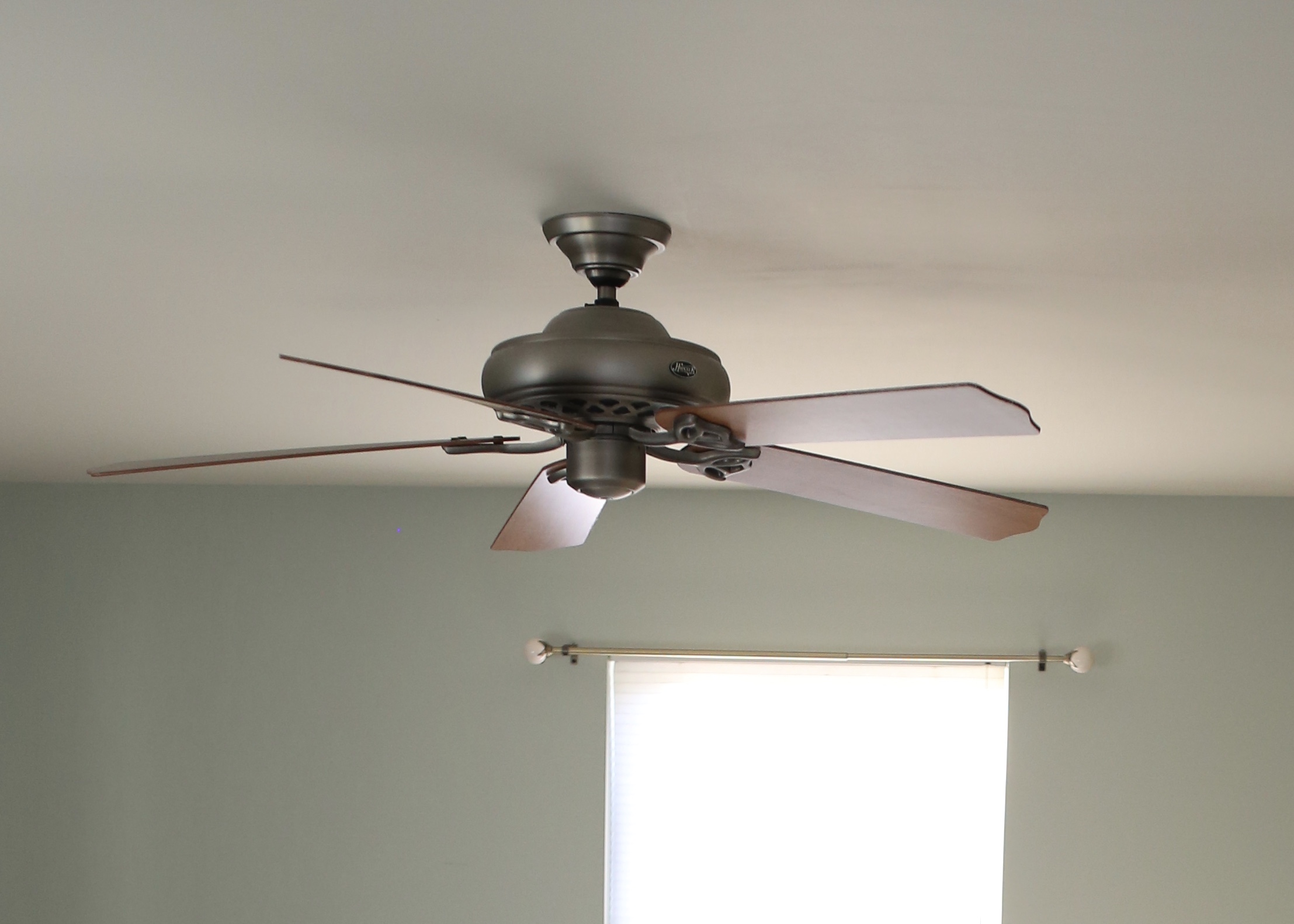 This wall is where our bed now is. I prefer seeing a bed when you walk into a room.  This is also the dresser we swapped with my Dad.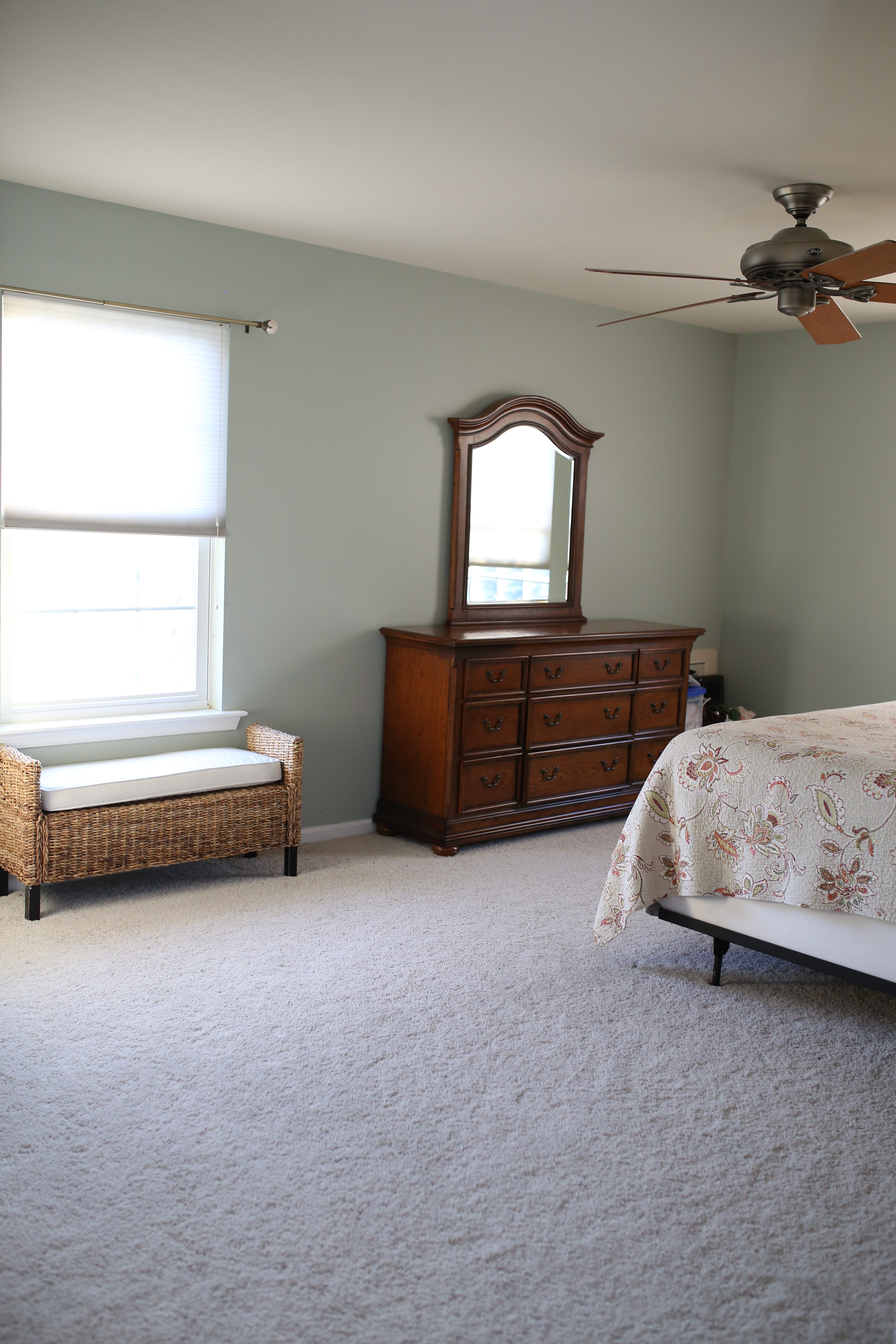 This is the wall where our dresser and shelves are now.  Makes more sense now!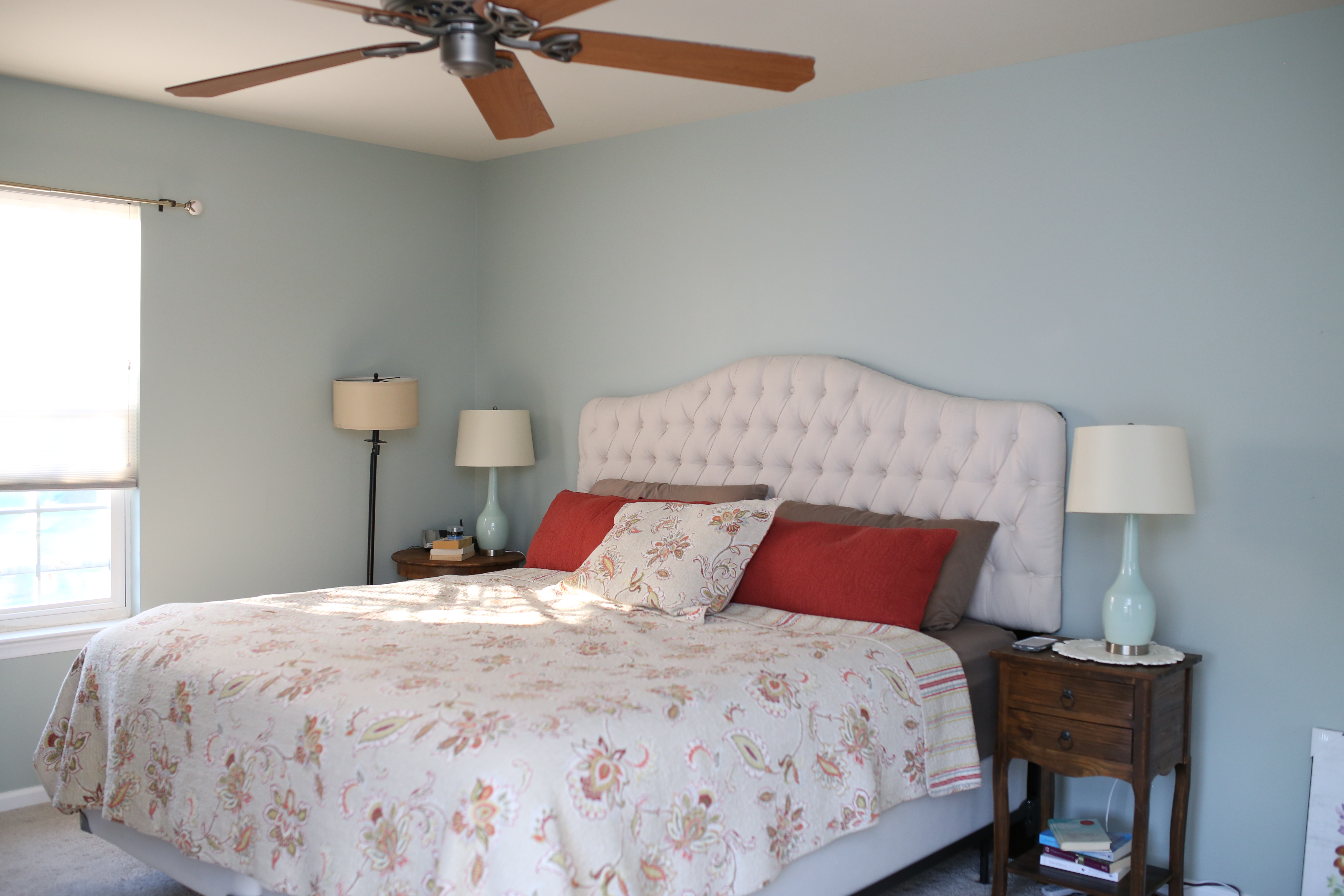 View of the old closet area.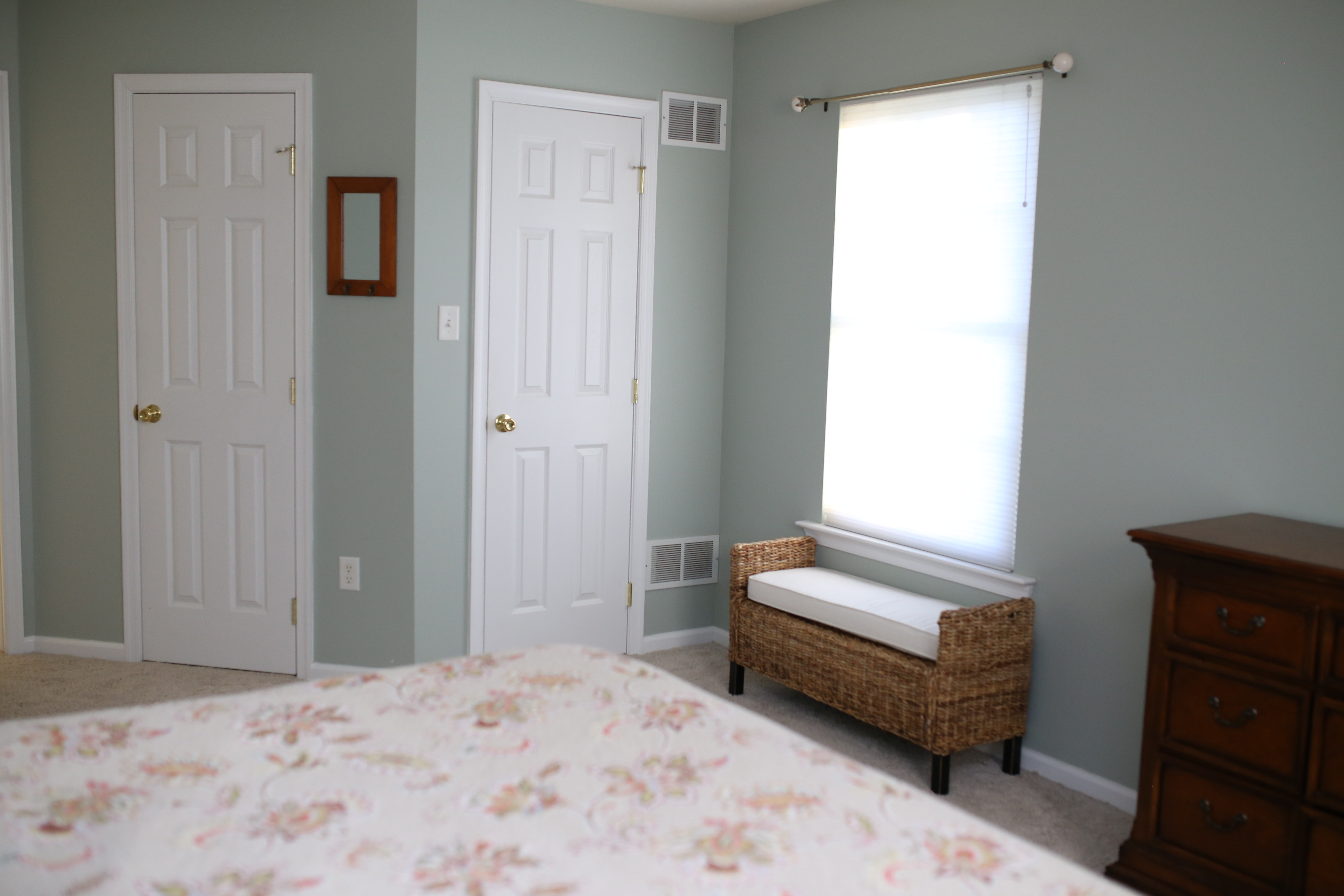 So many doors! We added a pocket door to the bathroom to free up space.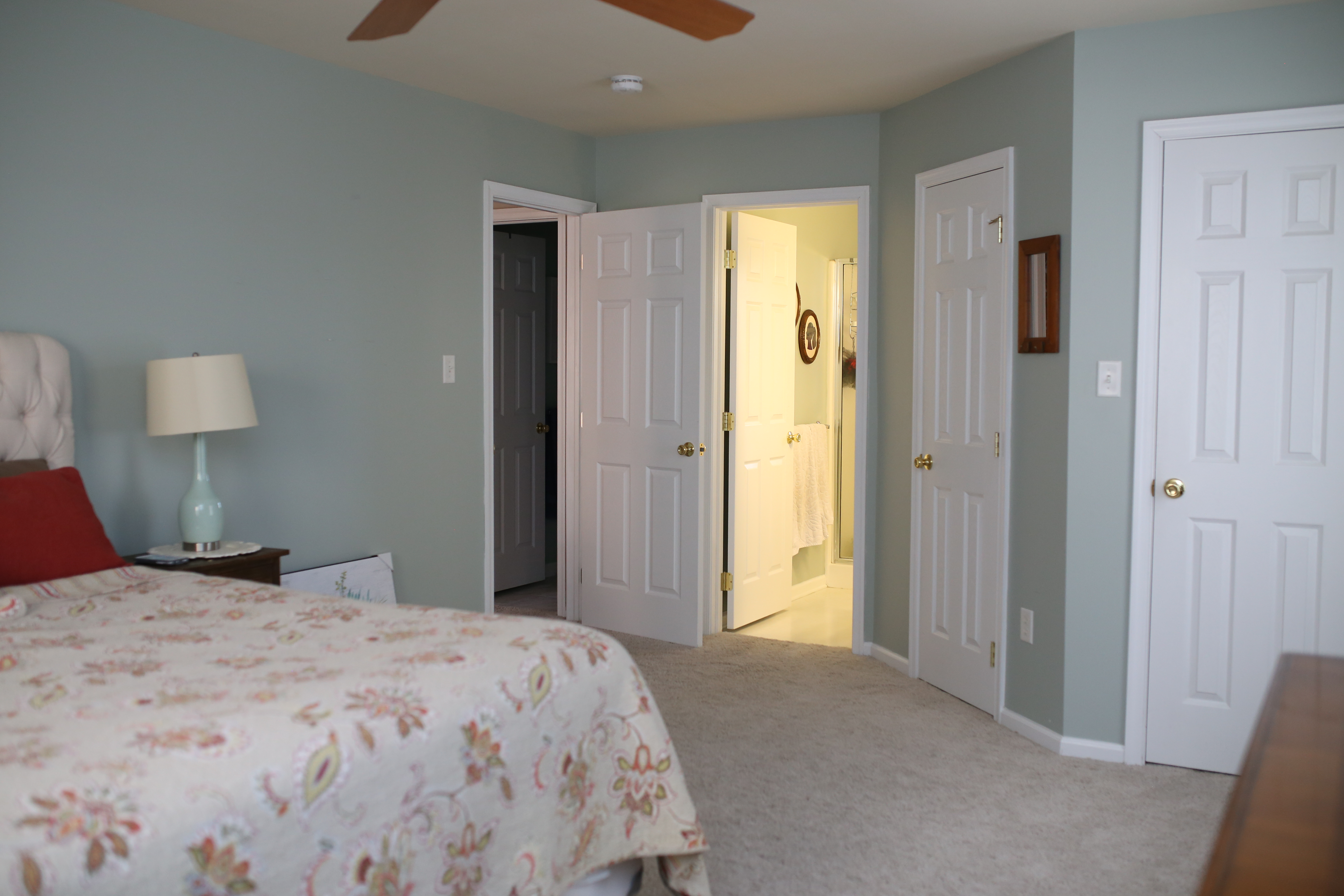 Before closet.  Barely any room to hang stuff.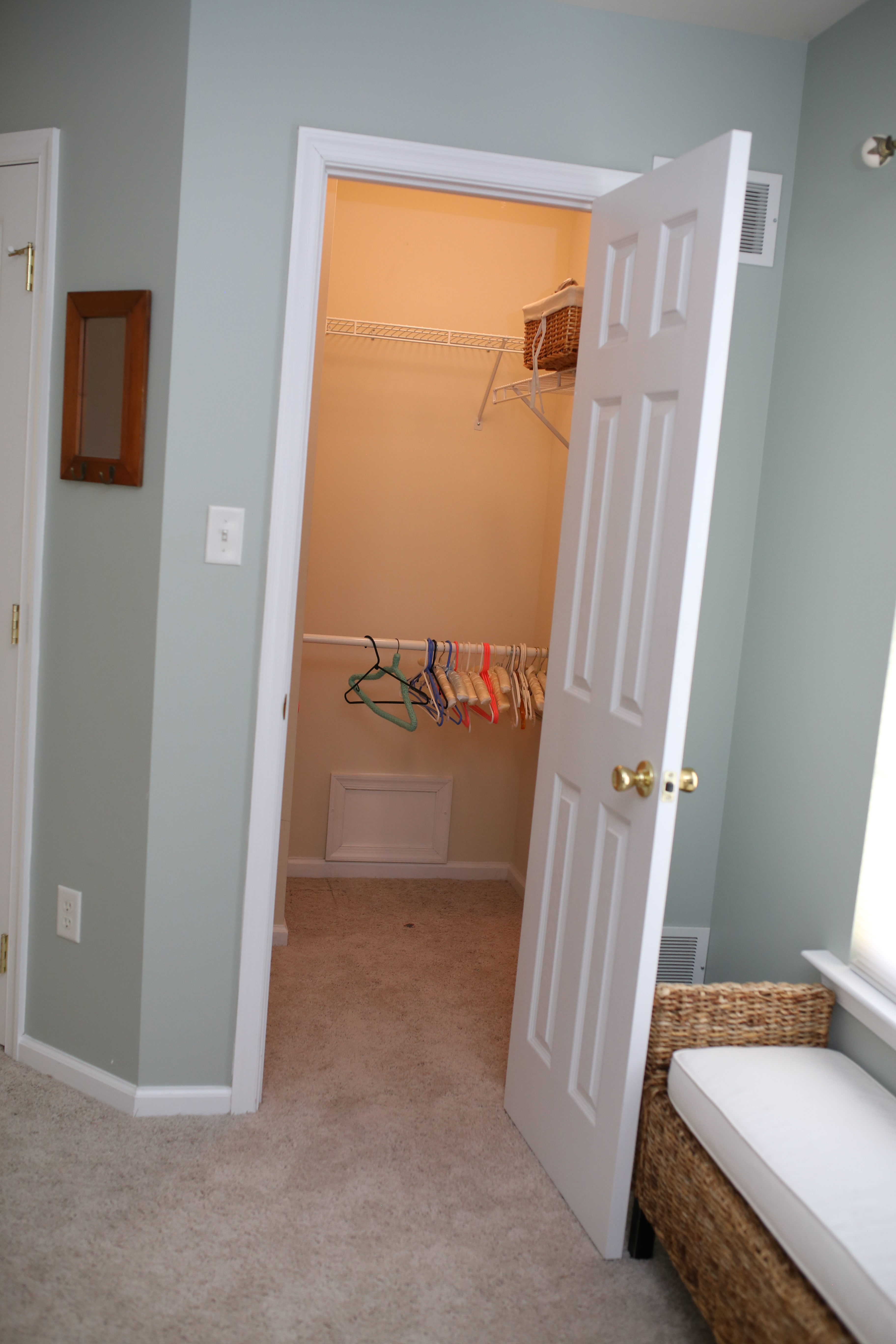 Hayley Crouse is a wife, mother and multifaceted designer. Her love of sewing, crafting, cooking and interior design infuses her daily life and naturally spills over into her online presence. She pushes the envelope of her creativity and hopes that others will be inspired to do the same. She currently authors the Welcome to the Mouse House Blog, is the pattern designer behind Mouse House Creations and is a collaborative designer with Willow & Co. Patterns.