I can't believe it, but I am back over at Project Run and Play!  Take a second to vote for the look you like best!
This Project Run and Play is different than the one I competed in several years ago.  (Take a peek at my post recap from then)  Instead of many weeks of competition (thank goodness ha), this is a one week head-to-head between two previous winners.  We were both sent the same knit bicycle fabric from Art Gallery and I chose a coordinating lightweight denim for the rest of the look.
Introducing Dollies and Me Make Three.  (read for details on FREE doll clothing patterns coming soon!)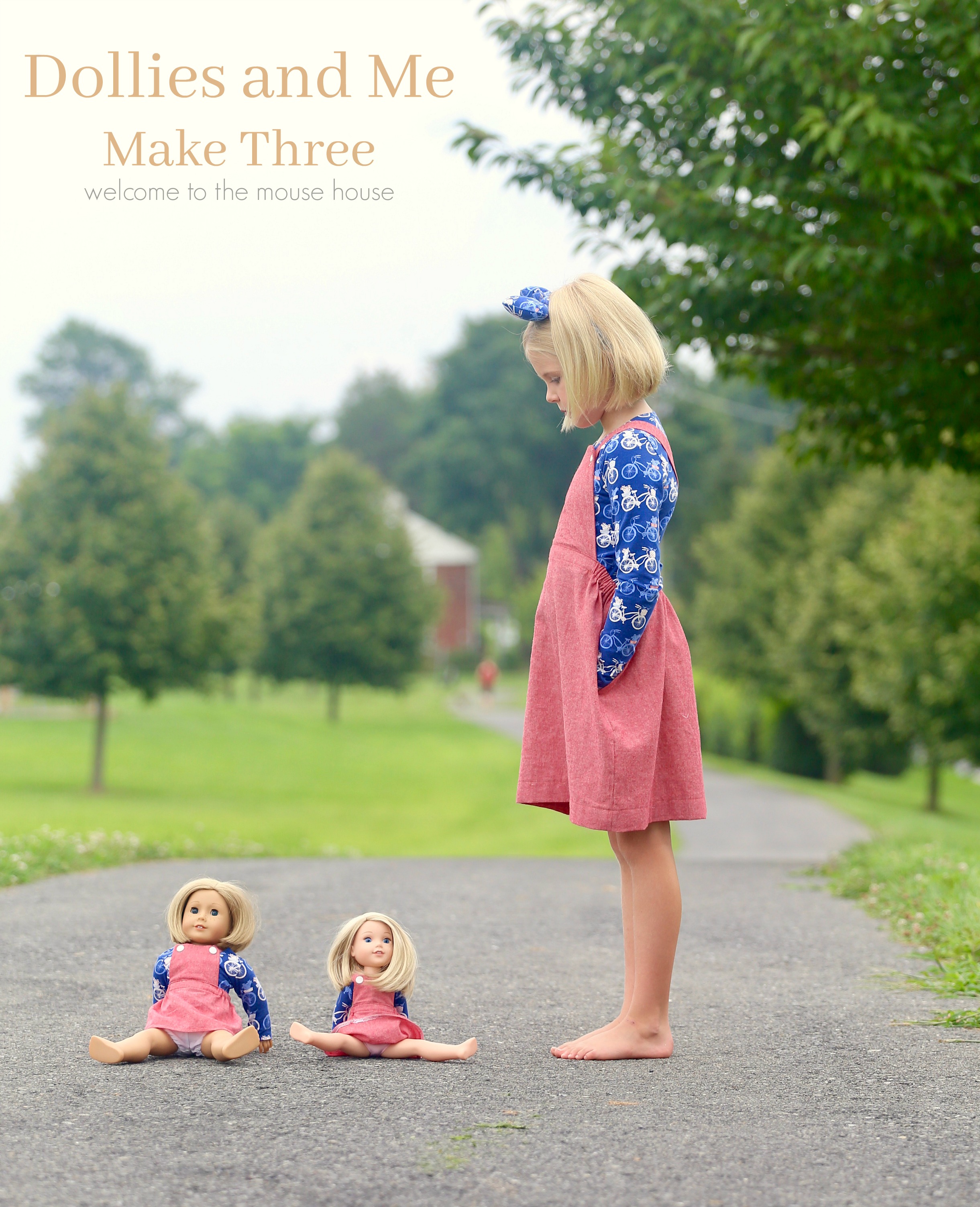 Ainsley absolutely LOVES the bike fabric, so I let her take control of what she wanted.  She requested a Sydney Pinafore (one of her favorite patterns of mine) with the denim and then a comfy long sleeve tshirt with the knit bicycles.  I used my Janie Dress pattern as the base for the tshirt, but lengthened the bodice to fit her.  I love that she will also have a shirt to wear with just jeggings for casual days.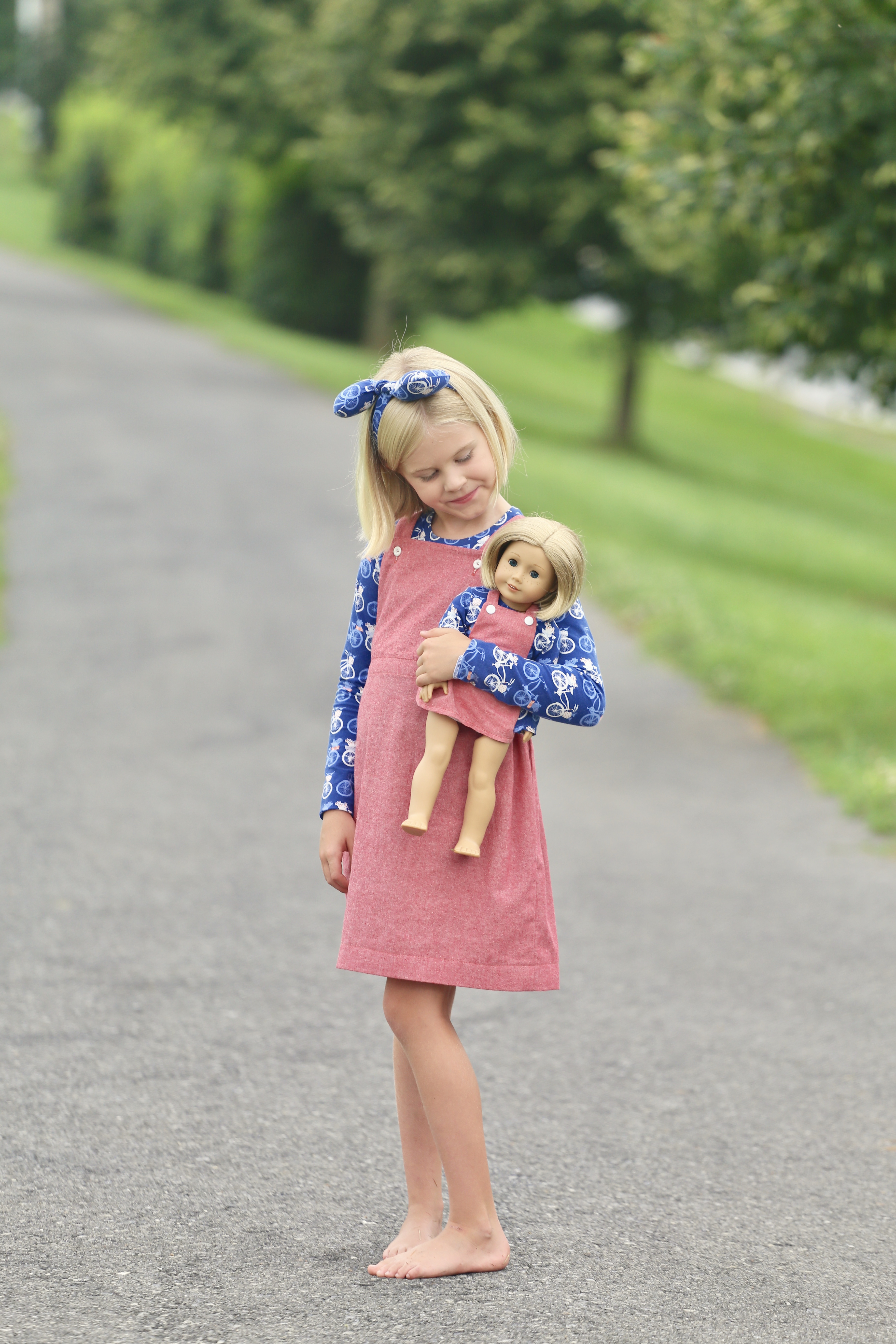 Of course, when she saw we had leftover fabric, her dolls HAD to have matching outfits and who am I to disagree with that?  Ainsley made the doll dresses (with minimal help from me.  I did the serging and snaps).  There will have a FREE pattern for the American Girl Doll and Wellie Wisher sized Sydney Pinafores soon!  (yay!)  The dolls' shirts were a slightly modified pattern that can be found for free at Pixie Faire.
Ainsley was thrilled to have completely matching outfits with her favorite dolls.
Are you ready for a slew of photos?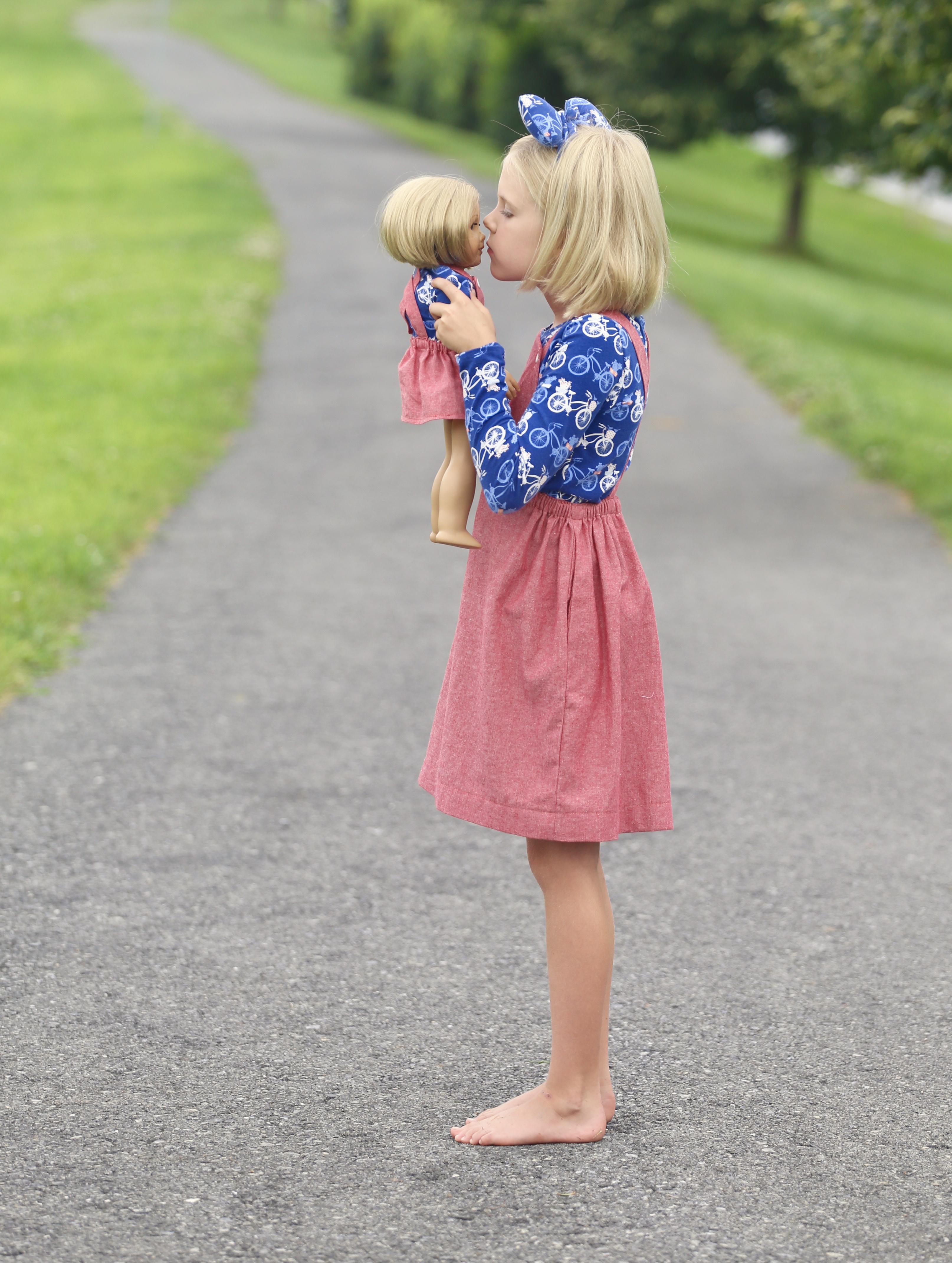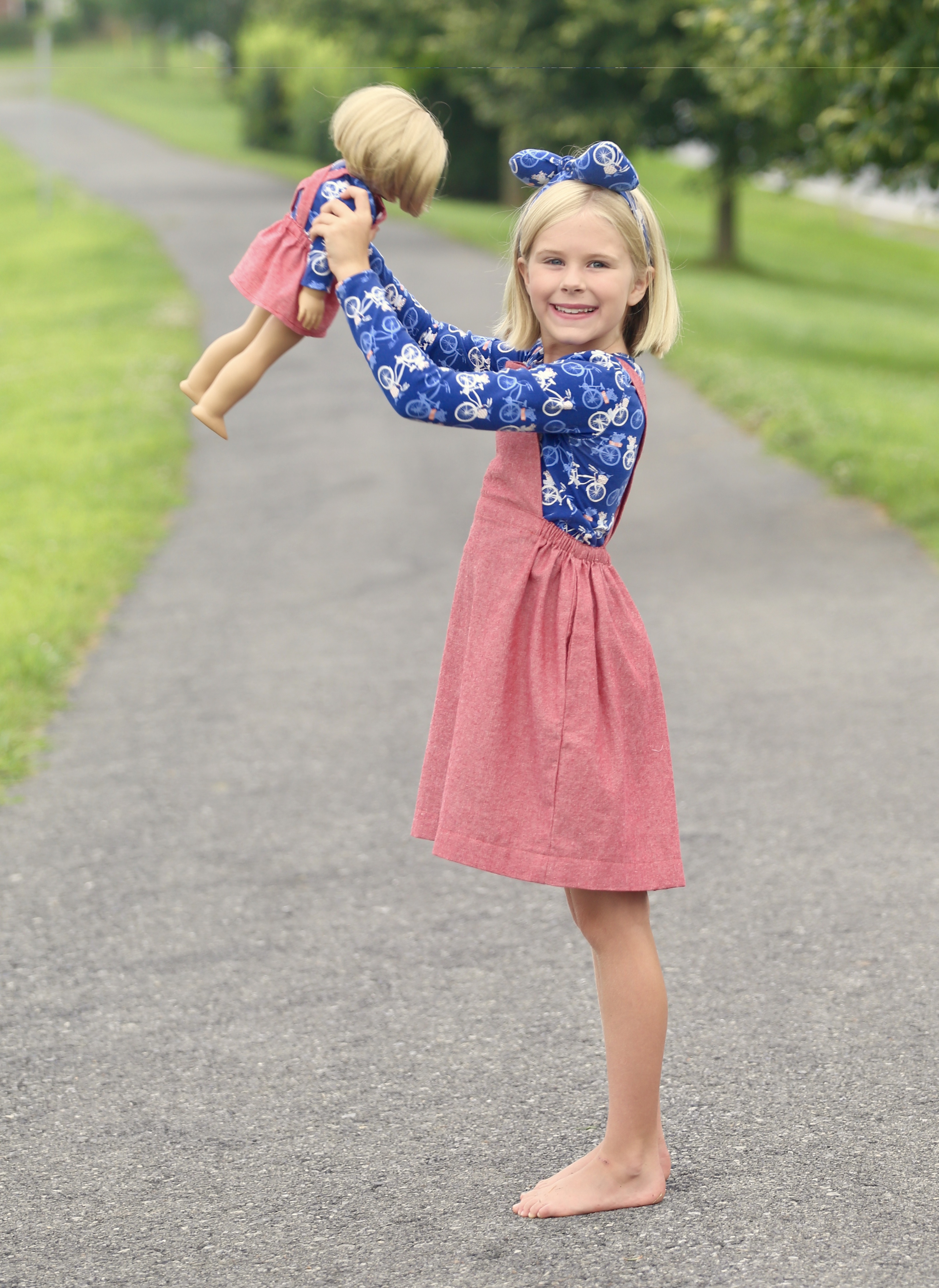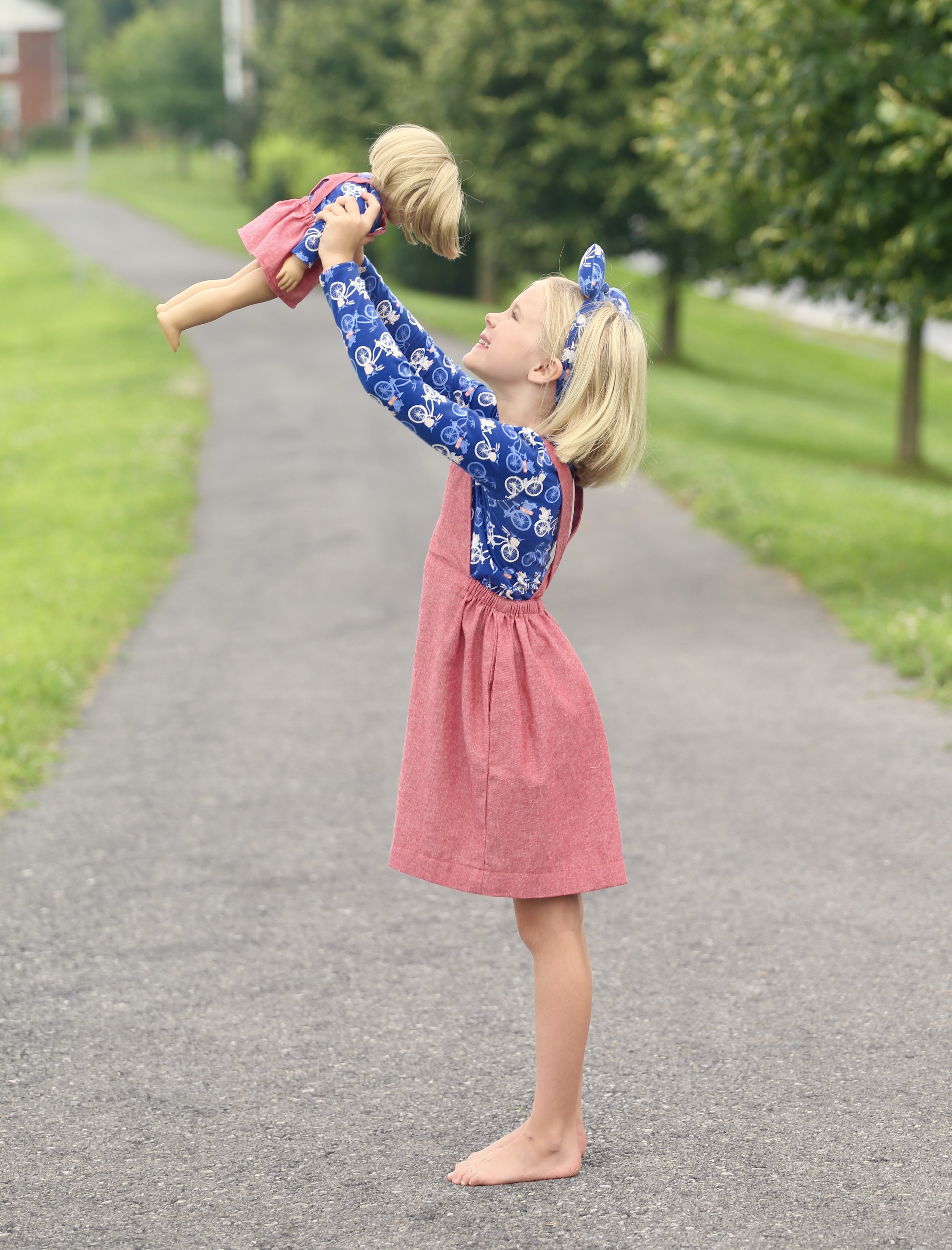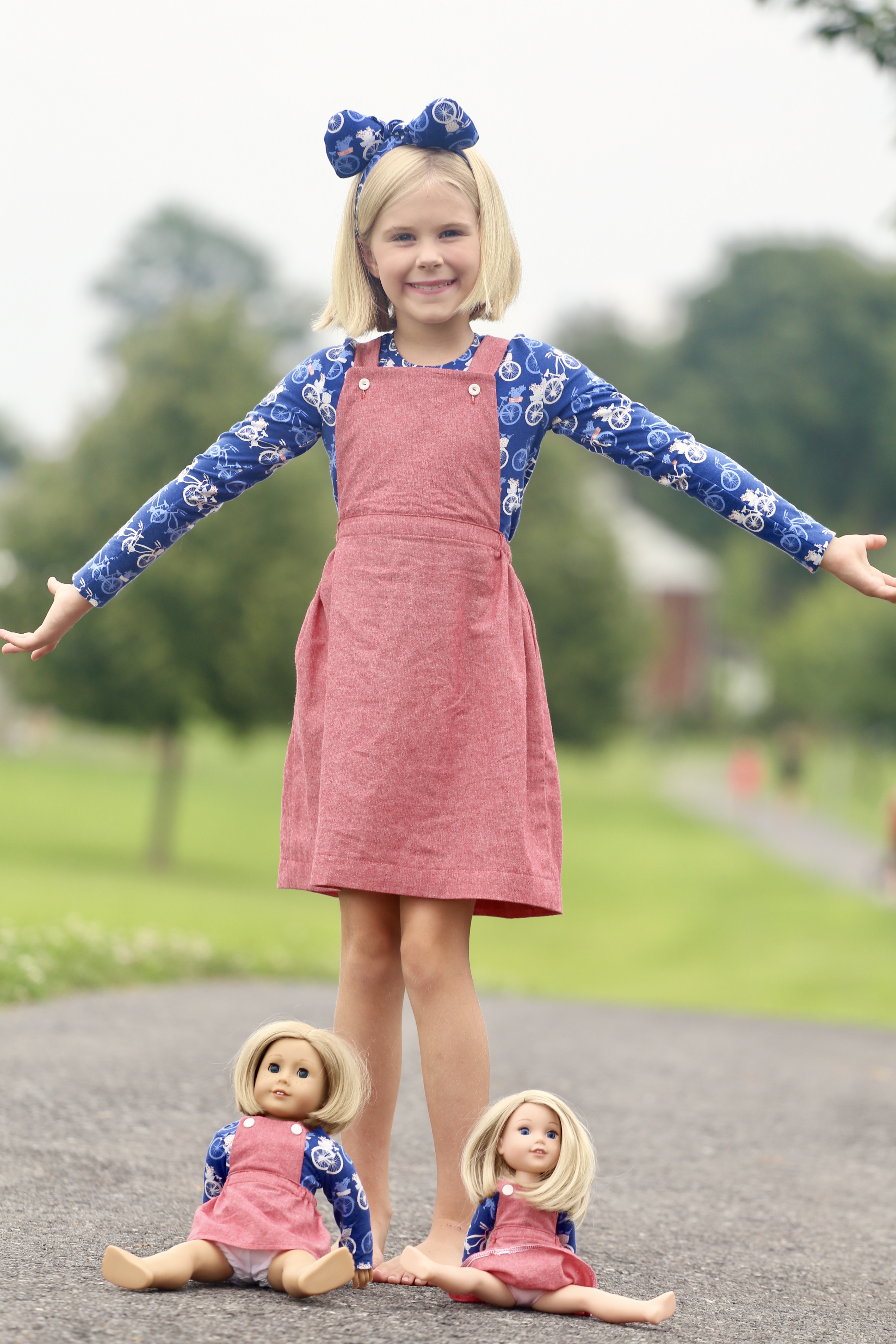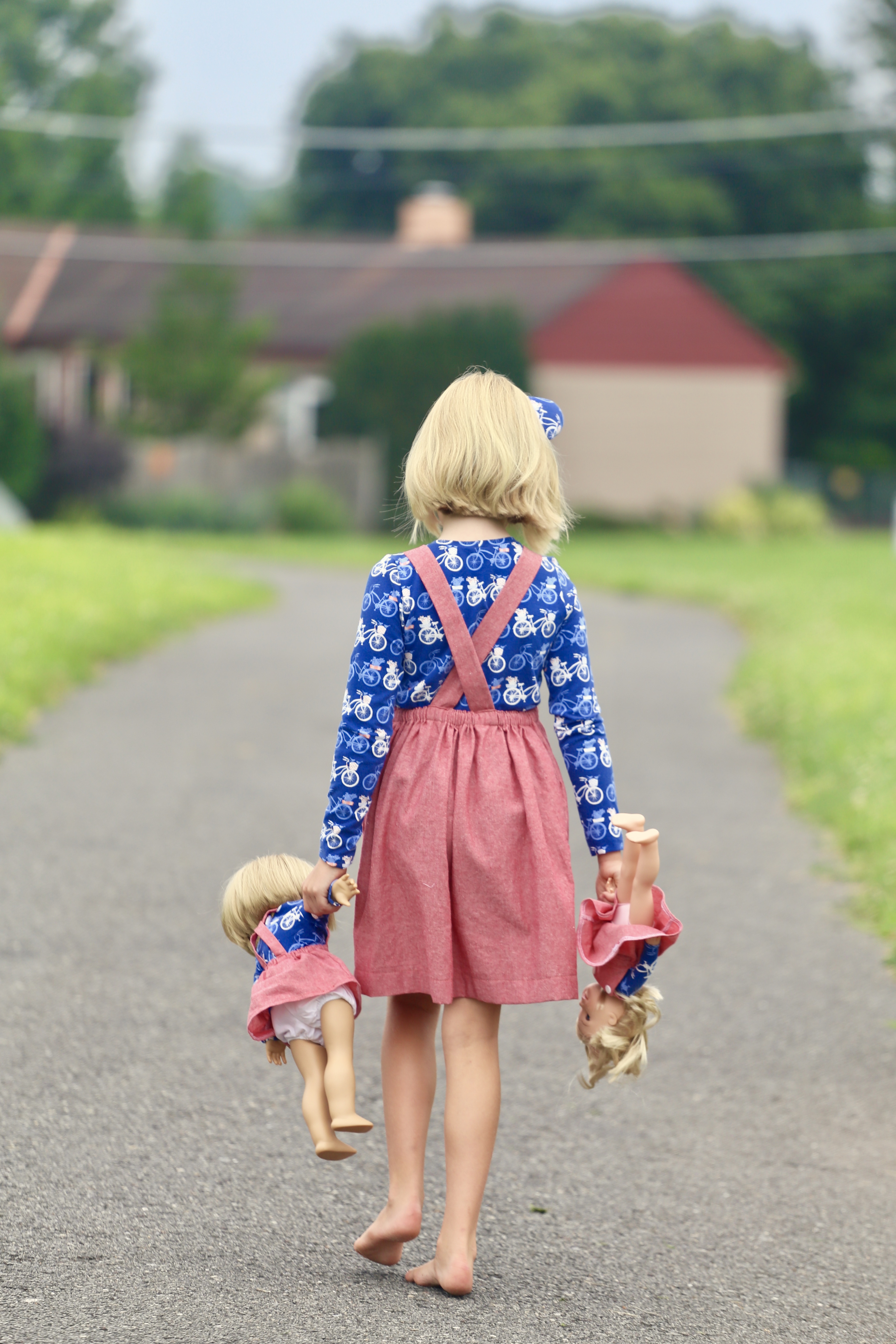 The headband was a last minute decision made by her.  She saw a few strips of the knit left and realized we could turn it into a headwrap. I will have a tutorial up for that next week.  It was super simple and the batting inside gives it the ability to stand up.
I used vintage buttons for the pinafore straps. Always fun to use something from when I was little.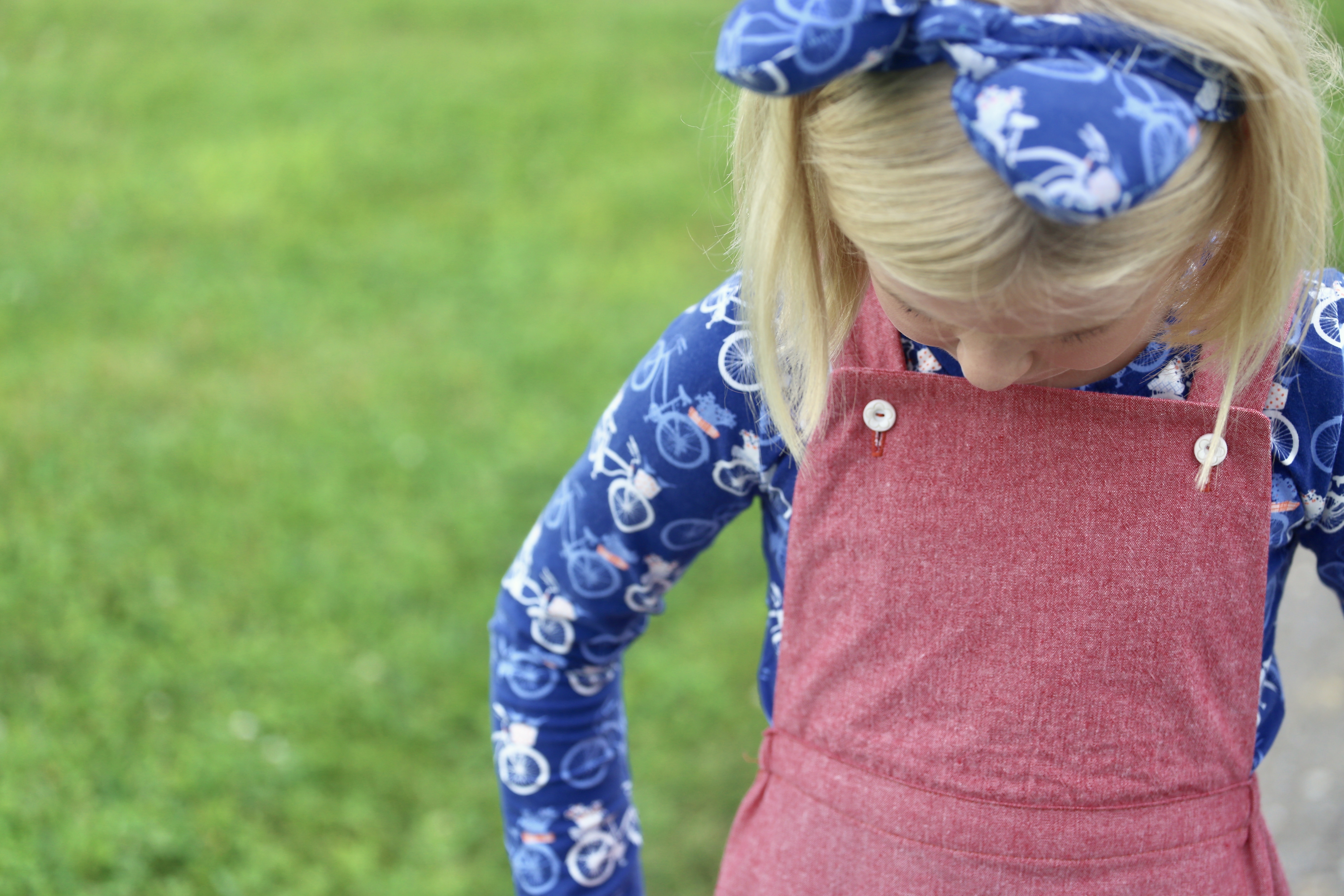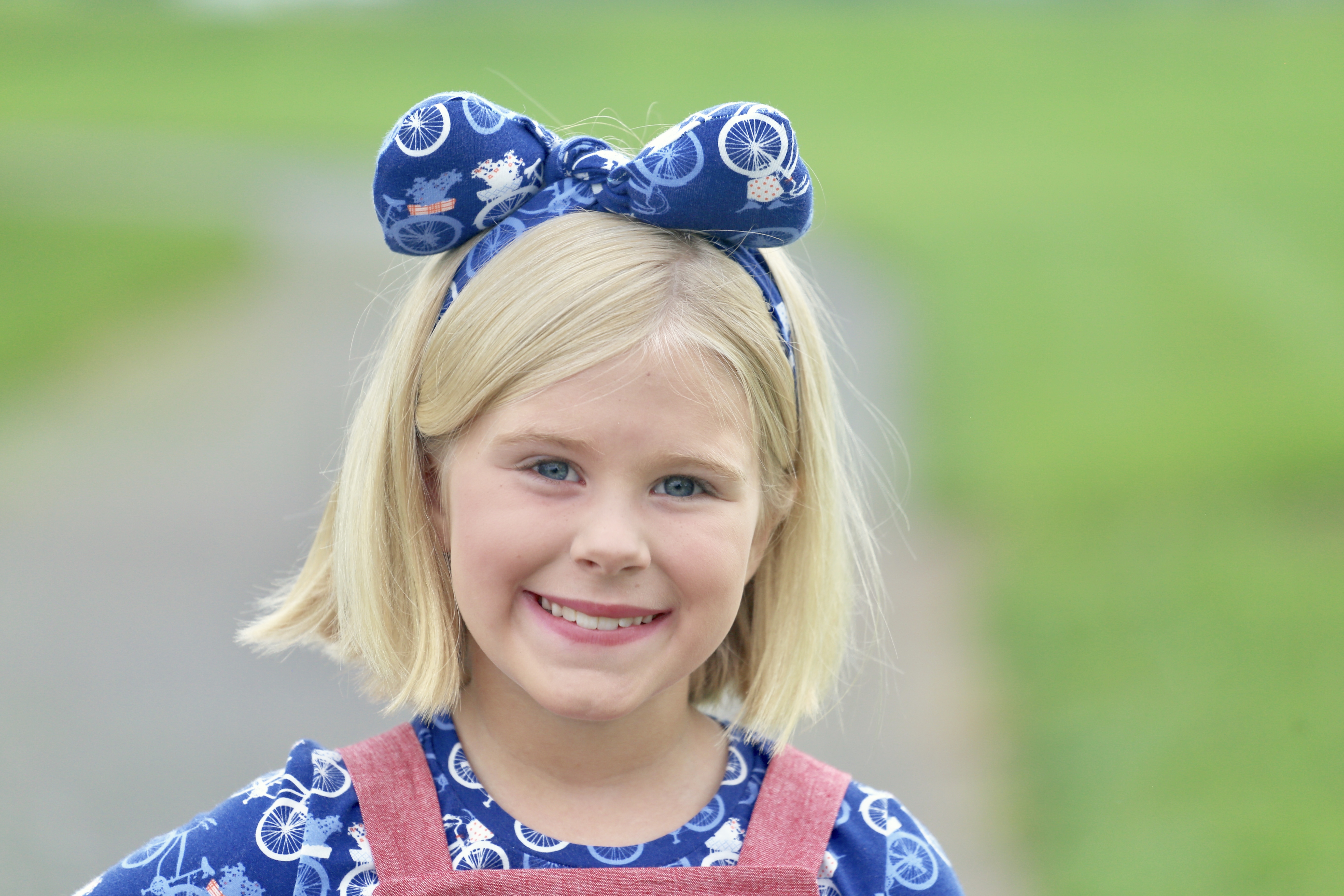 The best part about this outfit is that it will grow with her.  She has several Sydney Pinafores that she now wears as a top with leggings. The denim washes really really well.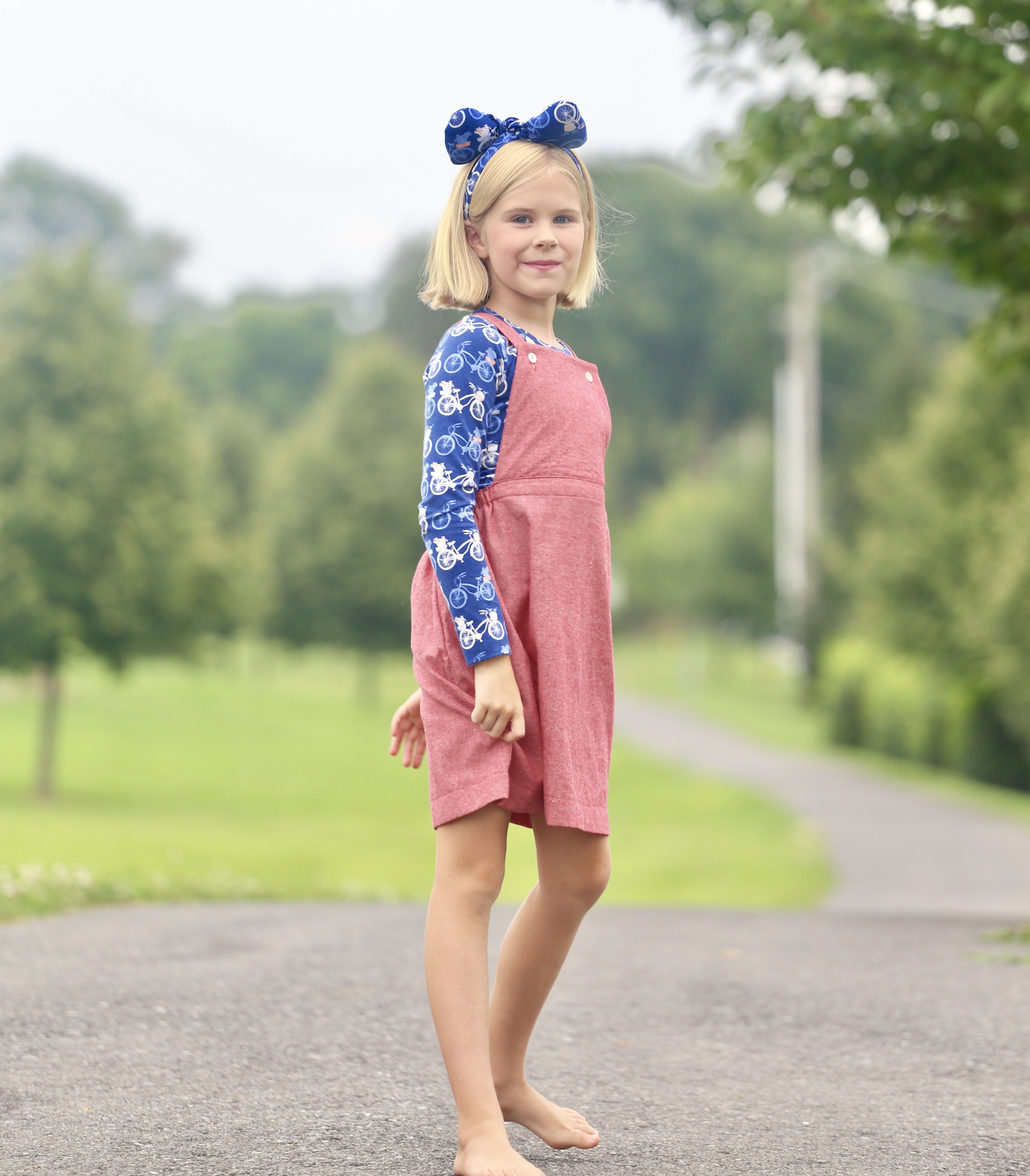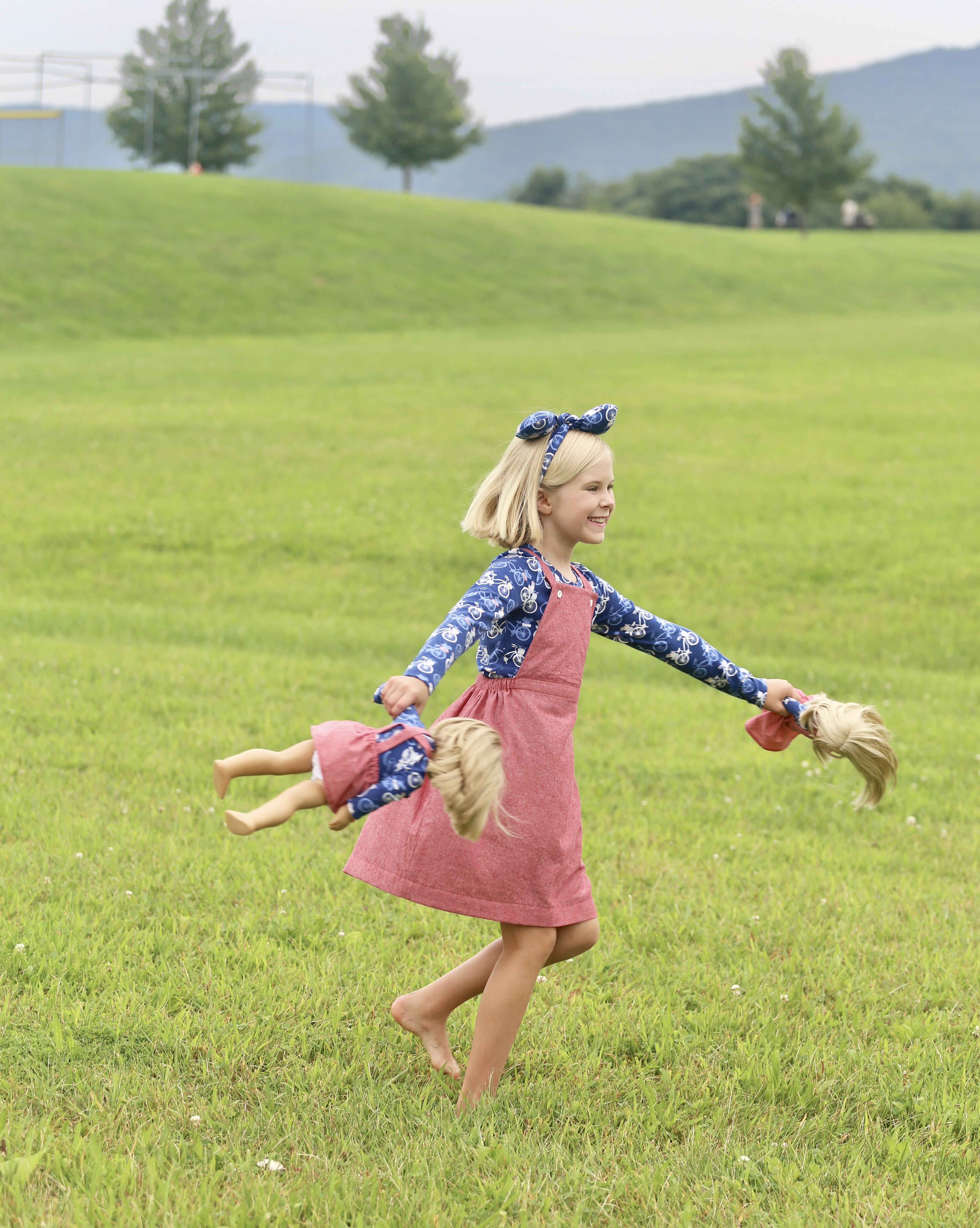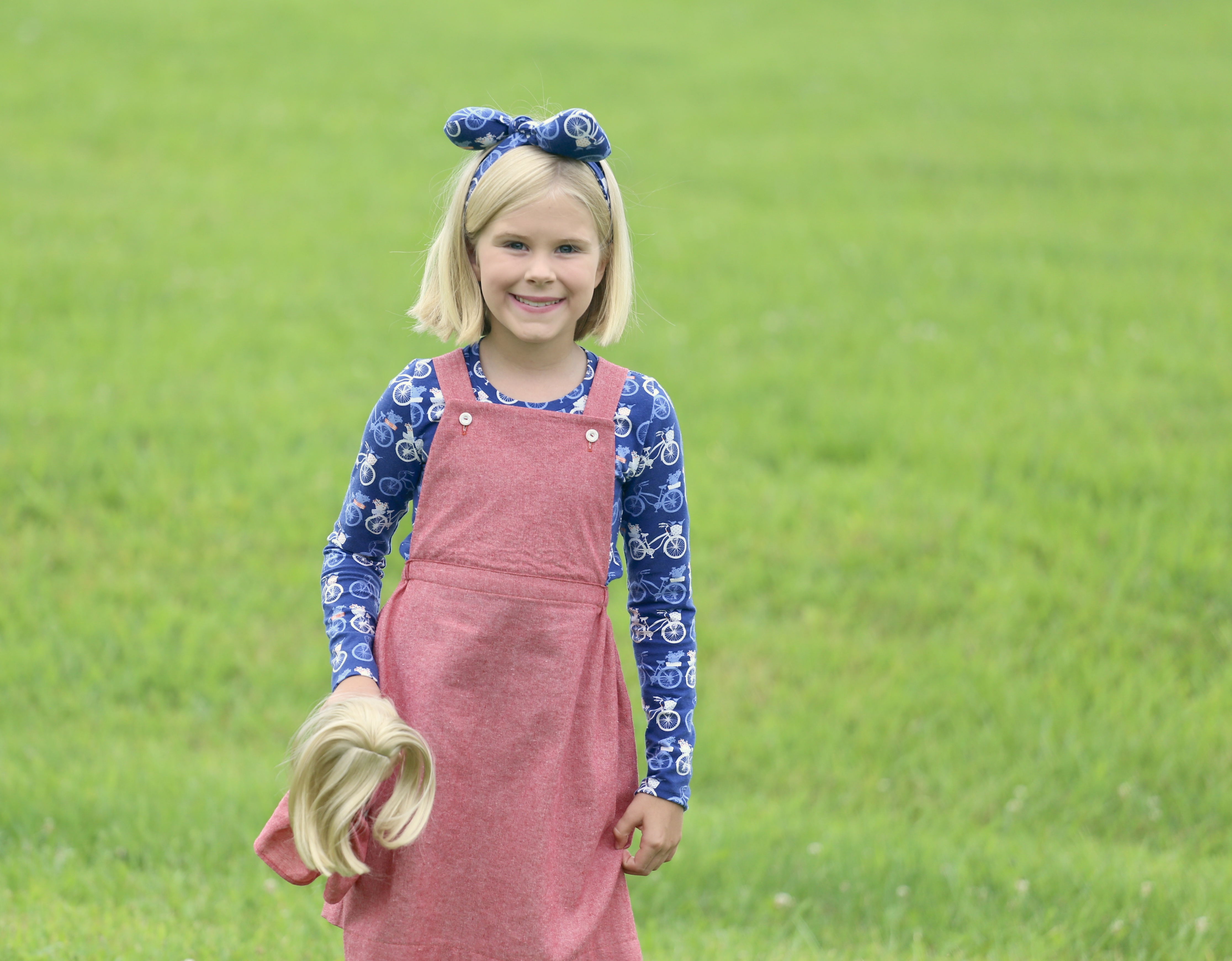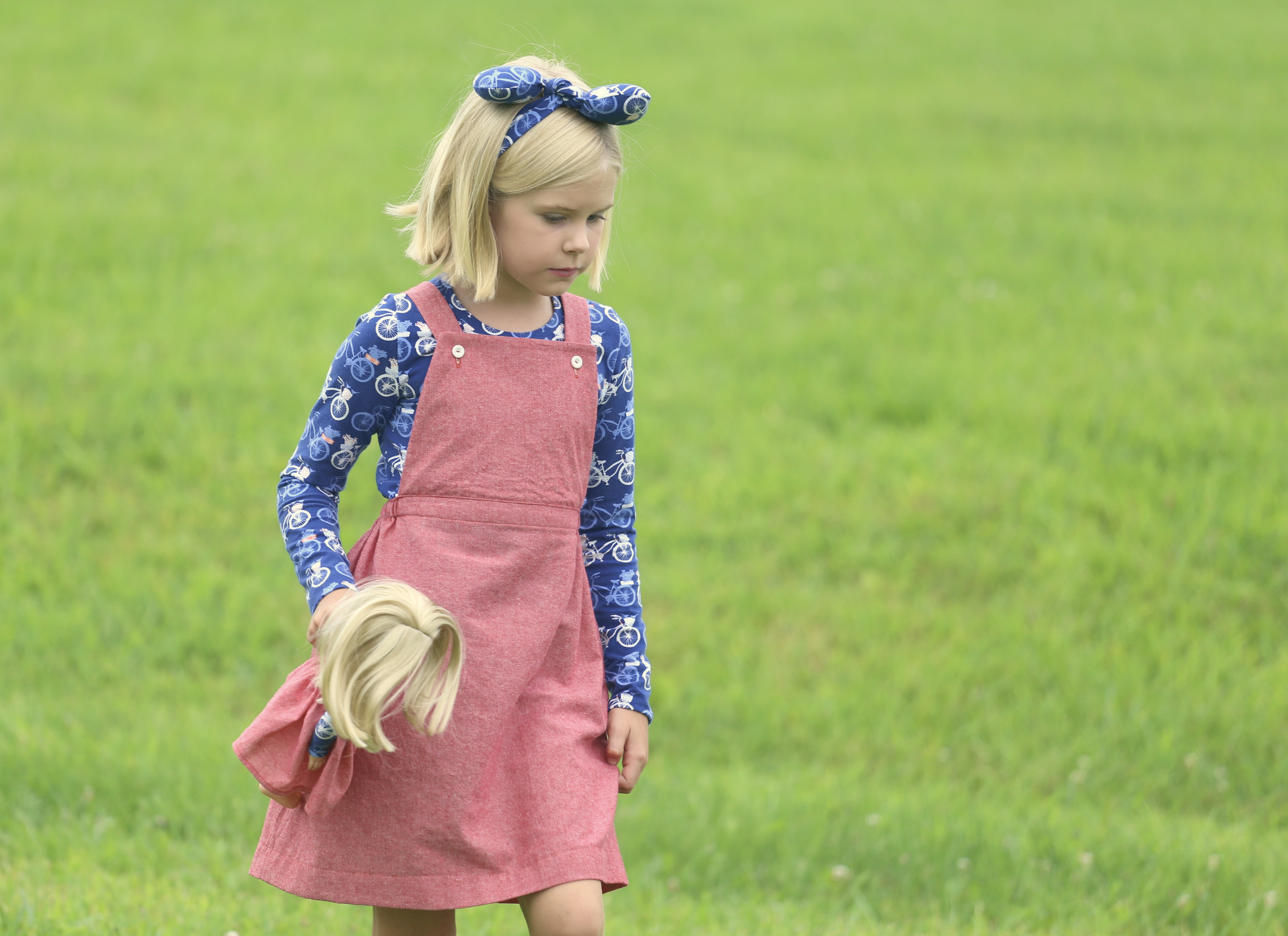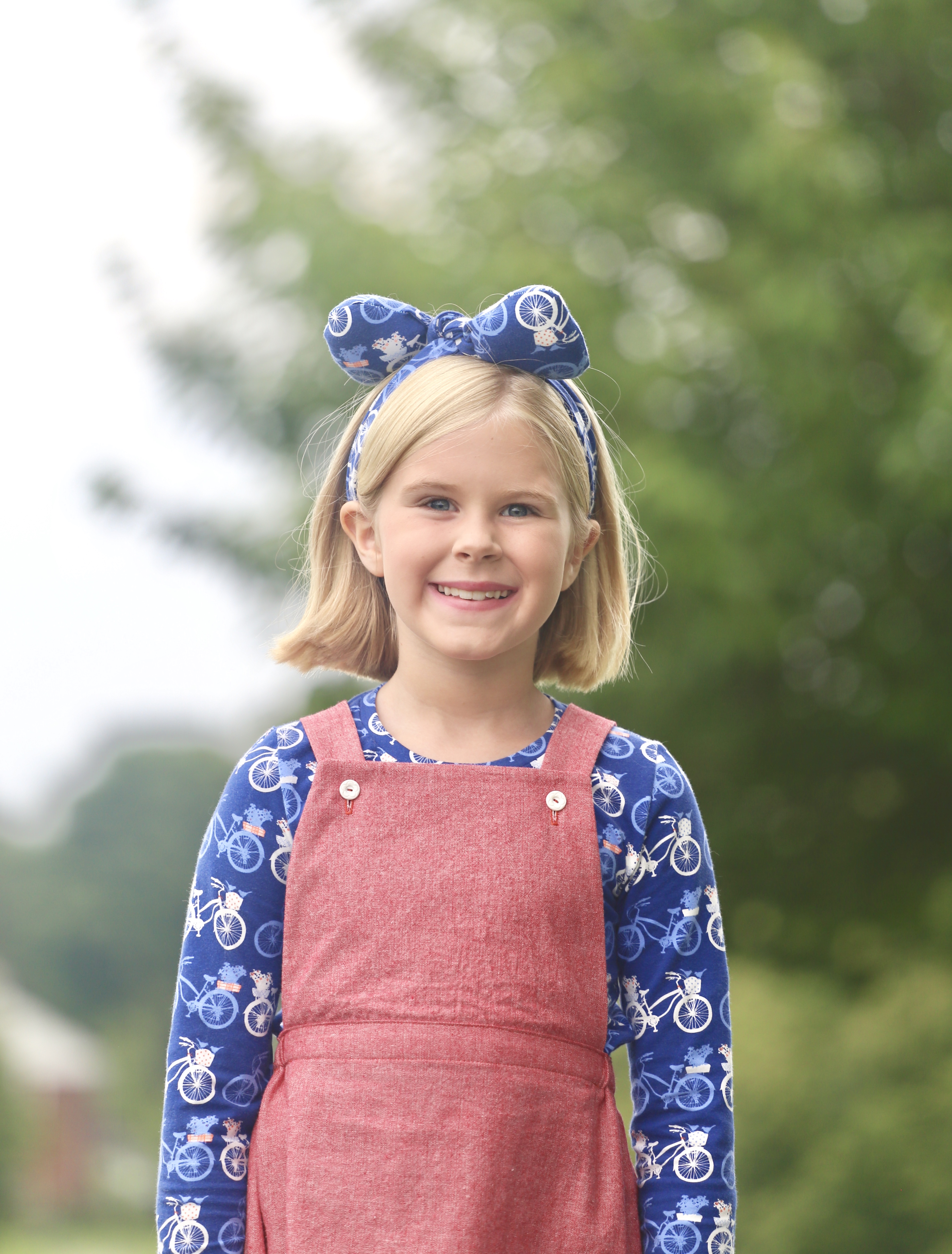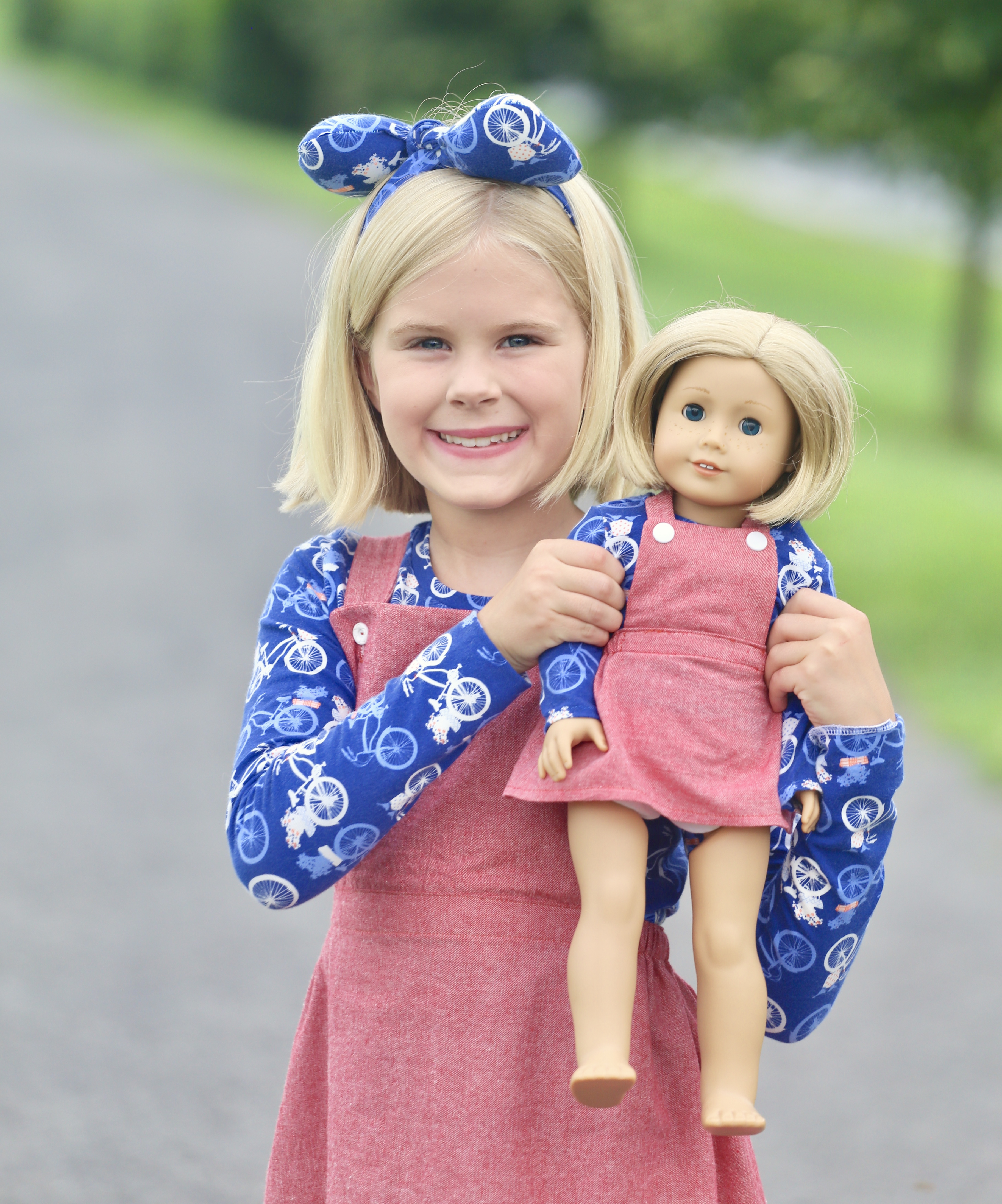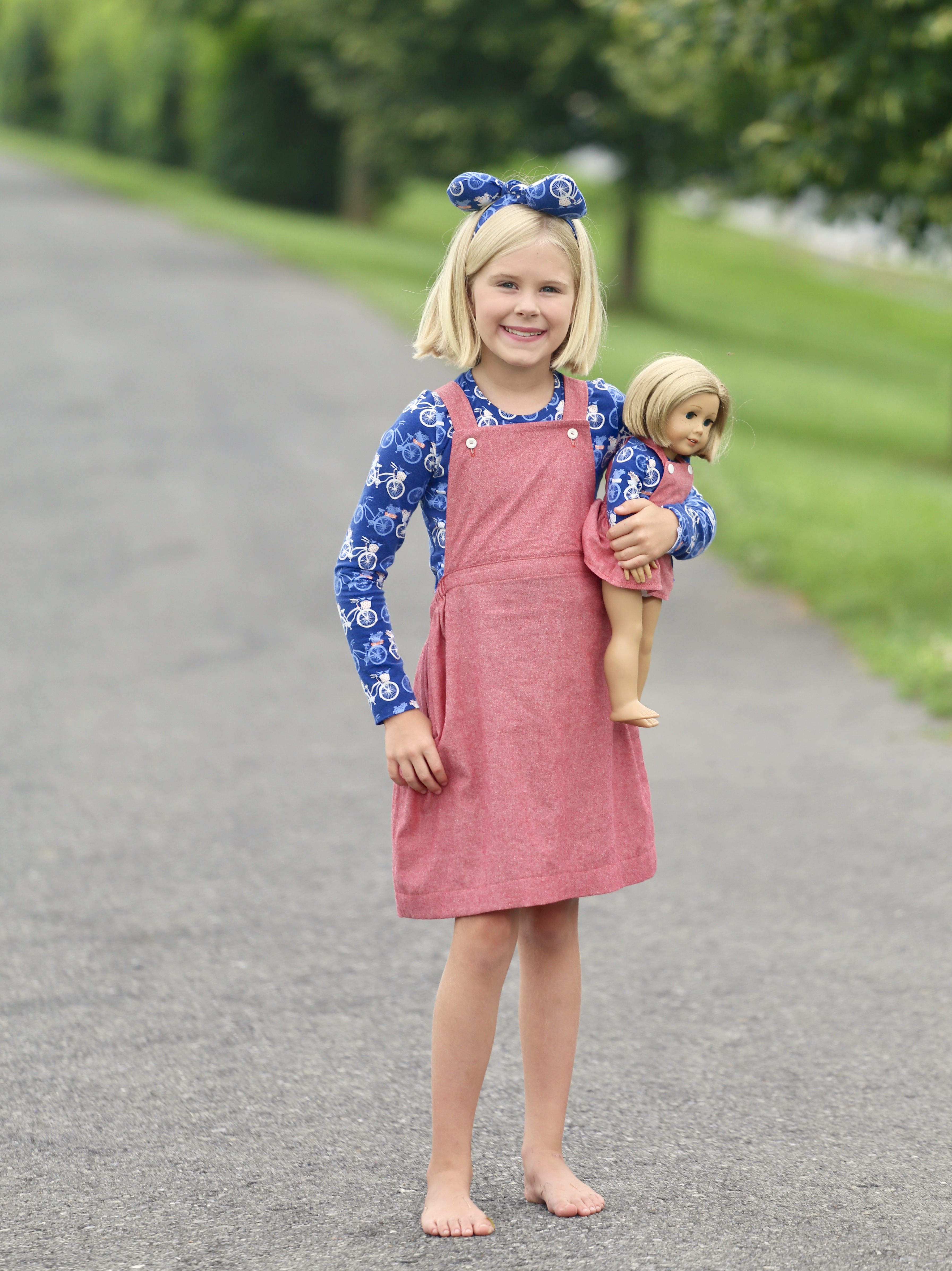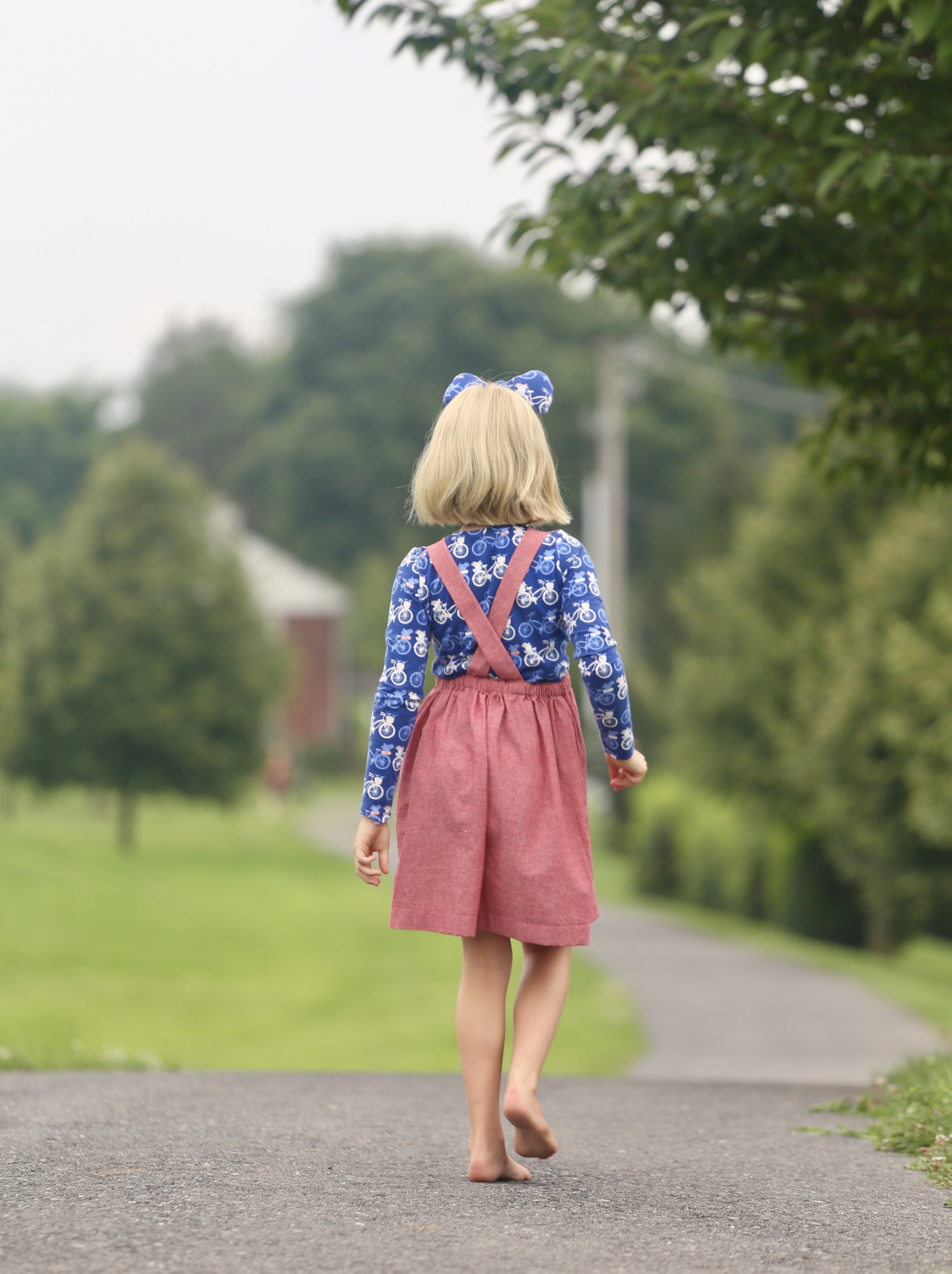 Here is a sneak peek of her epic playhouse we built this summer!  I hope to have that post up next week.  If you are on instagram  check out my profile at @welcometothemousehouse and search the hashtag #mousehouseplayhouse for a preview!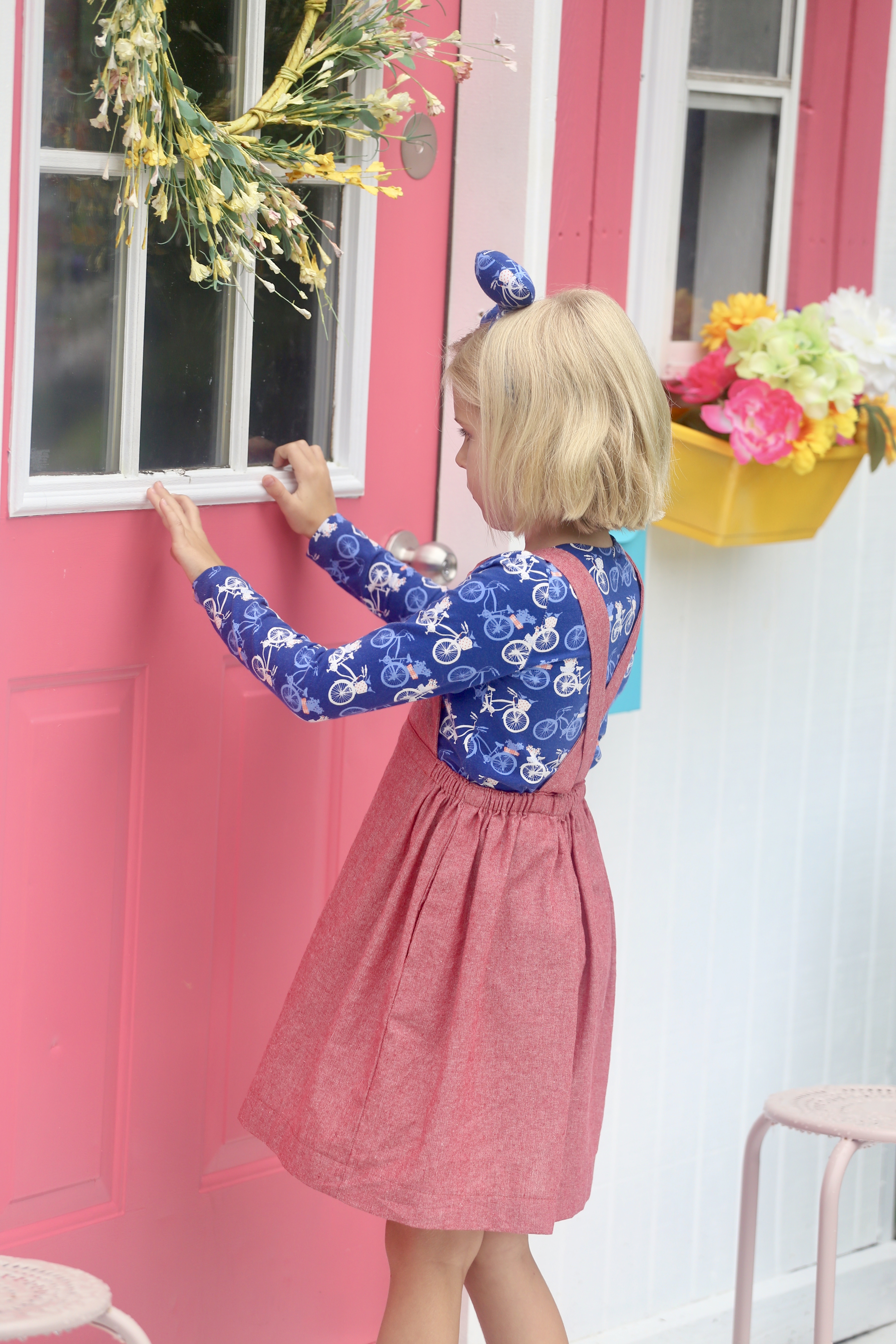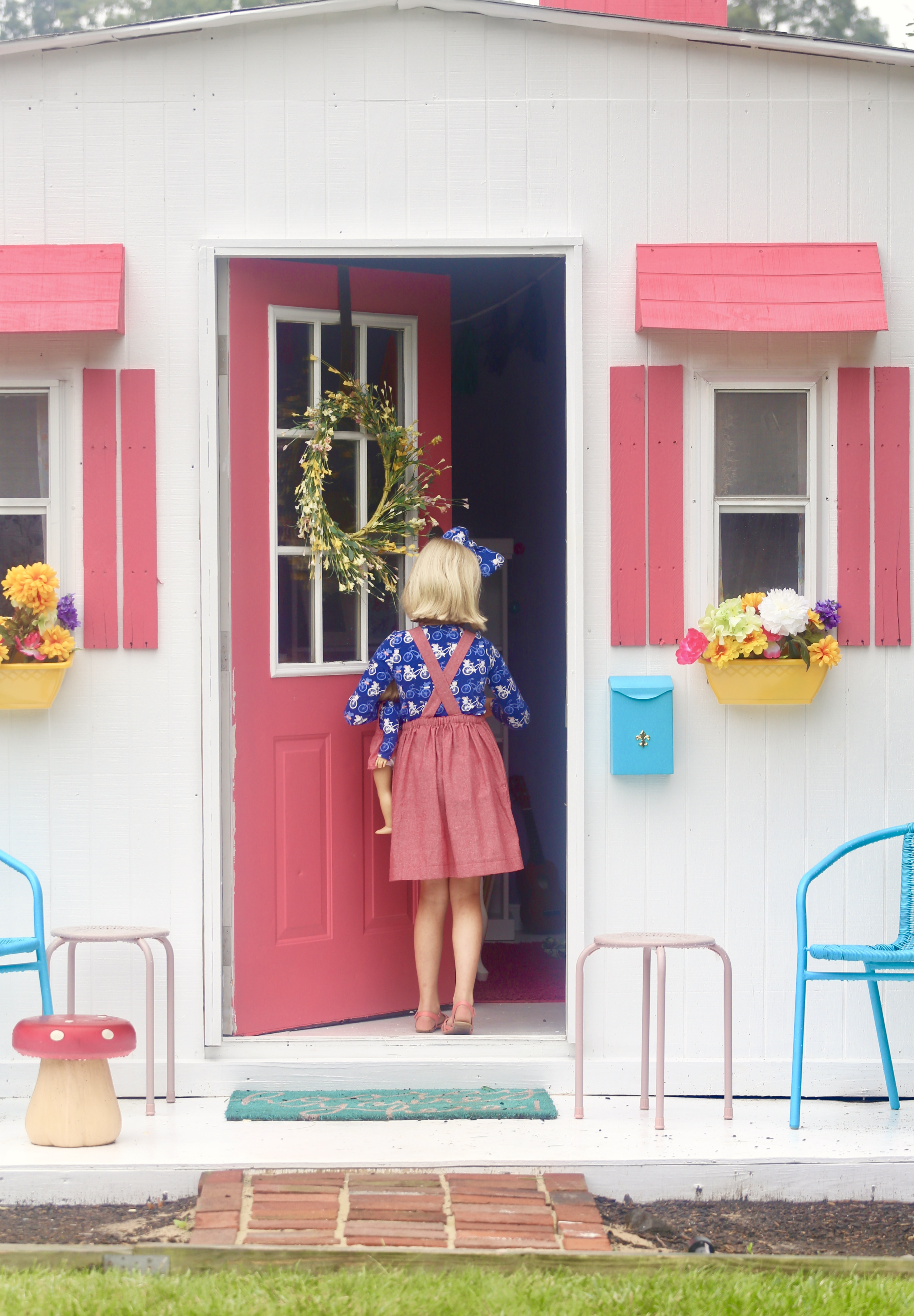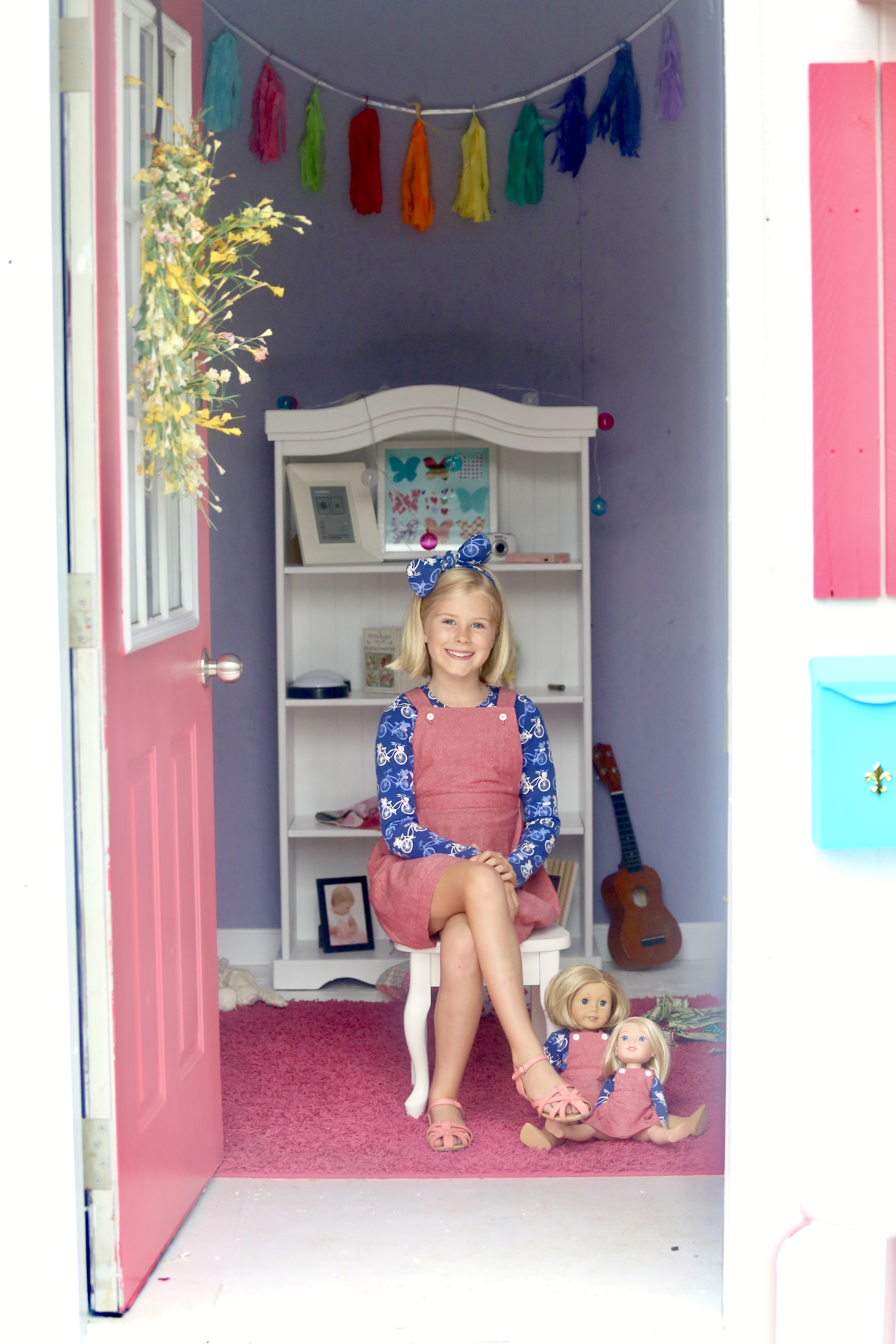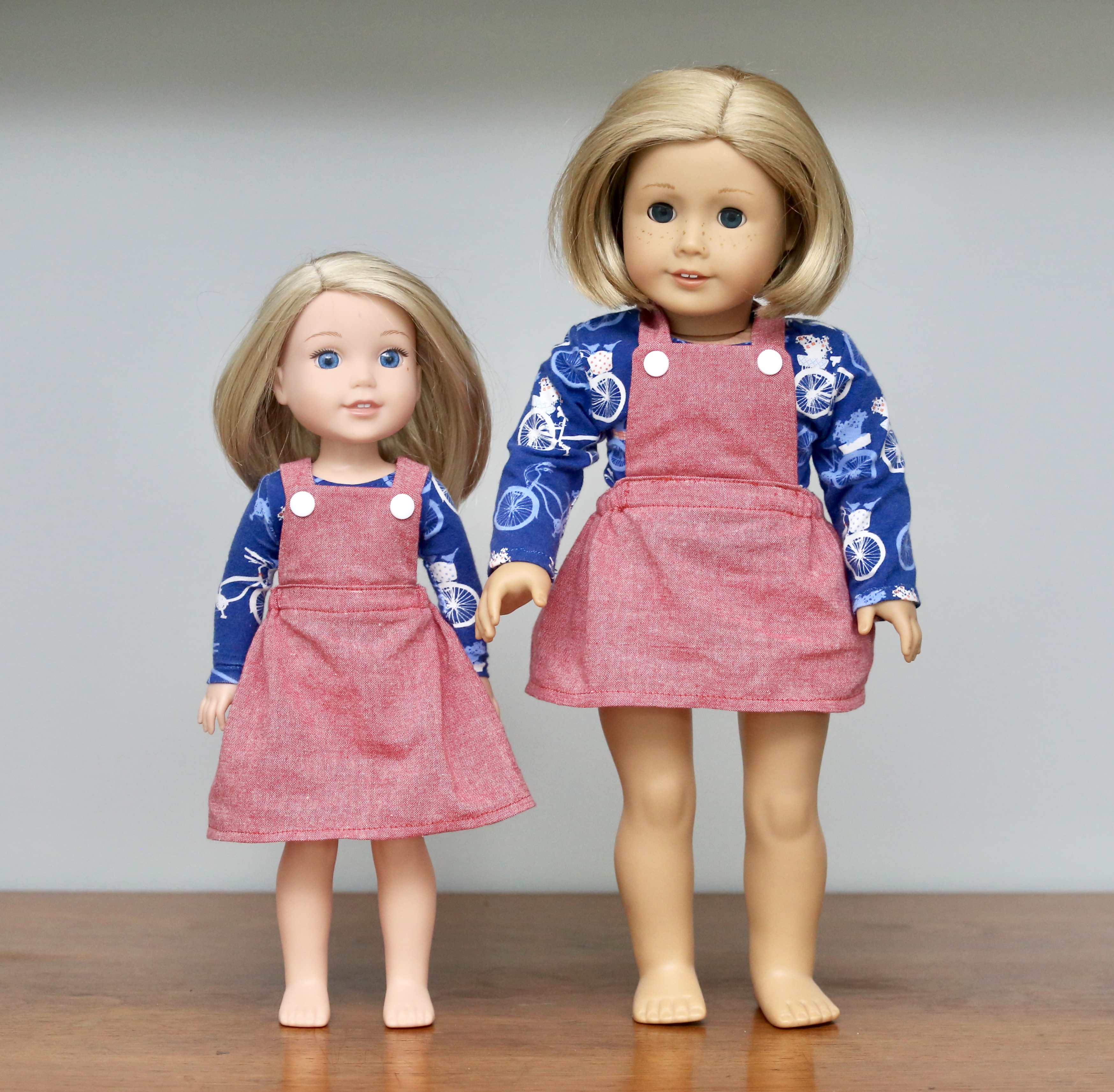 Thanks so much for having me back on Project Run and Play!  It was a blast to do this again (and made me wonder how I managed to have the energy to do all of those weeks last time).  Head on over to Project Run and Play to vote for your favorite look…. either way, it was fun and I love Ainsley's excitement for the outfit she helped create.

Hayley Crouse is a wife, mother and multifaceted designer. Her love of sewing, crafting, cooking and interior design infuses her daily life and naturally spills over into her online presence. She pushes the envelope of her creativity and hopes that others will be inspired to do the same. She currently authors the Welcome to the Mouse House Blog, is the pattern designer behind Mouse House Creations and is a collaborative designer with Willow & Co. Patterns.