Today's guest post is from a lovely lovely lady named Joanna. We first started chatting via email a few months back and I am blown away by her amazing attitude towards her life with cancer.
Joanna, you are a wonderful person and you are going to fight this!
***************************************************************************
Hi!
Thank you Hayley for having me! My name is Joanna and I blog over at Just an Ordinary Girl. I'm 31 and I live in England with my friend Stephen and cat Freddie. I love reading, travelling (when money permits!), box set dvd's including depserate housewives and extreme makeover home edition and I also love cake!
My post today is about living with cancer. I don't mean to upset anybody, and not everyone has the same experience, so I can only write from my own point of view 🙂
About 18 months ago I was having terrible headaches. I went to my doctor so many times, feeling like an idiot every time I went and said 'I have a headache'. I had so many different diagnosis – hayfever, sinusitis, a viral infection, stress. But they didn't go away and they were truly awful so I persevered. I finally found my perfect doctor, who listened to me and said immediately 'let's get you in for a scan'.
I went for the MRI scan which wasn't very nice because I don't like enclosed spaces! But I did ok 🙂 When I next saw the consultant at the hospital he explained I had a brain tumor. I was shocked…I had known something was wrong but I didn't expect this. He told me that an operation was not an option as the tumor was in a place too difficult to reach, so he recommended chemotherapy and radiotherapy. It took me a while to get used to the idea. I veered between depression and happiness, desperation and anger.
I told my friends, one by one. At the beginning I had a lot of support from them. When I told my family, I had all the support in the world. My mum, dad and sister are the most important people in the world to me and we are very close indeed.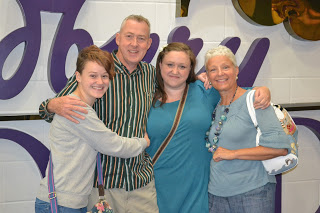 My Family
My life totally changed from that point on.
the only photo of me looking unhappy!
I started chemotherapy and it is really hard to describe how that makes you feel. I guess the best way to describe it is like a really bad flu x 3000. I had to take a lot of time off work which eventually led to me losing my job. I put my own house on the market because I moved house to be closer to the best hospital in the UK for brain tumors. My house wouldn't sell in the economic climate and so my parents, God bless them, went to my house while I wasn't there and cleared it all and redecorated it so it could be rented out. This led to me losing my friends, who, now I was 2 hours away, lost touch with me and I with them. I moved in with a great friend who I fell in love with but he didn't feel the same way. Everything was so tough I used to wake up and think 'what is the POINT of this? I have no money, no friends, no boyfriend and I am really sick'.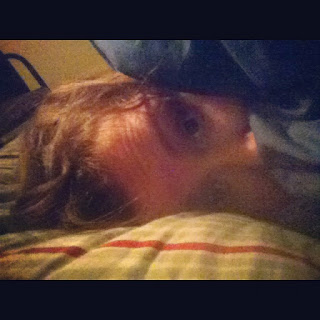 feeling ill

Then I realised. All those things may be true, but I have the most wonderful family ever. I have a comfortable place to live and I have my cat who I truly love like he was my own child. I need to stop feeling sorry for myself and concentrate on the things that matter.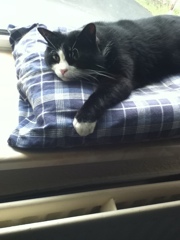 my cat
I'm not saying this was easy. It definitely wasn't. I had to go on benefits and ask my parents for financial help. I still felt sick and tired. I still had lost my friends. But I got through it. People told me how brave I was but really I didn't have another option, it was the only thing I could do.
Slowly, over about 6 months, I came to terms with things and I started feeling so much happier. I started raising money for the hospital I go to, and I spoke at a support meeting for other people who had cancer. I decided I would get a job that I could do when I felt well enough and I was determined. I got a job working from home as a travel agent (my profession) where I am able to chose my own hours. I made a point of telling my family every day how much I loved them and how much they meant to me. Their support has been priceless to me.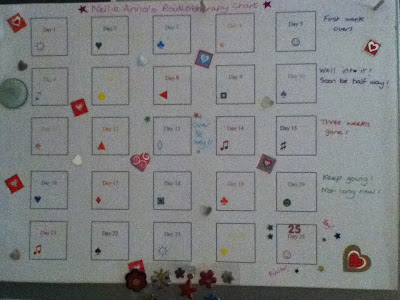 radiotherapy chart my mum made me, to count down the days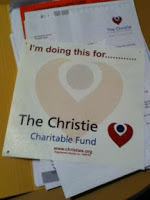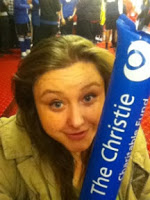 raising money for my hospital
I started taking up new hobbies, like sewing and that is how I found Hayley's blog! I made new 'blog' friends who support me so much, even though they are in a different country, and I can't explain how much that means to me. I started to lose my hair and just thought 'great! new hats!' I put on weight because of the drugs and thought 'new clothes!'.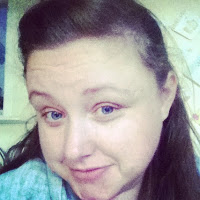 first hair loss
It has been a difficult time, but I have a completely positive outlook now. I know I can beat this, and I will.
A lot of people said to me when they found out I had cancer 'if there is anything I can do, anything at all, let me know'. I know that it is hard for people to know what to do and what to say, and it was hard for me to ask for help. The best advice I can give to somebody who wants to know what they can do to help someone who has cancer is not to ask them what you can do. Just do it. Go to their house and start to vacuum without them having to ask you. If you know what time they are going to hospital, be there when they come home to put them to bed with a drink. Send them a tiny gift, a card or a letter in the post to brighten their day. I know how much I appreciate the post I get which is a joy to open and brings a smile to my face 🙂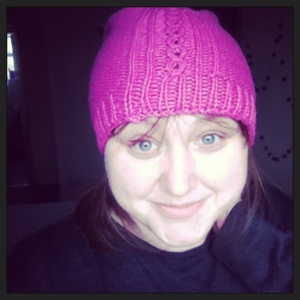 Now
The other thing I wanted to write about was the financial side of things. This is a sensitive subject, and nobody likes to ask about money or admit that they are completely broke! But it's such an important part of living with cancer that I wanted to be transparent and tell everyone exactly how I have managed, in the hope that it will help someone out there.
So; I have the following outgoings:
Council tax £100 per month
Food for household plus cat £300 per month
Bills £195 per month
Travel expenses to and from hospital plus medication costs £250 per month
Loan repayments and credit card payments £150 per month
Mortgage on old house – this is covered by the rent from the tenants
Rent for new house – Stephen pays this until June when he moves out
Total: £995.00 per month
And the following money coming in:
Benefits £205 per month
Parents £100 per month
Work when I can £250 per month
Total £555.00 per month
As you can see there is quite a shortfall! I have made this up by getting loans, using credit cards and my parents help me out wherever they can. I do more hours at work when I feel up to it and I try to sell things on ebay. It's really tough – at the time I could most use a holiday, the £500 it would cost is unattainable, the time when I can least afford it!
I'm on my 3rd round of chemotherapy at the moment and I am working 3 days a week. I spend a lot of time with the other patients at the hospital talking to them and holding sick bowls! And I still make sure to tell my family every day how much I love them. I choose to say I'm living with cancer – not dying from it.

Hayley Crouse is a wife, mother and multifaceted designer. Her love of sewing, crafting, cooking and interior design infuses her daily life and naturally spills over into her online presence. She pushes the envelope of her creativity and hopes that others will be inspired to do the same. She currently authors the Welcome to the Mouse House Blog, is the pattern designer behind Mouse House Creations and is a collaborative designer with Willow & Co. Patterns.