Create ONESIES® with fabric markers!
I have had the pleasure of working with Tulip Fabric Markers several times since the launch of my Color Me fabric line.  Recently, I posted about all of their various fabric marker products and how to use them on my line.  Read that post for tips and tricks and how to properly care for the product after coloring.
Today, I want to show you how easy and fun it is to create custom Gerber® ONESIES® with the same markers.  You don't need to be an artist…all you need is a little imagination and practice and you can create amazing bodysuits for baby showers and special new baby gifts. I will show you a few easy tips and tricks.  Wouldn't this be a fun activity at a baby shower?
Tulip sent me packs of bodysuits and I made 7! (I have more in the works, ha, and I don't even have a baby.  I plan to donate these to a local hospital).  I couldn't stop once I started.  Look at how cute they are all strung up on a clothesline.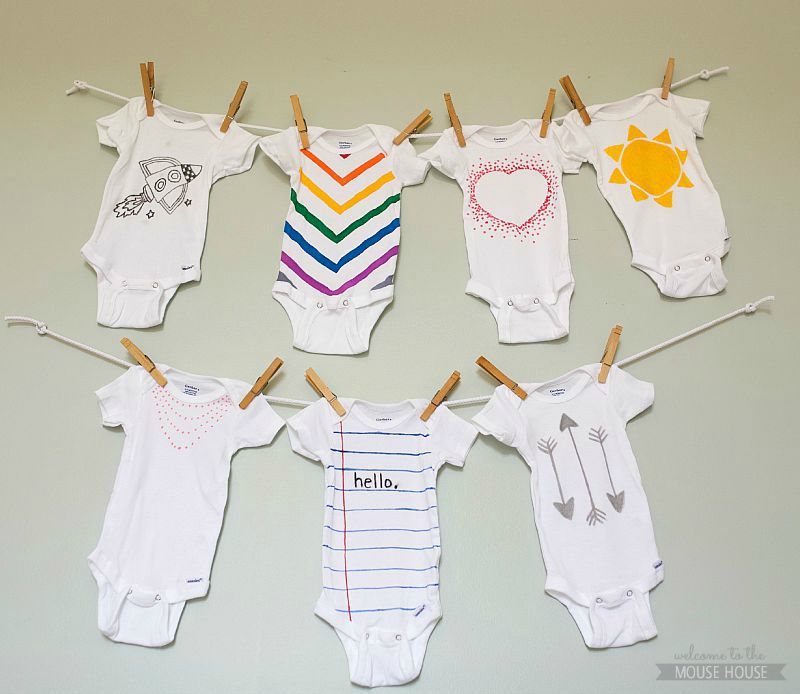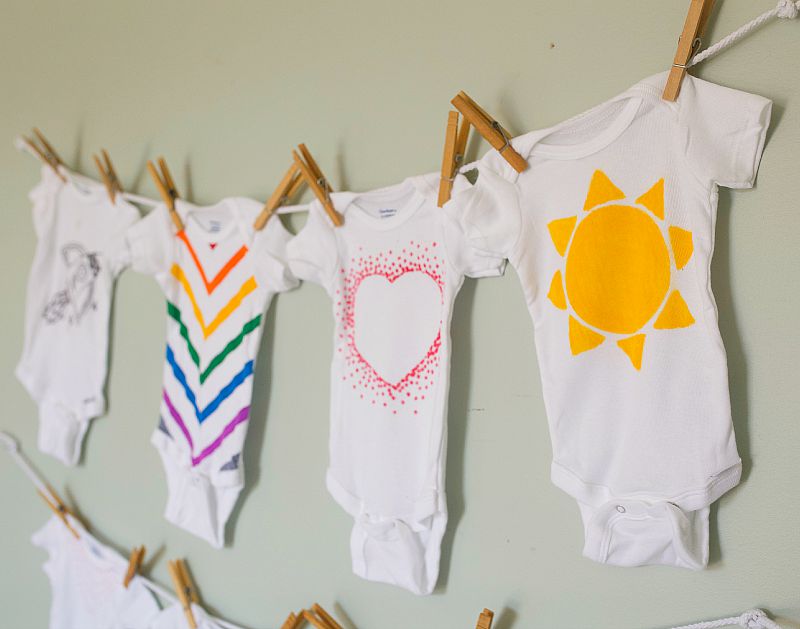 My favorite, by far, is the rainbow one and it was SO easy to make, which makes it even better.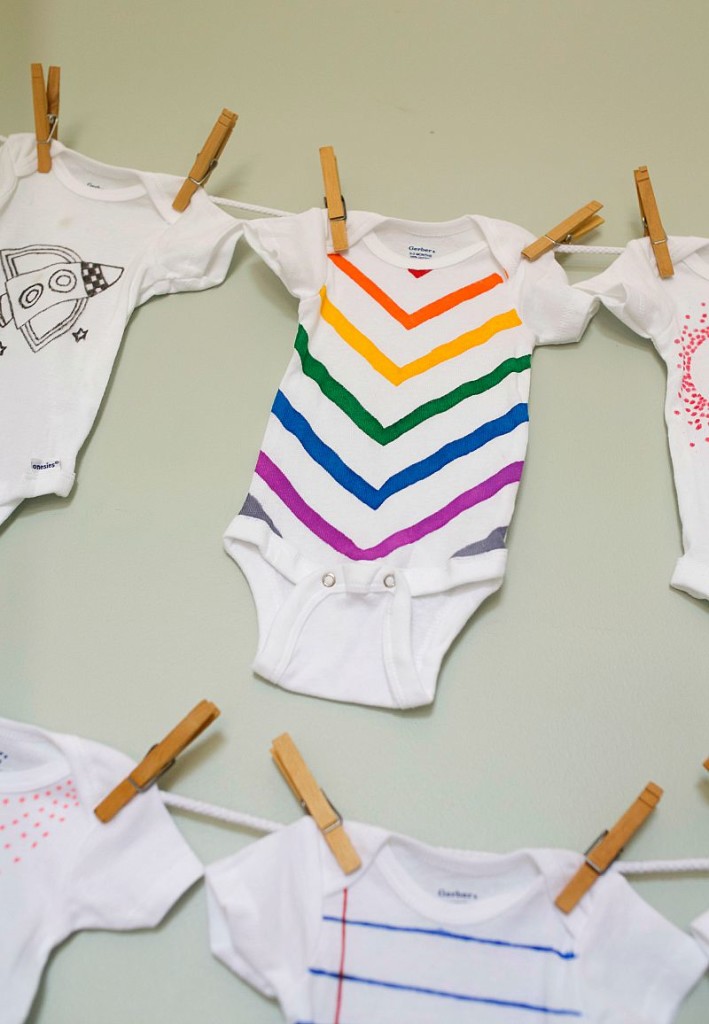 ***TIP***  To make sure the markers don't bleed through to the back of the bodysuit, insert a piece of cardboard.  This also helps with stability why coloring.
To create the rainbow lines, grab some blue painters tape.  Cut it into strips and line up where you think looks straight and angled properly.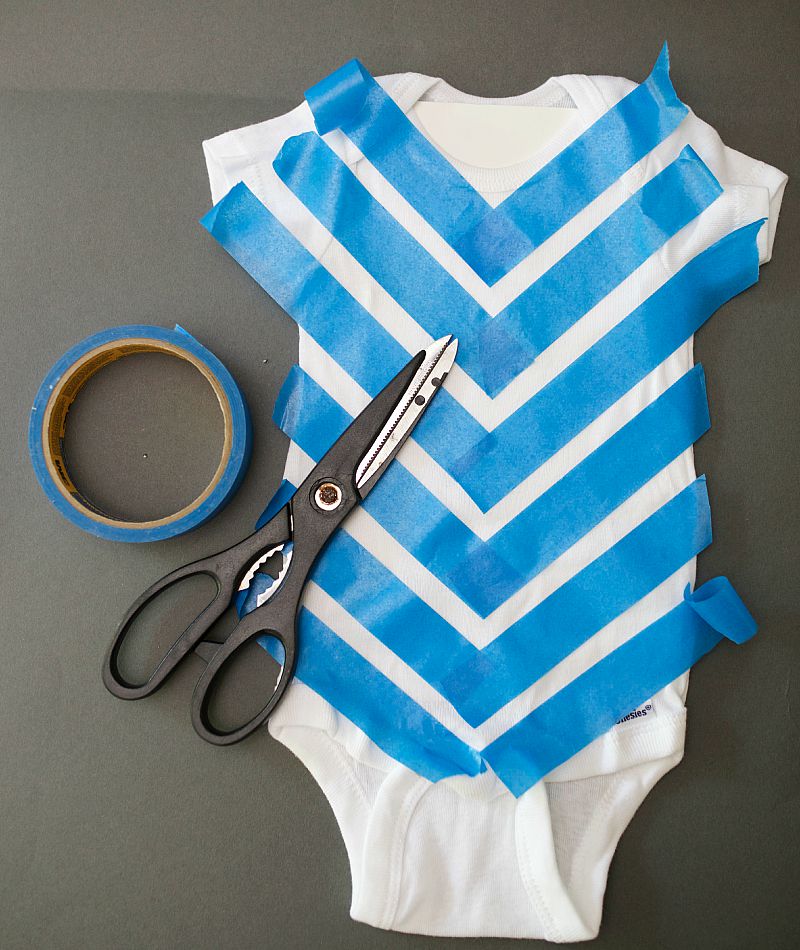 Starting at the top, saturate the areas with the desired color marker.  This can take time, but continue saturating until it almost looks like you painted it on.  I found that the dual tip marker worked best for this. Make sure the painter's tape edges are sealed down to avoid bleeding.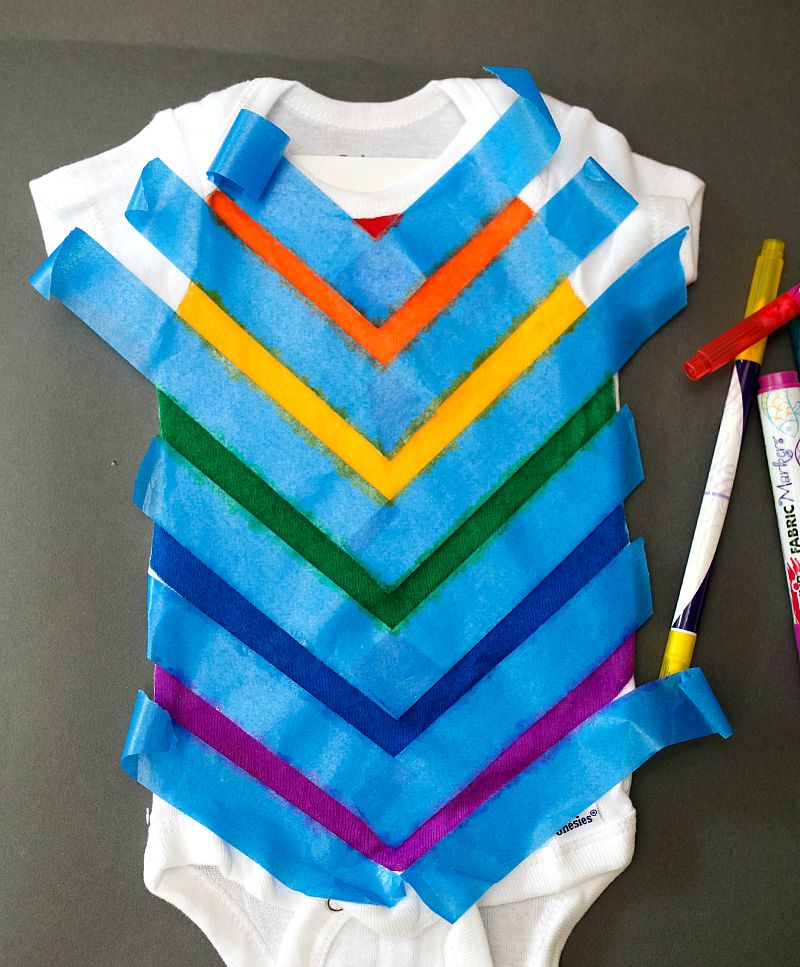 Remove the tape after letting it dry.  How cute is this?  It could be for a boy or girl.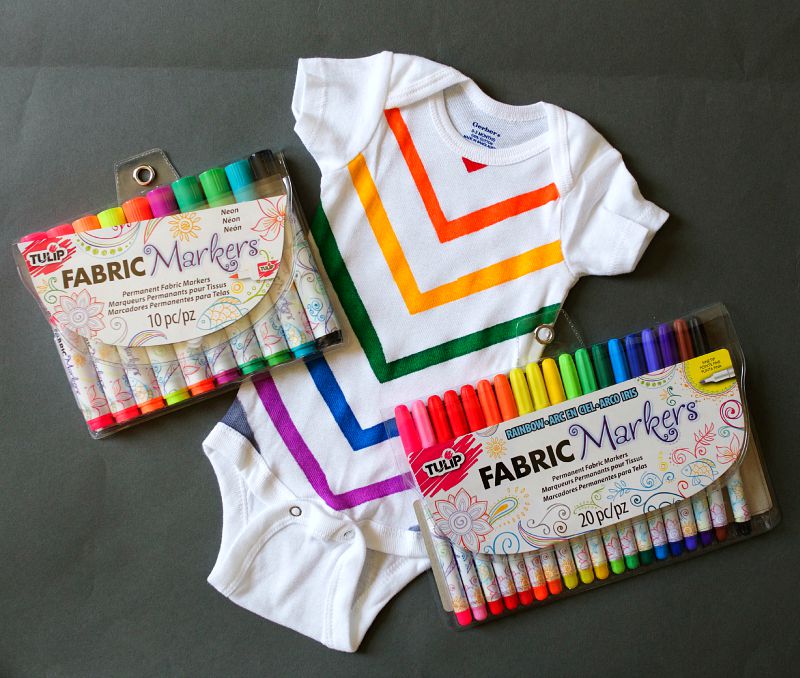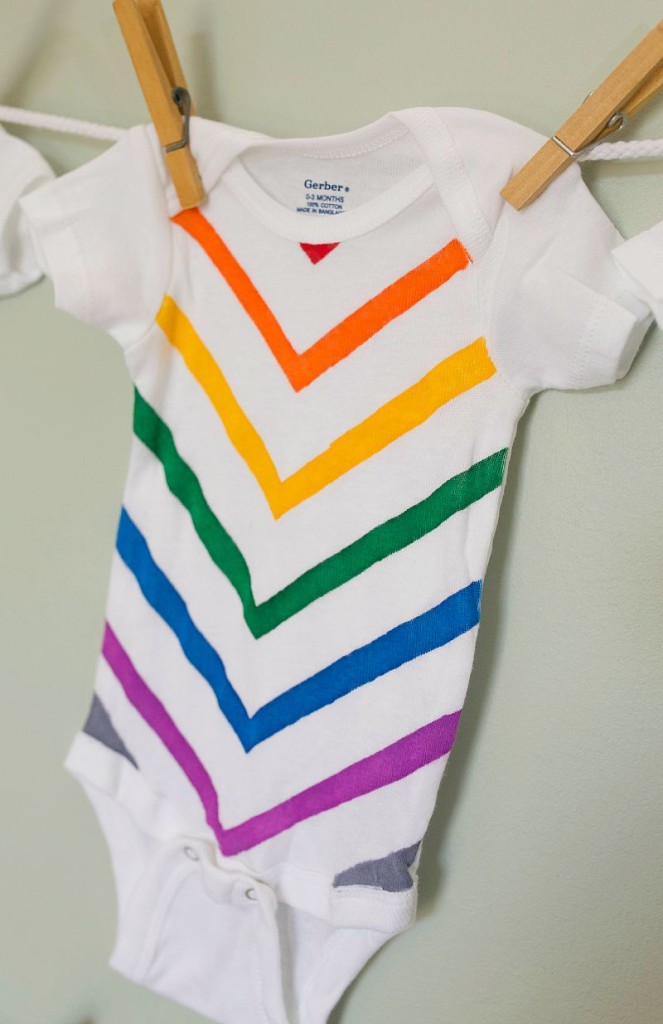 Another super easy bodysuit is this heart dot shape.  This is one of the easiest of the bunch.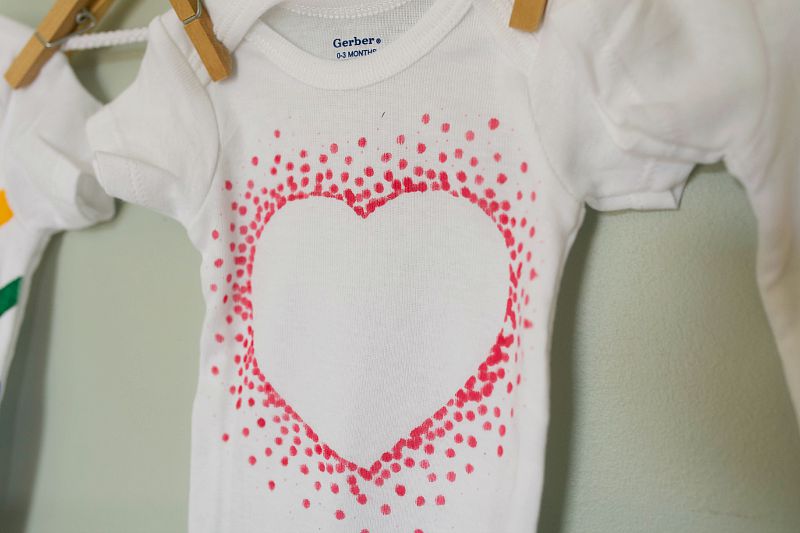 Simply cut out a shape from cardboard or heavy card stock.  Once again, insert cardboard inside the bodysuit to avoid bleeding onto the back.  Press down on the shape with one hand and dot all around the shape with your other hand, making sure to heavily dot around the outline.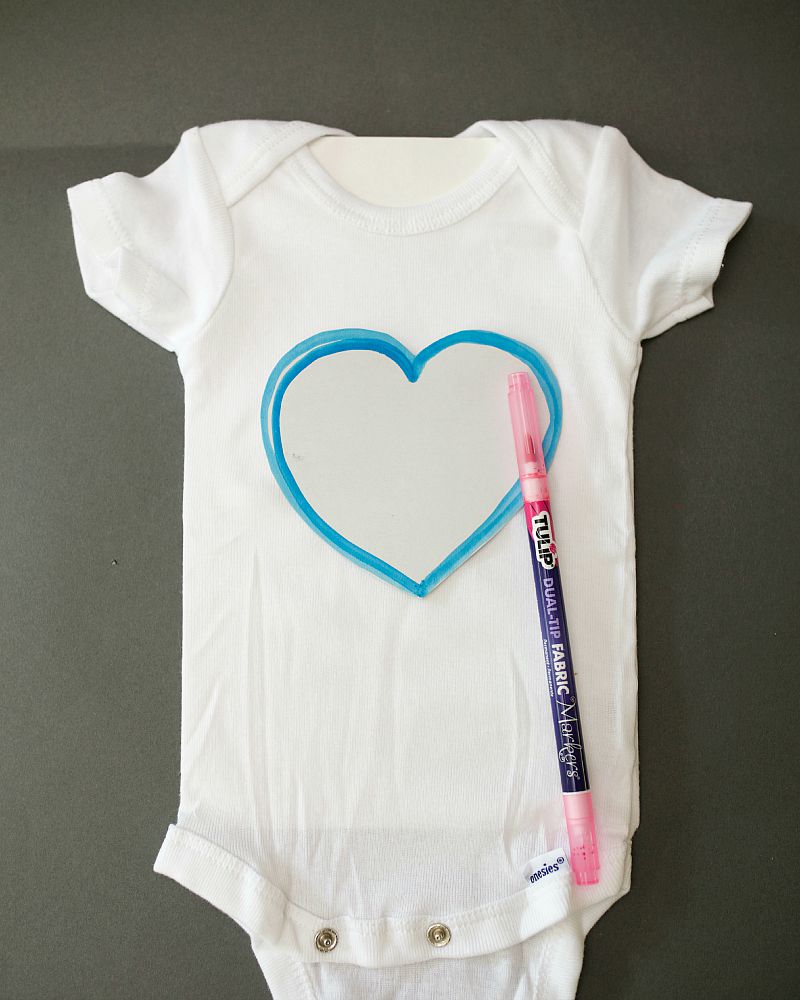 Ta-da!!  You could do this with any simple shape…. shark, arrows, letters, etc.

As most of you know, I have a fabric line with my own illustrations.  Not everyone is able to draw, but every one can trace, right?  You can do this with anything, not just my fabric.  Use a coloring book page or a print out from something online.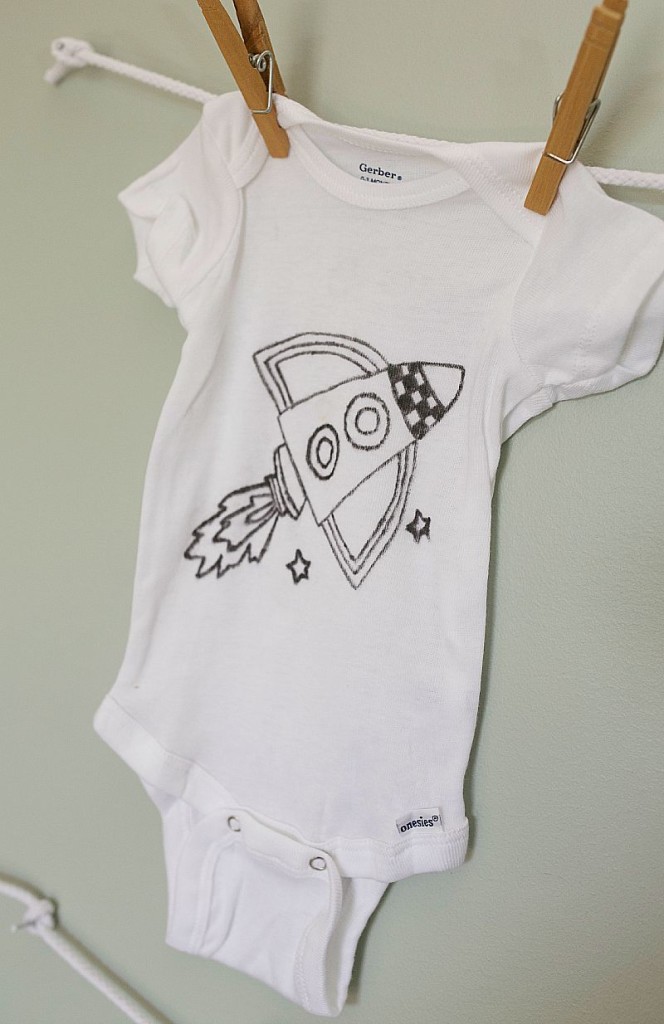 Cut out the section of my fabric that you want to trace.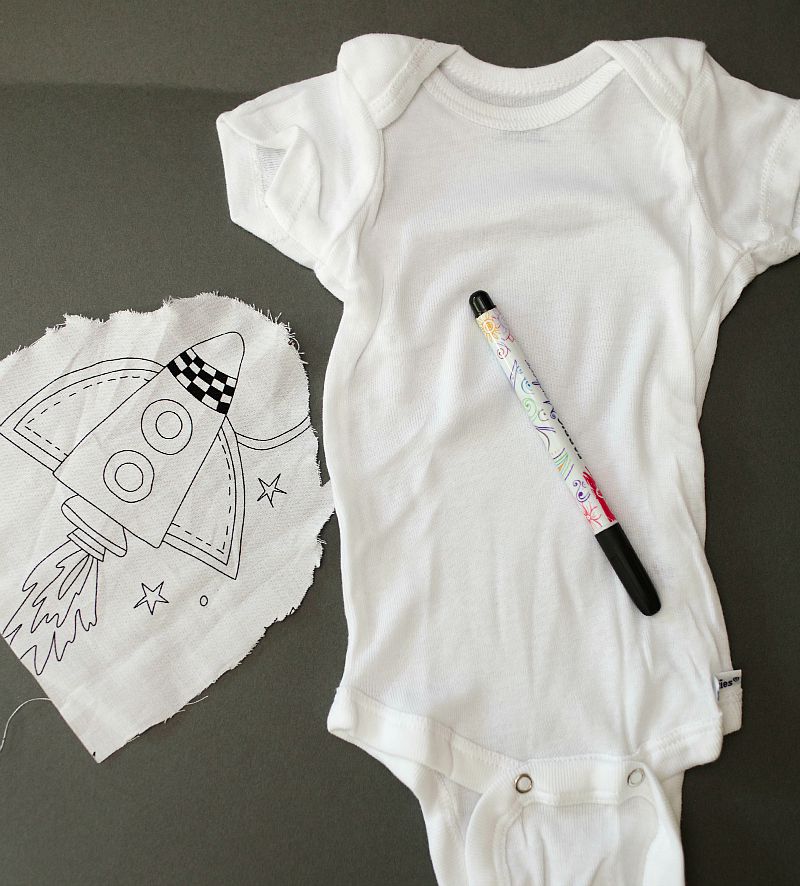 Insert it into the bodysuit and trace away!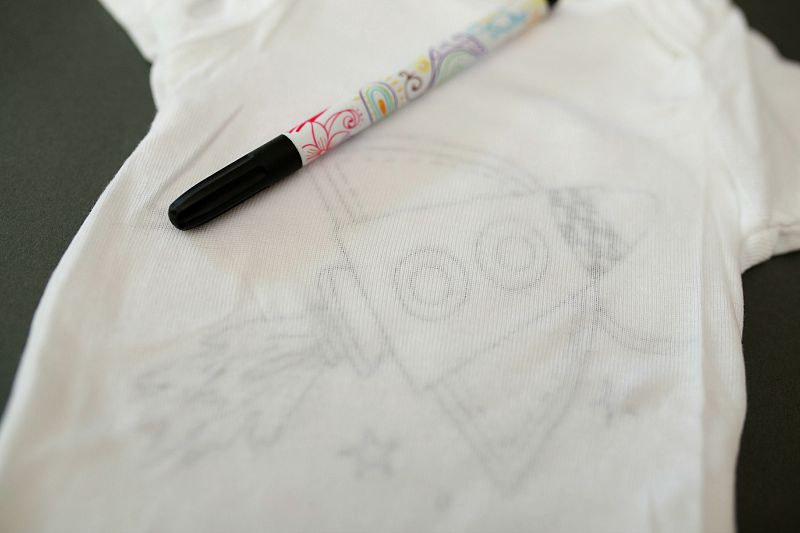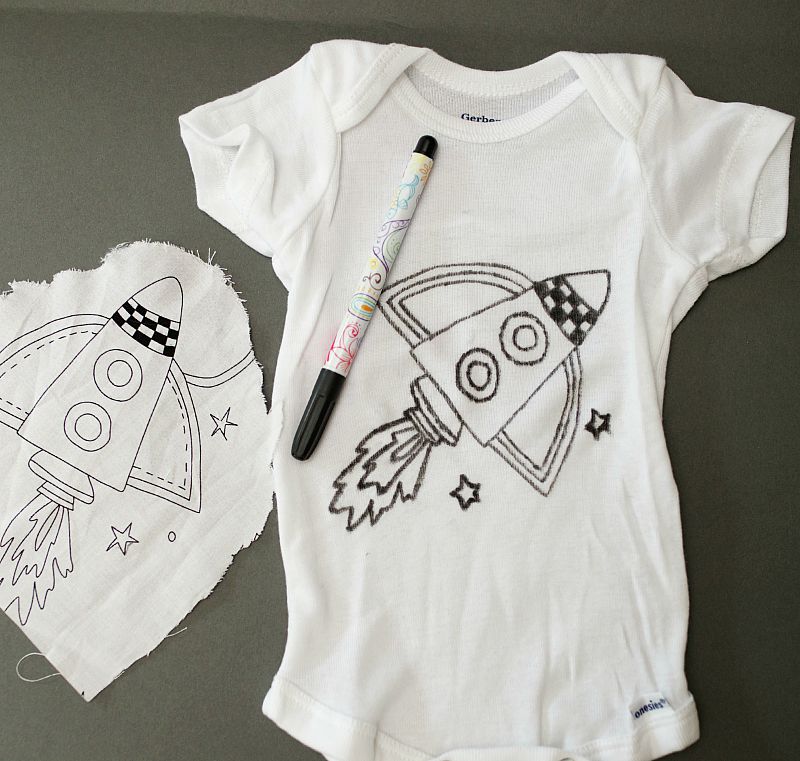 The rest of my bodysuits were freehanded.  I tried to stick with simple shapes that anyone can accomplish.  I hope these are inspiring to you!
I love the cheery sun.  It is a simple circle and then triangles spaced out evenly.  I remember drawing a ton of these in 6th grade during class.  (don't tell my teachers).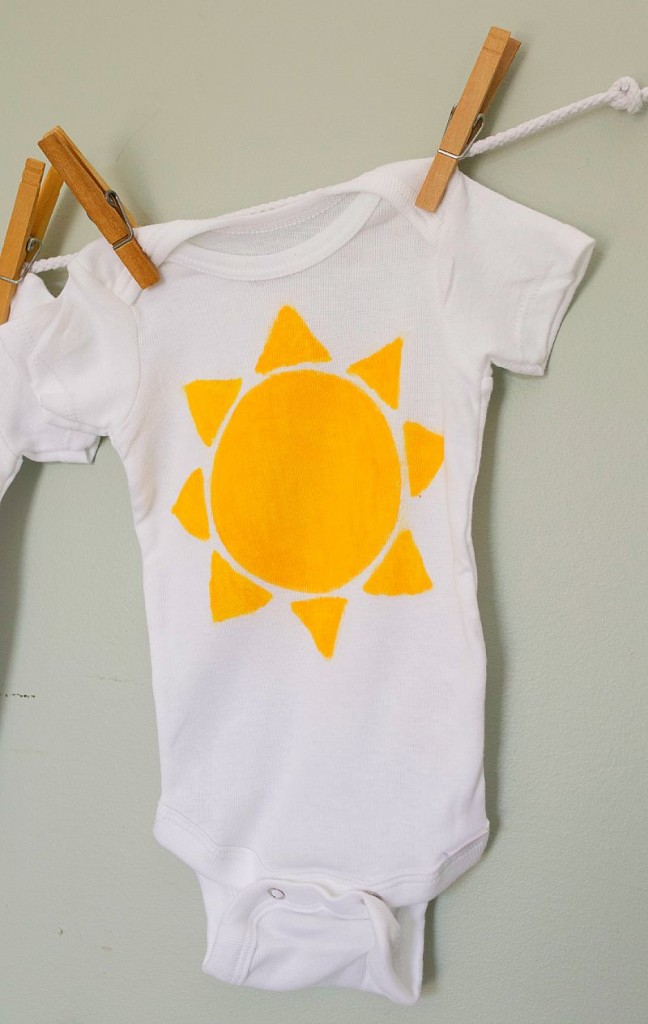 I had seen a shirt like this (without the "hello.") and always loved it.  I love that it resembles the iconic lined paper.  This was so easy to do.  Use a ruler or straight edge to ensure straight lines.  I would love to see the "hello." replaced with various wording, such as names, funny sayings, etc.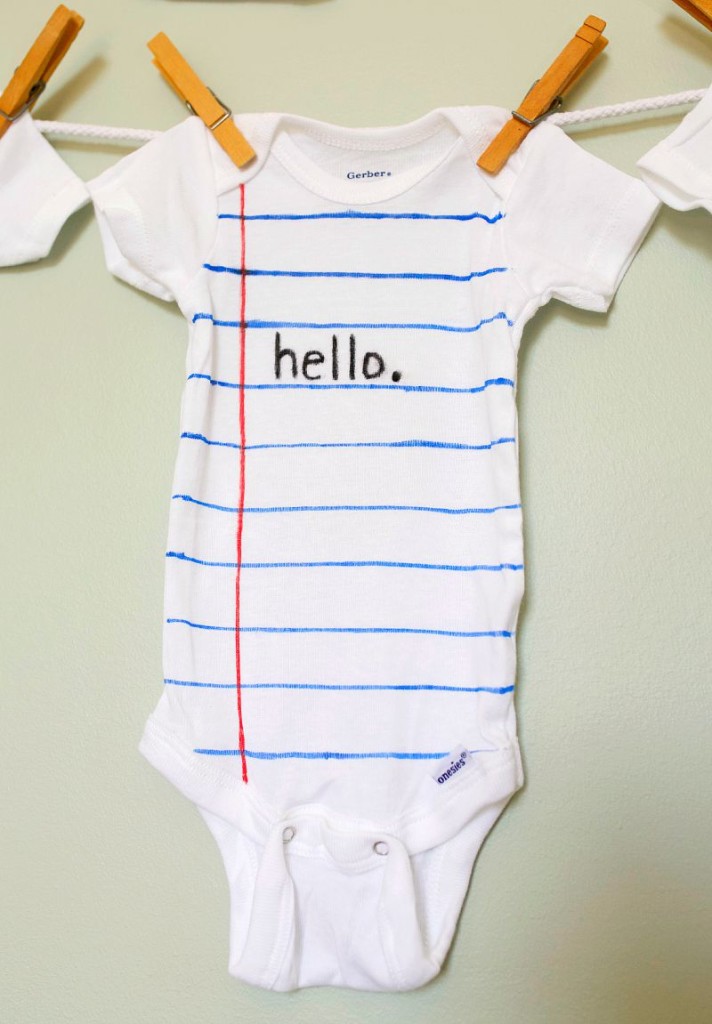 Arrows are very trendy right now and so simple to make.  Mine are a little rough around the edges, but I am sure there are stencils online.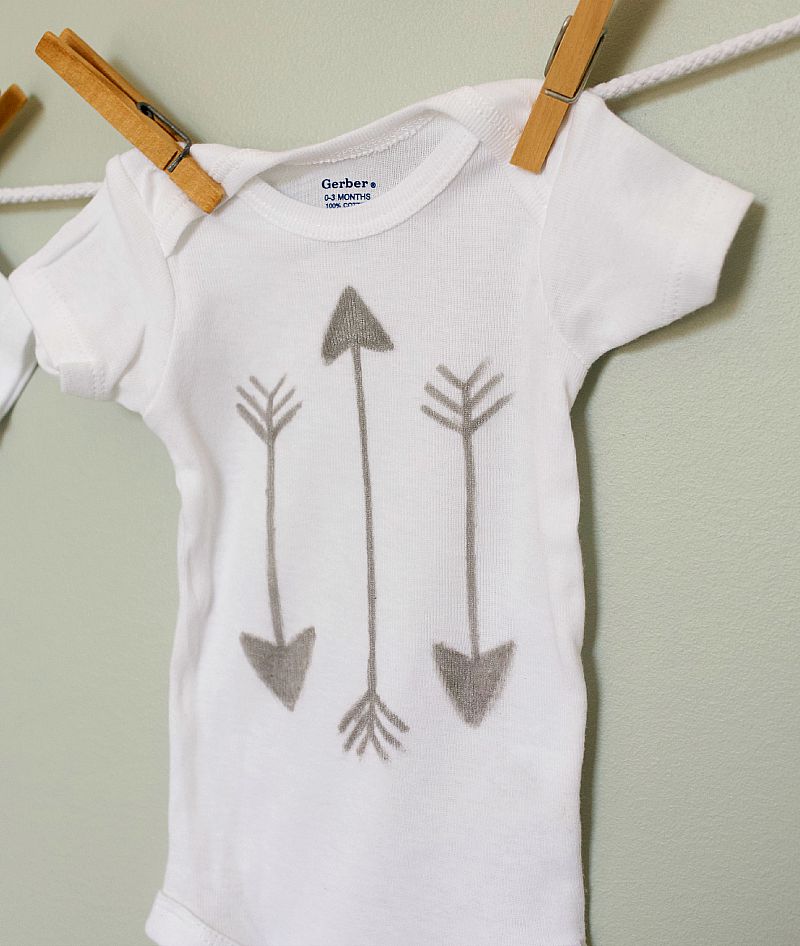 This is definitely the easiest.  I created a faux necklace around the neckline with dots.  I considered sewing on a jewel, but realized that isn't very safe for babies.  Any ideas on how to further "bling" this one out?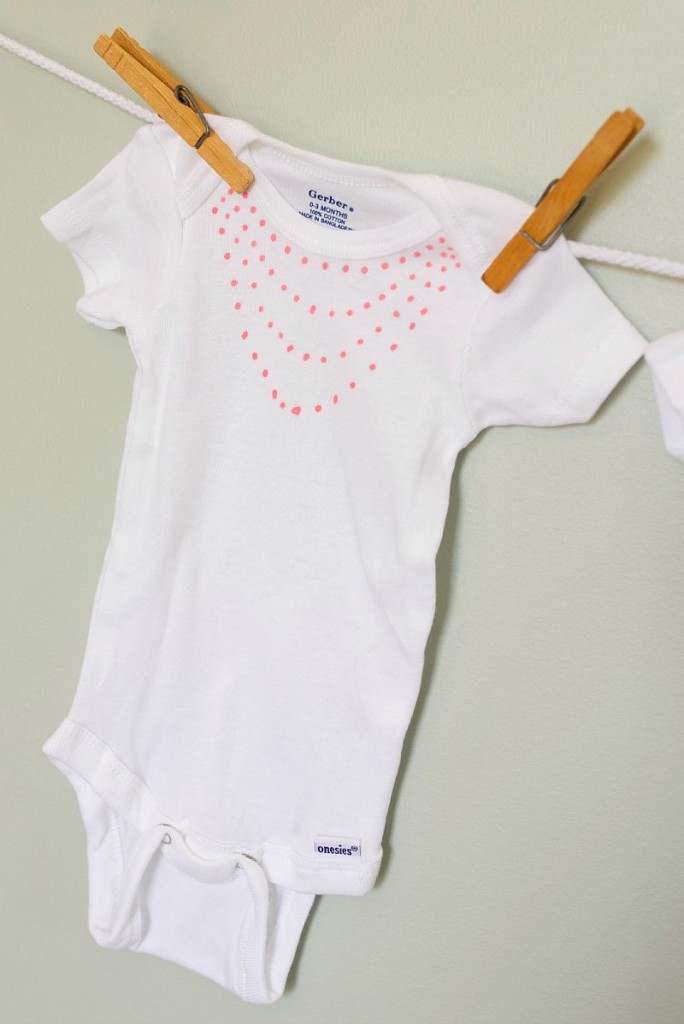 I hope you enjoyed these and create some of your own.  Please tag me on Instagram (click link!)  if you make any of these.  I would love to see them and possibly share them.  Make sure you tag #babylove #tulipbabylove, as well, so that the lovely people of @ilovetocreate can see them!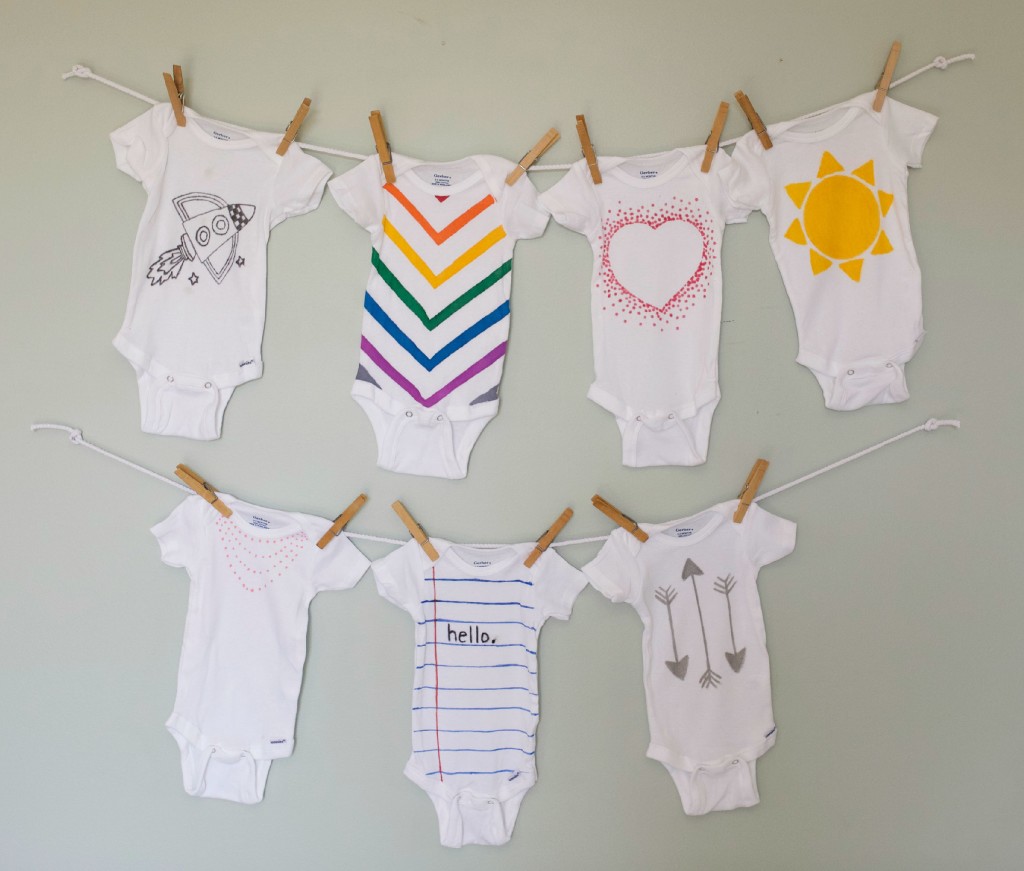 Hayley Crouse is a wife, mother and multifaceted designer. Her love of sewing, crafting, cooking and interior design infuses her daily life and naturally spills over into her online presence. She pushes the envelope of her creativity and hopes that others will be inspired to do the same. She currently authors the Welcome to the Mouse House Blog, is the pattern designer behind Mouse House Creations and is a collaborative designer with Willow & Co. Patterns.