Our kitchen remodel has finally been completed.  Sure, there are minor things that need attending to, but oh man,this has been a long long long time coming.  We bought this house 5 years ago and I remember thinking about how I wanted the kitchen to look and I knew I would make it mine at some point. And I did it.   Not without hardship, of course, but I did it.  It is now my favorite room in the house and it is exactly my personality.  While it may not be everyone's cup of tea, it is mine.  And that is all that matters when you speak of kitchens.  We are the ones that spend our time in there.  We feed our children in there.  We make memories in there.  This is where I am proud to get my kids ready in the morning.  I am finally able to say that I am at peace with this space.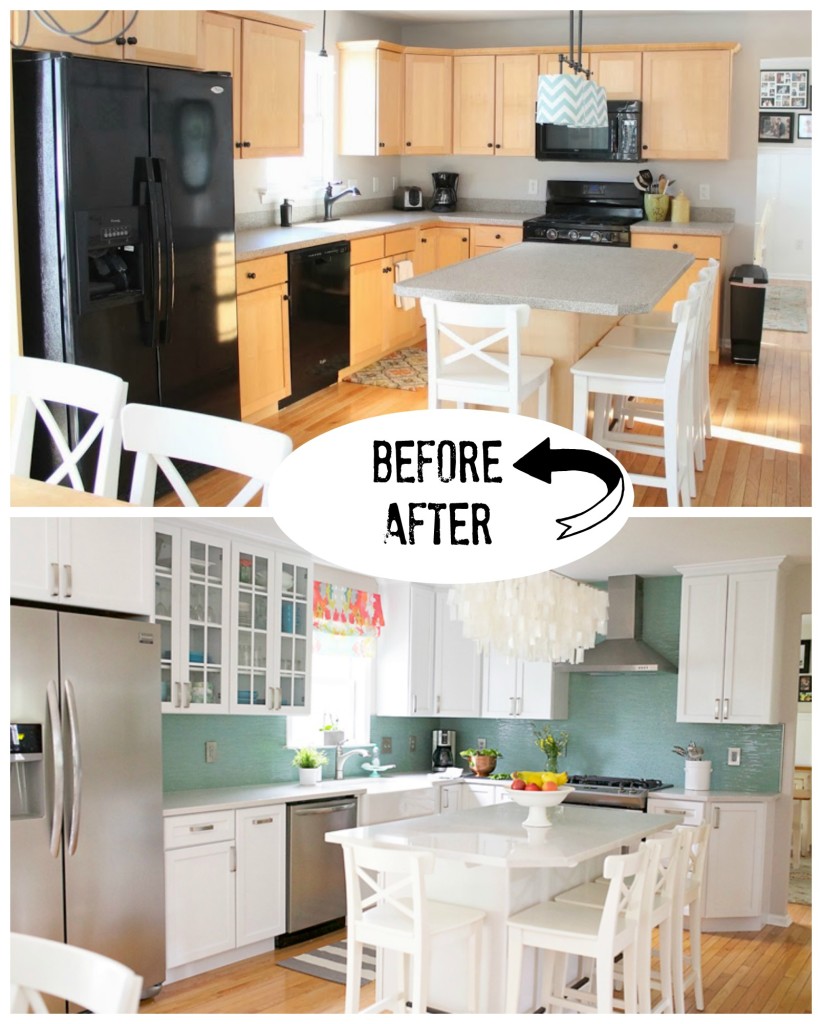 I had posted this photo of Ainsley a few months back and it had so many questions attached:  Show us your kitchen!  What is that backsplash? Where did you get that light fixture!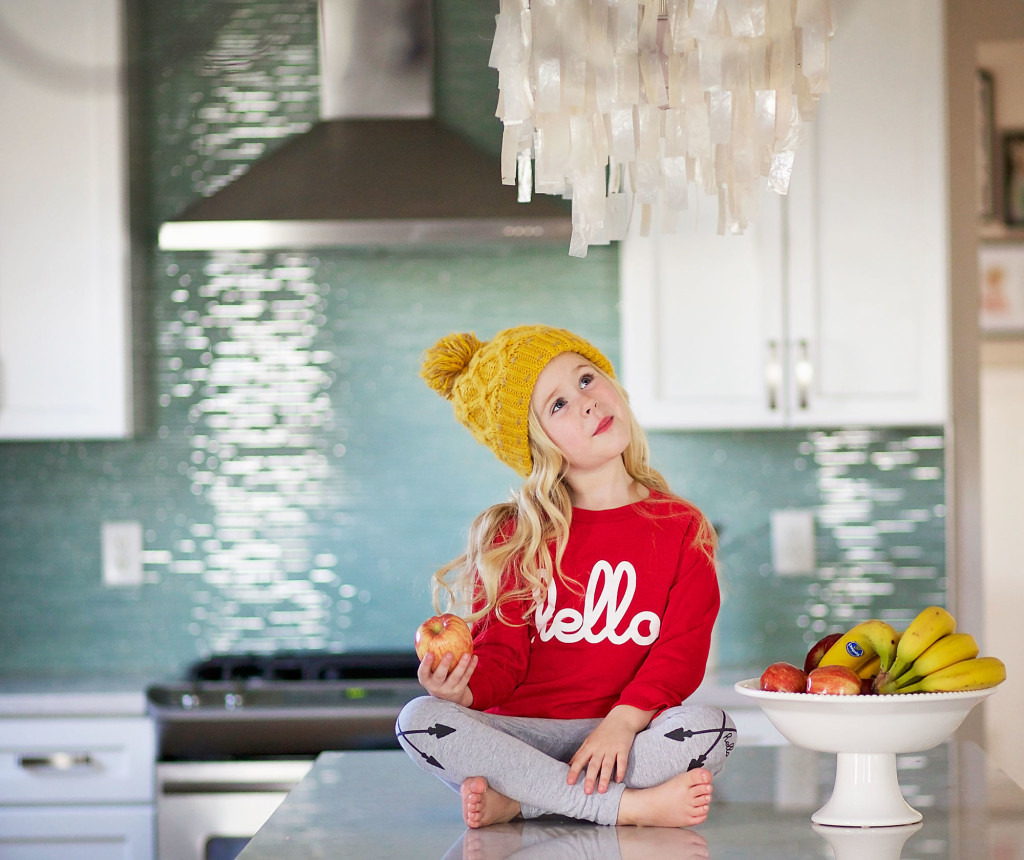 I am so relieved to finally be able to take photos of the kitchen and share our hard work (and tears). This was a different renovation, in that we ran into contractor troubles and heartache (read more HERE).  By the way, we haven't seen a dime in compensation and we are still trying to figure things out.  At this point, it would be a bonus.  Lesson learned.  We eventually found a fantastic contractor to finish the job (still had many setbacks), but it is done.  I refuse to focus on the negative when I can see the kitchen of my dreams.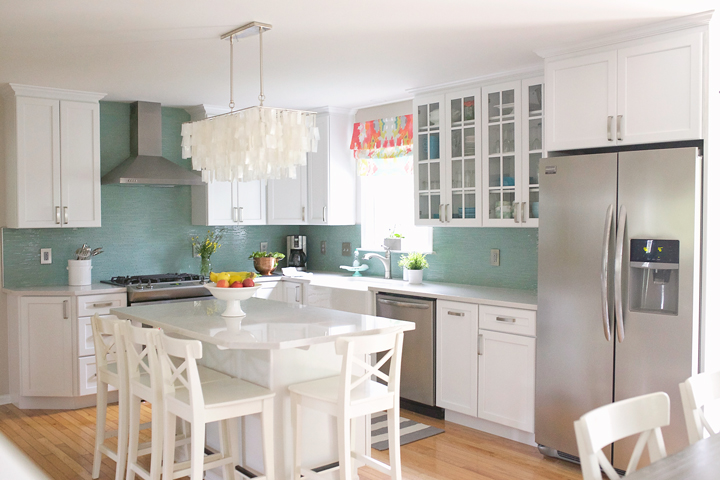 We used to have a great kitchen, but it wasn't our style.  (read more about our old kitchen HERE).  I spend 90% of my time in here, and I wanted to be happy.  I am so happy here now, I can't even tell you.  The colors just make me smile.  I am also happy to report that some lovely family purchased our ENTIRE previous kitchen…. literally down to the kitchen sink, and they are fully enjoying it.  I am talking cabinets, refrigerator, sink, counters, EVERYTHING.  How cool is that?
We get amazing light on this side of the house and I love how it reflects off the white cabinets.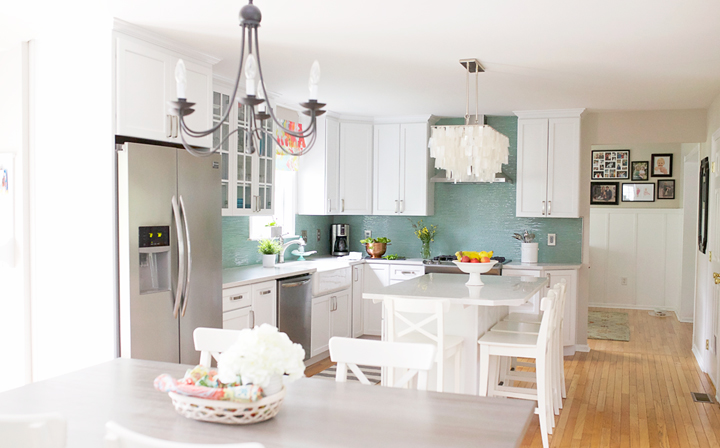 I replaced the light fixture with one from West Elm (found HERE)   I LOVE this and think it is one of the best things I have ever purchased.  There are hundreds of Capiz shells dangling and they make a beautiful sound when the wind blows.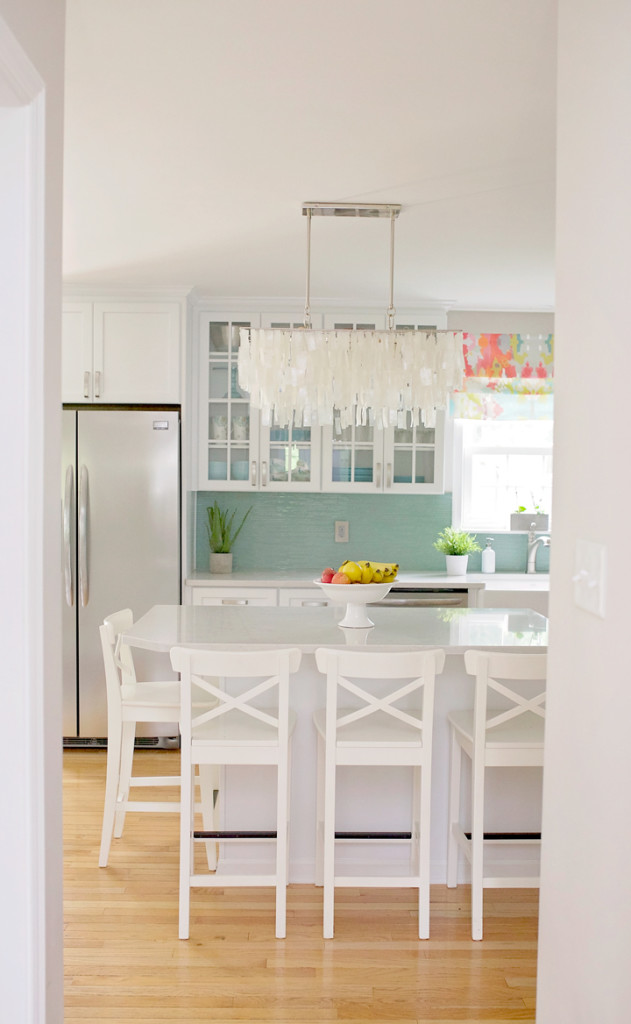 The kitchen table is from Amazon, but I wouldn't recommend because the quality of the finish isn't great… we have had to reorder already and I have had to polyurethane multiple times.  Not cool when you are paying a lot of money. But it is a cool table.  I will update when I can find the link.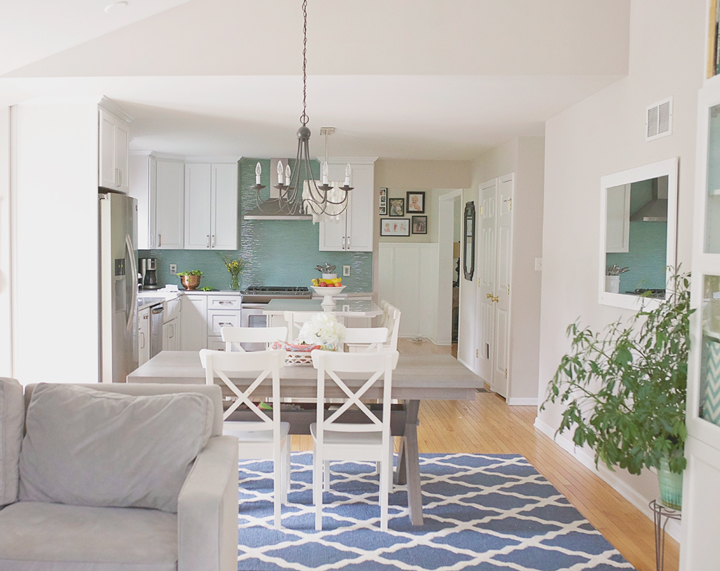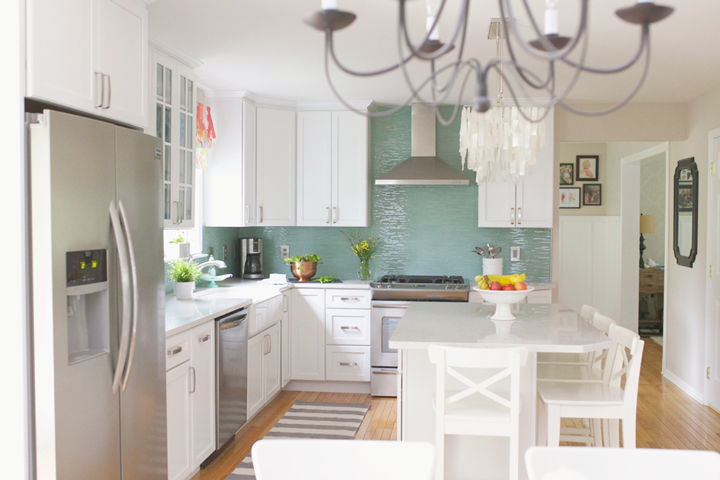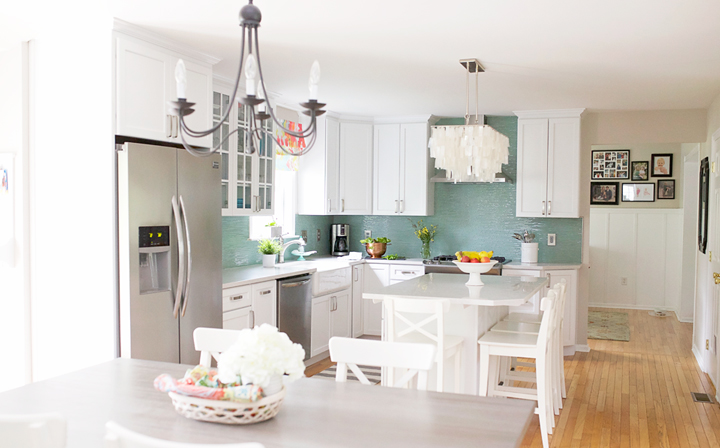 One of my absolute MUSTS was glass cabinets and oh… my…. word.  I am so glad I didn't budge.  People told me that it was a bad choice because they would look messy, etc.  Nope.  I love them and feel that they add such a design element.  I love them. I love styling them and love that I can change them out and give a whole new feel to the room.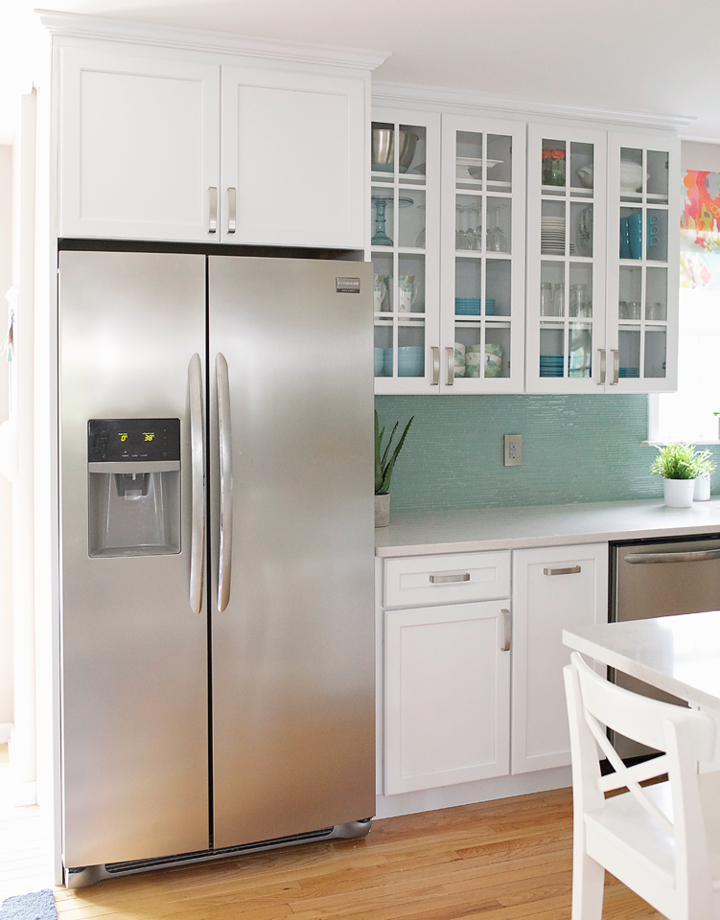 Okay, so I know you are going to ask about the backsplash!  This is again, one of those decisions that I was like… do I?  Don't I?  And it was a very expensive decision.  My original plan was for white subway tile (which I still love).  However, I wanted to go for it.  I found this amazing turquoise glass Daltile whipser green on Cragislist and knew it was meant to be.  I figured if it was terrible, no harm done.  However, I feel that it absolutely makes the room and I am so incredibly glad I took the risk.  We used a crystal grout (SO EXPENSIVE) , which made me again, question what the heck I was doing, but at the end of the day, I love it.
It almost looks like a waterfall at certain times of day.  The wall changes depending on lighting and mood.  I just adore it.  
One of my next requests was a stove hood.  We previously had a microwave about the stove (see here) which is fine, but I wanted to showcase the tile and new slide in range.  Keep reading to see where the microwave is now!
We also added extra cabinet space by adding the corner unit.  I like how it softens the entrance into the dining room and there isn't a jutted out countertop.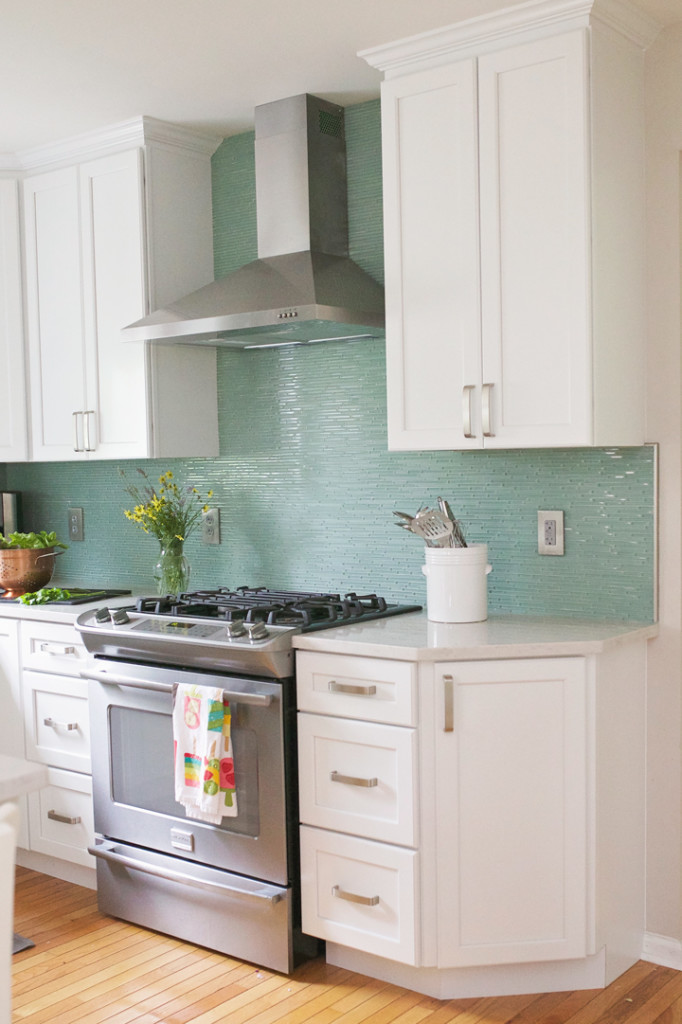 The new kitchen counters are quartz. I would not budge with this.  I didn't want granite and I knew that quartz was the best option.  I researched until I found the very perfect quartz for us.  I found Silestone Lyra and knew it was perfect for me.  It has mostly white, but swirls of gray throughout, almost reminding me of marble.  I absolutely adore it.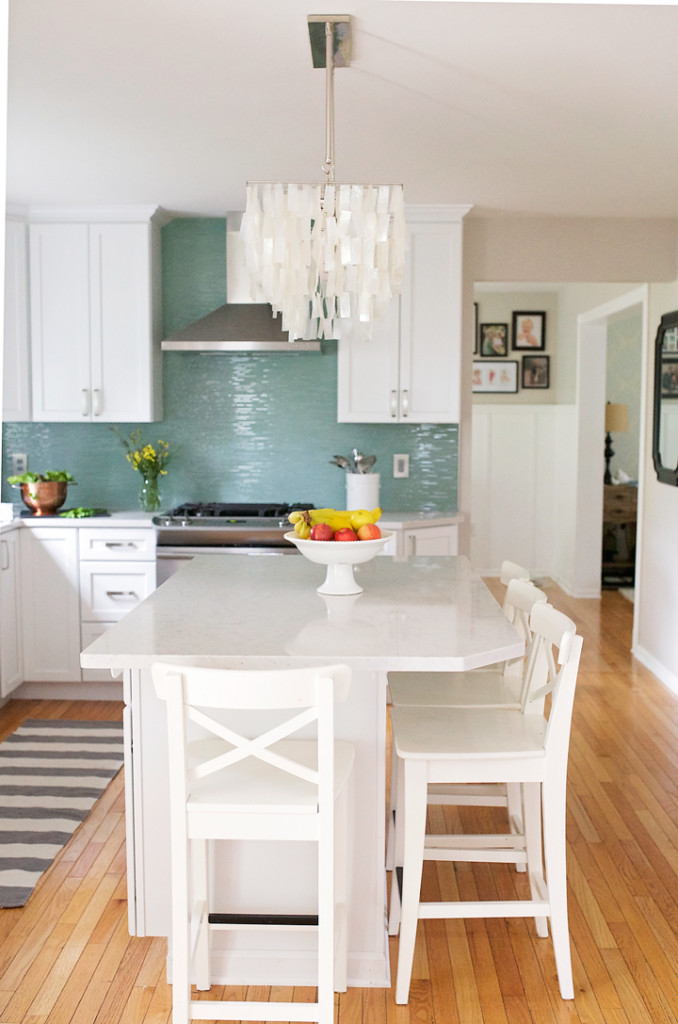 The sink…. oh there was such drama on the sink.  We had originally ordered a farmhouse sink and it came in damaged.  At the time, I was so disheartened, but now I realize it was for the best. I spent a bit more money and ordered this incredible Kohler Farmhouse sink (I am not paid to say this).  It is so heavy, so beautiful and so worthwhile.  It is going to last us forever.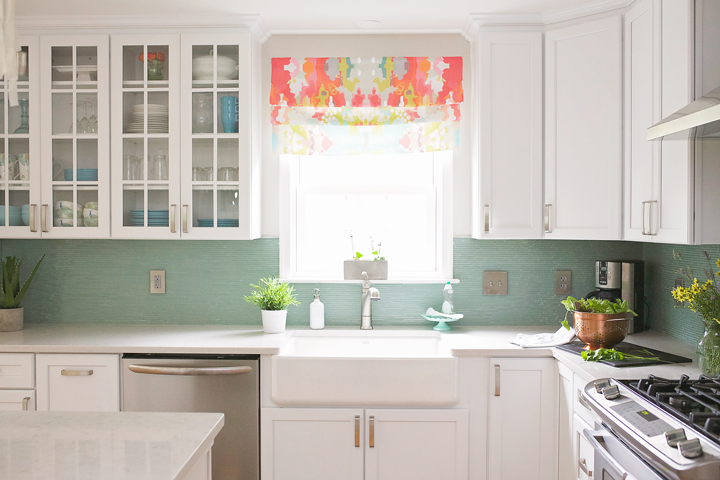 I made the roman shade above the sink using Candy Kirby Designs fabric.
Never thought I would say this, but I now enjoy doing dishes (once in a while).
Rug is Crate and Barrel.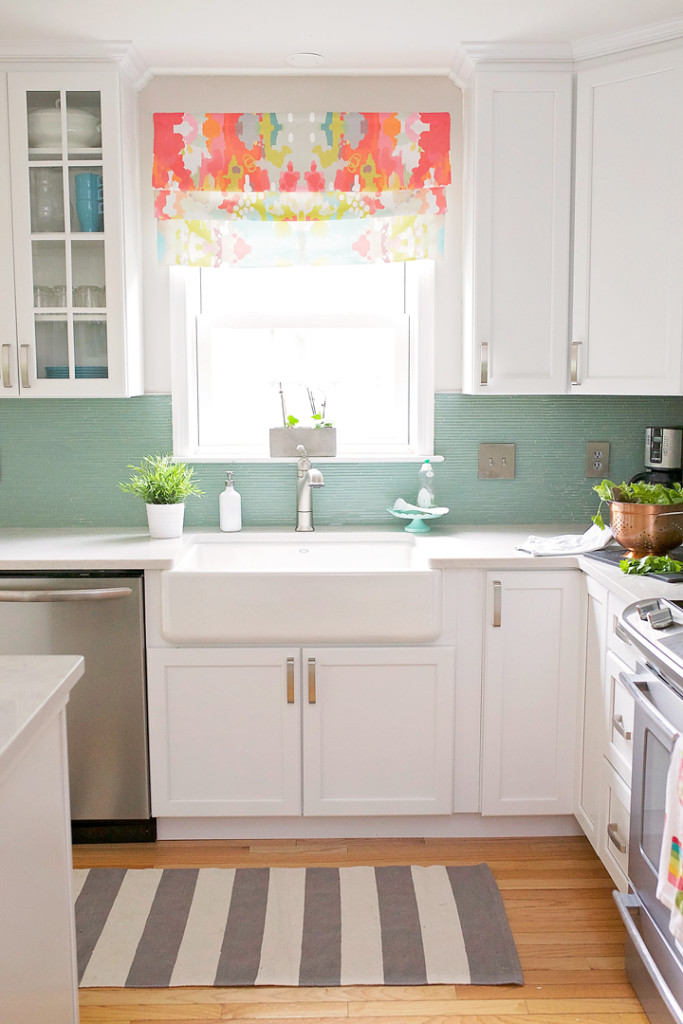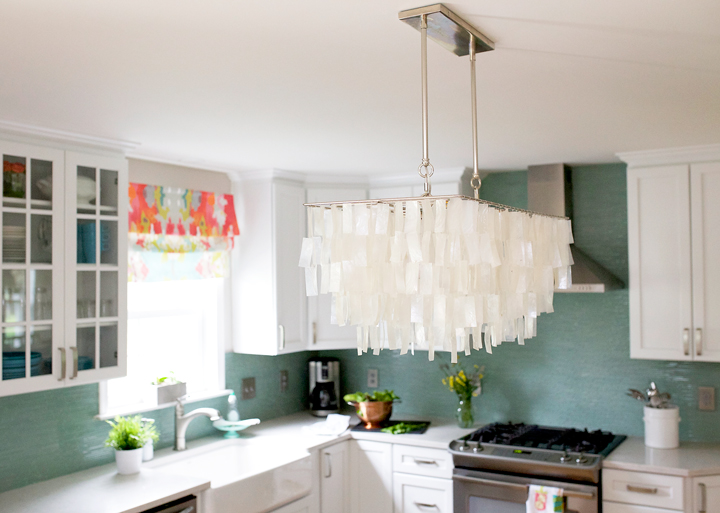 Here is the view into the family room (found HERE)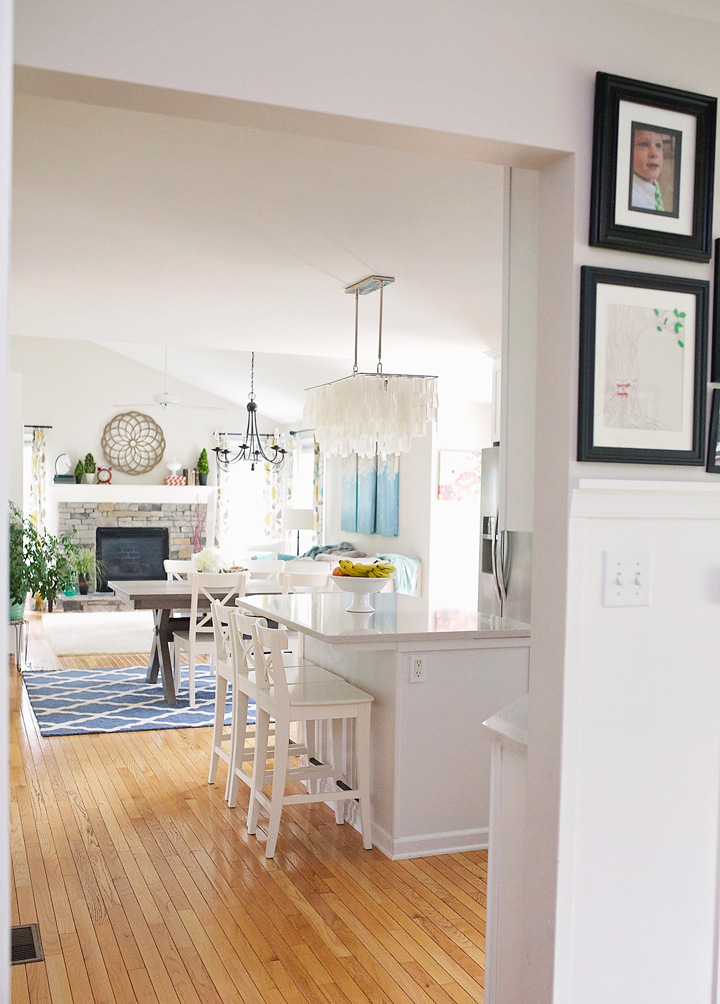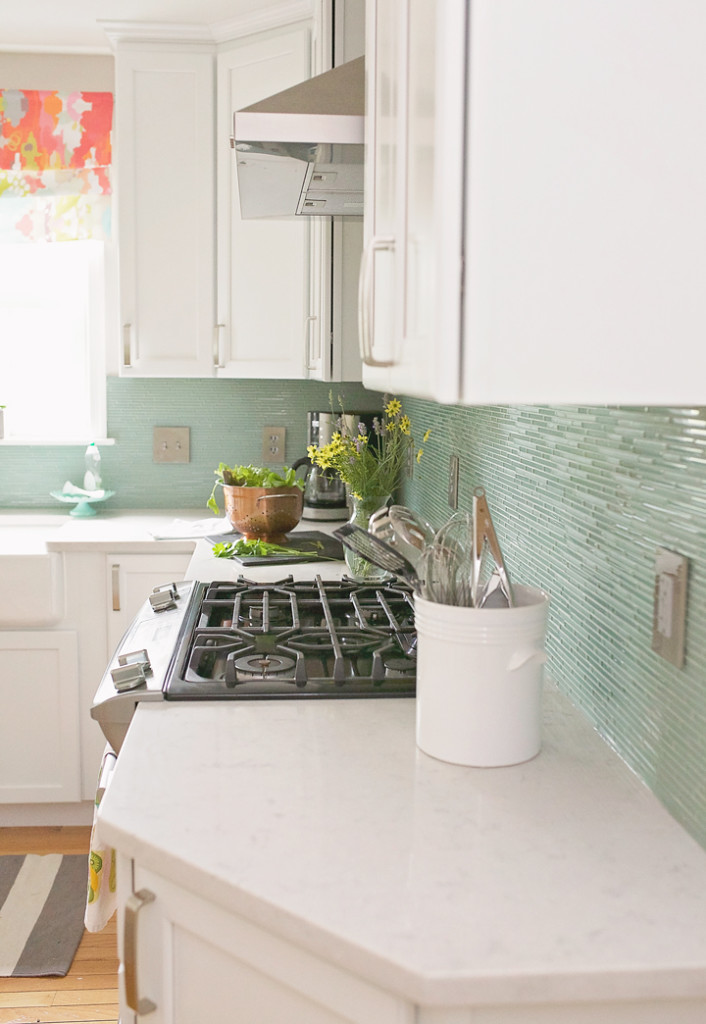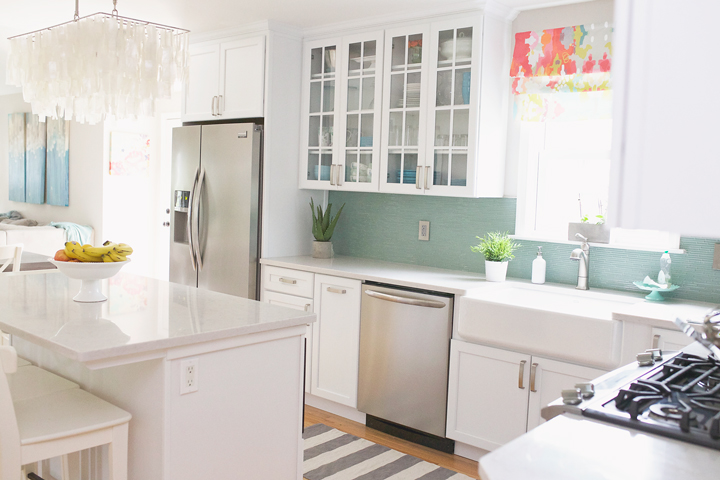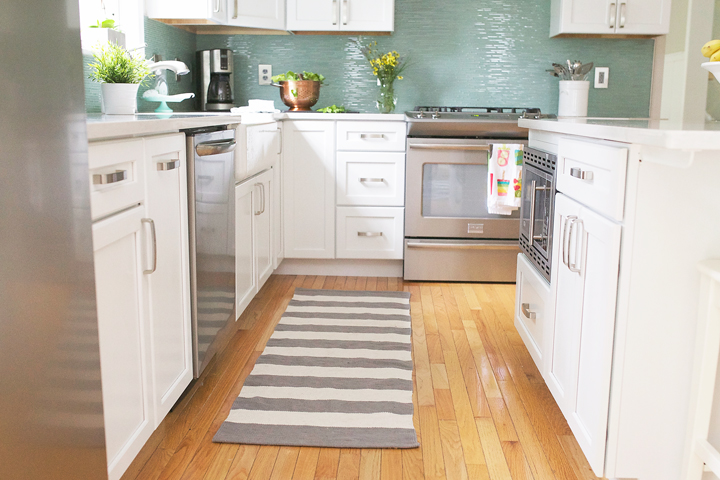 If you are wondering where the microwave is…. we inset it into the island.  I am SO happy with this choice. It allowed up the hood above the stove.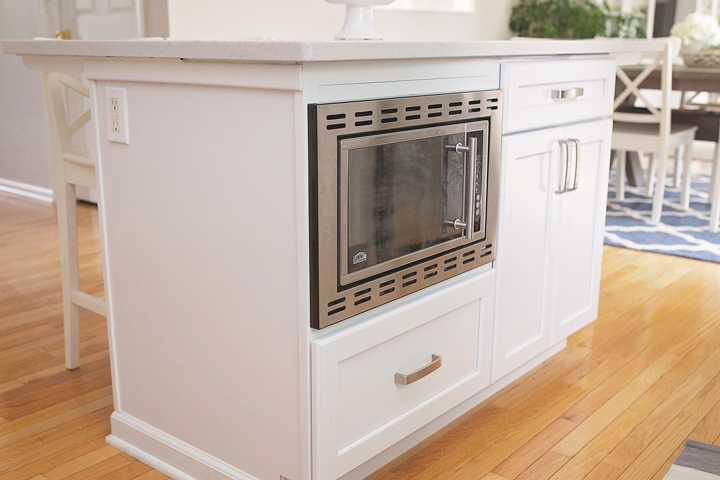 Styling the glass cabinets has been an ongoing project.  I am constantly changing things up.  That is what makes it so fun.I seriously love this part of the kitchen.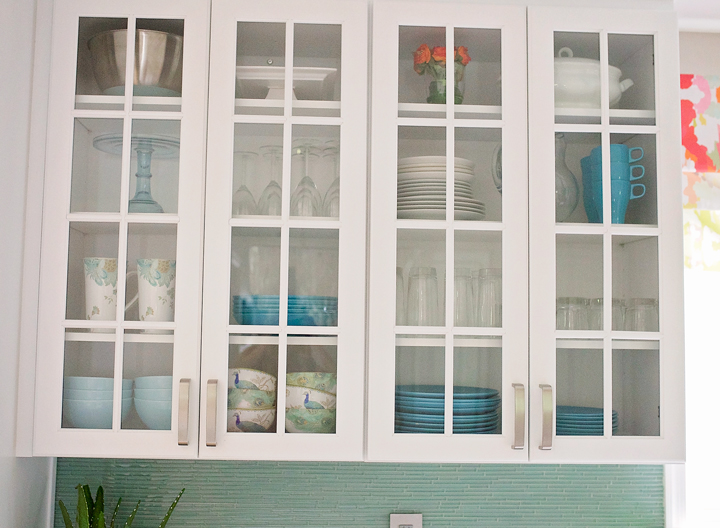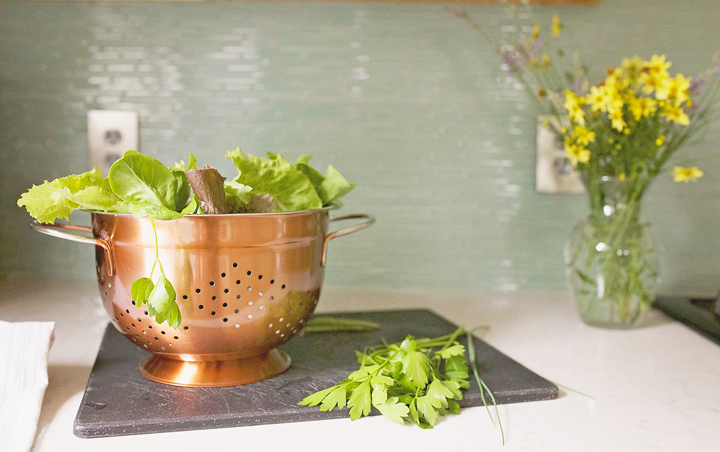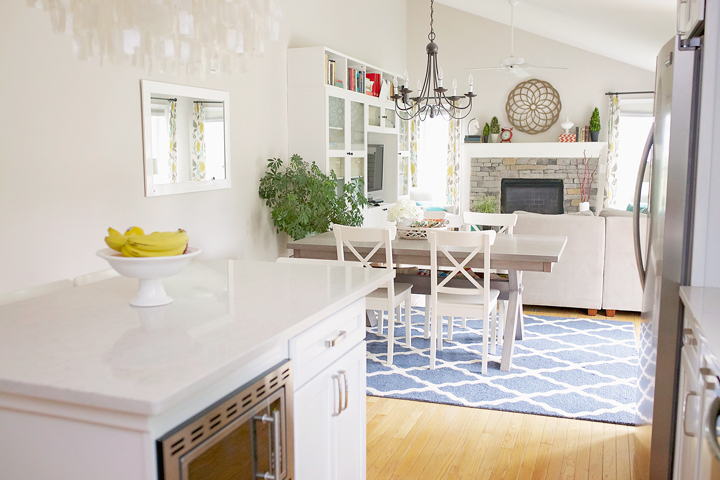 While this hasn't been the easiest time in my life or the most fantastic remodel experience, I have learned so much. I have learned that a smile will get you through anything.

Hayley Crouse is a wife, mother and multifaceted designer. Her love of sewing, crafting, cooking and interior design infuses her daily life and naturally spills over into her online presence. She pushes the envelope of her creativity and hopes that others will be inspired to do the same. She currently authors the Welcome to the Mouse House Blog, is the pattern designer behind Mouse House Creations and is a collaborative designer with Willow & Co. Patterns.