I don't know about you guys, but Panera Bread makes some of the best tasting soups around and I always crave them, especially the Broccoli Cheese Soup and the Potato Soup! I have FINALLY found a way to make the potato soup at home and it tastes (almost) the same!
I had searched on Food.com and came across a few recipes, which I tweaked to make it my own version. Now, I share that with you: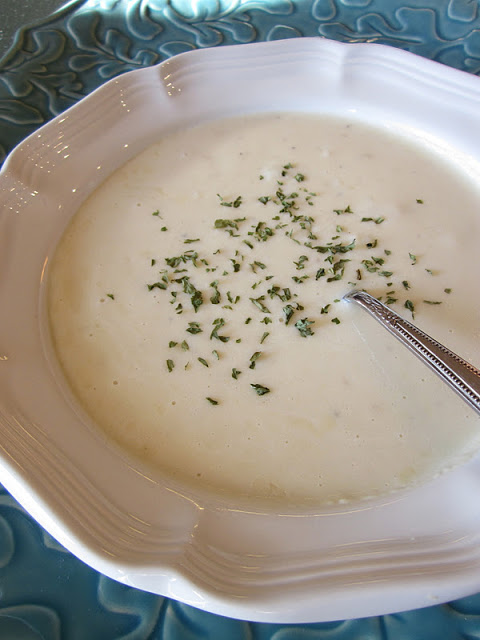 Creamy Potato Soup Panera Style
* 4 Large Baking Potatoes, peeled and cubed
* 1/3 cup finely chopped onion
* 1 garlic clove, finely minced
* 1 Tablespoon of butter, unsalted
* 1/4 teaspoon garlic powder
* 1/4 teaspoon kosher salt (optional…broth has lots of salt already)
* 8 ounces of plain cream cheese
* a sprinkle of parsley or chives for topping
In a large pot, combine the cubed potatoes, chicken broth, and spices over medium heat.

Meanwhile, in a skillet, heat up the tablespoon of butter over medium high heat. Sauté your onions and garlic until they are softened and tasty.

Add the onion and garlic to your large pot and bring it all to a boil. Reduce to medium heat and cook until potatoes are fork tender.

Using a potato masher, smash some of the potatoes, in order to release their starches (makes the soup thicker). You can also add some flour at this point if you like it really really thick!

Reduce to low heat.

Slowly add the cream cheese, stirring as you go. It will look pretty unsightly at first, just keep stirring until it is melted and yummy.

Pour the soup into serving bowls, top with some fresh parsley or chives. If you are feeling extra frisky, go ahead and top it with some shredded cheddar cheese!
Check it out….even the chicken wanted in on the potato soup action:
You better back off, you dirty chicken!

Hayley Crouse is a wife, mother and multifaceted designer. Her love of sewing, crafting, cooking and interior design infuses her daily life and naturally spills over into her online presence. She pushes the envelope of her creativity and hopes that others will be inspired to do the same. She currently authors the Welcome to the Mouse House Blog, is the pattern designer behind Mouse House Creations and is a collaborative designer with Willow & Co. Patterns.