Let's get started!
Print out your templates:
Cut out the shapes you plan to use:
Gather your supplies:
Trace your shapes onto the felt (this is where I used my disappearing fabric pen….comes in super handy, but you could just as easily use a regular marker!)
Cut out your shapes:
I wanted to embellish certain shapes, so I used either paint or a sharpie marker.  For this cowboy hat, I used a thin, black Sharpie marker to outline it:
So cute, right?
The little bitty shapes are more difficult to trace and cut, but you can do it~!
I embellished this cute little ballerina dress with some white fabric paint:
I even glued a blue rhinestone to the tiara for some extra "bling" and I added some Mary Jane ballet shoes: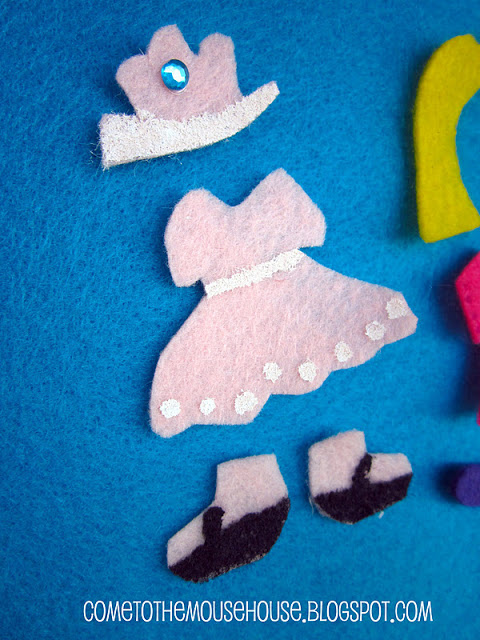 Ready for Ballet Class!
Funky Peace Sign Shirt for the little boy, using paint:
Finished off the outfit with his baseball cap, matching shorts and eventually some sneakers:
This little lady is in her undies, embellished with fabric paint.  Don't you just love the cute little flower?  I attempted to give her bunny slippers, but that didn't quite come out as planned, haha:
And here are all the felt people/clothing lined up on the felt board!
Here is a quick preview to show some of the new shapes I will be sharing next week!

Hayley Crouse is a wife, mother and multifaceted designer. Her love of sewing, crafting, cooking and interior design infuses her daily life and naturally spills over into her online presence. She pushes the envelope of her creativity and hopes that others will be inspired to do the same. She currently authors the Welcome to the Mouse House Blog, is the pattern designer behind Mouse House Creations and is a collaborative designer with Willow & Co. Patterns.