Of of my most frequently asked questions in blog land (and in real life!) is "How Do I Paint Furniture So That It Doesn't Look Like Crap?"  Literally.  People have asked me that exact question, many many many times.  Figured it was time for a lesson of sorts.
One of the most popular items I get asked about is my kitchen table (which now has the leaf in it and no longer houses just a corn on the cob in the bowl):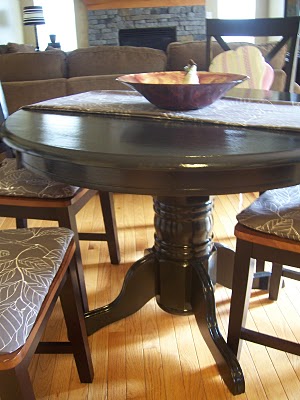 Over the years, I have painted many items of furniture and there is definitely a learning curve.  A huge learning curve.  Annoyingly long learning curves.  Nothing worse than spending 2 weeks painting a tiny little desk, only to realize that you forgot primer and the whole project was a waste!  (not that I have been there or anything, hmmm).
So, I will now attempt to explain to everyone how I like to paint my furniture.  Sure, some people may do it differently, but I have found my method to be extremely successful and it always results in professional looking results.
HOW TO SUCCESSFULLY PAINT FURNITURE 
*  To begin with, you need to determine what type of furniture you are painting.  Solid wood is obviously the best choice and will result in the nicest, most long-lasting finish.  If you wish to paint laminate or other manufactured surfaces, you will follow the same procedure, but don't expect it to become a family heirloom.  It will eventually chip and wear down, but painting it is still a great money saver in the meantime (until you can afford family heirloom pieces!)
Step 1:  Thoroughly clean all surfaces using a damp rag and a vacuum (if needed).  Don't want any random spider webs in your paint!  Finish it off, by wiping it down with a dry rag.
Step 2:  If your furniture piece is bare wood, skip this step.  However, most furniture that needs to be painted will either have a varnish, stain or a previous paint of coat on it.   This is when you need to sand it down to "rough it up".  Most furniture will only need a really light sanding, you don't even need to sand every inch of it, just enough to get the furniture ready for new paint.  You don't need to remove all the varnish or previous paint, but you need to scratch up the surface.  Make sense?  Don't kill yourself with the sanding, trust me!
I personally prefer to use my electric palm sander:  (see the cup of coffee next to it?  That is how I roll)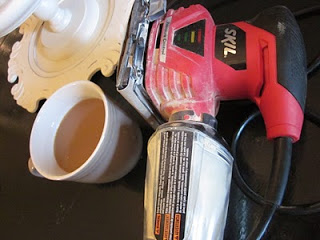 but obviously, not everyone has an electric sander just hanging around!  So, another good alternative is a sanding block: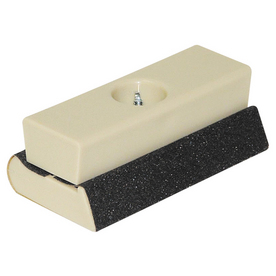 ANOTHER option, if you really really really hate to sand, is a Paint Deglosser: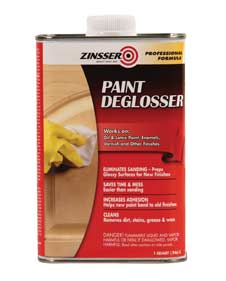 A paint deglosser is great, but really toxic (smelly!) and isn't necessary for most projects.  However, it is definitely a great alternative, especially for pieces of furniture that have little grooves you can't get into (intricate details!)
After sanding, rub down the entire piece of furniture with a dry cloth (I prefer microfiber, but a dish towel or paper towels would work, as well).  This is simply to remove any of the dust from sanding.
Step 3:  Let's start painting!  I absolutely SWEAR by using an OIL BASED PRIMER.  Make sure it is a primer and not a regular oil based interior paint.  This is what has allowed my furniture to stand the test of time.  DO NOT SKIP THIS STEP!  If you skip this step, you are wasting your time (in my little opinion, of course!)  In general, I use KILZ Original Oil Based Primer, however, I heard they recently came out with a low odor version… I need to check that out because oil based paints stink.  Make sure you do this project outdoors or in a well ventilated area, like a garage with the door open!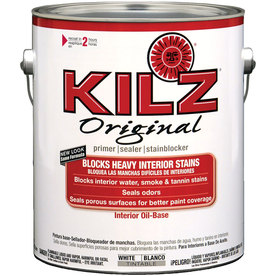 MAJOR TIP ALERT!  IF YOU ARE PLANNING TO PAINT YOUR FURNITURE A DARK COLOR, LIKE BLACK OR RED, GET YOUR PRIMER TINTED!  TRUST ME, IT WILL SAVE YOU A TON OF TIME IN THE END!
Use a really nice brush for this step, preferably one intended for oil based paints.  It will make all the difference in the end result.
For the primer, I like to do 2 REALLY light coats of paint (waiting a few hours between coats).  When I mean light, I mean light!  Don't glob it on and don't keep going over the area again and again.  Primer never looks nice, so don't expect a nice finish.  Don't get discouraged.
Step 4:  Wait a day.  Let your furniture fully dry and cure.  If you area has high humidity, I would even wait 48 hours, but I am always too impatient for that!  Now, time to lightly sand your primed surface.  "SAND off what I  JUST did?  Are you crazy?"  Yes, this is when you need to LIGHTLY sand (using a fine grit sandpaper, either electric sander or regular sandpaper…NO deglosser!)  the entire surface that you primed.   Reason?  If you skip this step, you can end up with unsightly lines from your paint strokes and it will look awkward.  Trust me, it is a very easy step and will help with your finished project.  Just do it and don't ask questions, lol!
Finish off this step with another rub down from a dry cloth (the furniture, not you.  Don't get all dirty on me now)
Step 5:    Time for the fun!  Time to PAINT!  Here is where I like to use either a satin or a semi gloss Interior LATEX paint (tinted to whatever color you desire!)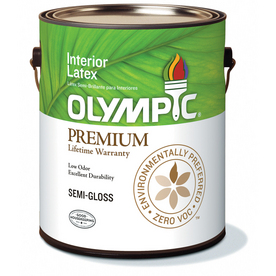 (in no way am I endorsing this brand of paint, but they were the last brand I used and I actually really liked it.  I generally go for Sherwin Williams or Benjamin Moore, though.  However, Olympic is much cheaper and it did a great job!)
Buy a nice paint brush meant for latex paint and a few foam rollers (depending on your job).  If I have a really large piece, like my kitchen table, I do like to have a few rollers on hand to speed things up a little!  Generally, you want to avoid rollers because they tend to leave bubbles and marks. A paint brush is always best, but if you do use a roller, quickly go over the wet paint with a dry brush to avoid the bubbles: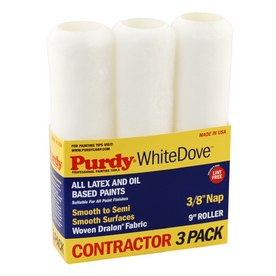 Do 2-3 LIGHT LIGHT LIGHT coats of the latex paint. Again, I am not joking when I say light.  I know that you might want to just get the project finished and be done with it, but several light coats are MUCH better than 1 or 2 globby, icky coats of paint.  Let the paint dry at least 4 hours in between coats, but it is always better to let it sit overnight.
ANOTHER TIP ALERT!  I FIND THAT IT DOES WONDERS WHEN I DO A QUICK, LIGHT SANDING IN BETWEEN COATS, JUST TO GET RID OF ANY IMPERFECTIONS AND PAINT STROKES.  WAIT FOR THE PAINT TO DRY AND GIVE A VERY LIGHT SANDING WITH SANDPAPER (NO ELECTRIC SANDERS AT THIS POINT!)
Step 6:   Are you still with me?  I hope so!  You are almost there!!!  I promise!  So, after 2-3 light coats of paint (the darker the color, the more coats it will take…this is why you need a tinted primer!)  now it is time for the polyurethane!  Okay, here is where I must confess.  I don't always do this step.  For instance, I recently painted this corner hutch and I totally skipped this step!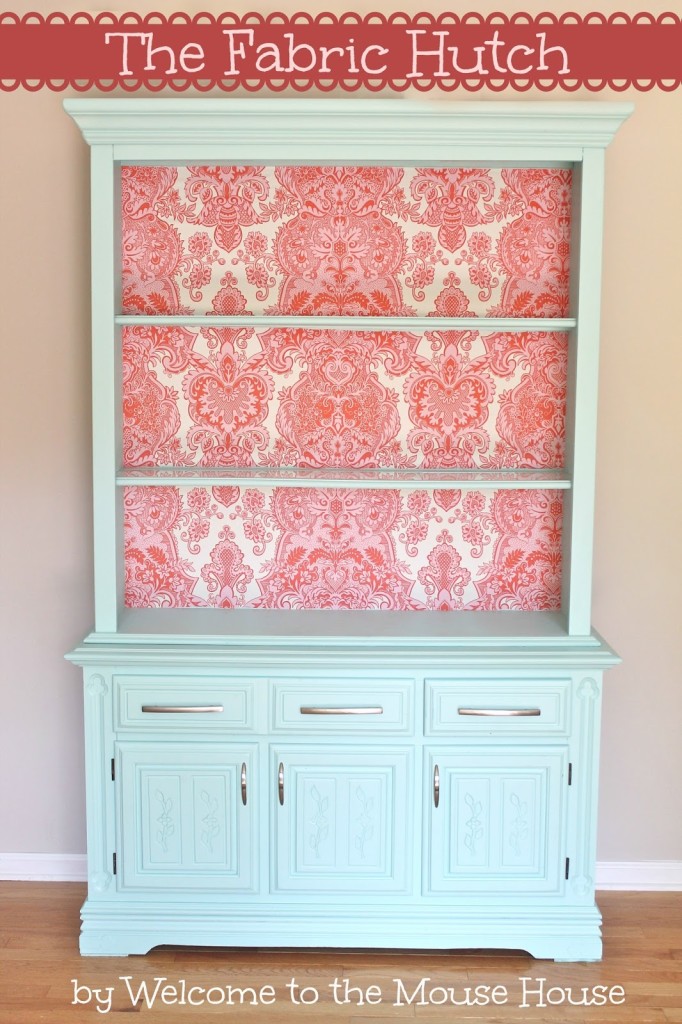 Why didn't I poly this piece?  Well, because my kids aren't allowed to touch it, it barely gets used, it won't have wear and tear, etc.  However, places like kitchen tables or kitchen chairs or kitchen cupboards or an entertainment unit, mostly everything?  POLYURETHANE IT PLEASE!  After all your hard work, you don't want it to chip or get damaged!  It is the last and final step, just do it.  Peer pressure.
Polyurethane comes in many forms, but most importantly, you want to find one that doesn't yellow.  Here is my recommendation: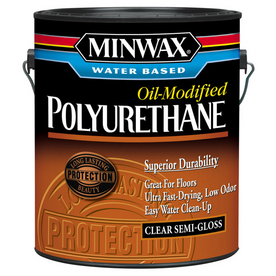 Polyurethanes come in a wide assortment… semi gloss, satin, high gloss, wipe on, sprays, etc.  I prefer this exact brand and type, but I have heard great things about the wipe ons.  However, I don't know if I would trust that for a kitchen table.  I used the above for our kitchen table and even after all the forks and plates, and smashes we have had, there have been no problems!
Either way, choose a water based/latex based poly and get to work!  Same drill as before.  1-3 light light coats.  No need to sand in between, unless you see streaks.  If that is the case, wait for it to dry and give it a quick sanding before doing the next coat.
Use semi gloss or high gloss poly if you want a really shiny finish (like my kitchen table).  Otherwise, a satin finish might be best for things like an entertainment unit or a coffee table.  There are certain items you don't want glossy, so keep that in mind!
Step 7:  Stand back and be proud!  You did it!
All of this information probably seems long-winded and like too much to handle, but trust me, it really isn't bad at all!  I do most of my furniture pieces after the kids are in bed, for maybe an hour at a time.  I place it in the garage or basement (or whatever room) and I work on it when I can.  This is not going to be a one day project, but it will be something that you can look back on and say "HEY, I did that!"  You will be so happy you did it and you can save so much money in the process.

Hayley Crouse is a wife, mother and multifaceted designer. Her love of sewing, crafting, cooking and interior design infuses her daily life and naturally spills over into her online presence. She pushes the envelope of her creativity and hopes that others will be inspired to do the same. She currently authors the Welcome to the Mouse House Blog, is the pattern designer behind Mouse House Creations and is a collaborative designer with Willow & Co. Patterns.