Learn how to make a Market of your own!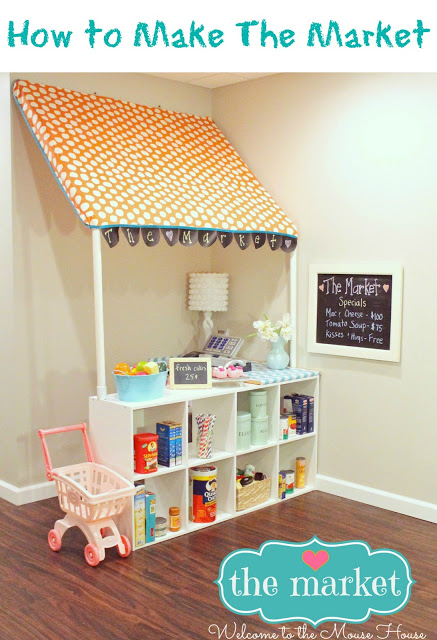 Now, obviously, everyone's measurements are going to be different, so I am not going to provide those.  My space may be larger or smaller than what you have to work with so measure your space and determine the lengths you need before heading to the hardware store.
*4 equal lengths to create a square for the top
(excuse my chaotic photo… this was done very late at night and I was pretty much delirious:)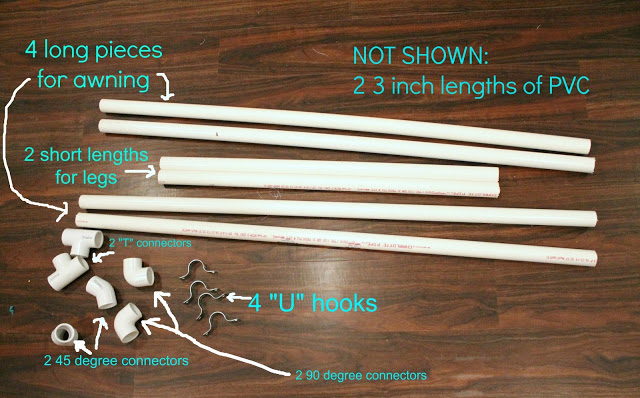 Create the awning by joining your 4 equal lengths together.  Use the 90 degree connectors at the top corners and the "T" connectors at the bottom corners.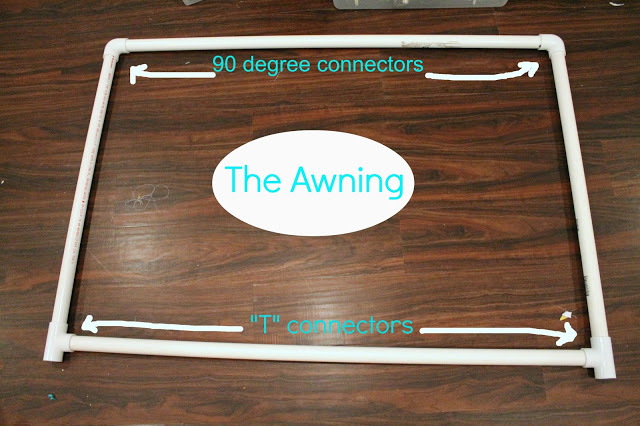 Now, you are going to create the legs.
Attach your 3 inch piece of PVC to the "T" connector. 
Then, attach your 45 degree connector.
Finally, attach your leg piece.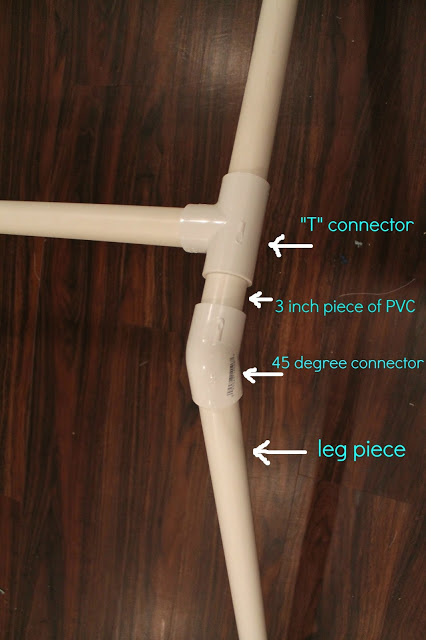 Attach the other leg and it should now look like this!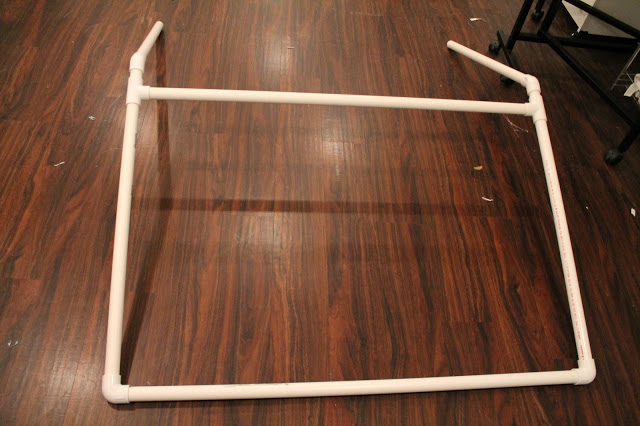 Using the 4 "U" hooks, attach to the wall, using anchors if you don't find a stud… and no, I am not talking about my husband;)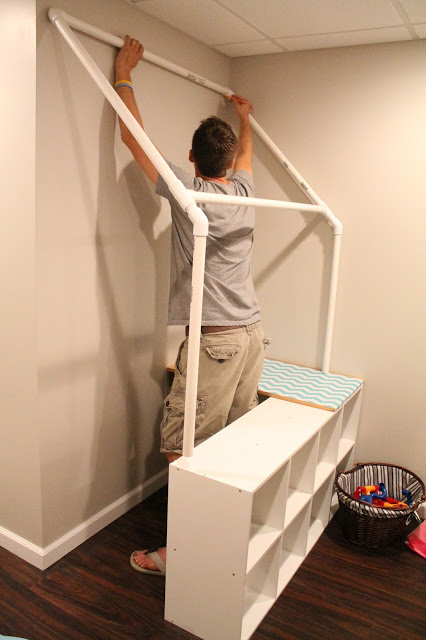 To attach the awning to the bookshelf, you can either glue it or you can find connectors with holes for drilling.  Totally up to you!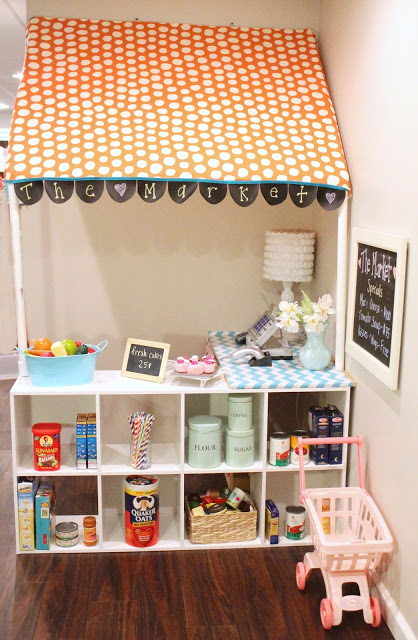 At last, it is time to attach your fabric.  
Before attaching it to the frame, I sewed bias tape and the chalkboard banner to my fabric to finish the raw edges.  Then, I just hot glued the fabric to the PVC pipe.  Super easy!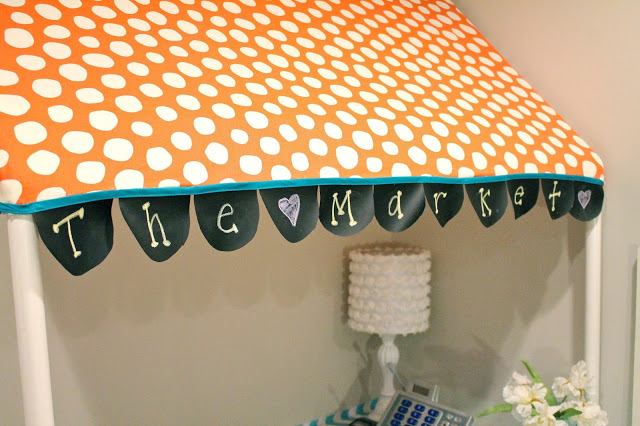 The shelves for the groceries is simply a cubby unit from Target flipped on its side!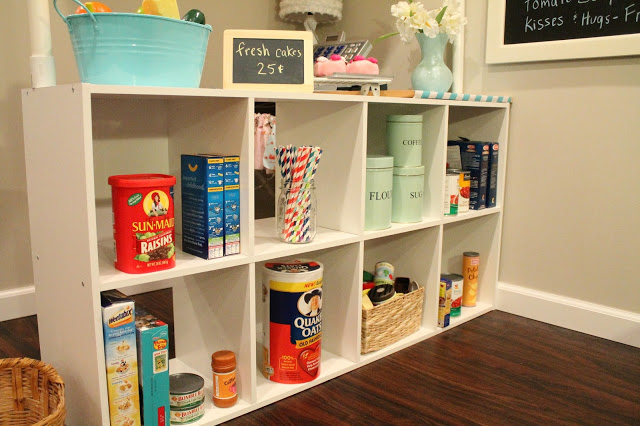 The shelf that holds the cash register was just a piece of scrap wood we had in the garage and I covered it with chevron shelf paper.  The one end is attached to the wall with a 2×4 and the other end is just leaning on top of the shelf.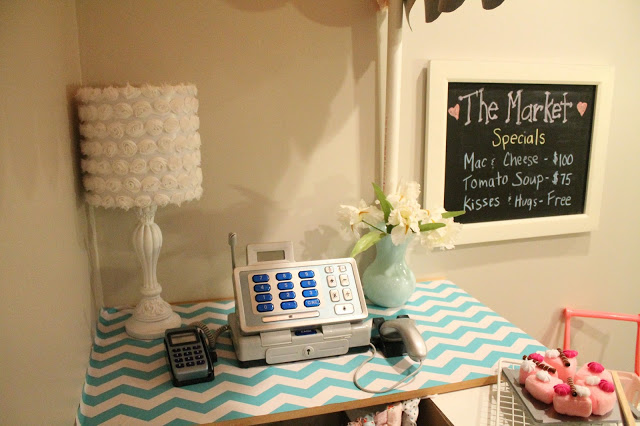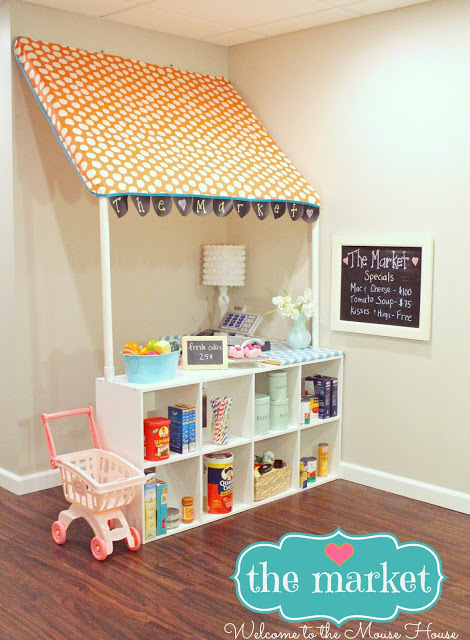 I hope that helps!  If you guys have any questions or want to know more, please feel free to message me on Facebook!  As always, I would love to see your creations over on my Flickr page, too!

Hayley Crouse is a wife, mother and multifaceted designer. Her love of sewing, crafting, cooking and interior design infuses her daily life and naturally spills over into her online presence. She pushes the envelope of her creativity and hopes that others will be inspired to do the same. She currently authors the Welcome to the Mouse House Blog, is the pattern designer behind Mouse House Creations and is a collaborative designer with Willow & Co. Patterns.