Over the past few years, I have really been trying to work on my photography.  At first, it was just so that I could keep up with all of the amazing bloggers out there (and yes, there are some seriously talented bloggers that I envy!), but then it started to become a passion of mine that I am so excited to be learning more about. I  have even ordered a new camera and lenses and can't wait to get them!  So, when my friend Alida from Alida Makes asked me to review her new e-book Style That Kid, of course, I obliged!  I immediately downloaded and started reading.   Everything she talks about in the book started "clicking" with me and it made me want to redo so many of my old blog photos!
Immediately, my brain jumped to a post of mine from this past October when I reviewed the Boardwalk Skirt by Go-To Patterns.  My photos from that session left a lot to be desired.  Were they horrible?  Nah, but they certainly weren't anything great or memorable.  I had been meaning to redo them, and this was the perfect timing!  The e-book walked me through all of the important points of taking a great photo with kids.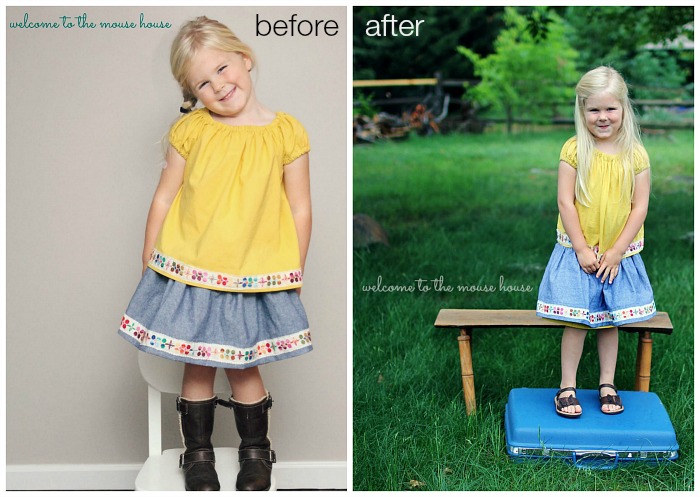 Alida is just incredibly talented and she is so deserving of her success.  Her Style That Kid e-book is now for sale on her website: CLICK HERE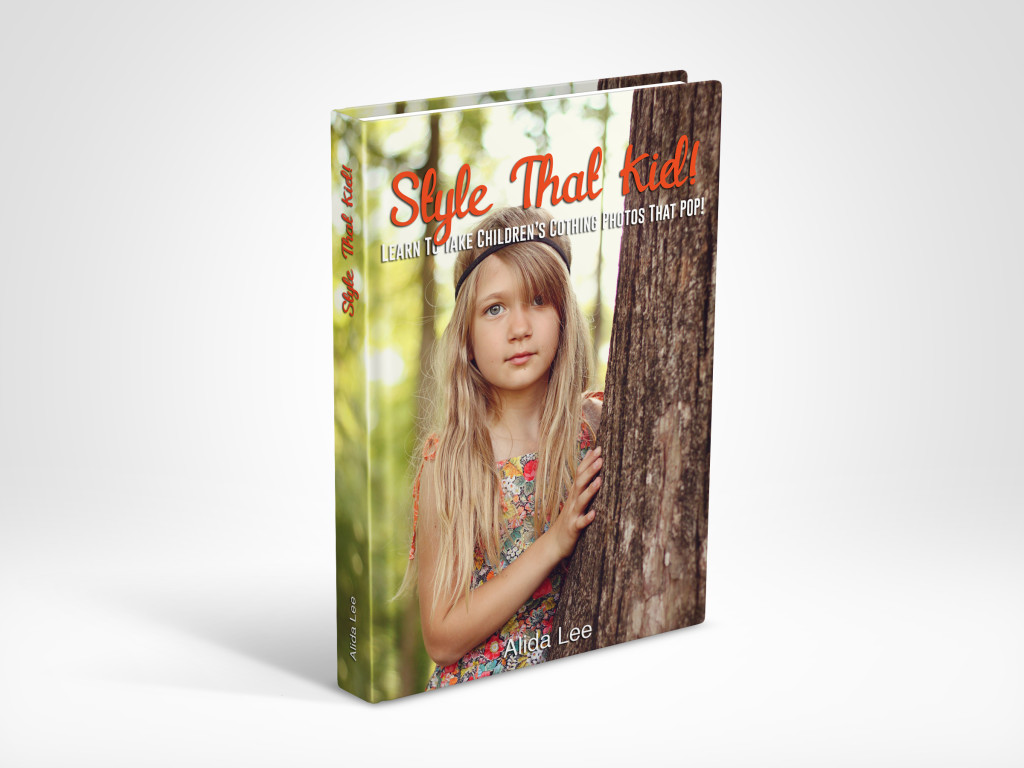 I grabbed this little lady, pulled out the same outfit from October, and we got to work on a rather rainy day.
Because it was rainy and yucky, we had to make it fast, but I still feel that we did a good job.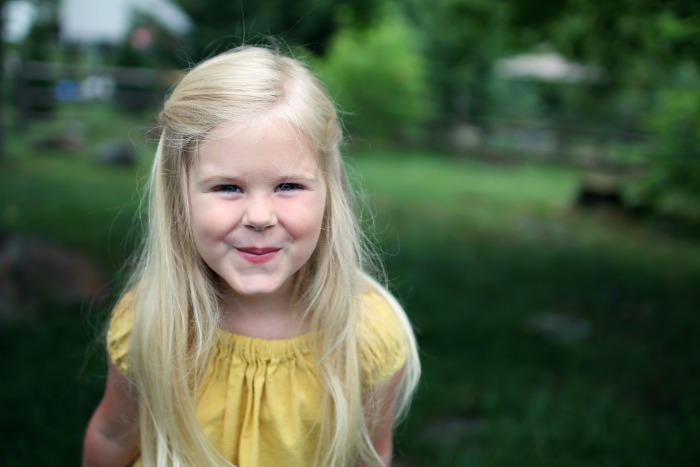 Alida discusses many things in her e-book and a few of the main points are lighting and location.  My October post was taken indoors, which isn't always a terrible thing (and she explains how to do it properly), but natural, outdoor light is always more conducive for better photos.  Not only is natural light important, but so is location.  She discusses how to find a great spot to use as a backdrop.  Now, like I mentioned, it was a rainy day so I didn't exactly have the ability to go out and scout locations, so my backyard had to suffice.  I grabbed a random bench that we bought off Craigslist for photos and placed her so that there were no houses visible in the background.  Easy peasy.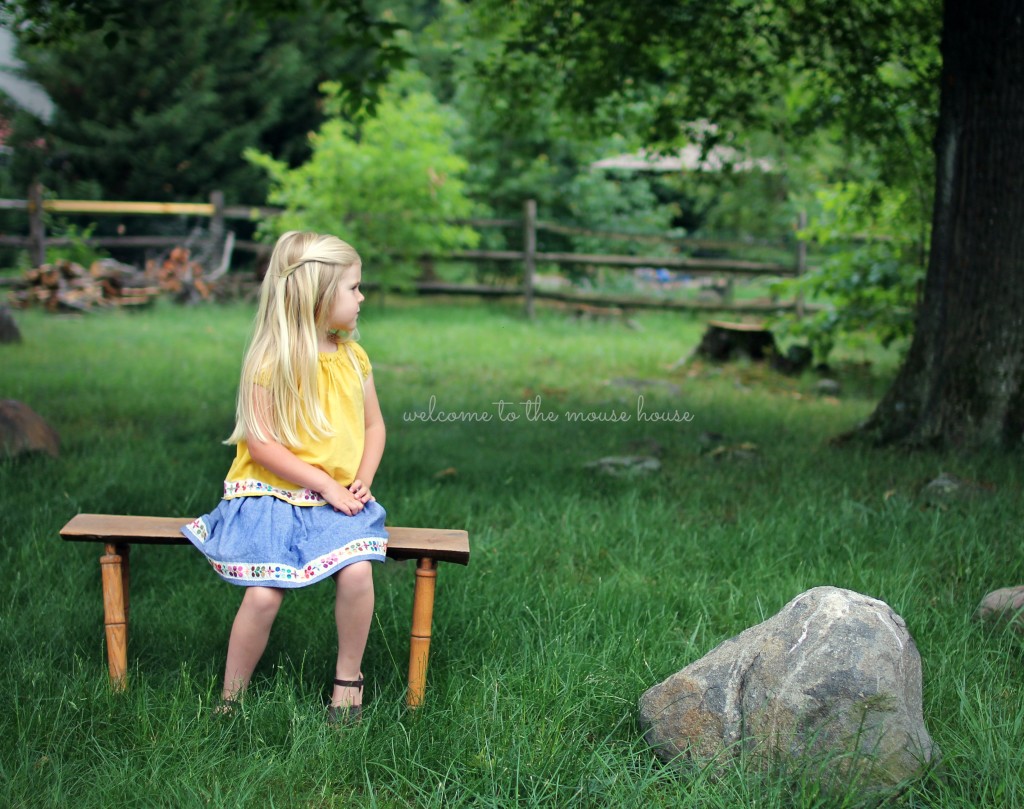 Some of you might know that Ainsley does modeling, so sure, she is used to getting her photo taken, but one thing I have noticed is that I need to talk to her differently to get a real smile.  DON'T say "Cheese!"  Or "SMILE FOR ME NOW OR I WILL TAKE AWAY ALL OF YOUR MY LITTLE PONIES"….um, we will just pretend that it has never happened that way around here!  hah.
But seriously, when you TELL them to smile, THIS happens.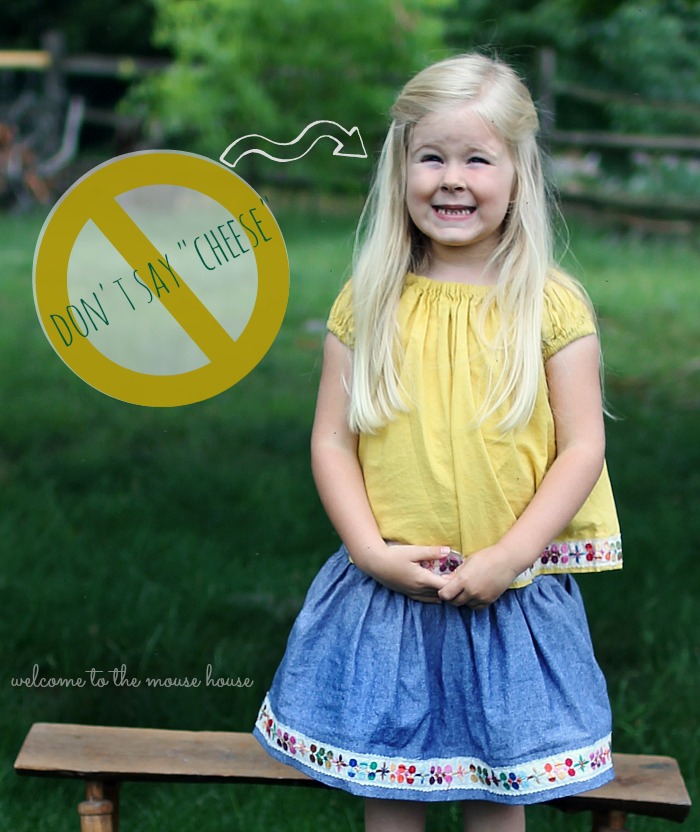 Instead, you need to say a joke, use ridiculous words, tickle them, chase them… whatever it takes to get that natural smile you need!
I told Ainsley a few inappropriate jokes and it got her laughing… with a natural smile.
Okay, so this isn't the best representation considering it isn't very sharp and she probably doesn't have the most natural smile, ha, but hey, we were in a rain storm!  (and I was saying… natural smile, Ainsley, NATURAL SMILE NOW OR I WILL NOT GIVE YOU CHEEZ-ITS… HURRY UP… I AM GETTING RAINED ON…. ARE YOU KIDDING ME???) haha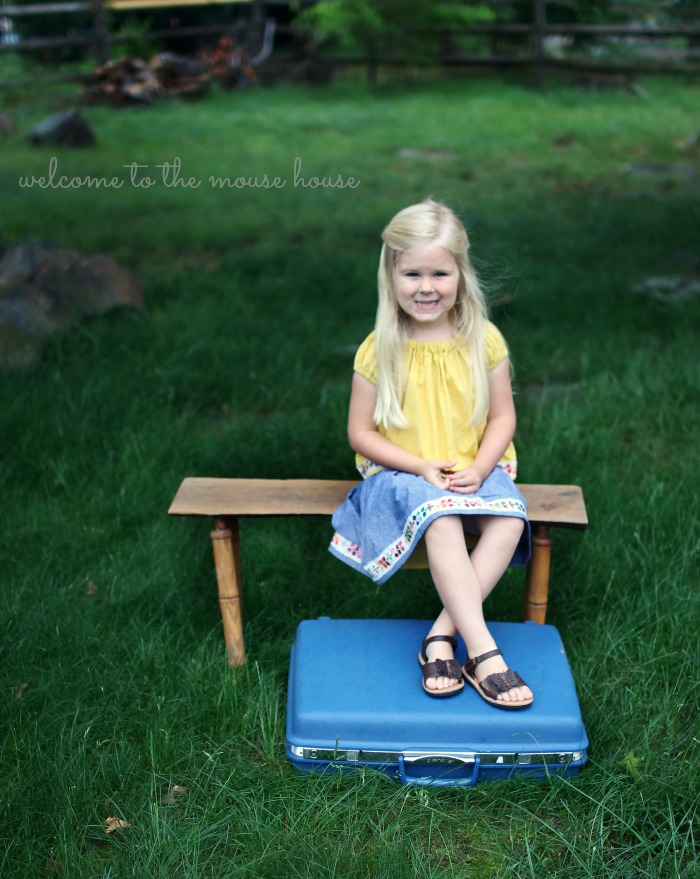 One main point when blogging about kids' clothes is making sure to get detail shots.  I like this example because it shows the skirt, but it also shows the details.  Notice how I have it off center and above the child for a more interesting view.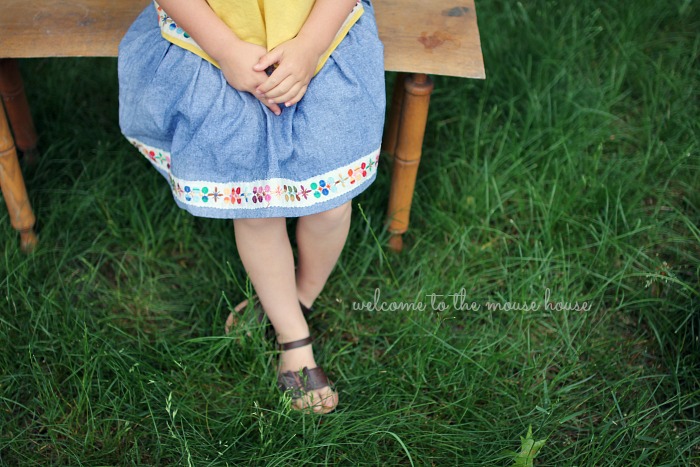 Another topic is Contrast.  I agree wholeheartedly that contrast is so important.  Imagine if I had put Ainsley in a green outfit and chose to shoot her photos out here… they wouldn't be very noticeable, right? Her bright colored shirt and skirt are the perfect contrast the natural colors in the background.  Alida gives plenty of photographic examples to help explain!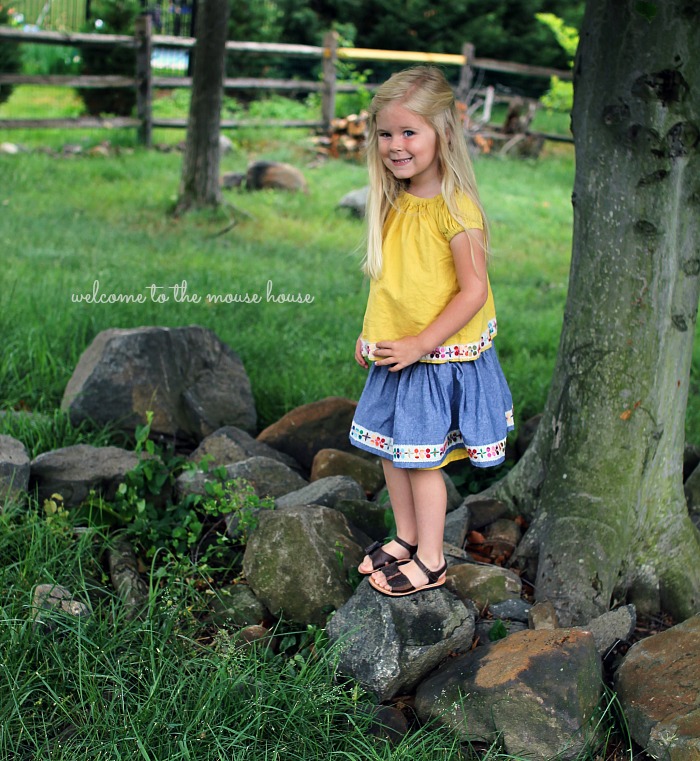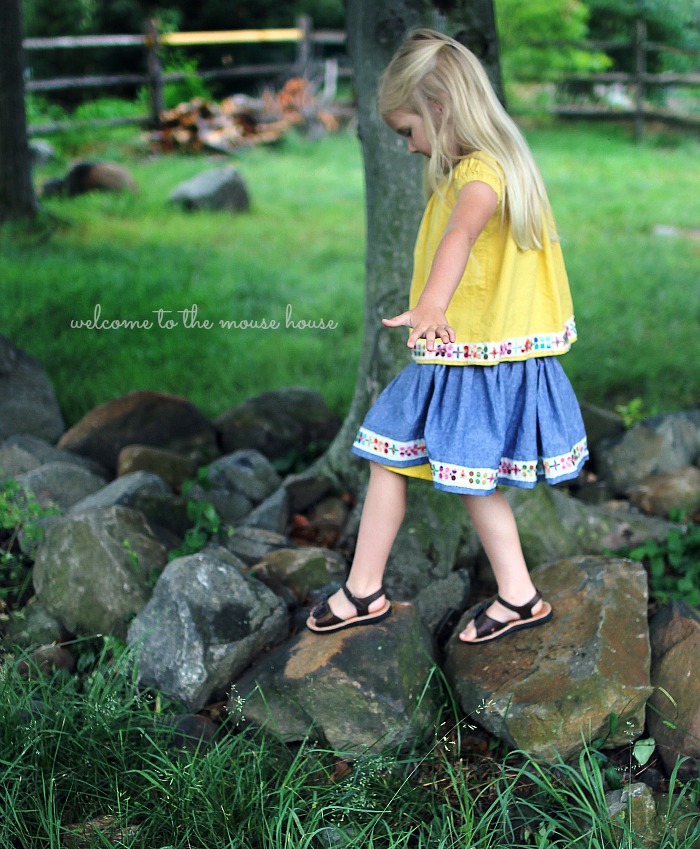 Alida discusses the use of props and I have to admit, that I need to do better with those.  I realize how valuable they can be for a great photo shoot, but I always run out of time to gather them up.  Props are great because they keep kids interested and they almost encourage the kids to stay in one spot.  I grabbed a vintage suitcase because Ainsley said that the grass "was itching her" and she was getting really frustrated… the simple addition of this suitcase totally changed her mood!  It also gives dimension and visual interest.  Plus, no one wants itchy feet, right?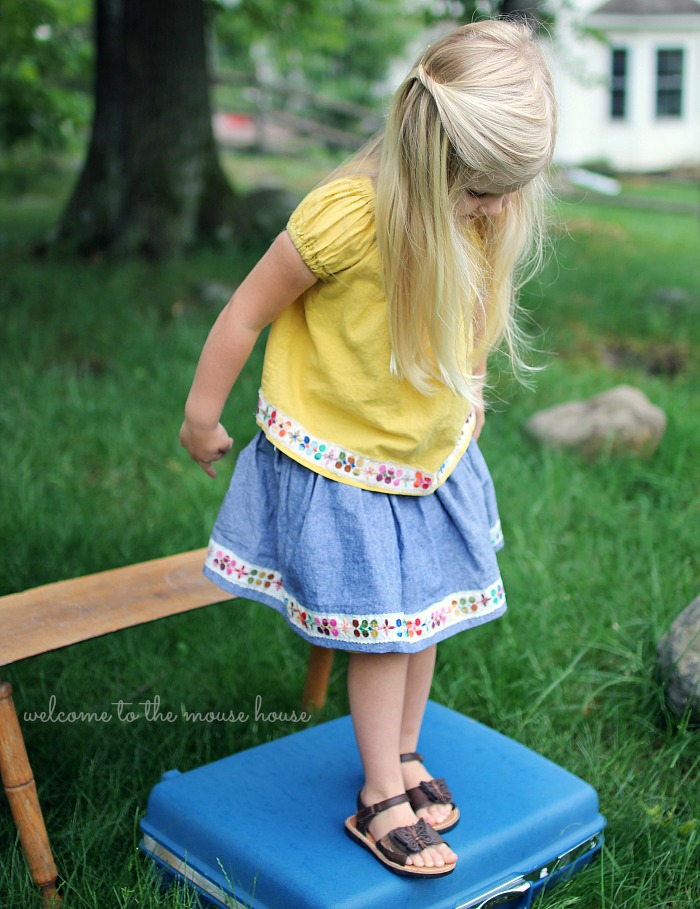 I am so so happy to be learning and growing with my photography and it is ALL due to my amazing friends, people like Alida.  She is so encouraging and friendly and truly wants everyone to learn as well.  Thanks for having me Alida!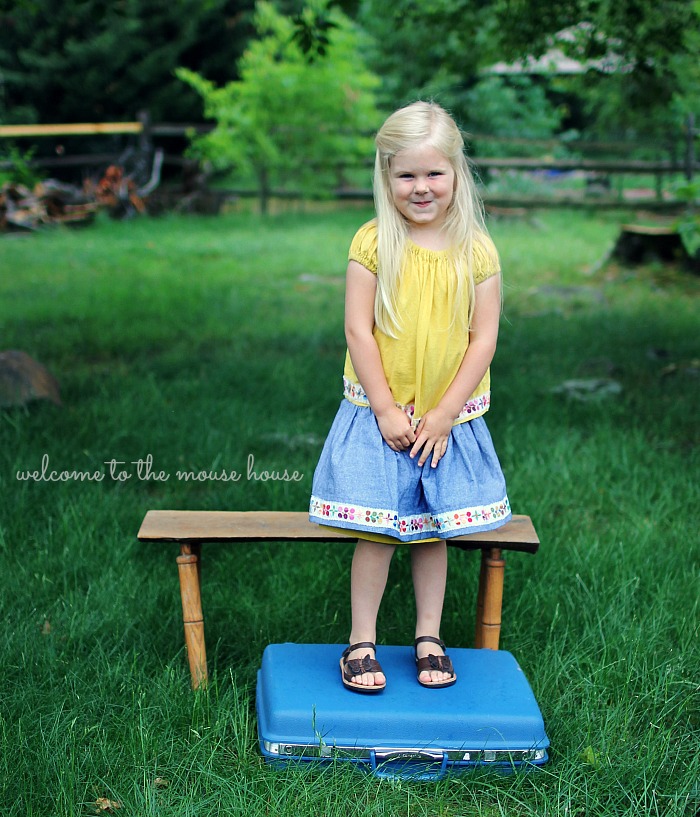 There are some awesome people on the tour with me!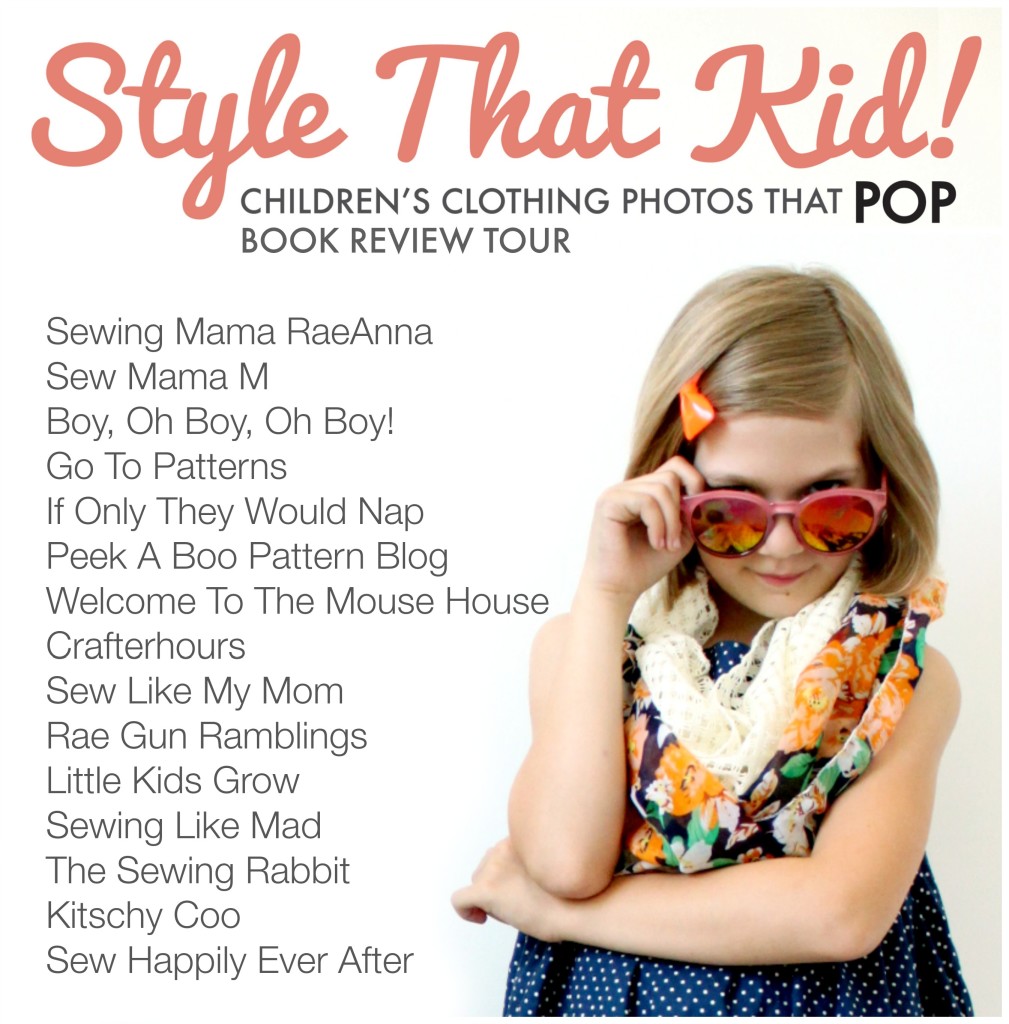 You also don't want to miss this giveaway!

Hayley Crouse is a wife, mother and multifaceted designer. Her love of sewing, crafting, cooking and interior design infuses her daily life and naturally spills over into her online presence. She pushes the envelope of her creativity and hopes that others will be inspired to do the same. She currently authors the Welcome to the Mouse House Blog, is the pattern designer behind Mouse House Creations and is a collaborative designer with Willow & Co. Patterns.