I am so excited to show you guys "The Market"!
My kids literally adore this market.  I am not joking when I say that Ethan was in awe when he first saw it.  I walked him down to the basement and he stopped in his tracks, covered his mouth, opened his eyes wide and said "OH MY GOSH!"  It was so worth it once I saw his reaction.
The inspiration for the market came from our annual trip to the Please Touch Museum in Philadelphia, where they have an awesome kid-sized grocery store.  Ainsley has begged for a grocery store ever since.  Sure honey… here is your store.
I created the awning out of pvc pipe and fabric (full tutorial is HERE).  I made a scalloped banner out of chalkboard fabric so that the name can change at a whim… simply erase and rewrite with chalk.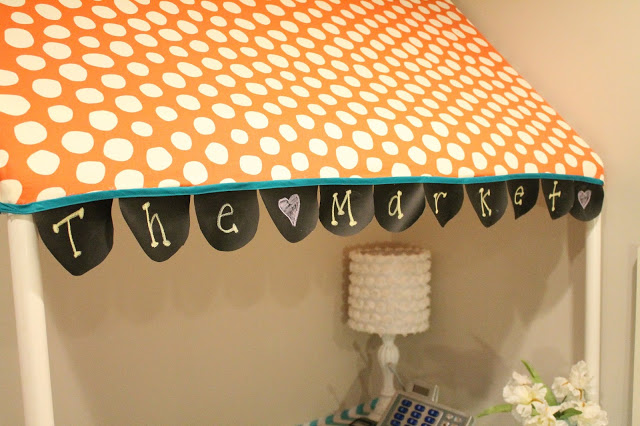 Next to the market is a small chalkboard where the kids can write up the "Specials of the Day".  I started it and had Ainsley tell me how much each item would cost 😉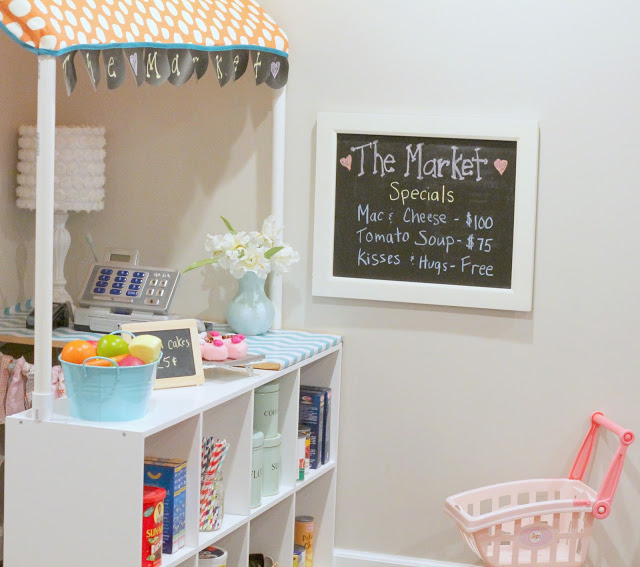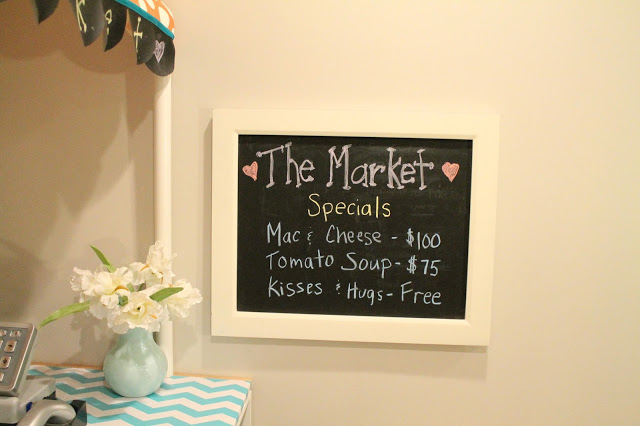 Below the awning is a cubby shelf turned on its side that I bought at Target.  It houses all the grocery store food.  We simply saved empty boxes from our pantry and taped them shut.  (make sure they are clean and won't attract bugs:)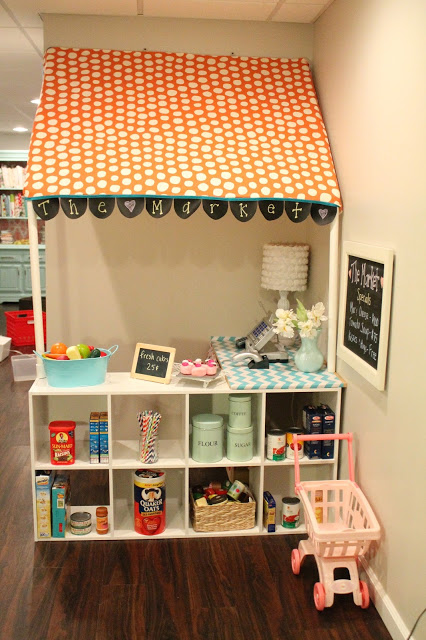 On top of the cubby is a basket full of "fresh" fruit and veggies and felt "fresh cakes".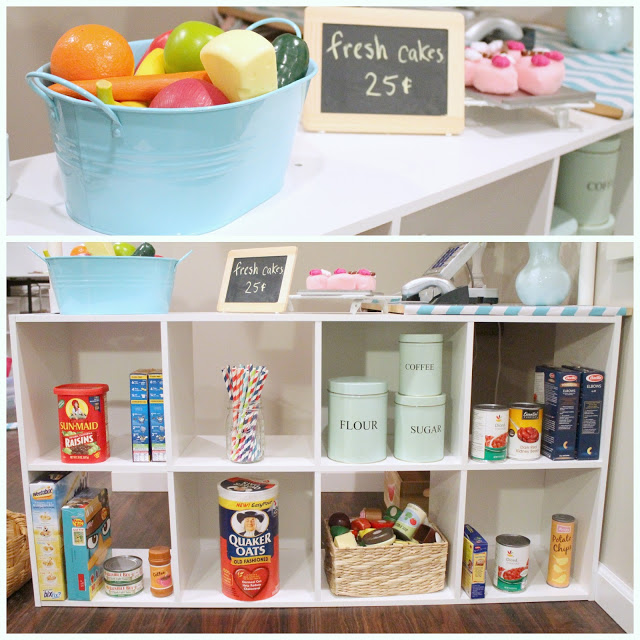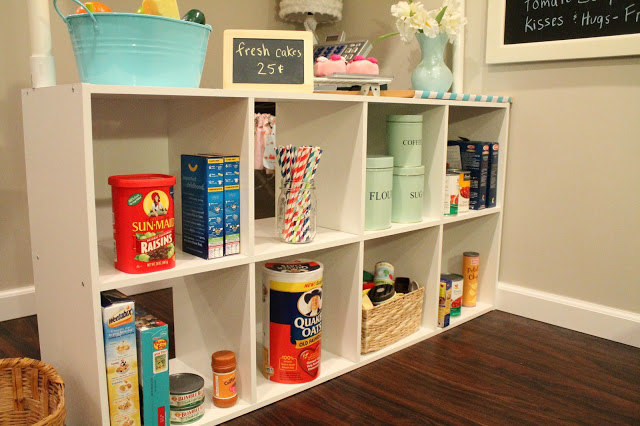 Behind the "counter" is the cash register shelf.  I took a sheet of wood we had already and covered it with some chevron shelf paper.  The kids love that it has a debit card machine.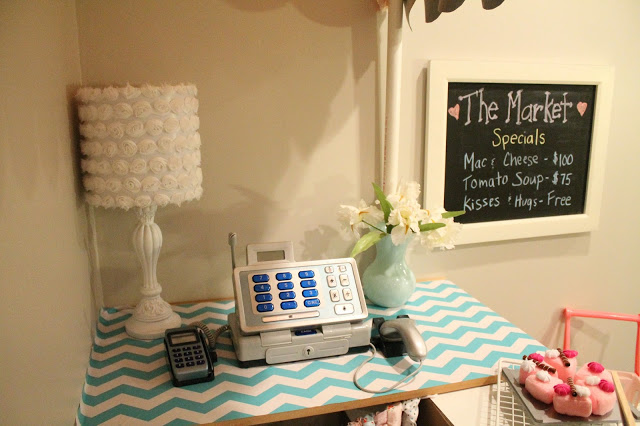 This is where the kids come to be the "money man" (as they call it) and ring up the customers.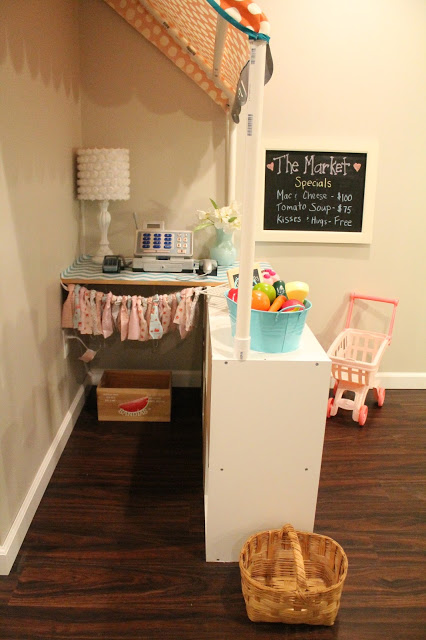 Hope you guys love it as much as we do!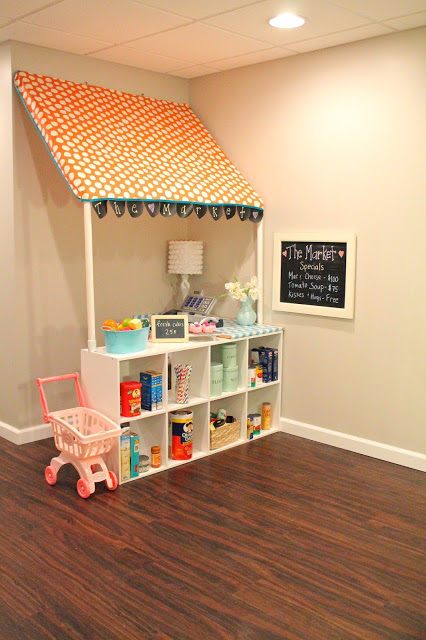 Looking for the tutorial?  Click HERE!

Hayley Crouse is a wife, mother and multifaceted designer. Her love of sewing, crafting, cooking and interior design infuses her daily life and naturally spills over into her online presence. She pushes the envelope of her creativity and hopes that others will be inspired to do the same. She currently authors the Welcome to the Mouse House Blog, is the pattern designer behind Mouse House Creations and is a collaborative designer with Willow & Co. Patterns.