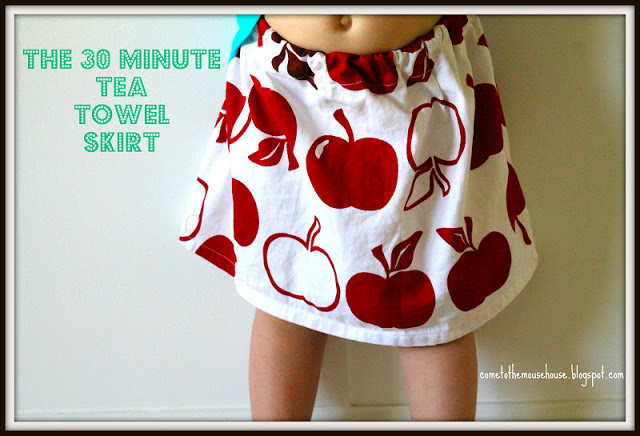 Are you ready to make a super cute skirt for under $5??
AND there is NO hemming involved!
(scroll all the way down to see another variation of a tea towel skirt I made, as well!)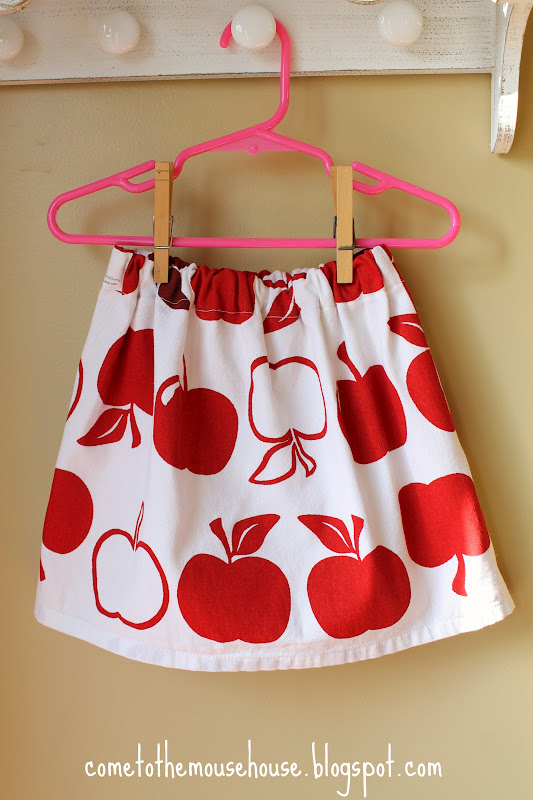 Other than the basic sewing requirements, that is seriously all you need to make this cute skirt.
Ainsley thinks that is pretty darned awesome!
I purchased my adorable apple tea towel from Target for $2.99!
They had other prints, like oranges, pears, cherries, etc.
During holidays, they also carry really fun seasonal prints!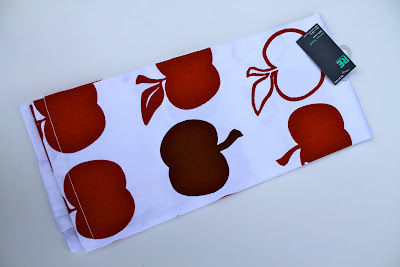 1.  Prewash your cute little tea towel.  (wash and dry!)
2.  Fold your tea towel in half to find the center.
At this point, you will notice how crappily made the tea towels are
and that none of the edges are square.  You will have to work around this
and realize that it won't be perfect.
3.  Cut your tea towel in half
4.  Place your two rectangles together, right sides facing.
Pin along both sides, making sure that both of the pre-hemmed sides are at the bottom
5.  Trim off the 2 edges before sewing
6.  Normally, I would use a serger for clothing items, but I used my regular sewing machine for this project to show that this can be made by anyone!  No special tools needed!
Using a straight stitch, sew both sides where you had pinned.
Finish it off with a zig zag stitch, if desired
7.  Time to heat up the iron so that you can make the casing for the elastic.
Around the top of the skirt, fold the fabric down about 1/4 inch-1/2 inch and iron flat.
Do that all the way around.
8.  Then, do it again, folding the fabric over another 1/2 inch to 1 inch
(depends on the size of your elastic!)
Iron to set.
You now have the casing ready for the elastic.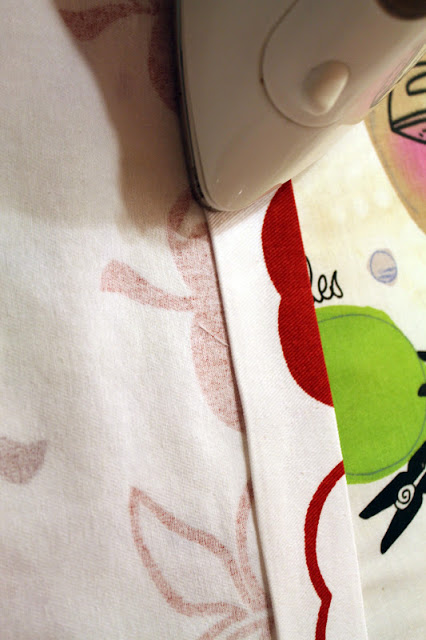 9.  This is how your skirt will look if turned right side out.
Already hemmed at the bottom, casing for elastic at top, and sewed on each side.
10. Speaking of elastic…. I only had 1/2 inch elastic on hand and really didn't want to run out to the store, but I would recommend a slightly thicker elastic.  Perhaps 3/4 inch or 1 inch (or even bigger).
1/2 inch works just fine, but I just usually prefer slightly larger for a skirt.
11.  Insert your cut elastic into your casing, overlapping both ends slightly.
You will sew those ends together.
12.  With the two ends of your elastic slightly overlapped, do a few stitches to keep them in place.
This is where I attached my tag…. to hide the stitch marks 🙂
13.  After the ends of the elastic are secured, you can sew the casing closed,
making sure the elastic stays on the inside.
 Go all the way around.
This method is very easy, but I wouldn't recommend it for professional dressmaking.
AND your skirt is finished!
Below, you will see a skirt I made out of Target's Easter tea towels (clearance!  Bargain!)
Makes it a much bigger, fuller skirt and will fit up to a much bigger size.
 I would say this particular skirt would work for even an 8 or 9 year old!
And the pockets?  Aren't they adorable?!  The blue fabric was from clearance napkins!!!  Woot Woot!
Enjoy!  And I would love to see your creations!  I love when people post pictures on my
P.S.  Did you notice that the floors in my dining room are the sub floors?  The new floors are being installed this week!!!  WOOOOO!  Can you tell I am so stoked???