I think we can all agree that I have a bit of a pumpkin obsession, right? Check HERE if you need to refresh your memory. I am always on the hunt for new pumpkin-based recipes to try, so when I came across this one found HERE, I was super stoked because it looked so yummy!!!
And here are the donut holes I created after tweaking their recipe slightly: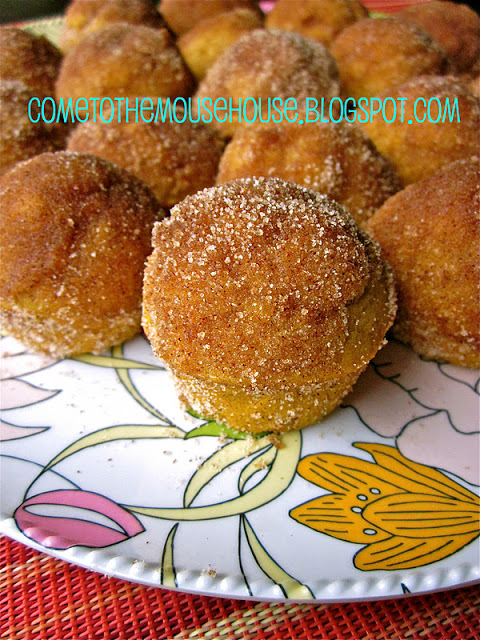 Pure delicious goodness, right?
You can either follow the original recipe exactly or use my tweaked version…. either way, they are sure to be delicious and sinful.
Pumpkin Cinnamon Sugar Donut Holes:
1 3/4 cups All-Purpose Flour, sifted
2 teaspoons Baking Powder
1/2 teaspoons Regular Cinnamon
1/8 teaspoons Ground Cloves
1/2 cup packed Brown Sugar
1 teaspoon Pure Vanilla Extract
1/2 cup canned Plain Pumpkin Puree
1/4 cup unsweetened applesauce
2 Tablespoons Melted Butter
2 Tablespoons Regular Cinnamon
2/3 cup Granulated Sugar
Heat oven to 350*. Lightly spray a mini muffin tin with cooking spray.

Mix all dry ingredients (listed under "donuts") together in a medium sized bowl.

Mix all wet ingredients (listed under "donuts") together in a larger sized bowl.

Slowly add the dry ingredients to the wet ingredients, mixing until fully incorporated. Don't over mix.

Using a cookie scoop or spoon, fill the mini muffin tins, about 2/3 full.

Pop into the preheated oven for about 12 minutes, or until firm.
While the donuts are baking:
Melt your butter in a dish.

Mix your cinnamon and sugar together in another dish.
Here is what your donuts will look like when they are ready: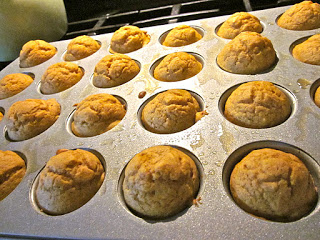 Once your donuts are fully baked, remove them from the oven and LIGHTLY brush the tops of every donut hole with some of the melted butter. Then, remove them one by one from the muffin tin and roll them in the cinnamon/sugar mixture. Do this with all the donuts and place them on a serving plate.
***The other recipes called for dipping your donut holes into a 1/2 cup of butter, but for ME, that is way too much butter. Because you sprayed the muffin tins with spray before baking, the bottoms of the donut holes will already be moist enough to hold the cinnamon/sugar mixture. So, all you really need to do is lightly coat the tops of the donut holes with some butter.***
****I also used regular cinnamon instead of Saigon cinnamon because I, personally, don't enjoy the spiciness of Saigon cinnamon. Another adaptation I made was using 1/4 cup of applesauce in lieu of 1/4 cup of pumpkin. I did this because some of my extended family members are not huge pumpkin fans (crazy people!), so it reduces some of the pumpkin flavor this way. Also, helps add some moisture****
Enjoy, but make these the day you plan to serve them because they tend to get a little soggy if you store them overnight.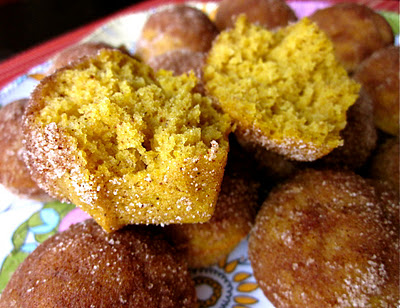 IF you are a crazy person and do not wish to have the cinnamon/sugar topping, I can vouch for the fact that these are just as delicious without. Trust me! Without the topping, I suppose they would just be called "Pumpkin Spice Mini Muffins", right?? Perfect little snack to bring to potlucks or to send to your child's school!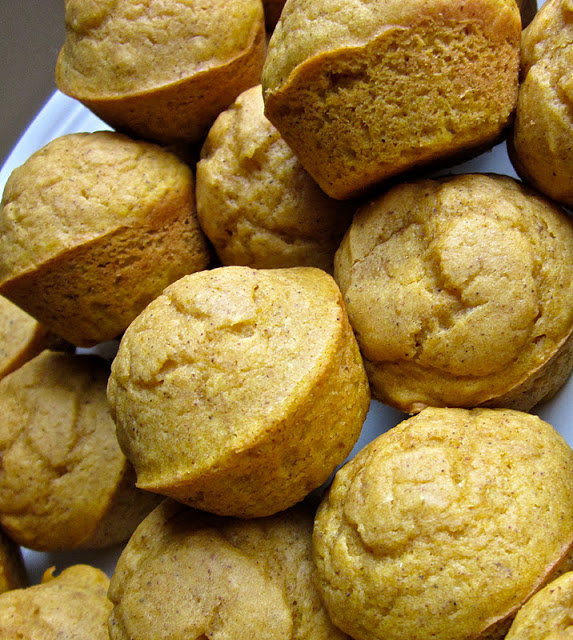 My little helper, Ainsley, thoroughly enjoyed them: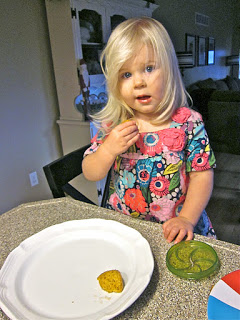 hmmmm.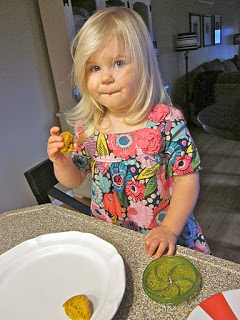 okay, maybe…..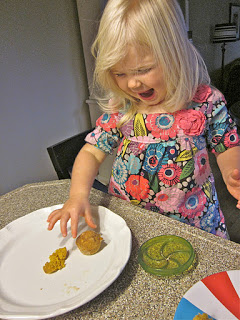 score!!!!

Hayley Crouse is a wife, mother and multifaceted designer. Her love of sewing, crafting, cooking and interior design infuses her daily life and naturally spills over into her online presence. She pushes the envelope of her creativity and hopes that others will be inspired to do the same. She currently authors the Welcome to the Mouse House Blog, is the pattern designer behind Mouse House Creations and is a collaborative designer with Willow & Co. Patterns.