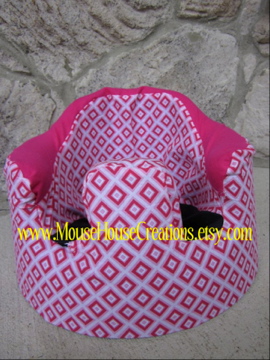 EDITED 7/7/12 As I have previously mentioned, there is some errata in this pattern, which I have not had the time to fix, nor do I know when I will. If you have specific questions, please email me at mousehousecreations (at) yahoo (dot) com.

The pattern and direction links are below!
PLEASE do not sell this finished cover… use it for your own purpose due to the hazard liabilities you could face. Please do

NOT

place the "Foam Baby Seat" on a high surface or leave your baby unattended in the "Foam Baby Seat", even with the awesome cover you have just made. Tell ALL caregivers the same information…. do NOT put the "Foam Baby Seat" near fireplaces, on refrigerators, in cars, on buildings, and most importantly, in bathtubs. Do NOT do anything stupid with the "FOAM BABY SEAT". The "Foam Baby Seat" is a fun device… not meant for a bathing baby, sleeping baby, driving baby, or a hiking baby. NONE of those activities are safe for a baby in a "Foam Baby Seat". Even with the awesome cover you have just created.
I am in NO WAY AFFILIATED WITH BUMBO OR KEEN DISTRIBUTERS, NOR has this cover been approved by Bumbo or Keen Distributers.

Find the cover pieces HERE and the directions HERE. THE UPDATED/REVISED/MORE AWESOME PATTERN WILL BE AVAILABLE SOON. THE AVAILABLE PATTERN CLEARLY HAS SOME MISTAKES AND ERRATA. BEAR WITH ME WHILE I UPDATE!